2021 WNIT - Round 3, Rockford Regional
CAA's Delaware Faces Villanova & Other Women's NIT Quarterfinal Notes
CAA's Delaware Faces Villanova & Other Women's NIT Quarterfinal Notes
The Fightin' Blue Hens of Delaware take on Villanova. Here's what to watch for in that and other games in the 2021 Women's NIT.
Mar 22, 2021
by Kyle Kensing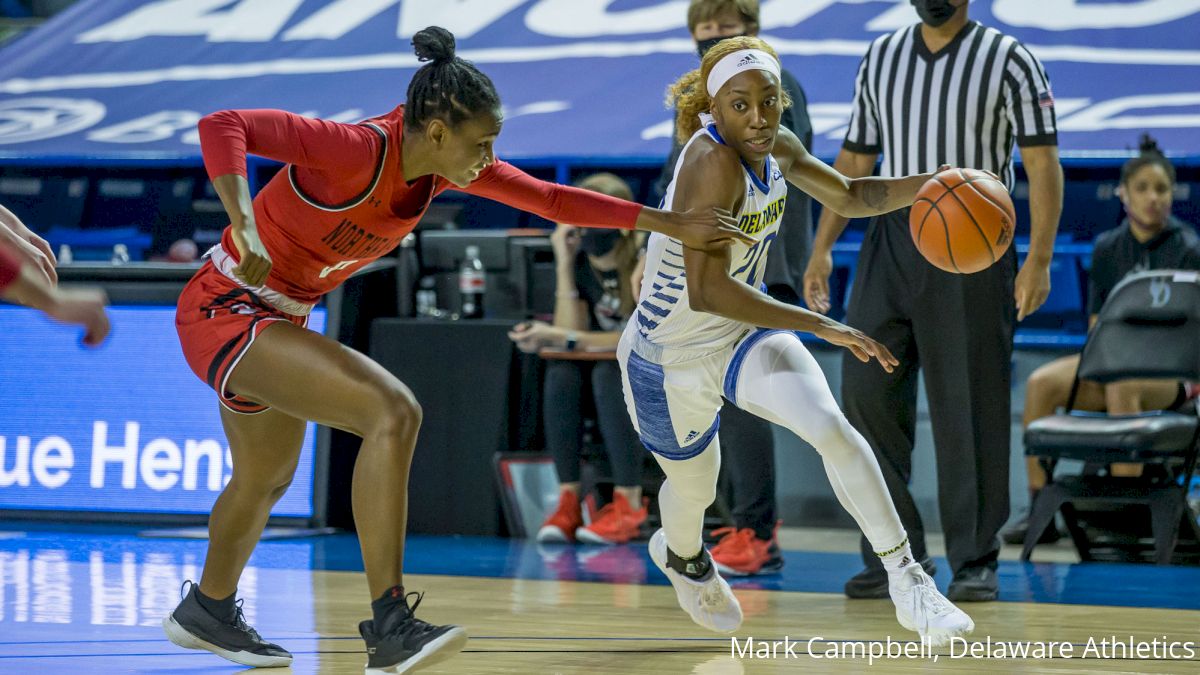 Let's take a closer look at Monday's games in the Women's NIT, which you can watch live right here on FloHoops.
CHARLOTTE REGION
Delaware vs Villanova
Jasmine Dickey's 26 points and Tyi Skinner's 22 off the bench lifted Colonial Athletic Association regular-season champion Delaware past Clemson and into the quarterfinal.
Skinner pulled off a feat unlikely to be duplicated anywhere this March with two halfcourt buzzer-beaters.
It's Show Time in Charlotte! 🤩 pic.twitter.com/yTA14sNlsL

— Delaware Women's Basketball (@DelawareWBB) March 20, 2021
SHE DOES IT AGAIN! @ShowTim3_Tyi with another half-court shot! #BlueHens pic.twitter.com/bvXGoT4SGu

— Delaware Women's Basketball (@DelawareWBB) March 20, 2021
The Fightin' Blue Hens put up 164 combined points in their wins over the Tigers and Friday's opening-round matchup with Fordham. With Villanova coming in off a pair of wins over UMass and Florida in which the Wildcats posted 155 combined points, Monday's quarterfinal could be a shootout.
Maddy Siegrist is coming off games of 32 and 26 points, and hit 30 just two weeks prior in the Big East Tournament. The versatile Siegrist continues to average more points per game than all but 10 other Div. I players, but her defensive contributions in Villanova's WNIT wins were remarkable: five blocks and five steals combined.
Siegrist and Dickey — who is now averaging 22.6 points per game to rank 12th in the nation, one place below Seigrist — should make for an outstanding matchup.
FORT WORTH REGION
Cal Baptist vs Rice
Undefeated Cal Baptist remained perfect with a pair of high-scoring affairs against New Mexico and San Francisco. Caitlyn Harper went for 25, Britney Thomas posted 22 with 11 rebounds, and Ane Olaeta put up 11 with 14 assists in the opening-round win.
Thomas and Harper both again scored more than 20 each in the defeat of USF, which sent the Lancers into Monday's quarterfinal. The duo have led the balanced scoring Lancers in scoring throughout the season at more than 14 points per game, but elevated their output to another level. Coupled with Olaeta's 196 assists — the most among all Div. I players — the CBU offense is among the country's most potent.
But Rice advanced to the Fort Worth Region quarterfinal with elite defense, holding opponents to an average of 58.4 on the season. The Owls opened WNIT holding Arizona State to just 36 points and 3-of-22 shooting from behind the 3-point line.
Nancy Mulkey's five blocked shots exceeded her own lofty pace, which ranks her among the top rim-protectors in the NCAA. The 6-foot-9 center is also a dominant offensive presence in the lane, putting up 28 points in a win over Fresno State on Saturday that followed a much different tenor than Friday's opening round.
Rice can score as effectively as it defends. The Owls poise a real threat to ending CBU's dream, perfect season.
MEMPHIS REGION
Colorado vs Ole Miss
Since a scoreless, 0-for-7 shooting performance Feb. 19 against Washington State, freshman Frida Formann has been explosive for Colorado. Formann continued a streak of double-digit-point scoring performance with her first two WNIT outings, scoring 14 against Louisiana and coming up clutch with Mya Hollingshed in foul trouble to post 18 against Nebraska.
Peanut Tuitele's flirtation with a triple-double against Nebraska also helped the Buffs in a hard-fought, Second Round win. Up now is an Ole Miss team coming off a strong finish against Tulane.
Ole Miss showed it can play with elite competition during the SEC season, and had Tennessee on the ropes before the fourth quarter of their SEC Tournament matchup. The Rebels seemed to have taken the lesson from that loss to heart, out-scoring Tulane to advance to the Memphis Region final with a nine-point, final-quarter edge.
Donnetta Johnson and Shakira Austin — transfers from Georgia and Maryland — have been outstanding for Ole Miss. Austin has 47 points in two WNIT outings, and will make for a tough matchup with Colorado's Hollingshed.
ROCKFORD REGION
Northern Iowa vs St. Louis
Despite a tough shooting night in the second round against Creighton, Northern Iowa stepped up when it mattered most. Emerson Green's fearless drive to the hoop, Eurostep and finish against contact sends the Panthers to the Rockford Region quarterfinal.
Emerson Green ends it. #UNIFight pic.twitter.com/owN8YSeCJp

— UNI Women's Hoops (@UNIwbb) March 20, 2021
Green's bucket reflects the nature of defending this UNI bunch, which can get points from any variety of players. No one averages more than Karli Rucker's 13.2 points per game, but someone like Megan Maahs, averaging just over 8 points per game, can go off for 20 like in the Creighton win.
Rachel Kent's 24-point performance in St. Louis' second-round win over Milwaukee complemented an outstanding defensive effort from the Billikens. Saint Louis held the Panthers to single-digit quarters in both the second and third en route to a season-low defensive yield.
Kent and Ciaja Harbison combine to form a potent scoring punch on the perimeter. Answering the Billikens duo will shape the quarterfinal for Northern Iowa.
Remember to watch the games live right here on FloHoops.
---
Kyle Kensing is a freelance sports journalist in southern California. Follow him on Twitter @kensing45.