CAA Men's Basketball
Drexel Falls Short To Illinois But Proud Of First NCAA Berth Since 1996
Drexel Falls Short To Illinois But Proud Of First NCAA Berth Since 1996
CAA tournament champions Drexel drew a tough matchup against Illinois in the NCAA Tournament, but the Dragons are still proud of their postseason.
Mar 22, 2021
by Jerry Beach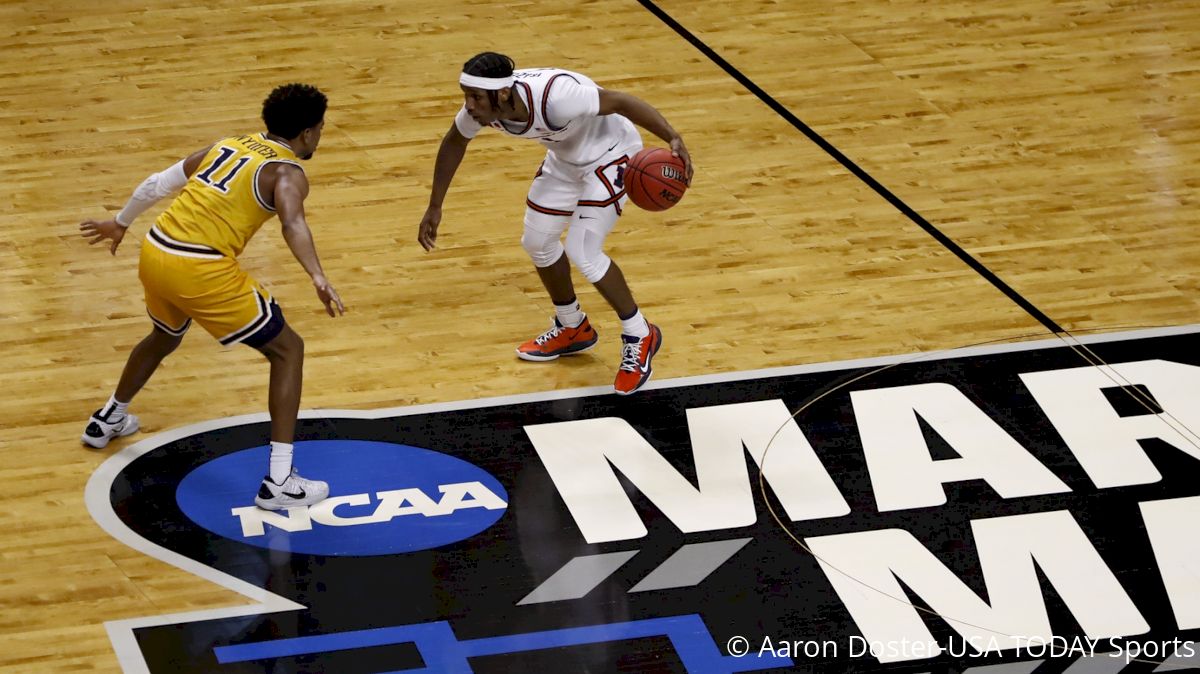 The goal for Illinois is to be the team cutting down the nets on the first Monday of April — something that obviously did not work out — so head coach Brad Underwood's opening statement following the top-seeded Fighting Illini's 78-49 win over no. 16 Drexel in Friday's NCAA Tournament Midwest Regional opener was about as bottom-line and businesslike as possible.
"I thought it was a very matter-of-fact game," Underwood said.
Even in a normal season, there's nothing matter-of-fact about an NCAA Tournament game for mid-majors, for whom Big Dance bids are the most precious of commodities earned in the pressurized environment of a conference tournament and savored because no one knows when or if a return trip will happen.
"None of these guys were born the last time Drexel went to the NCAA Tournament," head coach Zach Spiker said after the program's first appearance since 1996 — two leagues ago for the Dragons, who watched 10 different conference rivals dance over the next 24 years.
Of course, there's nothing normal about the 2020-21 season, which was shaped unlike any season before it by real-world events. The global pandemic that forced the cancellation of the 2020 NCAA Tournament pushed the start of the '20-21 campaign back until Nov. 25 and left the head coaches of 347 programs in a constant state of anxiety wondering if the next day would be the day would bring about a positive test within the program and a subsequent pause.
Drexel was the only CAA team this season without a single internal shutdown, yet only two of the 68 NCAA Tournament teams played fewer games than the Dragons, who went 12-8 while playing just nine regular-season league games due to opponents' pauses.
"If you're not smart with your decisions socially and you're not wearing masks, you're going to parties, you're doing other things, you're never going to have the opportunity to (play)," Spiker said following Drexel's 63-56 win over Elon in the CAA championship game Mar. 9. "I'm very proud of the discipline our players have shown from a testing standpoint. We were in a position to play basketball games all season. It was our opponents that had to adjust due to their situations."
And no one who traveled to Indiana this week spent as much time away from home as Drexel, which unknowingly played its home finale Jan. 17 before playing its last five regular-season games on the road and three CAA Tournament games at James Madison.
For all intents and purposes, Drexel played four tournament games at James Madison. An 84-78 win over the Dukes in the regular-season finale Feb. 26 allowed the Dragons to finish sixth instead of eighth and spare them the task of needing to win four tournament games in as many days.
"It was a heck of a run by our players," Spiker said Friday. "The effort that they gave in the CAA Tournament, the effort they gave in the final regular-season game against James Madison to put us in position to be a six seed — that was an incredible time for our players, their preparation and their execution."
Navigating a season in the midst of the worst pandemic in a century was far from the only challenge presented over the last 12 months. As Spiker noted both after the win over Elon and following Friday's loss, it was impossible for players and coaches alike to not be impacted by the events of a tumultuous year, from the social and racial injustices of last spring and summer to November's presidential election and its aftermath.
As they did throughout the regular season, most Drexel players knelt for the national anthem Friday.
"I'm proud of our guys — I support our guys, how they choose to express themselves," Spiker said Friday. "They've been through a lot. If we could just, all of us as people, take a minute and take a step back and think about what our players have experienced in the last year emotionally. The social injustice, the emotion of a very, very tense election. Then you mix in a pandemic. That's a lot. That's a lot for anybody to take in, especially a young person in the situation that our guys are in."
Nobody knows when or if a sense of something resembling normalcy will resume. But with a season unlike any other freshly in the rearview mirror, Spiker spoke of tasks that aren't quite matter-of-fact, but far more routine than those encountered in 2020-21 — of Drexel trying to approach or match the feats achieved by the program in the mid-90s, when the Dragons made three straight NCAA Tournaments and became a Cinderella candidate by upsetting Memphis in a 1996 first-round game.
"In '96, they won a game," Spiker said. "I know that was something — we were hopeful we could find a way to do that. Certainly it was a tall task, a big challenge. But it was an opportunity we were excited about.
"I hope this experience motivates our group to continue to work, put the work in the weight room, put the work in in the individual workouts in the off-season (and) the summertime and come back focused on accomplishing a mission next year."
---
Jerry Beach has covered Hofstra sports since arriving on campus in the fall of 1993, when Wayne Chrebet was a junior wide receiver wearing No. 3, Butch van Breda Kolff was the men's basketball coach for the East Coast Conference champions and Jay Wright was a little-known yet surely well-dressed UNLV assistant coach. Check out Jerry's book about the 2000 World Series here and follow him on Twitter at @JerryBeach73.