2021 College Basketball Invitational
Scott Davenport & The Bellarmine Knights Are Writing A Special Story
Scott Davenport & The Bellarmine Knights Are Writing A Special Story
Axe throwing, go-kart racing, and a trip to Daytona Beach — it's not Spring Break for Bellarmine basketball. This week is much more special than that.
Mar 22, 2021
by Kyle Kensing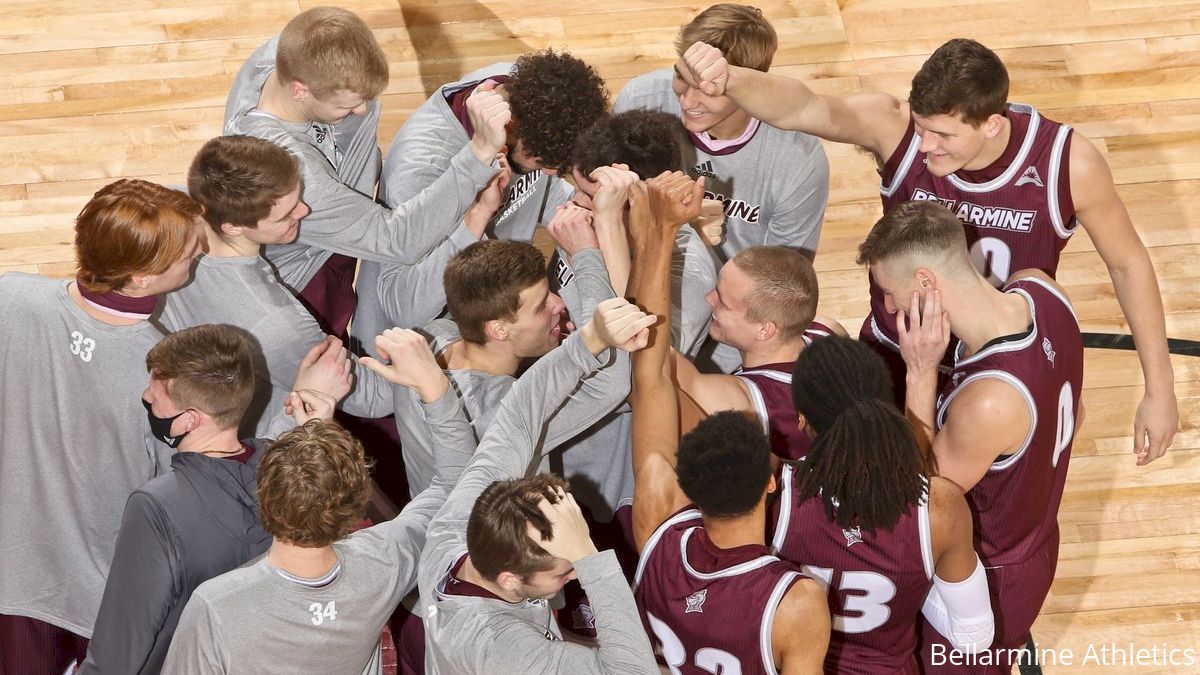 Axe throwing, go-kart racing, and a trip to Daytona Beach — it's not Spring Break for Bellarmine basketball. This week is much more special than that.
Ahead of the Knights' first-ever Div. I postseason tournament, with their College Basketball Invitational matchup against Army on March 22, wing Pedro Bradshaw the Bellarmine team is enjoying as much of a postseason experience as the pandemic era allows.
"We've been practicing hard," Bradshaw said, but added the leisurely bonding time provides a welcome change-of-pace. "That definitely helps keep guys engaged and keep them from getting out of [rhythm]."
Watch the College Basketball Invitational LIVE on FloHoops
The activities are fun, if challenging — Bradshaw laughed he "was terrible" at axe throwing. Fortunately, basketball is a different story.
Bradshaw averaged team-highs of 15.4 points and 6.9 rebounds per game en route to All-ASUN Conference 1st Team recognition. Along with Dylan Penn, who posted averages of 13 points, 3.6 rebounds and a team-best 3.7 assists per game, Bellarmine has its first two ASUN honorees.
Such is the theme for the Knights' 2021.
"We've talked about it within our team: Writing a story," Bradshaw said. "This is something that's going to be etched in Bellarmine history. We have a lot of firsts: the first win, the first conference win, it's going to be the first postseason tournament we're playing in in Bellarmine history."
The magnitude of playing in the program's first Div. I postseason and the prospect of claiming its first championship at this level inspires the Knights to embrace the joy of March basketball.
The opportunity has also inspired them — and their coach, Scott Davenport.
"After that practice," Davenport said of the day Bellarmine learned it was headed to the CBI, "I told the staff that afternoon after practice that I could not in my career name an insistence when I'd been more inspired by a basketball team. We didn't even know the brackets yet and they were flying around with the opportunity to get better and be around each other."
Doing the work, and having fun, that's an important balance to find.
Citing "amazing coaches" Davenport said he has worked with — a club that includes Hall of Famer Denny Crum, who hired Davenport as an assistant at Louisville in 1996 — Bellarmine's man in charge believes the postseason in particular begs that balance.
"If you're going to work full-on, 50 weeks of the year — and these kids work year-round — then you take these two weeks, you better make them the greatest two weeks of the year," he said.
It's especially true in 2021.
The 2019-20 campaign marked Bellarmine's last in the Div. II ranks, where Davenport's tenure established the Louisville-based program as a national power. Hired there in 2005, fresh off a Final Four season as an assistant to Rick Pitino at UL, Davenport took over a program that went 9-18 the season prior to his arrival.
The Knights hadn't been to the Div. II NCAA Tournament since 1991. When that drought ended in 2009, Bellarmine began a run that included a national championship, four Final Four appearances, and a spot in the tournament every year.
The streak continued in 2020 when the Knights drew a No. 5 seed.
"Last year, we were on spring break and had a great film session, our morning practice, then we had film after practice, when the campus dining facilities were closed," Davenport said. "So we went to a local country club and had a fried chicken dinner...It's an unbelievable night, because the next morning, we're leaving for the NCAA Tournament."
Where were you when the pandemic shut down the country? is one of those questions for which any of us living through the COVID-19 pandemic will have a detailed answer years from now. The 2019-20 Bellarmine basketball team was driving to a celebratory dinner.
"En route, our season ended," Davenport said. "Five minutes from our campus."
As if Bellarmine needed more reason to relish this postseason, the lost, final trip to the Div. II tournament and four seniors deprived of a final farewell adds plenty.
The pandemic rendered a season bridging Bellarmine between two eras especially unusual; "tough," Bradshaw described it. However, he added another, appropriate descriptor: "But overall, it's been a really fun year."
Amid all the firsts of Bellarmine's 2020-21, these Knights will also, hopefully, have accomplished an only with its successful navigation through a pandemic.
Once COVID-19 runs its course, some reward will come from the cheers of thousands in Freedom Hall.
Hopefully, everybody will be able to get in there and have Freedom Hall really rocking. But we felt good about the 1500 we had in there. Freedom Hall has an echo, so with 1500, it gets really loud."
An audience of a few thousand more from a basketball-mad community could be downright chaotic, the kind of scene most associated with big-time college hoops.
And Bellarmine has big-time potential. The CBI is a landmark step toward fulfilling it.
"It's a heckuva story we're writing," Bradshaw said. "Hopefully we can add to it next week."
---
Kyle Kensing is a freelance sports journalist in southern California. Follow him on Twitter @kensing45.