Men's CAA Basketball
'Not A Normal Year': Reflecting On The Strangeness Of CAA Basketball
'Not A Normal Year': Reflecting On The Strangeness Of CAA Basketball
Nothing was normal in college basketball this year with COVID-19, and that was especially true in the CAA.
Apr 2, 2021
by Jerry Beach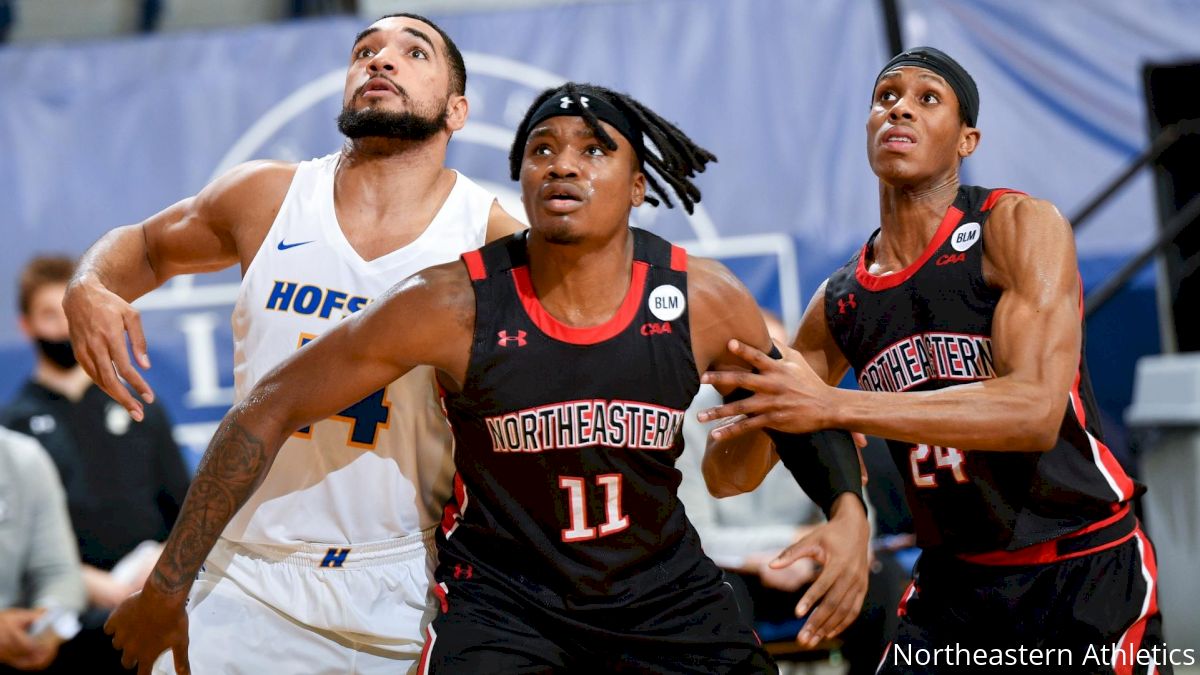 Like thousands of fathers across the country, Martin Inglesby's bond with his sports-loving son has grown one morning at a time. But neither he nor his son really enjoyed what the daily ritual evolved into over the last few months.
"He checks his iPad every morning, checks scores, and the last couple years he'd wake up and want to know who won the Ohio State-Michigan State game," Inglesby said. "Almost every morning this year, when we got into our testing, instead of asking me who won what game he said, 'Dad, did you get your test results back yet?'"
The morning exchanges between the Inglesbys were just one of many previously unimaginable rituals that became commonplace during a season unlike any other.
In college basketball, playing against the backdrop of a relentless global pandemic meant players and coaches alike needed to grow accustomed to regular tests for the coronavirus while adjusting to film sessions, workouts and team meetings being conducted via Zoom. Arenas once packed on cold winter afternoons and evenings were largely empty.
"Weird is the worst that comes to mind," William & Mary guard Luke Loewe said. "You get momentum from crowds, you feed off that kind of stuff. And it's weird — it's like playing a scrimmage against another team in a regular-season game."
Figuring out a way to play the season was better than not playing the season, especially given the irrecoverable financial blow a second straight madness-free March would have delivered to the NCAA.
"It's challenging, but I'm also going to add this: It's well worth it," James Madison head coach Mark Byington said. "I love coaching, Our guys love playing. They like the team aspect, they like being together."
But navigating the season also took a toll on its participants — especially, in the CAA, which had the most herky-jerky campaign of all.
The CAA played just 51 regular-season league games, the lowest figure among the 31 Division I conferences. The eventual tournament champion and NCAA Tournament representative, Drexel, played nine regular-season league games and didn't play at home after Jan. 17.
Each day carried with it a sense of dread until the results of testing revealed whether or not teams could practice or play a game. A positive test created weeks-long ripples for coaches as they tried to construct workout schedules.
"I'd literally go down every day at practice and talk to my trainer and be like, 'All right, how many guys can we have practice?'" Inglesby said. "We're playing 3-on-3 on a side court in our practice gym to (get) the guys (who were) available a workout in."
Half the league entered the CAA Tournament without having played for at least two weeks. Delaware wasn't shut down due to positive tests within the program but didn't play a regular-season game after Jan. 31. UNC Wilmington had two pauses during league play and played once in February before falling to William & Mary in the first round of the tournament.
"I just thought the last time, I could just kind of feel it — mentally, they were just starting to check out a little bit," UNCW head coach Takayo Siddle said. "I think you have to go through it and experience it to really understand how tough and how much of an emotional toll it takes on you. It's a mental battle, for sure, but physically it does some damage to you as well."
Charleston and Towson also endured multiple shutdowns and didn't play a league game after Feb. 14. The Cougars' last game before the CAA Tournament was an overtime win over Division II Columbus State. The Tigers played five games before Jan. 15 and 12 games over the next 30 days. Both teams went one-and-done in the CAA Tournament.
"It feels like the season ended, what, (the) four different times we got shut down?" Towson guard Nicolas Timberlake said. "I don't even know when our last game was. I was trying to think to myself who we played before Northeastern (on Feb. 13-14). I couldn't think of it."
The Tigers' final road series was a weekend earlier at Charleston.
"It's weird when you're in the gym in late February watching one guy shoot with a coach on a Saturday when you're supposed to be playing Drexel," Towson head coach Pat Skerry said. "In a lot of ways this is worse than my first year (when the Tigers finished 1-31). At the time, I didn't think anything could have been worse than that."
The virus delivered its own dose of uncertainty, striking with little regard for the calendar or how strictly a team adhered to protocols the previous weeks and months. Hofstra played its first 14 league games as scheduled before a Tier 1 individual tested positive, forcing the cancellation of the Pride's final two regular-season weekends. Northeastern didn't have a positive case during the season until after traveling to North Carolina Feb. 17.
"It was tough — 10 days ago, a lot of us were in our beds, not even knowing if we're going to play," Northeastern forward Jahmyl Telfort said after the Huskies fell to Drexel in the semifinals Mar. 8. "We practiced probably three times before the tournament."
The usual camaraderie of a team was replaced by solitude outside the gym — a necessity that complicated the task of building chemistry while creating an even more insular environment for the athletes, who knew going to a party or meeting socially with non-teammates could imperil the entire season.
"We can't have guys to our house — we're big on that, we talk family, we mean it," Elon head coach Mike Schrage said. "It's been hard for us. It's been much harder for the student-athletes."
"It's not a normal year — at all," acting Hofstra head coach Mike Farrelly said. "There's no social life. There's nothing. You can't visit each other in another room. You can't hang out. You can't go anywhere. These guys have been unbelievable — they basically come to the gym and they do virtual classes, they go back and forth to the dining hall and that's it."
With vaccines beginning to roll out, the hope is something resembling normal will have arrived by the time the 2021-22 season is scheduled to tip off in November. But for those who played and coached this season, the reminders of what it took to play in the midst of a pandemic aren't likely to ever fade.
"This was I think was our 15th game or 16th game — what was it, 17th game?" William & Mary head coach Dane Fischer said while looking for confirmation from someone in the room but not visible in the Zoom call. "Seventeenth game. Typically, you're playing 31, 32, 33. So it's really strange in that sense as well. We should be halfway through our season and it's over.
"There'll be plenty to reflect on with this year. And I hope it's the only time that we have one like this."
---
Jerry Beach has covered Hofstra sports since arriving on campus in the fall of 1993, when Wayne Chrebet was a junior wide receiver wearing No. 3, Butch van Breda Kolff was the men's basketball coach for the East Coast Conference champions and Jay Wright was a little-known yet surely well-dressed UNLV assistant coach. Check out Jerry's book about the 2000 World Series here and follow him on Twitter at @JerryBeach73.