Men's CAA Basketball
Pat Kelsey Will Use The ABCs To Get Charleston Back To Winning Ways
Pat Kelsey Will Use The ABCs To Get Charleston Back To Winning Ways
Pat Kelsey is bringing a winning pedigree to a school with aspirations of resurrecting a winning past in the Charleston Cougars.
Apr 29, 2021
by Kyle Kensing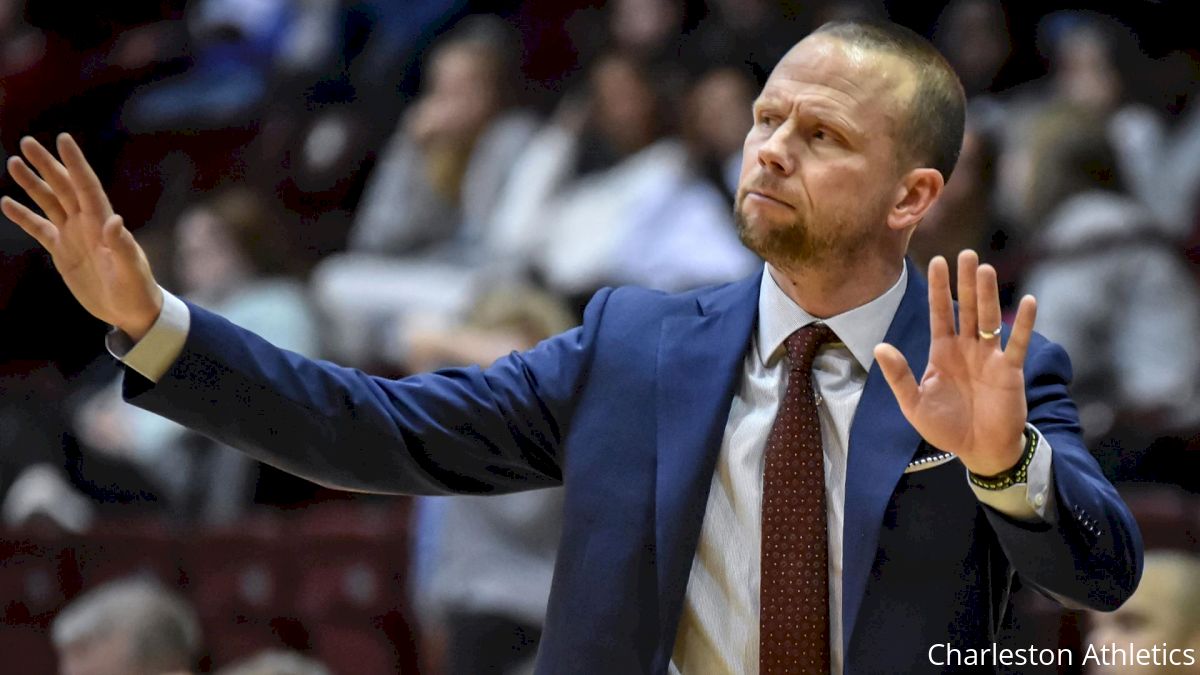 When a student attends school for the first time one of their earliest lessons is the ABCs. They provide the foundation on which virtually everything else is built.
For College of Charleston basketball, all future development likewise comes from the ABCs: "Academics, basketball and character," new Cougars head coach Pat Kelsey said.
"I have a big responsibility," Kelsey told FloHoops. "People have big visions and dreams for growing this university, and my corner of that world is trying to build a world-class basketball program."
Kelsey made the move down state to Charleston from Rock Hill and Winthrop, where in 2021 the Eagles qualified for their third NCAA Tournament in five years. Winthrop won at least 20 games five seasons under Kelsey since 2013, and in the most recent campaign, lost just twice.
The second of those defeats was a March Madness showdown with two-time national championship winner Jay Wright's Villanova Wildcats. Winthrop trailed the Wildcats by just one point at halftime, and were competitive throughout.
All that is to say Kelsey's ABC approach spells out Ws. And it's a welcome formula at College of Charleston, where winning basketball is woven into the history.
An NAIA powerhouse in the 1980s, Charleston won the organization's 1983 national championship under John Kresse. Kresse led The College's transition to NCAA Div. I in the 1990s, and almost immediately, the Cougars took the nation by storm.
They reached their first NCAA Tournament in 1994, beginning a run of four appearances in the Big Dance through 1999. Charleston scored a 1st Round win over Maryland in 1997, took that year's national champion Arizona to the wire in the 2nd Round, and never lost a Tournament game by more than 10 points.
If the alphabet for College of Charleston starts with Academics, Basketball and Character, then the letters K and L represent Kresse and Legend. Kelsey embraces that, which offers up a potential letter T: tradition.
"I'm a hoop junkie. Even when I was in college, I had my finger on the pulse of what was going on in college basketball, and I knew what was going on down here, the success they were having and the legend that was building with John Kresse," Kelsey said. "It's reverence. When I got to sit down and have breakfast with him a week and a half ago, it really was like eating breakfast with a legend."
The last of Kresse's Tournament teams in 1999 was also the final Charleston squad in March Madness for almost two decades. The 2018 Cougars ended the drought under Earl Grant, and in keeping with the tradition of the Kresse era, put up one heckuva fight in their 1st Round loss to Auburn.
Grant's departure last month for the vacancy at Boston College left the opening at College of Charleston Kelsey has filled. The new Cougars coach said a key part of the job is the "respect" shown to the program's history — a fitting letter R in Kelsey's alphabet.
"You pay them the ultimate respect by trying to raise the bar that's even higher than it's ever been before," he said. "That's a tall order, but that's the challenge I accepted when I took the job."
Indeed, Kelsey's winning background both as an assistant at Wake Forest and Xavier and then as Winthrop's head coach, combined with Charleston's history, brings expectations. But another word might be the best fit for letter E: energy.
"As you walk around the streets of this historic city, just the energy and the vibe, people talk about it all the time, and it's real," he said. "The heartbeat the city has is inspiring."
Kelsey himself radiates energy, to a point the coach joked he "make[s] coffee nervous."
Energy is a necessary component for another key to the formula, and that's finding the players to make a winning vision reality.
Kelsey's background includes working with college stars-turned-NBA stalwarts like Jeff Teague and current Most Valuable Player contender Chris Paul. At College of Charleston, Kelsey pointed to the line of standout players to recently come through the program like Utah Jazz organization member Jarrell Brantley and Charlotte Hornets organization guard Grant Riller.
Players might represent the P of Kelsey's ABCs, but that designation could also belong to the people of Charleston — or the general passion around College of Charleston hoops.
"Meeting people who are so passionate about the College — and that's one of the coolest names in higher education or college athletics, who else can say they're 'The College?' — but it's just fun," Kelsey said. "Whether it's alums or people who've moved from the outside that have just gained an affinity for Cougar basketball.
"You see the passion and hear the passion. You don't want to be a place where there's apathy, you want to be a place where people care."
And they'll have plenty of reason to care with Kelsey at the helm of a program sure to compete from A all the way through Z.
---
Kyle Kensing is a freelance sports journalist in southern California. Follow him on Twitter @kensing45.