Big Ten
Change Is Routine For Penn State's Mike Farrelly & NCAA Basketball Coaches
Change Is Routine For Penn State's Mike Farrelly & NCAA Basketball Coaches
Change is a way of life for college coaches and their families, something Mike Farrelly is facing as he packs his bags after eight years at Hofstra.
May 25, 2021
by Jerry Beach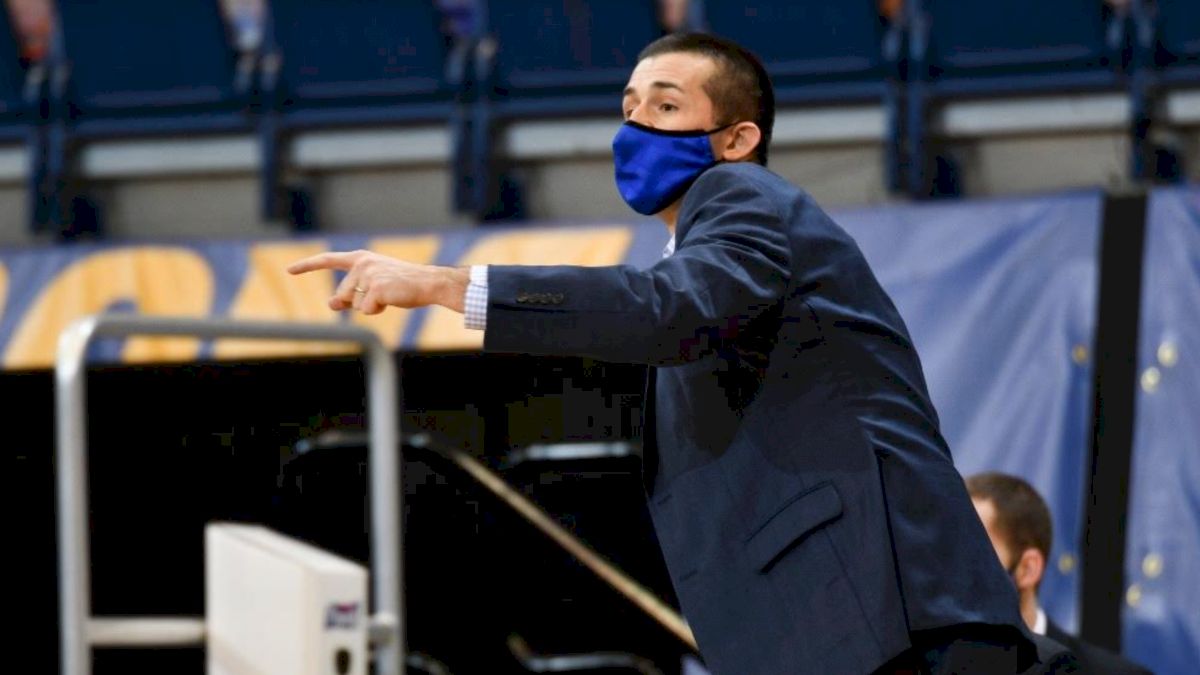 The last of the scheduled visitors Mike and Gina Farrelly planned to welcome at their Long Island home last Sunday afternoon rang their doorbell at 5 PM. He was the only one to show up as scheduled — and the only one who wasn't arriving to get a tour of the house Gina had spent the last several days cleaning and preparing for potential suitors.
"Our 3:30 and 4:00 open houses canceled," Mike Farrelly said.
With housing perpetually valuable on Long Island and the pandemic creating a real estate boom, the cancellations didn't slow down the Farrellys' bid to sell the house. The couple already had a pending offer, which went to contract last Wednesday.
Officially selling the house will complete one of the last big steps in a process familiar to Mike and Gina, yet one that featured wrinkles and anxieties which will prepare them for subsequent uniquely challenging moves.
Mike accepting a new job and moving ahead of Gina without a place to stay, Gina undertaking the task of finding them a permanent residence in their new locale and packing up their old one, the couple shifting their rooting interests overnight — each one is a seismic change, never mind collectively. Yet these tasks are annual rites of passage for college basketball coaches and their families, for whom the sudden uprooting is so routine that it is anticipated every spring.
But after 15 years together through five coaching jobs for Mike, the sixth move is different. All it took last Sunday was one glance at the couch — where the couple's sons, seven-year-old M.J. and four-year-old Ryan, sat watching cartoons — to understand it's no longer solely about Mike's career and the flexibility offered by Gina's pre-motherhood career in the insurance industry.
In the span of one hour on Apr. 7, the Farrellys went from hoping Mike would get the head coach job at Hofstra and allow the family to stay in Long Beach, where their sons were born and Gina has befriended numerous fellow neighborhood Moms while serving on M.J.'s P.T.A., to learning they were headed four hours west to Penn State.
"It's very emotional," said Gina, standing at the stove and preparing breakfast for dinner. She paused.
"Really emotional," she said, her voice catching as she turned back towards dinner.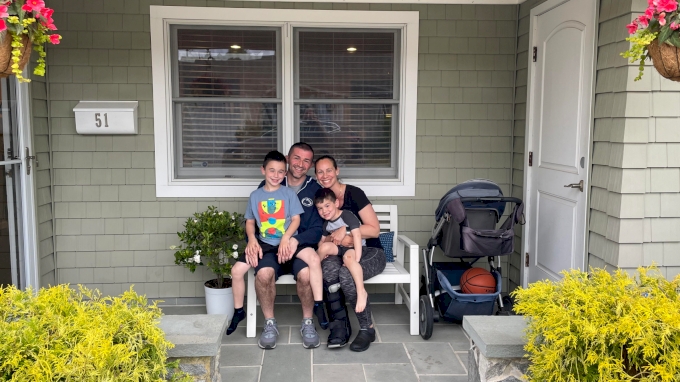 The Farrelly family.
Gina Del Monte and Mike Farrelly wasted no time getting used to adaptability within their relationship. The couple began dating in the summer of 2005 following Gina's graduation from Saint Joseph's — where Mike, two years her senior, played three years as a walk-on member of the school's nationally-ranked men's basketball team — and just before Gina went to California to spend a year with the Jesuit Volunteer Corps.
Upon Gina's return, the couple remained within driving distance of one another as she was able to find jobs near Mike, who went from The Hoop Group to Wilkes University and Mount St. Mary's.
The two were married in May 2011, and after a honeymoon in Hawaii, Mike went to a recruiting event in Las Vegas, where he met Niagara head coach Joe Mihalich. In the summer, Mike and Gina were preparing to move into their first apartment together in Maryland.
"She's planning to move on August 10," Mike said.
"I was packed," Gina said.
"Quitting her job, has a job in Maryland, ready to move, know exactly what we're doing, all this stuff," Mike said. "And then coach offered me a job. I called her and say, hey umm, yeah, about that whole moving to Maryland thing…"
"I'll never forget that," Gina said.
The newlyweds headed for the remote regions of upstate New York, where they spent two seasons before Mihalich landed the Hofstra job and took his entire staff with him to Long Island. Aligning with Mihalich — who's had just three jobs in the last 40 years — as he rebuilt Hofstra brought some stability to the Farrellys, though their old habits were hard to break.
"We rented in Niagara Falls, we rented here for six years, because you just never know, the call may come tomorrow," Mike said.
Finally, two years after Ryan was born, the family moved from an apartment in Long Beach to their first house a mile or so away. A day after they closed on the house, Mike got a phone call from Rhode Island head coach David Cox, who wanted to interview him for an assistant position.
"I thought I was going to have a heart attack," Gina said.
Mike declined the interview, but Gina still wasn't sure how much she should decorate.
"This is really where the basketball life sets in," Gina said with a laugh. "I go all right, I'm just going to wait until after this season to figure out if I'm going to put stuff up on the walls."
Each spring brings with it the familiar double barrels of anxiety for Gina — the excitement of another chance at a CAA championship for Hofstra as well as the wonder if this would be the year the Pride's steady success would yield a new job opportunity for Mike.
Gina made a rapid heartbeat motion.
"Every year, in March and April, I'm just like, 'What's happening? Are we staying? Are we going? Are we staying? Are we going?'" Gina said. "I won't make plans. We wanted a bed for Ryan…"
"But during the season," Mike said. "We said 'OK, let's wait until after the year to do that.' So it does get in your mind a little bit with some of those things. Are you ever unpacked?"
Hofstra, which lost in the CAA title game in 2016 and 2019, finally broke through and won the championship in 2020. Mihalich spent much of his post-game press conferences at the CAA Tournament lauding the game prep and defensive execution overseen by Farrelly. An appearance in the NCAA Tournament would have offered Mike another chance to audition for high-major programs looking for a new assistant or mid-majors seeking a new head coach.
Except, of course, the pandemic forced the cancelation of the NCAA Tournament fewer than 48 hours after Hofstra cut down the nets in Washington, D.C. After five months hunkered down in Long Beach, fate delivered another unimaginable challenge when Mihalich went on medical leave and Farrelly was named the acting head coach.
While Mike tried to direct Hofstra to a title defense in the midst of a pandemic and Gina immersed herself in activities with their sons and the neighborhood Moms, the unspoken yet detectable anxiety over where they might be headed began far earlier than normal. What would happen if Mihalich didn't return but Mike didn't get the full-time job?
"We lose that Monday night (to Elon in the CAA semifinals) and then it kind of hits you like, well, what's next?" Mike said. "Am I going to need a job? Where are we moving? All that stuff. And now you're still waiting because you don't know yet, but you really start thinking about it."
On Mar. 19, Hofstra announced Mihalich's retirement and began a national search for his replacement, though most suspected it was a two-man race between Farrelly and former Pride star and current assistant Speedy Claxton and all knew that whomever didn't get the job would not remain at the school.
Mike said he spent 90 percent of his time focused on getting the full-time job at Hofstra and the other 10 percent "starting to plant some seeds" in case he wasn't hired. Gina relied on the network of coaches' wives she'd befriended over the past 15 years, including the wife and daughter-in-law of Phil Martelli, who was Mike's coach at Saint Joseph's.
"We all kind of check in on each other at this time of year," Gina said. "You're just like 'Where are you going? Are you going there? How do you feel about that? How'd (your husband) do in that interview? How are the kids doing?' It's crazy."
By the time Mike officially interviewed at Hofstra Apr. 2, he felt confident that if he didn't get the Pride job, he would have a good chance of landing another job — with a Division I school located within a commutable distance — that wouldn't require uprooting the family.
He also had a handful of phone conversations with new Penn State coach Micah Shrewsberry, whom Mike had yet to meet. Upon being informed Hofstra selected Claxton on Apr. 7, Mike got into his car to drive home and tell Gina in person. He also texted Shrewsberry and let him know he'd be willing to drive out to Penn State that day to conduct a more extensive interview.
Shrewsberry texted back and said he'd call Mike in five minutes. The conversation continued throughout Mike's ride down the Meadowbrook Parkway and until he pulled into a bagel store parking lot near the Farrellys' house.
"We're talking about jobs he hadn't gotten in the past," Farrelly said. "He said, 'Yeah, I know it's rough what you just went through. I know you're really disappointed. But hopefully I can lift your spirits a little bit by offering you a job at Penn State.'"
Armed with more news than he expected half an hour earlier, Mike finished driving home and called Gina, who was down the block with Ryan and friends.
"(He says) 'I didn't get it' and it was just very emotional," Gina said. "Then he goes 'Can we make an adjustment?' And I was looking down at the stroller. Is something wrong with the stroller? It didn't (register). And he goes 'I got the offer at Penn State.'"
The night before, Mike and Gina discussed what to do if he had multiple job offers and one wasn't at Hofstra. Mike declining the Rhode Island job two years earlier was the first acknowledgment that any post-Hofstra job requiring a move by the family had to be, in Mike's words "the job," not "a job."
They agreed Penn State — a Big Ten school where football is the unquestioned king yet the resources exist to build up a men's basketball program that's made the NCAA Tournament just twice this century and advanced to the Sweet 16 once in the last 65 years — qualified as "the job."
Mike cleaned out his office at Hofstra later that Wednesday night. While he wasn't officially hired at Penn State until the weekend, he began making calls on behalf of the Nittany Lions on Thursday.
"Just how quickly you turn from one page to another just in our job," Mike said as he snapped his fingers. "You pivot, but the pivot is immediate. It's not like, hey, you've got a week or two. Two weeks' notice, you're going out there in a month. No. We got the job, it was accepted and we're out there on Monday."
With his parents in Long Beach watching their grandkids, Mike and Gina left for State College before 7 AM Monday, Apr. 12. Mike spent the afternoon getting settled in his office and filling out paperwork before embarking upon his second day on the staff Tuesday, when Gina looked at a handful of houses with a realtor whose clients include Penn State athletic staffers.
Around mid-afternoon, she was shown the house formerly occupied by Tim Banks, who'd just left Penn State to become the defensive coordinator at Tennessee. Gina called Mike and asked him to come look at the house. The couple made an offer the next day.
"I go right into planning mode and I have to compartmentalize," Gina said. "I let everybody know you're all going on the back burner, I've got stuff to do. I made my lists. I'm very organized and it's like all right, gotta do this, do this, do this. I got the realtor here, when do you want to do the open house? OK let's work out those dates. Make sure I've got a babysitter for the kids if they're in school, because he's gone now. He's gone for a week."
Mike has spent the subsequent work weeks in State College, where he's staying at a hotel just off campus, before driving back to Long Island on Thursday night or Friday. He calls home up to five times a day and Zooms with M.J. and Ryan before and after school as well as before bed.
"I find it almost a good thing, because it's his time to just hone in and focus when he's there — there's no distractions," Gina said. "And then when he's not there, when he's here, he's really here and present."
Still, Mike understands that the swiftness with he's become immersed in his new job has also resulted in a long and potentially painful goodbye and adjustment process for Gina and their sons leading up to the family's full relocation to State College in mid-July (Gina's already got the movers under contract)
"I know how much it's going to affect them — it's a lot, obviously, it's a monumental change," Mike said. "If it's just me and her, I'm like hey, we're going, I know you can find a job in Philadelphia or Maryland or Niagara Falls. But to take them away from their friends and everything that they know is hard."
Mike and Gina also know this will almost certainly not be the last move, and the next one will be even more challenging given the connection the boys will make in the State College area.
"My goal is still to be a Division I head coach," Mike said. "Is that opportunity going to come up in one year, in five years, in 10 years? It might never. You just never know when that move is coming. But you also know if you do get that opportunity, there's only (357) of them in the country and however many in the northeast region that I would be a candidate for. It's like, well, if one comes up, we're going to go. And it's going to get harder, because what if M.J.'s 12 and Ryan is eight?"
But at seven and four, the boys — who adorned the hallway outside their bedrooms with a pair of Hofstra championship collage posters — have received Penn State foam fingers from Dad and are quickly settling into their new rooting interests.
"They've been born, they've been raised at Hofstra, they were running around that facility like they lived there," Gina said. "All they knew is Hofstra basketball. So for them to have to leave Hofstra basketball, we had to kind of shift and now they're excited about Penn State and they say — hey Ryan? Ryan? What do you say if I say 'We are?'
"I say 'Penn State!'" Ryan yelled.
As their parents laughed, Ryan yelled "We are!" And from next to him came the reply.
"Penn State!" M.J. yelled.
---
Jerry Beach has covered Hofstra sports since arriving on campus in the fall of 1993, when Wayne Chrebet was a junior wide receiver wearing No. 3, Butch van Breda Kolff was the men's basketball coach for the East Coast Conference champions and Jay Wright was a little-known yet surely well-dressed UNLV assistant coach. Check out Jerry's book about the 2000 World Series here and follow him on Twitter at @JerryBeach73.