MEAC
2021 Draft Profile: Coppin State's Anthony Tarke
2021 Draft Profile: Coppin State's Anthony Tarke
A lot can change in a year and perhaps no prospect in this draft class is more reflective of the concept than Anthony Tarke.
Jul 12, 2021
by Kyle Kensing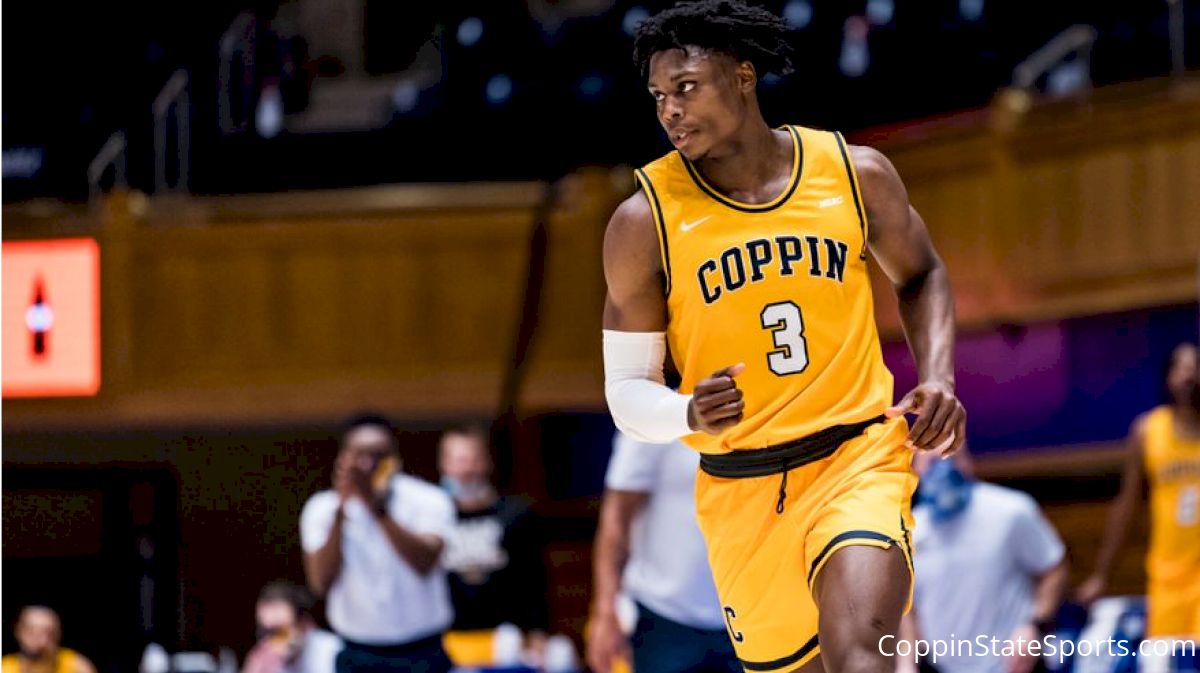 To put it bluntly, Anthony Tarke wasn't prominent on the basketball radar a year ago. Nobody is blunter with that assessment than Tarke himself.
"I mean, I averaged three points and four rebounds at UTEP [in the 2019-20 season]," he told FloHoops.com, speaking from the 2021 draft combine in Chicago. "Nobody saw the NBA for Anthony Tarke at that point."
A lot can change in a year. No time in recent history demonstrates that quite like the transition from 2020 to 2021, and perhaps no prospect in this draft class is more reflective of the concept than Tarke.
He landed at UTEP in 2018, coming off a breakout sophomore campaign at NJIT in which he averaged 15.7 points, 6.2 rebounds, and 1.3 steals per game. After sitting for a redshirt transfer season, however, his role with the Miners was limited.
Enter Juan Dixon and Coppin State.
Dixon, a seven-year NBA veteran before embarking on a coaching career, offered balance for Tarke. A player who said he's "his own toughest critic," the support Tarke cites from Dixon helped him on the path to the pros.
"Our staff believed in me," he said. "Even up to this point. I was on the phone with him [while at the combine], and [Dixon] was in my ear about how to approach this pro day. I know I have offensive skills to bring to the table, but he was telling me about how to pick my spots and be prepared for every situation."
Dixon's guidance served Tarke well before, starting with his 22-point, 9-rebound, and five-steal performance in the season opener at Duke. Tarke said the trip to Cameron Indoor Stadium was a part of a stretch that proved to the versatile wing he has NBA-caliber game.
His 34 points, 10 rebounds, and eight assists in a Coppin State win over Southern Conference champion UNC-Greensboro. Two games later, Tarke went for 19 points and four steals against Virginia Tech.
From a relative unknown upon leaving UTEP to one of the most well-rounded playmakers in the nation, Tarke's whirlwind end-capped with a MEAC regular-season championship — the program's first since 2003-04.
Tarke routinely found ways to impact games last season, whether it was with his scoring, aggressive rebounding that belied his 6-foot-6 frame, or tenacious defense. The latter really allowed Tarke to put his stamp on the 2020-21 college basketball season and is an asset during pro workouts.
"Defensively, sometimes it's hard because so much of these workouts focus on shooting," he said. "But sometimes, that plays to my advantage. If a dude tries to take me off the dribble one-on-one, I contest and block their shot, 'Oh, that's a pretty impressive play.'"
The next step is weaving that into his ongoing offensive evolution, which Tarke nurtures looking to a variety of uniquely skilled current pros for inspiration.
Each facet reflects an influence of Tarke's, whether it's the explosive playmaking of combo guards like Luka Doncic and D'Angelo Russell, or the physicality and aggression of Draymond Green and Robert Covington.
"I do a lot of different things on the court," Tarke said. "I take bits and pieces from different guys, man, [specifically] people who defend at a high level and find different ways to put the ball in the basket."
To that end, and reflective of Tarke's own short-but-quick turnaround of his NBA profile, Kawhi Leonard springs to mind.
Leonard flew somewhat under the radar in the 2011 draft, heading into the pros out of mid-major San Diego State. He was a first-round pick of the San Antonio Spurs, his tenacity on the glass and commitment to defense fitting the organization's identity, but he fell outside of the lottery due to questions surrounding the consistency of his jumper.
Leonard transformed into a career 53.5 percent 2-point and 38.4 percent 3-point shooter in the past decade of NBA competition.
In the theme of being his own critic, Tarke said he could have shot more effectively at the Chicago combine. Keeping with the Kawhi comparison, however, Tarke shot more than four percent (53.9 to 49.7) better from 2-point range in each player's final college season; and three percent (32.1 to 29.1) better from beyond the arc.
The jumper is a "work in progress," according to Tarke, but not enough to dim his increasingly bright NBA outlook. To wit, stockrisers.com tabbed Tarke as a sleeper prospect to watch coming out of the Chicago workouts.
"You just need to get your foot in the door," Tarke said. "I'm the type of player where, once I get comfortable, I really, really thrive."
And if he's come this far in just a year, imagine what the years to come can bring once Anthony Tarke does get that foot in the NBA's door.