CAA Men's Basketball
UNCW's Okauru Invited To Nigerian Olympic Trials
UNCW's Okauru Invited To Nigerian Olympic Trials
For UNCW guard Mike Okauru, a summertime course with NBA players and Olympians could have him poised for a monster 2021-22 season.
Jul 19, 2021
by Kyle Kensing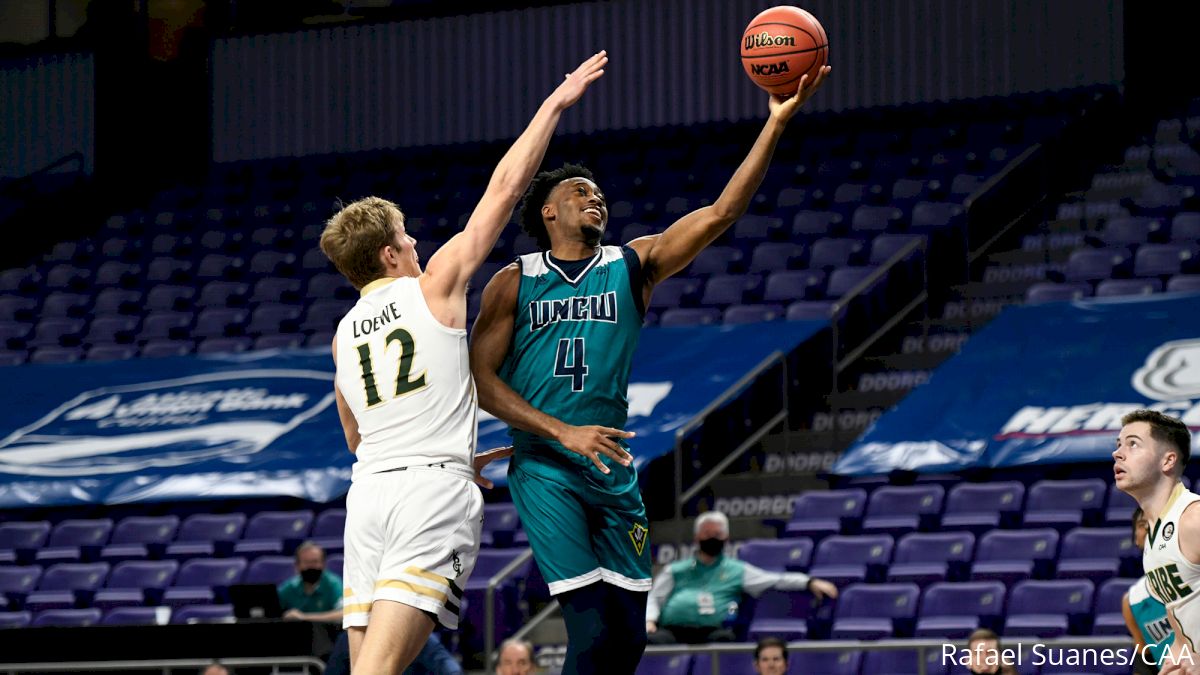 Summer school provides a springboard into the fall semester for those who use it. For UNC-Wilmington guard Mike Okauru, a summertime course with NBA players and Olympians could have him poised for a monster 2021-22.
Heading west to California — the first time Okauru said he left the UNCW campus since the end of the 2020-21 season in March — the Seahawks standout was part of a landmark camp at the end of June.
The Tokyo Games mark just the third-ever Olympic appearance for Team Nigeria, but a collection of elite talent has the D'Tigers positioned as a dark horse to medal.
"There are more players of Nigerian descent in the NBA than probably any other country besides the U.S," said Golden State Warriors associate head coach Mike Brown in a press release. Brown is Team Nigeria's head coach, setting the tone for the heavy NBA influence on the roster.
Chimezie Metu (Sacramento Kings), Josh Okogie (Minnesota Timberwolves), Jahlil Okafor (Detroit Pistons), Miye Oni (Utah Jazz), Jordan Nwora (Milwaukee Bucks), and the Miami Heat trio of KZ Okpala, Gabe Vincent, and Precious Achiuwa headline the D'Tigers lineup.
Team Nigeria also features seven-year former NBA veteran Ekpe Udoh. A very select few returning to college basketball next season will have spent their summers around as much world-class talent as Okauru.
Part of what he told FloHoops he took away from the experience came from Brown. A part of the Gregg Popovich coaching tree, Brown emphasized a philosophy that
"Always having to work hard for everything you're doing," Okauru said. "That was something he always preached out there. Nothing was given."
Earning a place for Okauru meant navigating the unknown. Coming off a campaign in which he averaged 14.2 points, 5.3 rebounds, and a hair below four assists per game for UNC-Wilmington, the Florida transfer rolled into the offseason with some positive momentum.
But trekking out to California was unlike anything Okauru experienced in basketball prior.
"I really didn't know what to expect going in, because I didn't know what a training camp is, so to speak — not [a training camp] on that level," he said.
The NBA brand of basketball presented Okauru with sets he said he "had to learn on the fly," and do so while matching the speed of the professional game.
"The level of play is a lot different," he said. "It's higher paced in the sense that the ball is always moving, and that's something I have to adjust to."
Top-flight competition ignites a player like Okauru, however — and not just at the moment, but in building toward the future. And the future for UNCW is bright with Okauru leading the way.
The Seahawks endured some turbulence in coach Takayo Siddle's first season at the helm, in no small part due to a month-long layoff due to the COVID-19 pandemic. But amid the challenges, the Seahawks showed promise with a win over NCAA Tournament team Norfolk State, and a Colonial Athletic Association defeat of a talented Delaware bunch.
Okauru found his groove in the latter half of the season, earning All-CAA recognition after scoring in double-figures in seven of the final eight games. He went for 20-plus in four of the seven, including a 30-point eruption to cap a 51-point weekend against Hofstra.
Joining fellow returners Shykeim Phillips and Jaylen Sims, Okauru will be a key piece to one of the most exciting backcourts in the nation. And Okauru will have some new insights to offer from his NBA exposure.
What's more, Okauru individually stands to benefit from one especially vital bit of knowledge.
"I can compete on that level, that's what I learned," he said. "It's still basketball, you don't have to overthink anything. Just being out there showed I could compete with those guys."
Okauru will cheer on the D'Tigers in their pursuit of a landmark medal in Tokyo, and parlay his time with the squad into UNCW chasing its own championship come CAA season.