Women's CAA Basketball
CAA 2021-22 Preview: Reloaded, Refocused Delaware Leads
CAA 2021-22 Preview: Reloaded, Refocused Delaware Leads
Delaware returns a strong core and isn't lacking in motivation when aiming for the top of the CAA conference in 2020-21.
Oct 6, 2021
by Kyle Kensing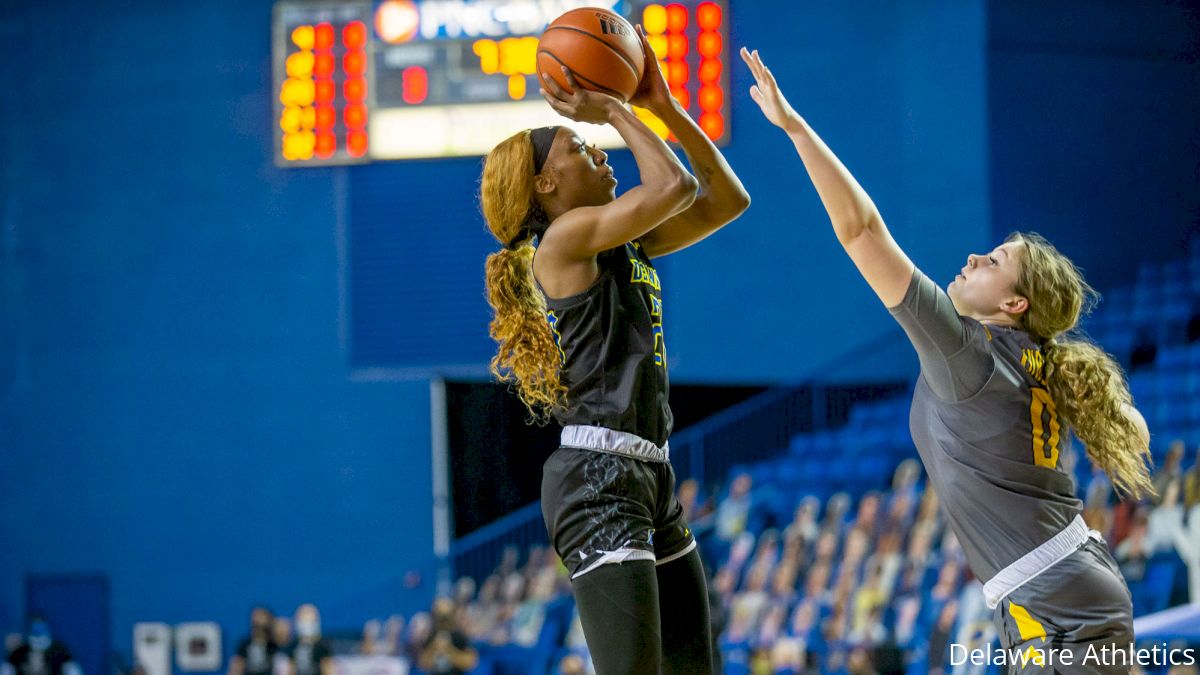 Drexel's defeat of Delaware in last March's Colonial Athletic Association Tournament was simultaneously a major upset, and par for the course in the conference.
Each of the last three CAA teams to earn the league's automatic bid into the NCAA Tournament did so at the expense of the regular-season champion.
2018: Elon, which a year earlier became the last team to win both the regular-season and Tournament crowns, earned a straight second trip to the Big Dance by beating 2017-18 co-regular-season champion Drexel in the title game.
2019: After ninth-seeded Hofstra shocked regular-season champion James Madison in the quarterfinals, Towson routed the Pride, then outlasted Drexel in the title game to land in the NCAA Tournament.
2021: A dominant run through the regular season ended for Delaware when Drexel got 30 points from Keishana Washington and the Dragons held the Fightin' Blue Hens to just 18-of-61 shooting in the CAA Championship Game.
So with a new season approaching, did the disappointment of missing the NCAA Tournament linger with a Delaware team returning its core from a 24-win roster?
"Are you kidding?!" joked coach Natasha Adair, entering her fifth season at the helm for Delaware. "We all know it without even mentioning [it] on a daily basis. But I don't want that to become the primary focus...We had a helluva run. But there are things we have to do to get us back to that point, and it starts Day 1."
Jasmine Dickey, Delaware's outstanding, versatile wing, said the Blue Hens have motivation to be "better than we were last year.
"What do we have to do today to get where we were last year, and then exceed that," she said of the team's offseason theme. "Our chemistry's already [through the roof]. And having the same squad coming back this year, we can build off what we did last year. We still have that same connection...We already know what we have to do."
It's an approach Adair called "WIN: What's important now."
Starting with Dickey, last season's CAA Player of the Year and a prime candidate for All-American honors in 2021-22, Delaware reloads with a proven lineup.
Ty Battle was one of the country's best interior players, averaging a double-double in 2020-21; Paris McBride kept the offense moving; Tyi Skinner was a Swiss Army knife; and Jewel Smalls provided scoring punch off the punch.
& @Ty_battle33😤#AOW #Elite pic.twitter.com/skG0aOZqqM

— Delaware Women's Basketball (@DelawareWBB) August 19, 2021
Delaware's depth feeds into the style Adair hopes to pursue, and should make the Blue Hens the CAA's team to beat in 2022.
"We want to create a tempo that's uncomfortable [for the opponent to keep pace], we're going to rebound the ball and get extra possessions. That's the standard. For us, it's those efficiencies: Increase that field-goal percentage. We're going to take more shots than our opponent because of the pace we play, we just have to be more effective."
The Blue Hens can once again expect a challenge from Drexel. The Dragons bring back stars Keishana Washington and Hannah Nihill from a team that gave Georgia a handful in the NCAA Tournament.
"I want to start by tipping my hat off to Drexel," Georgia head coach Joni Taylor said in her postgame press conference of a first round matchup. "[Drexel coach] Amy [Mallon] has done a really good job all year long. They're a tough team, the action they run is very difficult to guard, and they've got two great players in Nihill and Washington."
With that stamp of approval, the duo will lead Drexel in contention for another trip to March Madness.
James Madison, which has been agonizingly close to that breakthrough in recent years, also figures to be in that mix. Kiki Jefferson, a reliable 3-point shooter in 2019-20, added to her offensive repertoire last season and pushed her average above 16 points per game.
Jefferson keys what should be one of the most versatile perimeter groups in the conference, with Peyton McDaniel and Jamia Hazell returning. James Madison also added some interior size midway through last season with the addition of Claire Neff.
Plenty of new faces could help shape the CAA championship race, too. Teams like Northeastern and Elon feature a host of new contributors taking on key roles. High-scoring Towson loses Kionna Jeter, but that opens an opportunity for up-and-coming talent like Allie Kubek.
Another new look in 2021-22 compared to last season: the return of home audiences.
Dickey said Delaware "created [its] own energy" effectively in 2020-21, but playing before crowds eager for basketball adds a layer that promises to make this season uniquely exciting.
"The fans are chomping at the bit," Adair said. "We know [the pandemic]'s not over...but to be able to have fans, it's going to be electric.
"We are so ready," she said. "Can we play tomorrow?"
Players To Watch
G Tyler Collins: The driving force behind Charleston's offense in each of the last two seasons, Collins averaged north of 12 and 13 points in 2019-20 and 2020-21, and has led the Cougars in assists for three years running.
F Arynn Eady: Standout defender and rebounder Arynn Eady averaged just shy of two blocks per game a season ago, and was tied for second with 21 steals. Eady also grabbed a team-best 8.7 rebounds per game.
G Chelsea Wooten: Wooten made an impression in her freshman season, playing into the Cougars starting lineup midway through the campaign. She was the team's second-leading scorer in 2020-21 and knocked down 27 3-pointers in just 15 games—including two in four of the last five.
G/F Jasmine Dickey: Delaware's veteran leader and the defending CAA Player of the Year Jasmine Dickey was electric a season ago. She averaged 22.6 points and 9.1 rebounds per game, and was one of the best on-ball defenders in the country with 71 steals in 29 games.
F Ty Battle: Ty Battle, a double-double machine, is back, and only a season removed from posting 12 points and 11.1 rebounds per game. Battle also ranked No. 19 nationally in rebounding and led the CAA.
G Tyi Skinner: Tyi Skinner did a little of everything for the Blue Hens in 2020-21, averaging 8.8 points, finishing third on the team with 51 assists, and coming away with 25 steals.
G Paris McBride: A key piece of Delaware's balanced offense, McBride led the Blue Hens with more than three assists per game and was third on one of the nation's most prolific steal-generating defenses, with 42.
G Hannah Nihill: Hannah Nihill returns to Drexel after having led the Dragons last season in scoring (16.3 points per game), assists (3.8 per game), 3-point shooting (46-of-125) and steals (2.8). Her steals production was good for 18th in the country.
F Mariah Leonard: Leonard led Drexel in rebounding last season at 6.5 per game, and was a reliable interior scorer with a team-leading field-goal percentage just below 50.
G Keishana Washington: Along with Nihill, Washington gives Drexel a potent scoring punch on the perimeter. She posted 14.6 points per game last season and helped set the table offensively with well over two assists per game.
G Brie Perpignan: Perpignan was central to Elon's offense in 2020-21, averaging team-highs of 9.9 points and 3.1 assists per game. Perpignan also posted better than a steal per game.
C Evonna McGill: One of two Phoenix returning players who averaged more than nine points per game, McGill was also Elon's leading rebounder at 4.6 per game. 2021-22 marks McGill's first full season with Elon after transferring last year from UNC Asheville.
G Kayla Liles: Versatile guard Kayla Liles shot almost 37 percent from 3-point range a season ago, dished almost two assists per game, and matched Perpignan for the team's most steals. Look for the veteran to have a significant impact in her fourth year in the program.
G JaKayla Brown: Brown took a huge leap in her scoring production from 2019-20 to 2020-21, improving by more than 10 points per game (6 to 16.1). As a fourth-year contributor and second as a clearly defined leader, Brown could emerge as one of the most explosive scorers in the CAA.
F Jaylen Hines: The second of Hofstra's two returners who averaged in double-figures scoring, Hines provides a solid interior presence. She scored 13 points per game last season and grabbed 7.4 rebounds, combining with Jaala Henry to form one of the more formidable frontcourts in the CAA.
G Jahsyni Knight: Pitt transfer Jahsyni Knight made an immediate impact for Hofstra last season, both on offense—where she averaged 9.7 points and dished out more than three assists per game—and defense, snagging 2.6 steals per game (good for 38th in the nation and just behind 2021 All-American Aari McDonald).
G Kiki Jefferson: Jefferson paced a balanced James Madison offense with 16.2 points per game a season ago, was second on the Dukes with 57 assists in 24 games, and was one of three JMU players to knock down at least 30 3-pointers. She also led JMU in rebounding at 7.8 per game.
G Peyton McDaniel: Behind a team-leading 35 3-pointers, McDaniel was James Madison's second-leading scorer in 2020-21 with 12.2 points per game. The rangy guard won CAA Rookie of the Year and closed the season with one of her best performances: a 5-of-10 3-point shooting night for 22 points in the CAA Tournament against Northeastern.
G Jamia Hazell: At a hair below 10 points per game, Hazell was almost the fourth Duke to score in double-figures per game last season. She had an outstanding stretch in CAA play, scoring in double-figures for eight consecutive games, and had nine points and eight rebounds at the end of the stretch against Delaware.
G Madison Green: One of the country's best 3-point shooters, Green knocked down 41 percent of her attempts last season and made the second-most of all Dukes with 32. She had a stretch of five straight CAA games, making at least two per contest.
G Kendall Currence: Currence was one of three Huskies to average in double-figures scoring last season, but the only returner of the trio. She was an invaluable spark plug off the bench, and finished the season strong with 46 points over Northeastern's final three games.
G Maddie Vizza: An excellent 3-point shooter, Vizza hit a blistering 44 percent from long range last season. Only Stella Clark connected on more than Vizza's 40 from beyond the arc.
G Aleah Nelson: Cincinnati transfer Nelson takes up the reins left after Kionna Jeter was drafted into the WNBA. Nelson was Towson's second-leading scorer at 13.5 points per game and a prolific 3-point shooter at 37.4 percent (34-of-91). Nelson also effectively set the table for the rest of the offensive with an impressive 6.5 assists per game, ranking in the top 20 of all players nationally.
F Allie Kubek: One of the top freshmen in the CAA last season, Kubek finished her debut campaign with three double-doubles, 8.8 points and a team-high 7.1 rebounds per game. Kubek's ability to step outside to shoot the 3-pointer adds an extra element to the Tigers offense.
G Skye Williams: Williams shot a team-high 42.9 percent from 3-point range as a scoring spark off the bench. With Jeter and Shavonne Smith gone, Williams will have the opportunity to contribute even more to the high-scoring Tigers attack.
G Mary McMillan: McMillan is the Seahawks top returning scorer at 7.8 points per game, and led UNC Wilmington with 55 assists in 18 games. With UNCW replacing Taylor Webster, Za'Nautica and Camille Downs and Carol-Anne Obusek, McMillan could take on a key role leading a new-look roster.
G Dazia Powell: North Carolina transfer Powell appeared in 20 of UNC Wilmington's 21 games last season, averaging 7.1 points and 3.9 rebounds.
G Sydney Wagner: Third among all CAA scorers and 16th in the nation, Wagner returns after scoring an impressive 21.3 points per game. The Tribe were limited to just 13 games as a result of COVID-19 protocols, but Wagner closed on a crescendo with between 21 and 31 points over five of the final six games.
F Bre Bellamy: Bellamy played her best ball toward the end of William & Mary's truncated campaign, including games of 19 points and six rebounds against Drexel and 7 points with 10 rebounds against College of Charleston.
G Chaniqwa Gilliam: Gilliam hit half of her eight 3-pointers on the season in the final four games, and had season scoring highs of 12, 10 and nine twice over the Tribe's final six contests.