CAA Men's Basketball
For Delaware's Veteran Players, 2021-22 Season A 'Privilege'
For Delaware's Veteran Players, 2021-22 Season A 'Privilege'
Delaware endured one of the most trying seasons of any program in the nation, playing just 15 games due to COVID, and none in the month of February.
Oct 7, 2021
by Kyle Kensing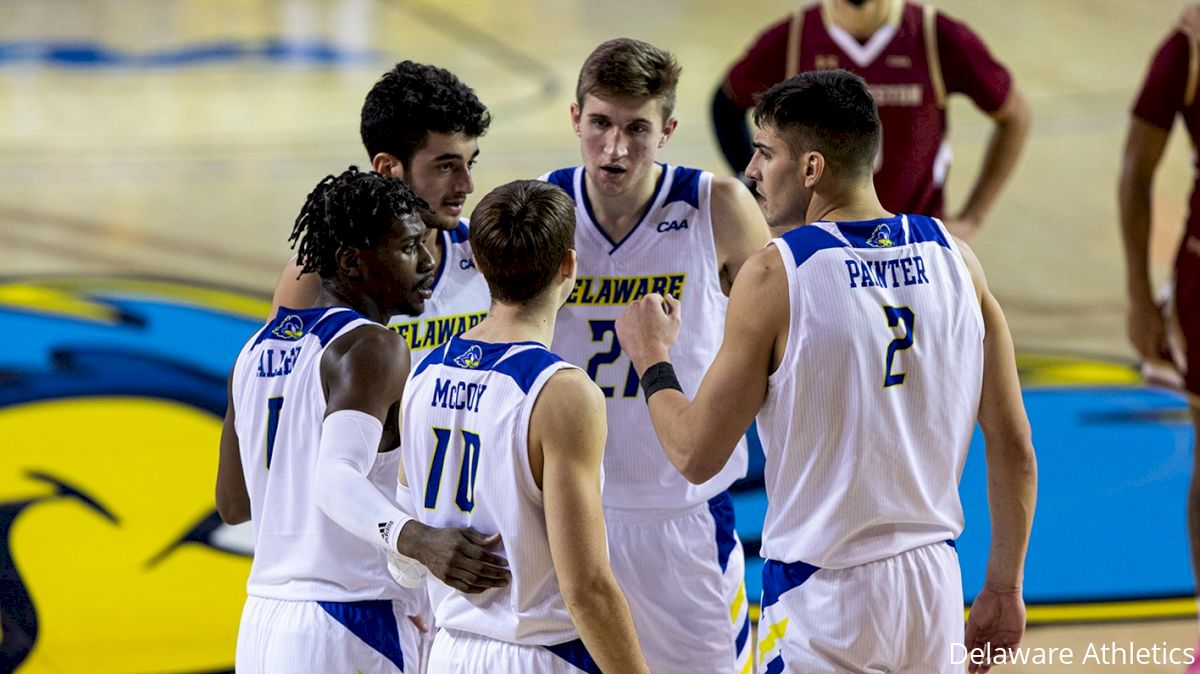 Through all the uncertainty of the COVID-19-impacted college basketball season in 2020-21, a ray of hope illuminates the 2021-22 season for Delaware big man Dylan Painter.
"I'm so thankful," said Painter, on the year of extended eligibility. "Last year would not be the way for anybody to end their college career."
Delaware endured one of the most trying seasons of any program in the nation, playing just 15 games due to COVID-19 protocols and none in the month of February.
Fightin' Blue Hens coach Martin Ingelsby "halfheartedly joked" with his team about going undefeated for the month, a bit of gallows humor to give levity to trying circumstances.
But after the challenges, including the starts-and-stops, Delaware is well-positioned to have reasons to smile in the coming campaign. Painter is part of a three-man corps of upperclassmen leading the Blue Hens into what could be a special season.
Painter averaged a double-double in the truncated 2020-21, with 13.5 points and 11.5 rebounds per game, to go with a blocked shot a night. Leading scorer Ryan Allen is back after posting 15.3 points per game, and Kevin Anderson—a 40.7 percent 3-point shooter last year—rounds out the trio of double-figure scorers.
It's one of the most proven groups returning to a deep Colonial Athletic Association, experienced and talented enough that it prompted Elon coach Mike Schrage to suggest the Blue Hens as league favorites in 2021-22.
"I don't know if I'd agree with that," Ingelsby said, adding a plea not to rank Delaware No. 1 in preseason projections. "But I like our team."
Ingelsby likes his team, and the team likes each other. The internal bond was the one element Painter said they lacked the most a season ago as a direct result of the pandemic—not due to the dynamics among teammates, but the simple fact they could rarely all be together.
Back to work 💪#BlueHens pic.twitter.com/MXGMBPsWAr

— Delaware Men's Basketball (@DelawareMBB) July 15, 2021
"It's really important to be allowed 10 guys to practice," he said. "Pretty much most of the season, we had eight guys...We always had people out with injuries or contact tracing."
"It's so much different than last year," Painter added. "We have a lot more freedom to be in the gym, be around each other, and you can really tell the difference in the team's camaraderie."
Growing those team relationships was a driving factor in Painter opting to return for his additional year of eligibility despite the NCAA opening the transfer market.
Having transferred to Delaware from Villanova, Painter gained eligibility midway through the 2019-20 season, then had his second year with the Blue Hens impacted by COVID.
"He just wanted to play and experience a full college season," Ingelsby said. "He hasn't been able to do that as a key guy, really, in five years."
Painter had a taste of it in 2019-20 when the Blue Hens won seven straight and 8-of-9 in CAA play. He called that stretch, "probably the best month of my life in college."
"The difference last year," Painter continued, "Not really being able to do any of that after we had a big game was disappointing."
The pursuit of capturing that energy for an entire season and making a real push for the CAA championship prompted his return.
Ingelsby said each of the seniors had different situations to evaluate when deciding what to do in 2021-22.
"I waited until the end of the season to talk with Kevin and Ryan [about the next year]," he said "I felt those guys felt short-changed by the season we had last year. They kind of had a bad taste in their mouth with how the season ended."
"I'm glad they all believed in my vision, believed in our basketball program, our university to come back and see if they could run it back," Ingelsby added.
With the veteran foundation, as well as promising contributors from a season ago like Ebby Asamoah, Delaware mixes in newcomers who could be crucial to getting the Blue Hens back to the NCAA Tournament.
Among them is Jameer Nelson Jr., a transfer from George Washington who averaged 8.4 points per game last season. He is the son of Jameer Nelson who, at St. Joseph's in the first-half of the 2000s, became one of the greatest point guards in college basketball history.
"He likes to get downhill. He'll dunk on you," Painter said of Nelson. "He plays great perimeter defense and is a team-first guy."
And the prospect of jelling as a group, from new faces like Nelson to an established returner like Painter, is probably the most exciting part of the entire 2021-22 season at Delaware. Last season wasn't easy, but it helps the Blue Hens accentuate the positives ahead of them in a new year.
"It gave our guys great perspective of the opportunity they have, and the privilege of playing college basketball," Ingelsby said. "Our guys really had a great appreciation for the opportunity they have and just being together again."