Men's CAA Basketball
"Easy Mesh" Shapes Deep And Talented Northeastern Team
"Easy Mesh" Shapes Deep And Talented Northeastern Team
The return to a more routine lead-up has Northeastern coming together in pursuit of more championships.
Oct 18, 2021
by Kyle Kensing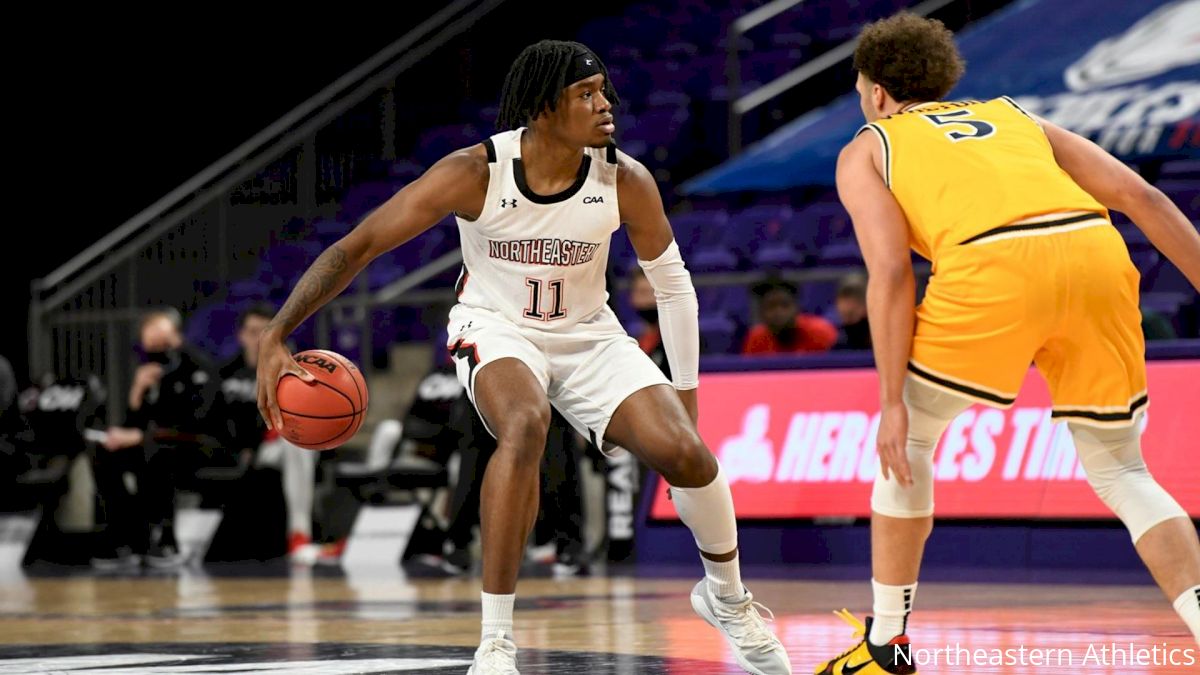 A near-constant in a conference with the kind of depth and unpredictably of the Colonial Athletic Association boasts is that a Bill Coen-coached Northeastern team will be in the championship hunt.
That shouldn't change in 2021-22. A deep and talented roster and the winningest coach in NU history shape a likely front-runner in the coming campaign.
Coming out of the pandemic season in which the Huskies roared to the front of the CAA pack, then were sidetracked through cancellations, this year's squad has relished offseason preparation.
"We were able to have summer access, which got everybody back into a routine and I think we're coming into this season in better shape and have a better foundation in terms of our skill work," Coen said.
A year ago at this time, Coen said the team was just getting to work for the first time with only about a month before the historic season tipped off. The return to a more routine lead-up has Northeastern coming together in pursuit of championships.
"It's been an easy mesh, a quick mesh," said senior wing Shaq Walters. "This year, we're further ahead as far as having so many new guys coming together. We're in a good place as a team."
Walters headlines a solid corps of returning veterans along with Jahmyl Telfort, Jason Strong, Coleman Stucke and Chris Doherty. The five averaged a combined 43 points per game, with Telfort and Walters both averaging in double-figures.
Between Walters, Doherty and Strong, Northeastern also features a trio of impact players on the glass. Quirin Emanga played quality minutes in 18-of-19 games with seven starts and added capable 3-point shooting and rebounding; he's also back in the fold.
Even before factoring in new additions, the Huskies lineup looks more than capable of contending for the CAA crown.
Adding transfers Nikola Djogo (Notre Dame), Joe Pridgen (UNC Wilmington) and Tyreek Scott-Grayson (UAB) just might give Northeastern the most depth of any team in the league.
"We have some really talented, team-first guys coming back to the roster, and a lot of versatility with several interchangeable parts," Coen said. "We're trying to figure out how to best utilize that, but certainly it gives you some flexibility and how you design offensive and defensive structures."
Defensively, Northeastern's collective length and athleticism promise to be considerable weapons. Perimeter players like Walters, Scott-Grayson, Pridgen, Djogo and Telfort range from 6-foot-5 to 6-foot-8, a rarity among college backcourts.
Scott-Grayson is a defender to keep an eye on. Last season at UAB, he ranked among the nation's elite turnover-generating guards with a steal percentage of 2.8 per possession.
Post players including Strong and Doherty offer similar size and the Huskies lose nothing in speed with them.
Walters said the Huskies' ability to switch on screens will allow them to "defend how we want to" regardless of opponent.
That same versatility on offense might be the most intriguing piece of Northeastern's outlook for the season to come.
In each of the last two years, perimeter players Jordan Roland and Tyson Walker set the tone. Coen's motion offense accommodates explosive individual scorers, but isn't necessary to work.
In fact, the system works quite effectively when incorporating a variety of scoring options. Northeastern can stretch out opposing defenses with four returning players who made at least 22 3-pointers a season ago, three of whom connected on better than 36 percent of their attempts.
Scott-Grayson made 31 3-pointers at UAB, and Djogo shot almost 41 percent from long range at Notre Dame.
A variety of shot-makers outside can lead to high-percentage looks in the paint, a hallmark of Northeastern's best teams under Coen. The 2018-19 team that reached the NCAA Tournament, for example, shot the nation's fifth-best overall effective field-goal percentage per KenPom.com metrics.
The Huskies test their depth and versatility right out of the gate, playing one of the most challenging non-conference slates in college basketball. Northeastern participates in the Paradise Jam in November with a field that includes 2021 NCAA Tournament teams Colorado and Creighton, and a Colorado State team that had a Tournament-worthy resume.
#𝙃𝙤𝙬𝙡𝙞𝙣𝙃𝙪𝙨𝙠𝙞𝙚𝙨 𝙖𝙣𝙣𝙤𝙪𝙣𝙘𝙚 2021-22 𝙨𝙘𝙝𝙚𝙙𝙪𝙡𝙚‼️

🔗 | https://t.co/YkPAgWYXoJ
🎟️ | https://t.co/jDyhOuAeL2

🐾🏀 pic.twitter.com/YA6ilqi6xA

— Northeastern Men's Basketball (@GoNUmbasketball) September 1, 2021
Northeastern fans can also look forward to an early holiday gift with a three-game homestand in December that welcomes Davidson, perennial America East title contender Vermont and a St. Bonaventure team with Top 25 credentials into Matthews Arena.
"We've always tried to challenge [ourselves] with the very best non-conference schedule we can find," Coen said, citing that, "even in the COVID year" Northeastern continued that tradition.
Among its contests was a nail-biter at Syracuse that marked something of a coming-out party for Telfort. He scored 16 points and hit three 3-pointers against the Orange.
Such games early will shape the Huskies for the challenging Colonial slate to follow.
"You get right down to it when you play really difficult opponents, because you get exposed and you get to learn yourself," Coen said. "That's what it's all about [because] you're trying to win a CAA regular season and tournament championship."