Men's CAA Basketball
College of Charleston Experiments With A New Look
College of Charleston Experiments With A New Look
Charleston has brought together players from Div-III, Senegal and Australia for something they're calling, "The Great Experiment."
Oct 22, 2021
by Kyle Kensing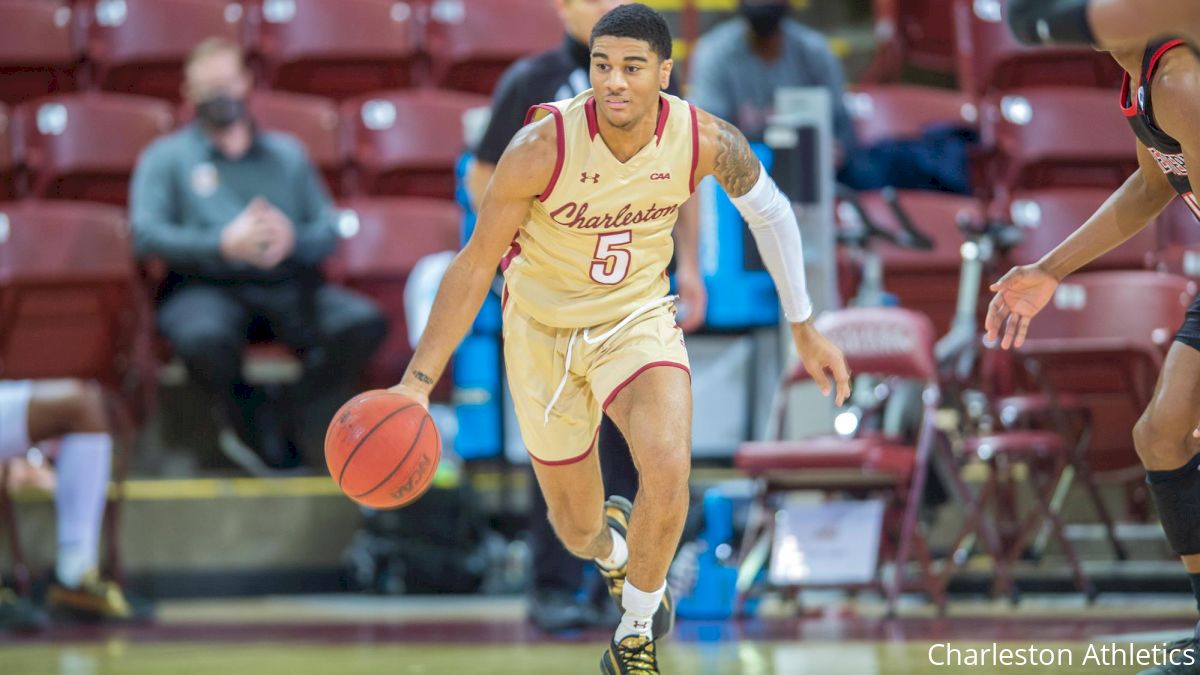 First-year College of Charleston coach Pat Kelsey isn't the only Cougars newcomer in 2021-22. Returning just three players makes this roster one of the most unique in all of college basketball—so much, it deserves its own label.
"We've kind of nicknamed it the Great Experiment," Kelsey said.
Brenden Tucker, Keegan Harvey and Osinachi Smart are the sole holdovers from a season ago. With so much turnover ahead of his first year, Kelsey and his staff covered all corners of the globe for talent.
Charleston's lineup features additions from Australia in guard Reyne Smith, a representative of his home nation at the FIBA U19 World Cup last summer; and Babacar Faye of Senegal, who played at NBA Academy Africa.
"We had to go out and recruit an entire new roster, which was a challenge. Our staff did an unbelievable job," Kelsey said.
The influx of new players doesn't mean a lack of experience. The College welcomes a variety of new faces from the transfer portal, including a trio of graduate transfers that Kelsey referred to as the "heart and soul" of Charleston's 2021-22 goals.
Each of the three come in with unique albeit impressive pedigrees. John Meeks earned All-Patriot League recognition at Bucknell a season ago, posting more than 150 points in just six games.
Dalton Bolon was a three-time Div-II All-American at West Liberty, most recently averaging 21.5 points per game in 2020-21. His explosive scoring should translate immediately at the Div-I level, according to Kelsey.
Dimitrius Underwood rounds out the group. He could be Charleston's answer to Duncan Robinson, a rare Div-III transfer who makes an impact in Div-I. Underwood is a two-time Div-III All-American who can play inside and on the perimeter.
The Cougars also added Nick Farrar from NC State, and Fah'mir Ali, a standout last season for Radford.
All those new components coming together at once makes this Charleston experiment clearly one of chemistry. Kelsey said that emphasis in the preseason has been on building "culture" and identity.
"Roles are slowly starting to be defined, and guys are busting their butts," he said.
Charleston isn't lacking for potential scorers among the new bunch, and Kelsey's past Winthrop teams suggest the Cougars will have plenty of possessions to create opportunities. The Eagles ranked No. 14 nationally in adjusted tempo a season ago, No. 36 the year prior, and No. 16 in 2018-19.
Winthrop's fast-paced style relied on a solid defense that kept opponents off the offensive glass.
Charleston also succeeded in keeping teams away from offensive boards last year, ranking in the top 100 nationally—but the Cougars were giving up made baskets to limit rebounding opportunities.
A shift in style and revamped roster will have plenty of chances to test its defensive mettle before Colonial Athletic Association play starts. The Cougars face Oklahoma State and North Carolina in marquee non-conference games. They also travel to Furman, which has quietly boasted some of the most high-scoring offenses anywhere in the country in recent years.
"The biggest goal is to be playing your best in March...give yourself the opportunity to play in the [NCAA] Tournament," Kelsey said of diving in with a challenging out-of-league slate. "My mentor, Skip Prosser, used to say, 'You can't sharpen your teeth eating oatmeal.'"