2021 Princeton High School vs Villanova - Women's
Villanova, Depaul Get Back To Action In BIG EAST Games Of The Week
Villanova, Depaul Get Back To Action In BIG EAST Games Of The Week
A trio of BIG EAST schools this week will have some tough early-season non-conference tests to show their ability.
Nov 3, 2021
by Briar Napier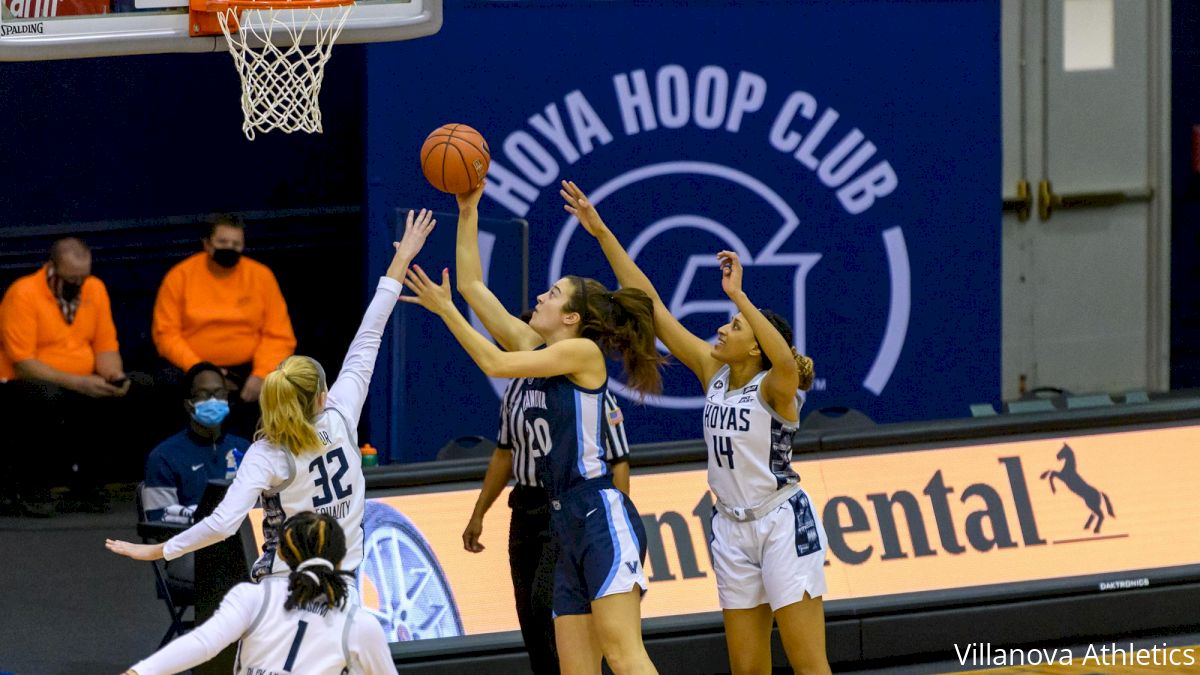 The long-awaited return of BIG EAST women's basketball on FloHoops is finally about to commence.
Women's BIG EAST teams tip off regular season play this week as the rest of the league attempts once again to catch league queen UConn at the top of the pile. Don't mistake the BIG EAST for a one-trick pony, however; there's plenty of other players outside of Storrs that will light up the scoreboard and can easily prove themselves to hang with the best. A trio of BIG EAST schools this week will have some tough early-season non-conference tests to show their ability.
Here's the games to watch throughout BIG EAST women's basketball this week.
Princeton Vs. Villanova
There's a lot to like about Villanova this season, especially if junior Maddy Siegrist—one of the nation's top power forwards last year at 22.8 points and 9.8 rebounds per game—continues and improves upon her dominance down low.
But Princeton has been waiting a long time for this game, 613 days to be exact. Led by current Dallas Wings player Bella Alarie, the Tigers went 26-1 and were as high as No. 17 in the country in 2019-20 before COVID-19 shut down their chance to make a deep NCAA Tournament run. The Ivy League then decided to cancel all winter sports last season, resulting in many of those who returned from that 2019-20 team to leave the team.
Thus, its tussle with the Wildcats will be the Tigers' first official game since March 7, 2020 in what's sure to be an emotional night for coach Carla Berube's program. Guards Julia Cunningham and Grace Stone started all but one game together from two years ago for Princeton and are undoubtedly the leaders now with Alarie and Carlie Littlefield (13.7 points per game in 2019-20) long gone. But the Wildcats have one of the BIG EAST's best one-two punches at forward with Siegrist and grad student Brianna Herlihy, who combined for nearly 17 rebounds a night between them last year. Expect a tight affair (Princeton had the nation's No. 1 defense two years ago) and a tough test no matter what for coach Denise Dillon's Wildcats.
Loyola Chicago Vs. DePaul
There's a huge hill to climb to reach the lofty heights of UConn in the BIG EAST, but DePaul has a unit that probably has the best shot at challenging the reign. The Blue Demons went through a nearly two-month stretch last season where they didn't lose besides the home and away UConn games, a run which included a home win over All-American Rhyne Howard and Kentucky.
That timeframe started with a victory over Loyola Chicago, which struggled at times to an 11-15 record last year but did have a postseason appearance in the Women's Basketball Invitational, where it went 1-2.
The two teams rematch this year in an early-season tilt, with DePaul looking to re-live its 76-67 win from last time. Beating the Blue Demons requires outscoring them, which wasn't easy to do last year as they averaged 81.5 points per game, good for seventh nationally. That number becomes even more imposing when taking into account that DePaul returns its top seven scorers, including Preseason All-BIG EAST Team nominees Lexi Held and Sonya Morris.
Fordham Vs. Seton Hall
Perhaps quietly, Seton Hall has been establishing itself over the past few seasons as one of the BIG EAST's toughest outfits. The Pirates have finished third in the league for two years running and were selected third again in the conference's Preseason Coaches' Poll, but the aim this year is to make it back to the NCAA Tournament for the first time since 2016.
That journey starts with a game against Fordham, who went 12-6 last season, and return a 20-point-a-night scorer in junior guard Anna DeWolfe, a statline that contributed to her being named the co-Atlantic 10 Player of the Year. The Pirates need to fill a hole left behind by transferred All-BIG EAST first teamer Desiree Elmore (17.4 points, 9.1 rebounds, 1.9 steals a game), but the adjustment will come easier with both guard/forward Andra Espinoza-Hunter (18.6 points, 6.4 rebounds per game) and guard Lauren Park-Lane (17.5 points, 5.4 assists per game) returning and being named to the Preseason All-Big East Team. It'll also be a clash of styles as Seton Hall's high-powered offense (76.7 points a game last year) will be up against a stout Fordham defense (57.4 points allowed per game).