2021 Battle 4 Atlantis Women's Tournament
Battle 4 Atlantis: Inaugural Women's Tourney Features Packed Field
Battle 4 Atlantis: Inaugural Women's Tourney Features Packed Field
It's a feast for women's college hoops fans right before Thanksgiving as the champion will need to win three games in three days to take the crown.
Nov 4, 2021
by Briar Napier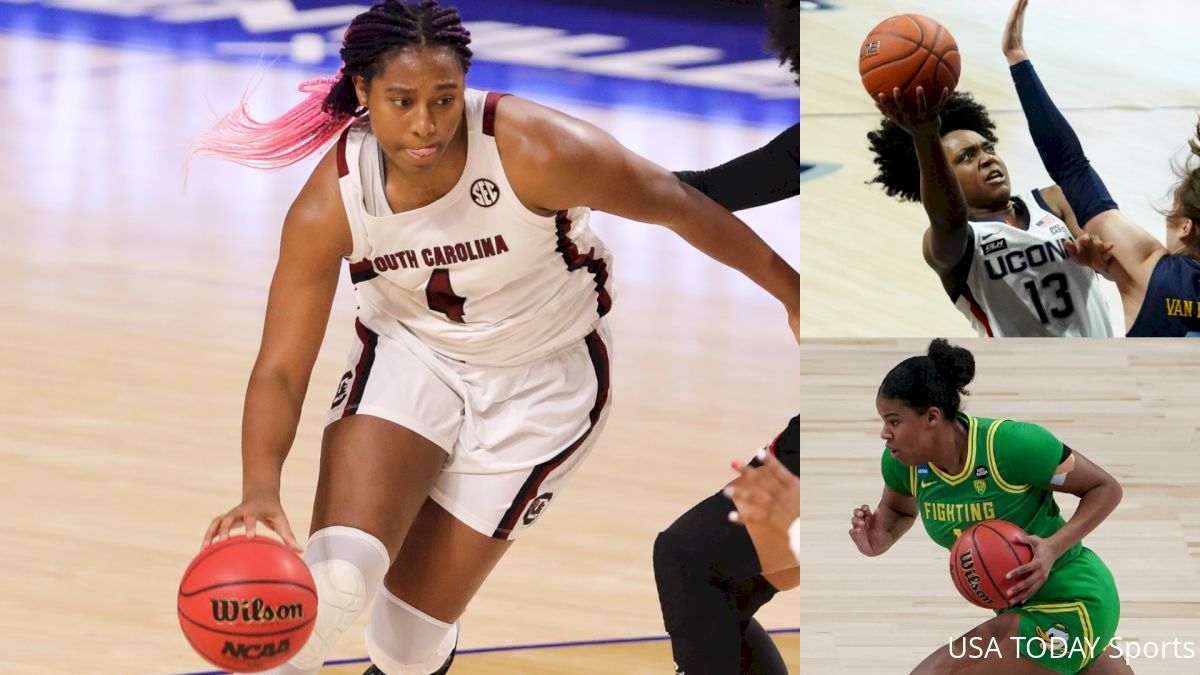 Paradise Island, Bahamas may have staked its claim as a women's college basketball mecca—at least for a few days.
Just take one look at a stacked field for the first-ever Bad Boy Mowers Women's Battle 4 Atlantis tournament to see why. Held on the island's Atlantis resort from Nov. 20 to 22 (broadcast live on FloHoops), the eight-team field features four schools ranked in the Associated Press Top 25, including two programs coming off Final Four appearances in No. 1 South Carolina and No. 2 UConn.
It's a feast for women's college hoops fans right before Thanksgiving as the champion will need to win three games in three days to take the crown. With 12 games scheduled in total, plenty of intriguing matchups will fill in the blanks in the bracket.
Plan to check out the action in Paradise or in the comforts of your home? Here's what to know about the teams within the toughest early-season tournament.
South Carolina
AP Top 25 ranking: No. 1
Last year's record: 26-5 overall, lost in NCAA Tournament Final Four to Stanford
Who's returning: In short, a lot. But it all starts with the might of the nation's best center, Aliyah Boston, the two-time defending Lisa Leslie Award winner who returned to Columbia following a double-double a night and almost three blocks per game. Senior point guard Destanni Henderson evolved into a star as a full-time starter last year (12.2 points, 41.4% from 3) and looks poised for an even better senior year. And on top of all that is junior Zia Cooke, the squad's leading scorer from last year at 15.9 points a game. This is a deserved No. 1 ranking.
Just in case anyone needs a reminder of what we're rollin with this season... 😤 pic.twitter.com/xl3HrNSVfa

— GamecockWBB (@GamecockWBB) September 17, 2021
The freshmen: South Carolina signed the nation's No. 1 recruiting class for the second time in three years per espnW rankings, with Dawn Staley's roster adding even more depth. Three of the top-five overall players—point guard Raven Johnson (No. 2), guard Saniya Rivers (No. 3) and forward Sania Feagin (No. 4)—signed on top of guard Bree Hall (No. 14), making for an incredible quartet of five-star talents. The trick for Staley may be figuring out when to plug in the new faces within an already-loaded roster and keeping that balance going throughout the grind of the season.
The transfer: There's just one addition from the portal, but it's a big one—literally and figuratively. Syracuse transfer Camilla Cardoso was a monster in the post for the Orange, winning the ACC's Freshman and Co-Defensive Player of the Year honors with 13.6 points, 8.0 rebounds and 2.7 blocks per game. The 6-foot-7 Brazilian should undoubtedly take some pressure off Boston in the post and will help to keep the Gamecocks' rebound margin (14.4, third nationally) and blocks per game (7.0, tied for first) from a year ago at elite levels.
First Battle 4 Atlantis game: vs. Buffalo on Nov. 20
Connecticut
AP Top 25 rankings: No. 2
Last year's record: 28-2 overall, lost in NCAA Tournament Final Four to Arizona
Who's returning: A player with the hype level of Paige Bueckers needs little introduction. The 5-11 guard put up potentially the greatest freshman season in history in 2020-21, winning virtually every award she was eligible for as she took the country by storm. Back for her sophomore year with expectations now through the roof, she and the Huskies are looking for one of the few accolades that alluded her last year: a national championship. The four other starters from the Final Four loss return to try and help her do it, including guard Christyn Williams (an All-Big East first team nod with Bueckers) and 6-foot-5 forward Olivia Nelson-Ododa (the defending co-Big East Defensive Player of the Year).
The freshmen: South Carolina may have nabbed the country's best recruiting class, but UConn got the nation's best recruit. Guard Azzi Fudd has already won gold with the U.S. in three different international tournaments on top of being the Morgan Wootten National Player of the Year selected from a field of McDonald's All-Americans, making her the early favorite for the nation's top freshman this year. Joining her are two more five-star recruits in guard Caroline Ducharme and forward Amari DeBerry, a fine consolation for not being the top-ranked class for Geno Auriemma's Huskies.
First practice of the season ✅ pic.twitter.com/qlw6RyXiSG

— UConn Women's Basketball (@UConnWBB) October 9, 2021
The transfer: If you're a program like UConn that reloads yearly onto a team swamped with talent, you can attract the types of transfers like former Ohio State forward Dorka Juhász. A 6-5 grad transfer hailing from Hungary, Juhász averaged a double-double her final year with the Buckeyes, in which she also earned her second straight All-Big Ten first team nod on a team ranked for much of the season. Her 11.1 rebounds per game from last year makes for an imposing presence down low with Nelson-Ododa or 6-3 forward Aaliyah Edwards as Juhász could make a case for the starting lineup with effective play.
First Battle 4 Atlantis game: vs. Minnesota on Nov. 20
Oregon
AP Top 25 ranking: No. 10
Last year's record: 15-9, lost in NCAA Tournament Sweet 16 to Louisville
Who's returning: The Ducks had a good year, albeit with a bit of a comedown from the Sabrina Ionescu-led 31-2 team from two years ago, and will enter Battle 4 Atlantis with a top-10 ranking and chance to prove themselves against the nation's No. 1 and 2 teams. Those hopes start with the play of forward Nyara Sabally (the sister of former Oregon standout Satou Sabally) and guard Te-Hina Paopao, both of which were All-Pac 12 nominees from a year ago. Throw in 6-7 center Sedona Prince (10.4 points per game) and the Ducks' core players are an experienced group that should blend nicely once again.
T out here breaking ankles 👀.

Already 12 points for @tehinapaopao12 with inside a minute left in the first. #GoDucks pic.twitter.com/R6jZWue8iA

— Oregon Women's Basketball (@OregonWBB) October 29, 2021
The freshmen: Coach Kelly Graves' 2021 recruiting class is headlined by four-star guard Taylor Bigby, the nation's No. 29 recruit per espnW. Bigby sat out the Ducks' recent exhibition against Saint Martin's with a minor injury but is expected to return soon, a welcome sign for the two-time Gatorade State Player of the Year in Nevada. 6-8 center Phillipina Kyei is the Ducks' other freshman on the roster, making her the tallest player in program history and adding more length and depth down low in tandem with Prince.
The transfers: Graves hit the transfer market hard in the offseason, with his most prized pickup being a guard that has already terrorized the Pac-12 for two years. USC transfer Endyia Rogers led the Trojans in points, assists and rebounds per game en route to an All-Pac 12 selection last season. Senior guard Ahlise Hurst (New Mexico) brings in more pedigree after a 12.4 points per game year in 2020-21, as does senior forward Taylor Hosendove (Georgia State) and her 12.5 points and 8.8 rebounds per game. Forwards Shannon Dufficy (Missouri) and Chanaya Pinto (JUCO) round out the rest of the bunch.
First Battle 4 Atlantis game: vs. Oklahoma on Nov. 20
South Florida
AP Top 25 ranking: No. 21
Last year's record: 19-4, lost in NCAA Tournament second round to NC State
Who's returning: The American Athletic Conference's reigning regular season and tournament champs, the Bulls are probably even better this year. That's bad news for the rest of the league and teams that need to face their suffocating defense that allowed opponents to shoot just 25.4% from 3 last year. Sophomore Elena Tsineke (13.6 points per game) is the motor on the wing, while Bethy Mununga (9.7 points, 12.9 rebounds) is one of the most ferocious rebounders in the country. That duo both made the American's Preseason All-Conference First Team, while guards Sydni Harvey (11.7 points) and Elisa Pinzan (10.3 points) earned second-team honors.
𝘽𝙐𝙇𝙇𝙎 𝙉𝘼𝙏𝙄𝙊𝙉, how sweet is it that tip-off is just ✌️weeks away⁉️

Who's ready for hoops. Watch ⬇️ to get fired up‼️#HornsUp🤘 #Bullieve pic.twitter.com/zktAIBkS6b

— USF W. Basketball (@USFWBB) October 26, 2021
The freshmen: There's just one true freshman on the Bulls' roster in 5-6 guard Bella Weary, a Florida native that netted 17.0 points per game at DME Sports Academy in Daytona Beach, Fla. her senior year. Guards Mihaela Lazic and Sara Guerreiro also kept their freshman eligibility after playing sparingly last year.
The transfers: There was actually a third Bull with Tsineke and Mununga on the American's Preseason All-Conference First Team. That honor went to Memphis transfer Dulcy Fankam Mendjiadeu, a 6-4 second-team selection from last year who was the only player in the league (14.1 points, 10.6 rebounds) to average a double-double. Former Memphis teammate Aerial Wilson (49 starts in 50 games) joined forces with her in Tampa, as well. Coach Jose Fernandez then went to JUCO ranks for his other two new portal additions by snagging two double-figure scoring forwards in Patience Williams and Odeth Betancourt.
First Battle 4 Atlantis game: vs. Syracuse on Nov. 20
Syracuse
AP Top 25 ranking: N/A
Last year's record: 15-9 overall, lost in NCAA Tournament second round to UConn
Who's returning: What dominated headlines for the Orange this offseason was who didn't return. In total, 12 players entered the transfer portal after Syracuse lost in the NCAA Tournament, none of which returned even as former coach Quentin Hillsman resigned in August after allegations of misconduct. Longtime assistant and acting head coach Vonn Read now has just two players from last season to build continuity: Priscilla Williams, a 6-2 guard that averaged 8.7 points per game in a solid freshman year, and Ava Irvin, a sophomore guard that played seven minutes over three games.
The freshmen: For how chaotic the last few months have been for Syracuse, credit must be due to Read for managing to still corral two freshman recruits. Guard Nyah Wilson had been committed to the Orange since April 2020 and stuck with it, giving Syracuse an espnW Top 100 player who is still familiar with the program and coaching staff. The other recruit, 5-6 guard Julianna Walker, finished No. 3 all-time on Washington's high school scoring leaders list after an incredible 2,834 points at Annie Wright School in Tacoma, Wash.
The transfers: There's a lot of them, obviously. But odds are that the Orange are going to be Carr-driven (excuse the pun). Christianna Carr and Chrislyn Carr (not related) are both former Big 12 battle-tested guards from Kansas State and Texas Tech/Baylor, respectively, each having averaged double-digit scoring for a season already in their careers. Guard Jayla Thornton averaged 13.5 points a night at Howard to boot, as well. Along with that trio, there's four others that made the switch to Syracuse in the offseason, guard Alaina Rice (Auburn), forward Eboni Walker (Arizona State), guard Naje Murray (Texas Tech) and forward Alaysia Styles (Maryland).
🍊+🎨+🏀 = 🤣
Chrislyn Carr & Christianna Carr compete and the results are… hilarious.#ncaaW x @CuseWBB pic.twitter.com/5cN35YkqDb

— NCAA Women's Basketball (@NCAAWBB) October 13, 2021
First Battle 4 Atlantis game: vs. South Florida on Nov. 20
Oklahoma
AP Top 25 ranking: N/A
Last year's record: 12-12 overall
Who's returning: All three of the Sooners' heavy hitters on offense—guards Gabby Gregory, Madi Williams and Taylor Robertson—decided to stay in Norman in the offseason, a huge boost for new coach Jennie Baranczyk, who OU poached from Drake. That trio combined for 52.7 points per night on an offense that averaged 73.5, and they got former All-Big 12 Second Team nod Ana Llanusa back, who missed all of last year due to injury. Guard Nevaeh Tot, who started 21 of 24 games in 2020-21, also returned.
The freshmen: Guard Kelbie Washington is the high-profile hometown hero. A 5-6 four-star that was the No. 66 overall recruit per espnW rankings, Washington led Norman High School to back-to-back state championships as part of a stellar prep career. She's joined by 6-0 guard and sharpshooter (44% from 3 as a senior) Kaley Perkins, 5-11 forward Bre'yon White (a 1,000-point and 1,000-rebound career player in high school) and 6-3 center Emma Svoboda (a two-time All-State nominee from California).
The transfers: Guard Kennady Tucker is a name women's college hoops diehards will recognize as a former four-star recruit that sparingly played off the bench last season for North Carolina. Now, with a new start at a new program, the 5-10 guard will aim to contribute to what should be a rising force in the Big 12. The other transfer is 6-1 forward Jordan Moser from Loyola Chicago. If that name sounds familiar, it's because she's the daughter of Porter Moser, who left Loyola to coach the OU men's team in the offseason.
Yesterday was a whole 𝕧 𝕚 𝕓 𝕖. #Sooners x #ONE pic.twitter.com/isMSuSaNog

— Oklahoma Basketball (@OU_WBBall) November 1, 2021
First Battle 4 Atlantis game: vs. Oregon on Nov. 20
Buffalo
AP Top 25 ranking: N/A
Last year's record: 15-9 overall
Who's returning: This team goes where Dyaisha Fair takes it. Her 24.1 points per game last year ranked sixth nationally, and she became the fastest player in program history to score 1,000 points in the process. Fair is truly a do-it-all player, leading the Bulls in points, rebounds, assists and steals last season on her way to an All-MAC nomination. It's the supporting cast around her that will determine whether or not Buffalo's stay in Atlantis is quick. Cheyenne McEvans (11.1 points per game) is the usual pair with Fair in the backcourt, while Adebola Adeyeye and Elea Gaba patrol the middle with 35 combined starts last year between them.
Bulls fans it's time to VOTE ✅

Fan voting is now open for the @Hoophall National Starting Five Awards!

VOTE NOW FOR @DyaishaFair for the #LiebermanAward

🗳 https://t.co/sgNoaZLTAp#UBhornsUP 🏀🤘🏻 pic.twitter.com/rguoLajFka

— UB Women's Hoops (@UBwomenshoops) October 29, 2021
The freshmen: Out of the four freshman faces on Buffalo, Aussie guard Georgia Woolley has the most eye-popping stats as she put up Wilt-like numbers of 43.1 points and 19.1 rebounds per game in her senior year in native country. Meanwhile, forwards Laney Bone and Kaelonn Wilson had injuries take away their senior prep seasons, but still put up decorated-enough careers for Buffalo to keep its attention. That leaves forward Saniaa Wilson, who had 18 double-doubles as a senior at Bishop Kearney in Rochester, N.Y., where she left as the program's all-time leading scorer.
The transfers: If Buffalo wants to stay competitive in the Battle 4 Atlantis and bolster its NCAA Tournament resume early, it helps to have personnel on the roster that know what it's like. Junior guard Dominique Camp appeared in 17 games for Troy last year, which made the tourney as a No. 15 seed and almost completed a monumental upset against No. 2 seed Texas A&M. JUCO transfer guard Nia Jordan was the other get, who averaged 11.6 points and 7.8 rebounds per game her only year at Labette Community College in Kansas.
First Battle 4 Atlantis game: vs. South Carolina on Nov. 20
Minnesota
AP Top 25 ranking: N/A
Last year's record: 8-13 overall
Who's returning: Little went right for a Golden Gophers program last season, a program that is usually one of the Big Ten's most consistent and competitive. The good news is Minnesota had four double-figure scorers from that team, and they all returned: guards Sara Scalia, Jasmine Powell and Gadiva Hubbard and forward Kadi Sissoko. But defense is where it must improve—and dramatically—as the Gophers allowed 78.7 points per game last year, a dreadful number that ranked 340th out of 343 teams in Division I.
Hard not to celebrate those first buckets in the Maroon and Gold 🥳🙌 #Gophers | #SkiUMah pic.twitter.com/O0q597hVpO

— Minnesota Women's Basketball (@GopherWBB) November 1, 2021
The freshmen: 6-2 forward Alanna Micheaux is a highly-touted recruit that was a finalist for Michigan Miss Basketball after a stellar senior year that included averages of 23 points and 12 rebounds. Minnesota native Maggie Czinano, meanwhile, averaged 21.8 points per game while playing in the Minneapolis metro area. If you're wondering where top-100 2021 recruit Katie Borowicz is on this list, she enrolled early before the spring semester last year and played, but won't play this upcoming season due to season-ending surgery.
The transfers: Minnesota supplemented both backcourt and frontcourt needs through the portal with the addition of two graduate transfers. North Carolina A&T transfer Deja Winters led the MEAC in 3-pointers made, averaging over three made per game, while also crossing the 20-point threshold eight times last season. Down low, 6-5 center Bailey Helgren returns home to Minnesota after a four-year career at Kansas, where she started 72 games, including a junior year where her 60.5% clip from the field was among the nation's best.
First Battle 4 Atlantis game: vs. UConn on Nov. 20