2021 Battle 4 Atlantis Women's Tournament
2021-22 Top 10 Point Guards In NCAA DI Women's Basketball
2021-22 Top 10 Point Guards In NCAA DI Women's Basketball
Caitlin Clark and Paige Bueckers pace field of nation's best floor generals.
Nov 8, 2021
by Briar Napier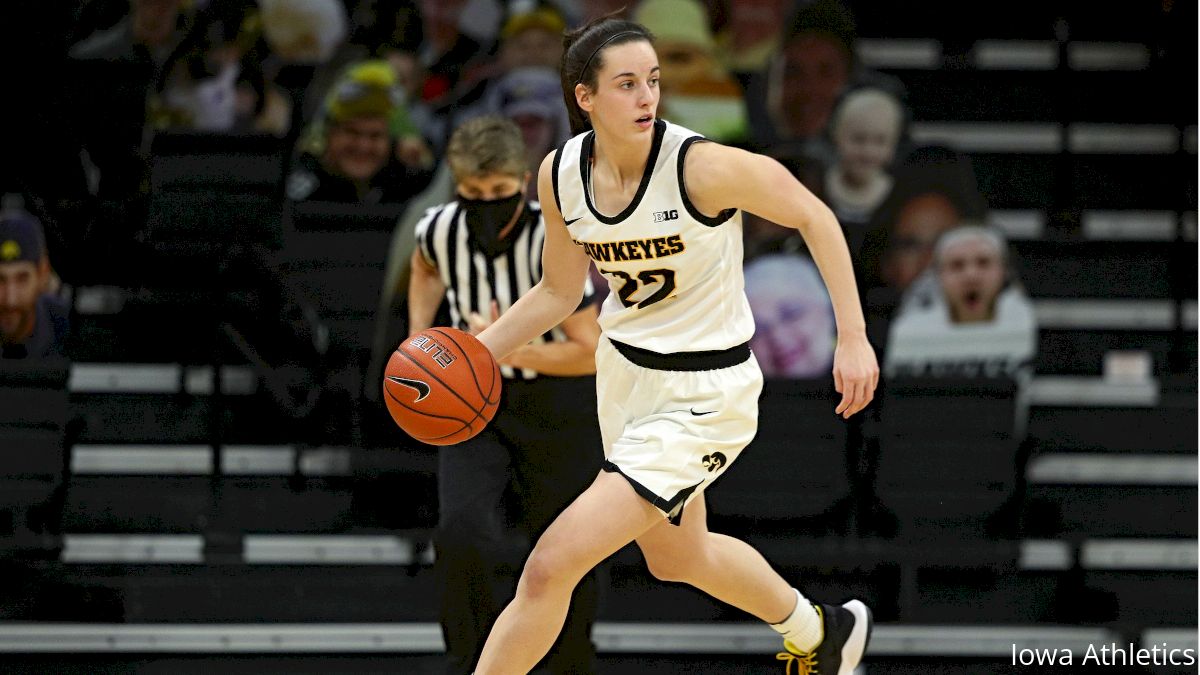 The point guard position went through a level of transcendence last season that women's college basketball hasn't seen in years.
Because of that, nailing down a list of the 10 best entering the 2021-22 season becomes an almost impossible task.
Nonetheless, familiar names and rising stars alike feature in FloSports' list of the nation's top 10 best point guards. From blue-blood stars to mid-major menaces, there's a plethora of talent sure to light up stat sheets this season.
Here is FloSports' list of the 10 best floor generals in college basketball.
Caitlin Clark, Soph., Iowa
Iowa had a right to be concerned entering last season after Big Ten Player of the Year and WNBA Draft pick Kathleen Doyle graduated, leaving a gaping hole in offensive production. Turns out Clark is probably even better at it. As the nation's reigning scoring champ (26.6) and runner-up in assists (7.1), the 6-foot-0 Clark was a well-deserved All-American and the Big Ten Freshman of the Year. She was also recently named the Preseason Big Ten Player of the Year by the league's coaches. Already with potentially the best shooting stroke in the country (she averaged almost four 3-pointers a game), the Hawkeyes could make a deep postseason run simply based on the fact that Clark is sometimes unguardable.
After leading the nation in scoring, @IowaWBB's Caitlin Clark is ready for more as a sophomore.#ncaaW pic.twitter.com/UhAsqNBG0s

— NCAA Women's Basketball (@NCAAWBB) October 28, 2021
Paige Bueckers, Soph., UConn
Picking who is the better player between Clark and Bueckers is a fool's errand, but in the eyes of award selectors last season, it was all Bueckers. Winning every national player of the year award she was eligible for, Bueckers averaged 20 points per game—the most by a freshman in the Huskies' storied history. She likely won't need to shoulder as much of a load on a Final Four team that returned nearly everyone, plus added Ohio State transfer Dorka Juhász and No. 1 overall recruit Azzi Fudd. Her already-elite assist numbers (5.8 a game) could rise as a result, but expect her ridiculous shooting skills (46.4 percent from 3) to still be unleashed often.
The BIG EAST Preseason Player of the Year

PAIGE BUECKERS pic.twitter.com/PoxBaMjMBO

— UConn Women's Basketball (@UConnWBB) October 19, 2021
Ashley Owusu, Jr., Maryland
Owusu won the Ann Meyers Drysdale Award last season as the nation's top shooting guard, so why is she on a list of the nation's best point guards? Because being the primary ball-handler is where her skillset shines brightest. The engine behind the nation's No. 1 scoring offense last year, Owusu's clip of 17.9 points and 5.9 assists a night earned her a slot on the All-Big Ten First Team as she led the Terrapins to a 24-2 record. Owusu was named to the Nancy Lieberman Award watchlist this preseason (along with the Drysdale Award), a clear sign of respect for her capabilities to command her team's tempo and production.
. @Ashleyyowusu15 is the REAL DEAL this year 😤

🏀 Led the Terps with 18 pts, 6 asts per game last year
🏀 Third Team AP All-American as a sophomore
🏀 Currently at 901 career points
🏀 has one younger brother, Ethan#FTT x #TheMI22ION pic.twitter.com/46kYHWWVkB

— Maryland Women's Basketball (@TerpsWBB) November 1, 2021
Destanni Henderson, Sr., South Carolina
Henderson evolved into a bonafide star for South Carolina last season, starting all 31 games after starting just nine games in her first two years combined in Columbia. The Florida native rewarded coach Dawn Staley's trust in her with a SEC-leading 5.1 assists per game to go along with 12.2 points on 41.4 percent 3-point shooting. Having improved steadily in each year with the Gamecocks, Henderson was a worthy nominee to the Lieberman Award watch list this preseason. The pick-and-roll play between Henderson and two-time Lisa Leslie Award winner Aliyah Boston is potentially the nation's best, but with 6-7 transfer Kamilla Cardoso now in the fray, Henderson has even more weapons to dish to.
This vision from Destanni Henderson 👀#ncaaW pic.twitter.com/QL22bkyt6p

— espnW (@espnW) March 30, 2021
Diamond Johnson, Soph., NC State
Clark and Bueckers got most of the hype among freshman point guards last year (and for good reason), but Johnson hung right up there with very good two-way numbers of 17.6 points and 2.3 steals a game. Part of her being under the radar was due to her playing for a Rutgers team that got dumped out of the first round of the NCAA Tournament, but with her offseason transfer to AP No. 5 NC State, there's no hiding her talent anymore. She'll instantly form an elite partnership with fellow guard Raina Perez in the backcourt and with center Elissa Cunane in the post, setting the stage for what should be a productive sophomore campaign.
#LiebermanAward watch list x ✌️

➡️ https://t.co/bd8WFeQAWA#GoPack pic.twitter.com/yOvhxIiNJq

— #5 NC State WBB 🐺🏀 (@PackWomensBball) October 25, 2021
Hailey Van Lith, Soph., Louisville
Van Lith was the state of Washington's all-time leading scorer at the prep level with nearly 3,000 points to her name, and replicated some of that scoring prowess her freshman year at Louisville this past season. Her 11.2 points and 5.1 rebounds per game were among the best for ACC freshmen, earning her a spot on the league's All-Freshman Team at the end of the season. With Dana Evans (20.1 points per game) graduated and a large part of the Cardinals' scoring gone with her, expect Van Lith to take a massive step up in controlling the scoring load.
Veronica Burton, Sr., Northwestern
The nation's premier on-ball defender, Burton is a two-time defending Big Ten Defensive Player of the Year winner and earned the nation's steals title last year at 3.84 swipes a night. But as much as she'll pester you with the ball in your hands, she'll beat you with the ball in her hands. Her 16.2 points per game last year was a career high as she earned herself her first All-Big Ten First Team nod and truly became one of the nation's best two-way players. Her 3-point percentage (30.7 percent) dipped a bit over the course of her career, but if Burton gets going, she's a nightmare to play against on both ends of the floor.
Te-Hina Paopao, Soph., Oregon
Paopao's freshman year in Eugene was solid (10.2 points, 4.4 assists per game), but it's the arrival of a talented portal addition that's going to be the main catalyst behind unlocking her game. USC transfer Endyia Rogers led the Trojans in points, assists and rebounds as a do-it-all backcourt menace. Though Rogers played some point in Los Angeles, it's Paopao that's the more seasoned of the two at being the primary ball-handler. Expect the assist numbers to be just as high (if not higher) and the chemistry to grow stronger as the season progresses, possibly meaning Paopao—a good shooter at 39.5 percent from 3—gets put in positions to be an even more efficient scorer.
It's only an exhibition game, but Te-Hina Paopao is still breaking ankles 🚨#NCAAWBB #GoDucks pic.twitter.com/nw7EgIqIPg

— WNBA Got Game (@wnbagotgame) October 30, 2021
Dyaisha Fair, Jr., Buffalo
If you don't know who Dyaisha Fair is, get to know her. The heart and soul of nearly everything the Bulls do, Fair led the team in points, assists, rebounds and steals in 2020-21, becoming the program's fastest player to record 1,000 points as she scored over 30 points five times. Buffalo didn't make the NCAA Tournament last season, limiting her exposure to a national audience, but WNBA scouts have already had the 5-5 guard on their radars for a long time. She has a shot later this month to shove her way into the national limelight against elite opposition as the Bulls are in a field featuring AP top-10 teams South Carolina, UConn and Oregon at the Battle 4 Atlantis in the Bahamas.
Anastasia Hayes, Sr., Mississippi State
Welcome back to the SEC, Anastasia Hayes. The 2018 SEC Sixth Woman of the Year at Tennessee, Hayes took a redshirt year to transfer to Middle Tennessee State, where over two years she became the focal point of the Blue Raiders offense. Her junior year in particular resulted in her being second nationally in scoring (26.5 points per game) and being named the Conference USA Player of the Year. Hayes decided to return to the SEC with new interim coach Doug Novak in charge at Mississippi State. A flat-out bucket-getter that averaged 9.4 field goals made a game in 2020-21, Hayes is also an elite defender with 2.8 steals per game to her name.