2021 Battle 4 Atlantis Women's Tournament
2021-22 Top 10 Shooting Guards In NCAA DI Women's Basketball
2021-22 Top 10 Shooting Guards In NCAA DI Women's Basketball
Azzi Fudd and Christyn Williams give UConn an embarrasment of riches at the shooting guard position.
Nov 8, 2021
by Briar Napier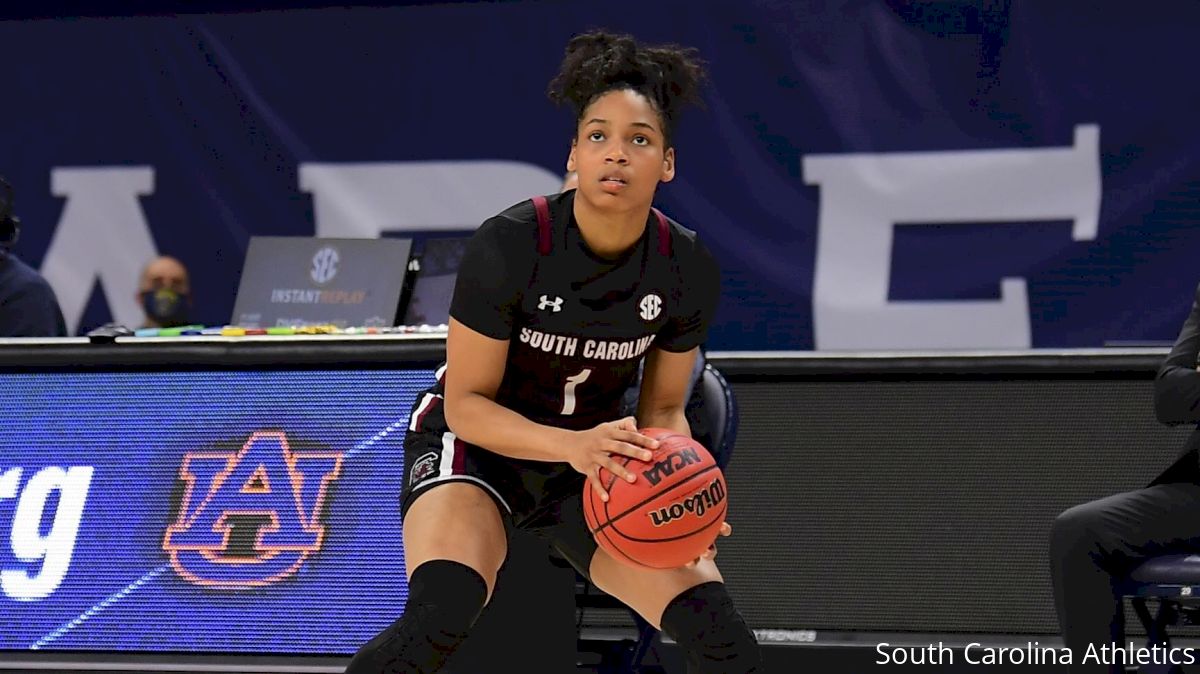 It's hard to get into the top-10 shooting guards club in women's basketball.
It's an exclusive selection full of decorated upperclassmen and list-topping players full of accolades and stuffed award shelves. Making a name for yourself at this position is a tough task, for the competition at the two-guard position is fierce.
But perhaps most surprising is that, while there are many selections on FloSports' list for its 10 best shooting guards in the nation from nationally-prominent programs, there's plenty making moves outside of them. Average Power 5 programs. Dangerous mid-majors. They're all there—and there's even a freshman on the list.
But just who are they and what do they bring to the table? Keep an eye out for these 10 names on the wing this season as they're being lights-out shooters, dynamic scorers, elite on-ball defenders and more.
Azzi Fudd, Fr., UConn
Naming a player that hasn't competed in a college game yet as one of the best shooting guards in the country could be seen as a recipe for disaster. But there are two reasons why that perception has become increasingly flawed. One, take a peek at what Iowa's Caitlin Clark and UConn's Paige Bueckers did in their freshman years last season. Two, Azzi Fudd is the truth. The nation's No. 1 overall recruit, she was named the 2019 Gatorade National Player of the Year as a sophomore—the first one to ever do so—and has a loaded resume including leading the U.S. to gold at the 2021 FIBA U19 World Cup, a McDonald's All-American nomination and a whole host of other achievements. The Huskies are loaded, but Fudd is the special talent that will make an impact no matter where she goes.
Christyn Williams and Azzi Fudd were named to the 2022 Ann Meyers Drysdale Award Watch List!https://t.co/hNdTOBGVDr pic.twitter.com/v0n6vGsT5U

— UConn Women's Basketball (@UConnWBB) October 26, 2021
Christyn Williams, Sr., UConn
In a testament to just how stacked UConn is, the No. 1 overall recruit is probably not even the best shooting guard on her team. Williams has locked down that role for the Huskies for three seasons now, starting 98 of the 99 games she's appeared in on a team that's made two Final Fours in that time. Her performance down the stretch last year, in particular—Williams scored at least 20 points in each of the Huskies' final three NCAA Tournament games—may signal a career year to come. Williams and the rest of UConn's guards were a nightmarish assignment for any backcourt last year, anyway, but with all five starters from the Final Four loss to Arizona back plus the pieces coach Geno Auriemma added, look out.
Zia Cooke, Jr., South Carolina
The preseason AP No. 1-ranked team may be best known for the brawn of center Aliyah Boston, the two-time defending Lisa Leslie Award winner. But it was Cooke who led the Gamecocks in scoring last year at 15.9 points per game as 26-5 South Carolina made it to the Final Four. Shooting just under 40 percent (39.3 percent) from 3 last year, Cooke has the ability to get red hot, perhaps most notably demonstrated by her three triples in the third quarter alone as part of a near-comeback win over Stanford in the national semifinals. With Boston down low and point guard Destanni Henderson flying by opponents with elite speed, Cooke's game usually doesn't draw nearly as much attention. But if you forget about her, you will get burned.
Charlisse Leger-Walker, Soph., Washington State
Historically, an average program in a loaded Pac-12 Conference, Washington State struck gold by getting the New Zealander aboard. Her 18.8 points a night last year won the 5-foot-10 Leger-Walker the Pac-12 Freshman of the Year award and helped push the Cougars to their first NCAA Tournament appearance since 1991. A two-way stud who averaged 2.3 steals a game to boot, Leger-Walker's confidence when the moment looms large—her 28 points in a regular-season upset of No. 5 UCLA come to mind—has already made her a thrill to watch and has single-handedly made a trip to Pullman more than just another date on the calendar. All five starters are back from last year's team that cracked the AP Top 25 poll for the first time in program history, and if Leger-Walker becomes even better, the Cougars may be there to stay awhile.
Full Steam Ahead from @Char_legerwalks!!!#GoCougs | #BackHome pic.twitter.com/ll4vFNNlac

— WSU Cougar Women's 🏀 (@WSUCougarWBB) November 6, 2021
Kierstan Bell, Jr., Florida Gulf Coast
An Ohio native who had a nice start to her career staying close to home at Ohio State—she was named to the Big Ten All-Freshman Team in 2019-20—Bell took a risk and jetted down south to Fort Myers following that solid freshman season. Looks like it worked out. Bell finished sixth nationally in scoring at 24.0 points a night and was possibly the greenest light to shoot in the country (she averaged 18.1 shot attempts per game last year) under the high-flying offense of Eagles coach Karl Smesko. FGCU's reigning leader in points, rebounds, steals and blocks, Bell quickly established herself as maybe the best mid-major player in the nation and a terror to the competition she faces in the Atlantic Sun. As the Eagles aim for a fifth straight NCAA Tournament appearance this year (not counting the canceled 2020 tourney), they'll hope that Bell will be a problem to the rest of the country, too.
Charisma Osborne, Jr., UCLA
Osborne's time at UCLA has been defined by earning herself increased workloads year after year. Paired with Japreece Dean her freshman year at the guard slots, Osborne did well as the Bruins started 16-0 and probably would've been set for a deep tourney run had COVID-19 not spoiled the party. That trip to the tourney came a year later as Osborne, now shouldering more a point guard's role with Dean gone, paired with forward and reigning WNBA Rookie of the Year Michaela Onyenwere for a fervent one-two punch, though UCLA was unceremoniously beaten in the second round by Texas. Now, Osborne is clearly running the show for the Bruins this time around. Her 17.0 points and 3.8 assists per game last year are by far the most among UCLA's returners, and she'll be the star if the Bruins are to make it back to their first Elite Eight since 2018.
Diamond Miller, Jr., Maryland
Miller was a sparingly-used piece on a 28-4 Terps team in 2019-20, starting just three games as she showed flashes of the talent she brought to College Park as New Jersey's Gatorade Player of the Year. The training wheels fully came off in Year 2 as Miller erupted into a bonafide star, earning All-Big Ten First Team honors averaging 17.3 points per night and scoring in double figures in all but one game. Miller and point guard Ashley Owusu form one of the country's most formidable backcourts as Maryland returns all five starters from a squad that averaged a national-best 90.8 points per game, with coach Brenda Frese aiming to bring some silverware home after what some considered a disappointing exit in last year's Sweet 16. There's few with better hands to put that responsibility in than Miller's.
There's no 💎 like our Diamond

🏀 Led team in her first NCAA Tourney with 17.7 pts in the run
🏀 Has scored in double figures in 27 straight games
🏀 Preseason All Big Ten Team
🏀 Has 3 siblings - Landen, Laniya and Adreana, who played at Ohio State#FTT x #TheMI22ION pic.twitter.com/USaxNPeKUz

— Maryland Women's Basketball (@TerpsWBB) November 3, 2021
Kiara Lewis, Gr., Clemson
Clemson has made the NCAA Tournament just once since 2003 and was picked to finish 10th in the ACC this year by the league's head coaches. So what's the hype around Lewis? It comes down to the fact that the Syracuse transfer is an experienced, talented guard who's been there, done that at the league and national levels. Lewis started all 54 games she appeared in for the Orange in her final two seasons there, averaging 16.1 points per game over that time as they made the tournament in her final year. Part of the Orange's mass exodus of players following harassment and abuse allegations pertaining to now-ousted coach Quentin Hillsman, Lewis perhaps surprisingly, wasn't named to this preseason's All-ACC Team despite previous First Team and Honorable Mention honors in her career. But backcourt partner Delicia Washington was selected, setting up what could be a formidable duo that could surprise some teams.
Katie Benzan, Gr., Maryland
You really, really don't want to see Maryland's backcourt on your schedule. Besides the already-mentioned Miller and Owusu, there's Benzan, too. After a decorated three-year stint at Harvard, where she was an All-Ivy League First Team nominee every season, Benzan's transition to the Big Ten was seamless. She started all 29 of the Terps' games and led the country in 3-point percentage (50 percent) along the way. Benzan attempts over three triples to every one two-point shot, a rate that dwarfs the likes of Miller and Owusu, but it's a formula that is downright dazzling for the Terps when everything clicks. Also an underrated passer at 3.3 assists a game, expect the nation's reigning top offense to be dumping in buckets upon buckets again—only with most of Benzan's coming from deep outside.
Elena Tsineke, Jr., South Florida
South Florida women's basketball from 2013 to 2018 maintained a streak where it had a player named an Honorable Mention All-American every season, a list that included the likes of current Atlanta Dream guard Courtney Williams and WNBA Draft pick Kitija Laksa. Tsineke could be the Bulls player to restart that run. The Greece native followed up her American Athletic Conference Freshman of the Year award with an All-Conference First Team pick last year, with her and Temple forward Mia Davis likely to be jawing it out all season for this season's Player of the Year award. The Bulls' schedule is absolutely slammed with elite opposition including defending national champions Stanford, possible tournament showdowns with UConn and South Carolina and games against ranked foes in Tennessee and West Virginia. Quality performances for Tsineke, who averaged 13.6 points a night last year, against that competition, will go a long way toward growing her draft stock and lore in Tampa.