BIG EAST Women's Basketball
For Villanova's Maddy Siegrist, Hard Work Pays Off
For Villanova's Maddy Siegrist, Hard Work Pays Off
Siegrist has aspirations of a professional career in the WNBA or Europe. But leading the Wildcats to the NCAA Tournament is her present focus.
Nov 10, 2021
by Stephen Kerr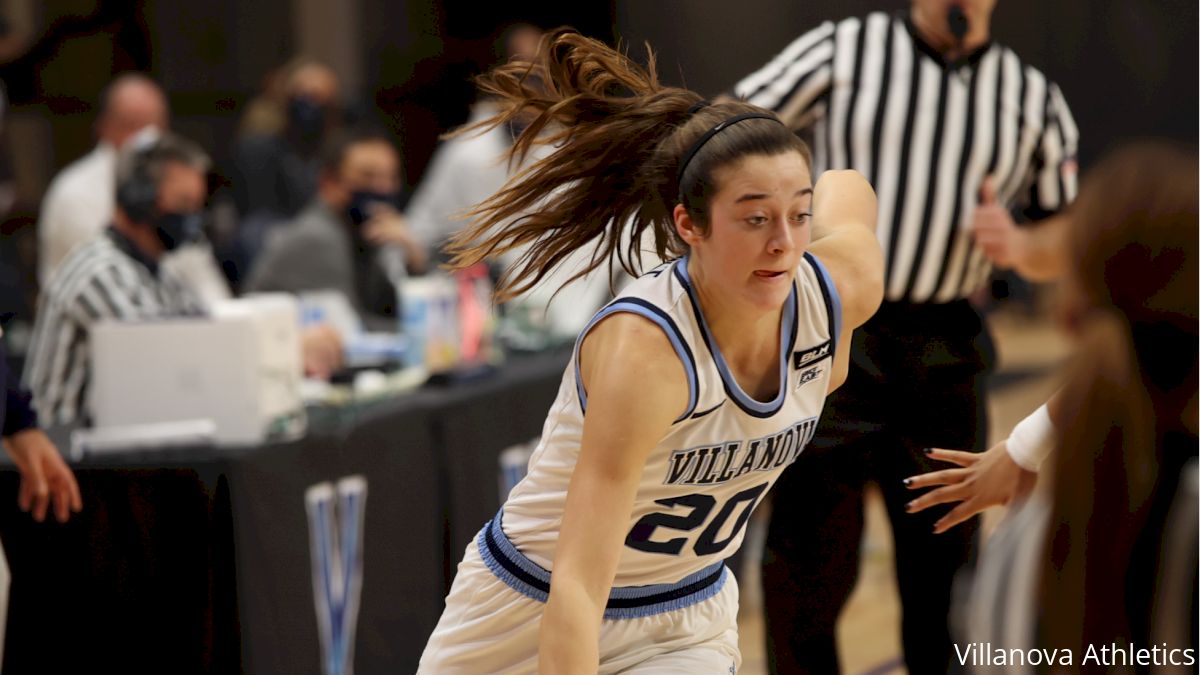 It's not easy to view a major injury as a blessing in disguise until you take a step back. Upon reflection, Villanova Wildcats forward Maddy Siegrist can now say with certainty the broken ankle she suffered during her true freshman year has made her a better player.
The 6-foot-1 junior forward was only in her second day of preseason practice when she stepped on the foot of a teammate. At first, she thought she had sprained her ankle. But x-rays revealed a fracture, and her season was over before it had begun.
"I was sitting in the office with all the coaches and the trainer," recalled Siegrist, a two-time All-State selection at Our Lady of Lourdes Catholic High School in Poughkeepsie, New York. "They were like, 'it's broken. You need surgery, you have to get three screws'. I just remember sitting there and crying, I was so upset."
Siegrist had surgery two days later. The next week was fall break, which allowed her to spend some time at home and decompress. She resolved to do everything she could to come back that season stronger than ever.
Once she was cleared for physical activity, Siegrist went to the gym, propped her foot on a scooter and took 500 shots a day from 3-point range. Ultimately, then-head coach Harry Perretta made the decision to redshirt her that season, something that had already been in the works before the injury. Siegrist was resistant at first, but eventually came to accept the wisdom of the decision.
"As a kid, sometimes you don't think of the long-term," Siegrist explained. "I fought (the coaches) on it. Probably after Christmas, I was like, 'OK, I'm going to redshirt'."
The time off allowed Siegrist to observe her teammates and the game from a different perspective. She soaked up as much information as she could from Perretta and his coaching staff. The work paid off in her redshirt freshman season. Siegrist led the Wildcats in scoring (18.8 points per game) and rebounding (8.9 rebounds per game), and started 28 of the 31 games she played. She shot .447 from the field and .325 from 3-point range.
The Wildcats finished 18-13 overall and advanced to the BIG EAST Tournament quarterfinals before falling 72-59 to Marquette. Siegrist finished with 21 points on 9-of-17 shooting. She was an All-Conference First Team selection and a unanimous choice for conference Rookie of the Year.
It was midway through that season when Siegrist realized the injury had allowed her to strengthen her game and her mental toughness.
"The next year is when I realized I was able to (improve) my game more by knowing where to be in the right spots and knowing when to cut and when not to cut," Siegrist explained. "I wouldn't have known that initially. I think watching it and then being able to practice it helped."
The oldest of four children, Siegrist grew up around basketball. Her father George played and coached at Marist College and currently coaches with the Edge Athletics AAU program. As with most sibling rivalries, games of one-on-one could be quite intense. George and his wife Ginna finally had to put a stop to the games when things got out of hand.
"She does not like to lose," George said of Maddy. "Simple family games would end up being a disaster sometimes because of that."
Maddy averaged 32.7 points and 13.1 rebounds per game as a senior at Our Lady of Lourdes, and earned Poughkeepsie Journal Player of the Year honors two consecutive seasons. She also competed in the St. Martin de Porres CYO program. Even at a young age, she always had a thirst for studying teammates, opponents, and players at other levels. She and her father constantly exchange information about strategy. When they work out together, Maddy is the one who insists on practicing, whether it's in sweltering heat or freezing cold.
Her work ethic was one of the first things Denise Dillon noticed when she first saw Siegrist in action. Dillon, who returned to her alma mater following Perretta's retirement after the 2019-20 season, remembers watching Siegrist in AAU ball.
"I saw her as a long, lanky player finding her way," recalled Dillon, a Villanova Varsity Club Hall of Famer with 17 years of Division I head coaching experience. "It's been really cool just to watch her grow and develop into the player she is today. It's amazing, her growth in a short period of time."
As a sophomore, Siegrist proved her redshirt freshman year was no fluke. She became just the third player in BIG EAST history to lead the conference in both scoring (22.8) and rebounding (9.8). She became the fastest player in program history to reach 1,000 points, achieving the milestone in 50 games. She ranked 11th in the nation in scoring and led the conference with 13 double-doubles.
After going 17-7 in Dillon's first season, the Wildcats received a WNIT bid, advancing as far as the quarterfinals before a 77-70 loss to Delaware. Siegrist fouled out with 3:32 remaining in the game, but she and senior forward Brianna Herlihy had 15 points apiece to lead the team in scoring. Siegrist earned First Team All-BIG EAST honors and was a USBWA All-American Honorable Mention. She was one of five finalists for the Katrina McClain Award, given to the top power forward in the country, and was voted Big 5 Player of the Year.
Her versatility lends itself well to Villanova's motion offense, a complex system for some players to master. She can face up and drive to the hoop or shoot the 3. The constant movement makes it difficult for opponents to defend Siegrist and her teammates.
"She's got a high motor," George explained. "That's one of her strongest attributes. It's tough to stay with her. She's continuing to back door, slip and do the things within that offense that give her the ability to create a little separation from the defense."
Over the summer, Maddy had the opportunity to host several basketball clinics for younger girls. She sees herself in many of the younger players trying to get where she is now.
"I used to love going to (clinics) when I was younger," she said. "I was in that spot once. If someone says something to you at that age, it could help you want to focus on something and know they can be a college basketball player one day."
Always looking to improve, Siegrist is focusing on her mid-range game. For the second consecutive year, she was named as one of 20 candidates for the 2022 Katrina McClain Award, and again earned Preseason First Team All-BIG EAST Honors.
In December, Siegrist plans to start graduate school to earn a master's in education. As for basketball, she has aspirations of a professional career in the WNBA or Europe. But leading the Wildcats to the NCAA Tournament is her present focus.
"I hope to maximize my time here at Villanova," she said. "You want to leave the school and the program much better than when you got here. I have hopes of playing professionally and see where this game can take me."