2021 Northwestern vs DePaul - Women's
Northwestern's Burton Will Try To Slow High-Flying DePaul
Northwestern's Burton Will Try To Slow High-Flying DePaul
After many schools went the safe route in Week 1 by playing overmatched competition, the matchups around the league really ramp up in Week 2.
Nov 12, 2021
by Briar Napier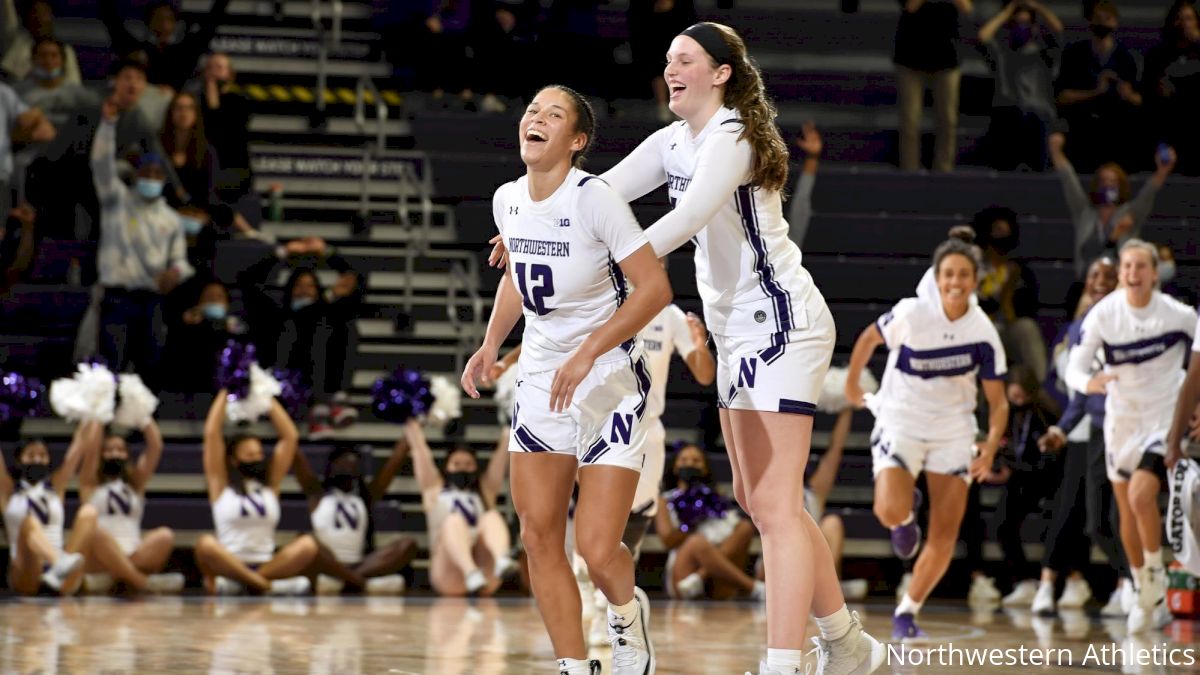 It sure was good to be back, wasn't it?
The college basketball season officially tipped off last week as the likes of the Big East Conference got to work on building their non-conference resumes and chasing almighty UConn for the league's crown. After many schools went the safe route in Week 1 by playing overmatched competition, the matchups around the league really ramp up in Week 2.
Plenty of teams with tremendous talent and tournament experience will be on display live in-person in Big East arenas this week and on your favorite streaming devices on FloSports.
Here's three of those games in particular to check out this week.
Northwestern Vs. DePaul
Judging on last year's stats alone, Northwestern versus DePaul fits the mold of a type of "unstoppable force vs. immovable object" matchup. For instance, the Blue Demons were on fire on offense as one of the nation's top scoring attacks, averaging 81.5 points a night to rank seventh nationally and only bettered by UConn in the Big East.
But on the other end for Northwestern is guard Veronica Burton, the Defensive Player of the Year in a loaded Big Ten and the nation's defending steals per game queen at 3.84. Something's gotta give in this one. Burton is a treat to watch guarding the ball, but she can only guard one of reigning All-Big East First Team selections, Sonya Morris or Lexi Held, at once, leaving Burton's teammates to try and pick up the slack. The Wildcats will need to get their defensive assignments right after the Blue Demons put up 114 points in their season opener over Texas Southern last week, but where teams usually bite back at DePaul is on the offensive end.
The Blue Demons were the sixth-worst team in the country last year in average points allowed (78.4) and gave up 100 points or more on three separate occasions, an alarming number that was probably the single biggest reason DePaul merely made the WNIT last season. This is DePaul's first true test to prove itself as the best of the rest in the Big East following its second-place vote in the league's preseason poll. Can it live up to the hype against a second-round team in last year's NCAA Tournament?
Lehigh Vs. Seton Hall
One of the top offenses in the Big East last year, Seton Hall looked like they had no plans to slow the pace down as they put up 81 points on a Mount St. Mary's team that made last year's NCAA Tournament in its season opener. The Pirates' highly-touted guard duo of Andra Espinoza-Hunter and Lauren Park-Lane combined to go for 45 points in the win, a good start to the season for one of the league's best backcourts.
But it'd be silly for Seton Hall to underestimate Lehigh—also a tourney team from a year ago—based on that alone. The Mountain Hawks' national exposure was minimal in 2020-21 as the Patriot League played a league-only regular season due to COVID-19, leaving their tournament loss to West Virginia as the only non-conference matchup of their entire season.
But the defending Patriot League tournament champs are entering their 25th season with coach Sue Troyan at the helm as the favorites to be the conference's bid to the tourney again, with a pair of defending double-figure scorers in Frannie Hottinger and Emma Grothaus returning to the fold, too. Now that the Mountain Hawks are back to playing foes outside their league again, there's extra motivation to show out and strengthen the postseason resume for down the line. Seton Hall coach Anthony Bozzella's job is to ensure that idea is shut down quickly.
South Dakota State Vs. Creighton
It's early going, but there was a lot to like in Creighton's narrow loss to Drake in its first game of the season, a consistently-solid mid-major that should be in the hunt for Missouri Valley's auto-bid to the NCAA Tournament.
Sophomore guard/forward Morgan Maly scored 15 points off of the bench in a positive sign for her development following a 7.7 point-per-game average last year, while Emma Ronsiek and Mallory Brake each scored in double figures to help fill the gap in production left by last year's now-graduated leading scorer, Temi Carda. But the Bluejays' next task ahead against another mid-major opponent in the Jackrabbits is likely even tougher.
South Dakota State has made three straight NCAA Tournaments being largely carried on the back of 6-1 forward Myah Selland, one of the nation's top mid-major players that averaged 19.2 points per game last season. However, her 2020-21 campaign ended prematurely when she was sidelined with a knee injury, and she sat out the Jackrabbits' opening-game win over Green Bay with no timetable to return. If Selland doesn't suit up, it's a big opportunity for Creighton to potentially snatch a win at home over an experienced and battle-tested SDSU, which will play the likes of Mississippi State and Iowa State in the days before their matchup. If Selland is back, the Bluejays' assignment instantly gets tougher: South Dakota State beat Creighton in Brookings, S.D., last year, a game in which Selland scored 17.