2021 Baha Mar Hoops Pink Flamingo Championship
2021 Pink Flamingo Championship: Five Sweet 16 Teams Collide In Bahamas
2021 Pink Flamingo Championship: Five Sweet 16 Teams Collide In Bahamas
In what could feature previews of future postseason matchups, a stacked field of five Preseason AP Top 25 teams will duke it out over three days.
Nov 12, 2021
by Briar Napier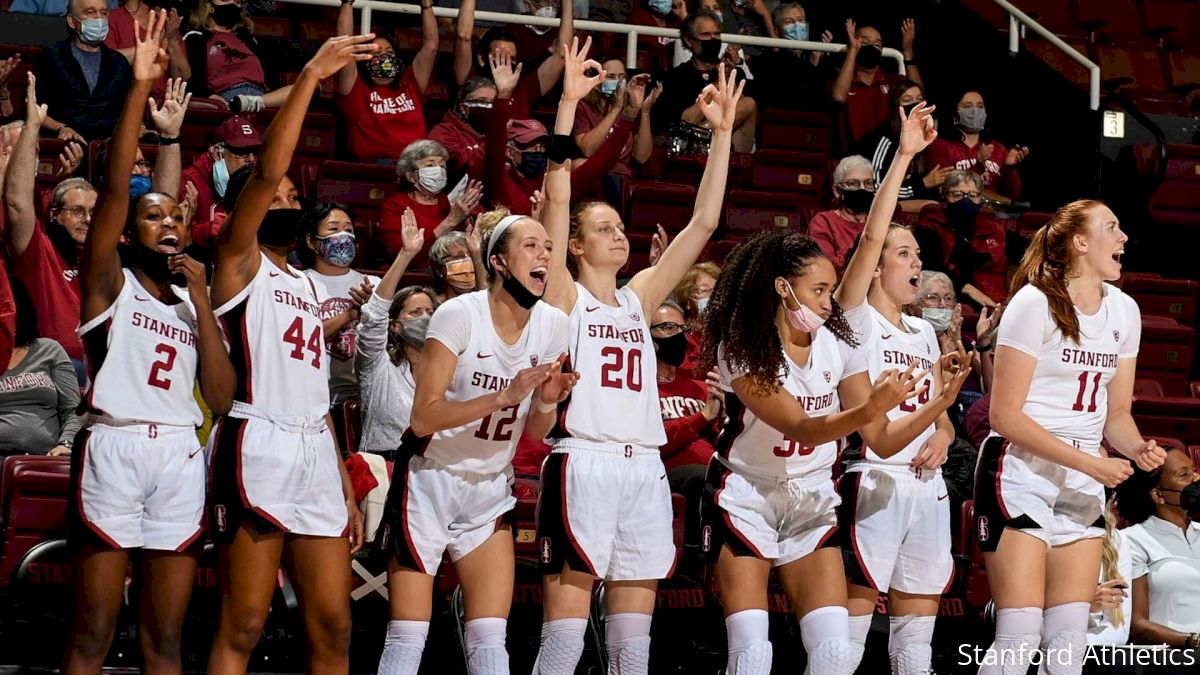 There may not be a more-stuffed slate of women's college basketball on and around Thanksgiving Day than in the Baha Mar Pink Flamingo Championship.
After all, there are five Sweet 16 teams (and the defending national champion) from last year playing multiple games over three days. What's not to like there?
In what could feature numerous previews of future postseason matchups, a stacked field of five Preseason Associated Press Top 25 teams—four of which are in the top eight—will duke it out in the Bahamas over a three-day, seven-game event that'll feature some of the best and brightest in college hoops from Nov. 25 to 27. Best of all, it'll be streamed live in its entirety on FloHoops.
Between national title and national player of the year hopefuls, the talent on display is going to be as world-class as it gets at the collegiate level. Below is the breakdown on the programs and players that are vying to triumph on the islands.
Stanford
AP Top 25 ranking: No. 3
Last season: 31-2 overall, won national championship vs. Arizona
The returners: Always an elite force in women's college hoops, the Cardinal looked to have cracks in their armor following consecutive losses to Colorado and UCLA in the regular season. Coach Tara VanDerveer's team responded by stomping and romping its way to 20 straight wins and the program's first national championship since 1992. Junior Haley Jones, one of the major catalysts of that legendary run, is the unquestioned focal point of Stanford's game plan now after leading scorer Kiana Williams declared for the WNBA Draft. Sophomore forward Cameron Brink (2.8 blocks per game) established herself early as one of the nation's premier shot-swatters, and if her other stats follow (9.9 points, 6.6 rebounds) could be poised for an elite breakout season. Senior Lexie Hull adds two-way guard play (11.6 points, 1.6 steals) and sixth-year guard Anna Wilson brings experience and a smooth shooting stroke (45.2 percent from 3). It's entirely possible this team is better than it was a year ago, and that's scary to think about.
The freshmen: Being the holders of the previous season's national title is probably the best recruiting pitch there is, and it's reflected in the fact Stanford's three in-state recruits are all ranked in the top 100 of ESPN HoopGurlz's rankings. The highest-ranked get was 6-3 forward Brooke Demetre, the No. 11 overall recruit in the 2021 class and Gatorade's California Player of the Year. Two California players chasing her for that honor committed to the Cardinal, too: Kiki Iriafen (No. 19 overall) finished as her high school's all-time leader in points and rebounds, while guard Jzaniya Harriel (No. 78 overall) was a four-time First Team All-State nod that finished with 284 3-pointers for her career. VanDerveer looked internationally for her other recruit in Greek guard Elena Bosgana, who has starred for her country since the under-16 level and played for the senior team at the 2021 EuroBasket championship, the youngest player to do so.
The transfer: Stanford didn't go buck-wild in the transfer market compared to UConn and South Carolina, only getting one new face with Division I experience. That's not to say Northwestern transfer Jordan Hamilton won't be valuable in the Cardinal's quest for more silverware. The graduate guard started all 25 games last season and is an elite passer, averaging 3.3 assists per game for her career with a best mark of 4.6 dishes a night in her freshman season. Clearly a pass-first guard, Hamilton should have no issues getting adjusted to the weapons at her disposal, filling the void left by Williams—who averaged a team-leading 3.1 assists a game—as Stanford's best distributor of the ball.
Pink Flamingo Championship games:
vs. Indiana at 1:30 p.m. Nov. 25
vs. South Florida at noon Nov. 26
vs. Maryland at 3 p.m. Nov. 27
Maryland
AP Top 25 ranking: No. 4
Last season: 26-3, lost in NCAA Tournament Sweet 16 vs. Texas
The returners: Better hope your team is in good shape when you play the Terrapins. Maryland's 90.8 points per game were No. 1 nationally as its backcourt routinely turned games into track meets. Ten of the 11 players on last year's roster are back, too. The leader of the pack is undoubtedly junior Ashley Owusu, a national player of the year candidate as her numbers of 17.9 points to go along with 5.9 assists are fantastic. The Terps' three (!) other guards that return double-figure scoring from last year (Diamond Miller, Chloe Bibby and Katie Benzan) are all dangerous in their own right, with Benzan in particular having a legit claim as maybe the college ranks' best shooter (50 percent from 3 in 2020-21). Maryland plays small, with 6-foot-3 forward Mimi Collins (10.6 points, 6.2 rebounds) as the main threat down low, but it's the pace and onslaught of offense from everywhere on the floor that kills you.
The freshmen: Guard Shyanne Sellers is the recruit most American women's hoops fans will recognize. She was the No. 22 overall recruit and averaged a double-double while doing it at 21.9 points and 10.6 rebounds per game. The all-time leading scorer at Aurora High School in Ohio, she'll fit right in with the Terps' high-octane offense. Then there's Emma Chardon, a 6-2 forward from Switzerland who's been involved with various levels of the national team since she was 15, and was involved in a selection of foreign players to take part in a three-day minicamp at the 2019 Women's Final Four. She'll hope to make it there again during her time at College Park, only this time while being on a team that qualifies there.
The transfers: Coach Brenda Frese didn't poach anyone from the transfer portal in the offseason. With essentially every major piece back from last season plus two freshmen, it's not a cause for alarm.
Pink Flamingo Championship games:
vs. NC State, 11 a.m. Nov. 25
vs. Stanford at 3 p.m. Nov. 27
NC State
AP Top 25 ranking: No. 5
Last season: 22-3, lost in NCAA Tournament Sweet 16 vs. Indiana
The returners: The Wolfpack's titanic matchup with No. 1 South Carolina in its season opener already left them battle-tested for a loaded field here. It's been pretty clear for three seasons now that if you want to get through NC State you've got to get through senior center Elissa Cunane first, one of the nation's premier post talents. She's the ACC Preseason Player of the Year for good reason, having averaged 16.3 points per game last year on 53.3 percent shooting and a 84.3 percent clip from the foul line, earning near-immunity from the stereotypical strategy of fouling the center for limited points and likely possession. Guard Raina Perez at 5-4 is a diminutive floor general (4.7 assists to 1.8 turnovers) with plenty of weapons at her disposal including Cunane, Jada Boyd, Jakia Brown-Turner and Kayla Jones, all of which average double digits in scoring. Just three starts from last year were unaccounted for on this year's roster, making the Wolfpack an experienced and lethal squad to play against.
The freshmen: A trio of reigning McDonald's All-Americans fill the freshman slots this year on coach Wes Moore's team. Maybe the most intriguing of the three is 6-5 center Sophie Hart, who at the same height as Cunane can potentially help retain some of the Wolfpack's length inside when Cunane needs a rest or gets in foul trouble (NC State's next-tallest player beyond Cunane and Hart is 6-2). Guard Aziaha James, called someone with a "scorer's mentality" by Moore, won essentially every award there was to get in high school ball in Virginia as a four-time state champion and guard Jessica Timmons surpassed the 2,000-point mark in high school at Charlotte's North Mecklenburg High School.
The transfer: NC State's already-stacked lineup instantly becomes even more frightening when you realize Moore managed to grab one of the best names in the portal. Rutgers transfer Diamond Johnson lit up the Big Ten for 17.6 points on eye-popping shooting numbers of 51.2 percent from the field, 45.5 percent from 3 and 90.2 percent from the free throw line in her freshman season. The Wolfpack were a good but not spectacular defensive team last year (62.1 points allowed, 98th nationally), but instantly got a dogged defender in Johnson that averaged 2.3 swipes a night. There remains one major question, however: where does she fit in? Johnson's credentials are qualified, but NC State's entire starting backcourt returned. How Moore manages her minutes will be an interesting storyline early in the season.
Pink Flamingo Championship games:
vs. Maryland at 11 a.m. Nov. 25
vs. Washington State at 6 p.m. Nov. 27
Indiana
AP Top 25 ranking: No. 8
Last season: 21-6, lost in NCAA Tournament Elite Eight vs. Arizona
The returners: Following years of being a program that was middling compared to the lofty history of its men's program, coach Teri Moren's women finally got their moment in the sun last season with a historic upset of NC State in the Sweet 16 to make it to the national quarterfinals for the first time in school history. Those that are back in Bloomington this season have no reason to believe they can't achieve a similar feat again. Forward Mackenzie Holmes has a presence inside like few in college hoops as an incredible shot-blocker (3.0 blocks) and all-around bully in the post (17.8 points, 7.6 rebounds). Her main partners in crime, guards Grace Berger and Ali Patberg, are also back, as is her main partner in the post in 6-3 forward Aleksa Gulbe. In a tournament loaded with returning talent, the Hoosiers have the personnel to run with the best of them. They'll try to prove it immediately in their first game against the defending national champs.
The freshmen: Taking peeks at some of the stat lines Moren's recruits put up at the high school level, you'd be forgiven for thinking they were typos. Guard Kaitlin Peterson was a walking bucket at Eufaula High School in Alabama with the defensive prowess to match, scoring almost 3,000 points while averaging 5.7 steals a game as she was a four-time All-State nod. If that wasn't enough, guard Keyarah Berry actually did score over 3,000 points in her career in high school in Georgia, finishing with 3,340 overall to rank second all-time in state history. Forward Mona Zaric, a 6-2 player from Serbia, rounds out the bunch with experience representing her country at the FIBA U20 European Challengers this summer.
The transfer: Indiana didn't need to add much in the offseason, but it did manage to get one fresh face from the market in Georgia transfer Caitlin Hose. The 5-10 senior guard started 13 games over a three-year career with the Bulldogs but didn't do so at all last year, appearing in 12 games off the bench. It's not a good idea to leave her open at the 3-point line, however, as Hose shot 40 percent there (albeit on few shots) and hit both her triples attempted in the Dawgs' first-round NCAA Tournament win over Drexel.
Pink Flamingo Championship games:
vs. Stanford at 1:30 p.m. Nov. 25
vs. Miami (Fla.) at 8:30 p.m. Nov. 27
South Florida
AP Top 25: No. 21
Last season: 19-4, lost in NCAA Tournament second round vs. NC State
The returners: Coach Jose Fernandez has made the South Florida program into a year-in, year-out threat throughout his 21 years in charge in Tampa, but only just last season finally got his first-ever league regular-season and tournament titles. The next logical step for the Bulls is to prove their worth against the nation's best. Sophomore Elena Tsineke (13.6 points per game) is quickly becoming a rising star at shooting guard while Bethy Mununga (9.7 points, 12.9 rebounds) is one of the most bruising forwards in the nation. That duo both made the American's Preseason All-Conference First Team, while guards Sydni Harvey (11.7 points) and Elisa Pinzan (10.3 points) earned second-team honors.
The freshmen: There's just one true freshman on the Bulls' roster in 5-6 guard Bella Weary, a Florida native that netted 17.0 points per game at DME Sports Academy in Daytona Beach, Fla. her senior year. Guards Mihaela Lazic and Sara Guerreiro also kept their freshman eligibility after playing sparingly last year.
The transfers: There was actually a third Bull with Tsineke and Mununga on the American's Preseason All-Conference First Team. That honor went to Memphis transfer Dulcy Fankam Mendjiadeu, a 6-4 second-team selection from last year who was the only player in the league (14.1 points, 10.6 rebounds) to average a double-double. Former Memphis teammate Aerial Wilson (49 starts in 50 games) joined forces with her in Tampa, as well. Fernandez then went to JUCO ranks for his other two new portal additions by snagging two double-figure scoring forwards in Patience Williams and Odeth Betancourt.
Pink Flamingo Championship game:
vs. Stanford at noon Nov. 26
Washington State
AP Top 25: N/A
Last season: 12-12, lost in NCAA Tournament first round vs. South Florida
The returners: Welcome to Season 2 of the Charlisse Leger-Walker Show. For her repeat performance, she'll attempt to perform the unprecedented achievement of leading the Cougars to a second-straight NCAA Tournament appearance. She already stamped out her legend in Pullman as a freshman last year, going for 18.8 points, 5.1 rebounds, 3.1 assists and 2.3 steals as she was by far WSU's best player and a worthy nominee to the 2020-21 All-Pac-12 Team. Fun fact: if you see a second Leger-Walker out on the court with her, you're not seeing double, but rather you're watching sister Krystal Leger-Walker, the Pac-12's assist queen last year as she tallied 109 dimes. Coach Kamie Ethridge also started the same lineup in all 24 games last season and returned them all in guard Johanna Teder (33.6 percent from 3) and forwards Ula Motuga (6.8 rebounds) and Bella Murekatete (6.7 rebounds, 1.6 blocks), making up five of the 11 total returners on the Cougars' roster.
The freshman: Wazzu has one of the most diverse lineups in Division I as players hail from eight different countries. That international flair remained reflected in Ethridge's lone recruit in this year's class, 6-2 guard Tara Wallack. From South Surrey, Canada, Wallack teamed with now-WSU teammate and fellow Canuck Jessica Clarke to earn fifth at the U19 World Cup this past summer in Hungary. She averaged 7.1 points, 5.7 rebounds and 1.9 steals per game there, with her best performance coming via a 16-point, seven-rebound game in a win over France.
The transfers: There are no incoming transfers on the Cougars' roster.
Pink Flamingo Championship games:
vs. Miami (Fla.) at 4 p.m. Nov. 25
vs. NC State at 6 p.m. Nov. 27
Miami (Fla.)
AP Top 25: N/A
Last season: 11-11, no postseason
The returners: The Hurricanes are likely the weakest team in a loaded field but at least managed to return their top-two scorers in Kelsey Marshall and Destiny Harden, both of whom cracked the double digits. Marshall in particular is a peculiar case, having one of the greenest lights to shoot the 3-pointer in the country last year (7.9 attempts per game) while only managing to hit 29.5 percent of them, a career low for the grad student guard. As she hopes to get back on track, Harden will look to improve once again on her solid points (10.7), rebound (5.4) and steals (1.2) numbers, all of which have steadily risen over time since she was a freshman role player at West Virginia. But there's some good news on top of everything: Mykea Gray, a senior guard that scored 12.7 points and led the team in steals (2.3) en route to the ACC All-Defensive Team in 2019-20, returns from an ACL injury that sidelined her for the entire 2020-21 season.
The freshmen: Miami got a big boost when it managed to secure the commitment of Canadian guard Lashae Dwyer, ESPN HoopGurlz's No. 79 overall recruit that was named Tennessee's Gatorade Player of the Year last season while at The Webb School. Ja'Leah Williams and Jasmyne Roberts were some solid in-state pickups at guard, as well; Roberts in particular is the cousin of both WNBA All-Star Courtney Williams and Pro Football Hall of Famer Champ Bailey, making her an intriguing prospect just on athletic pedigree. Forward Chiso Okafor has international appearances on the Spanish youth teams, meanwhile, averaging 11.6 points and 7.3 rebounds over seven games with the team at the U16 Women's European Championship.
The transfers: Post play was a clear issue for the Hurricanes last year as no one on the roster averaged more than 5.4 rebounds or 0.5 blocks a night. So coach Katie Meier went out and got a pair of 6-4 Division I transfers that will help in the efforts to solve that issue, but the caveat is that both will need to up their games based on previous experience. Syracuse transfer Maeva Djaldi-Tabdi hasn't quite hit the heights again of her All-ACC Freshman Team rookie year—in which she averaged 8.9 points and 4.8 rebounds per game—but perhaps a change of scenery in a league she's familiar with will get her going. Utah transfer Lola Pendande is a similar case, having been a 10.8-point, 5.9-rebound-a-night player her freshman season which fell off slightly in future years as those averages dropped and she didn't start as many games. Forward Naomi Mbandu (at 6-2) is the only other player over 6-1 on the roster, so Meier will be hoping for the two transfers to get into a flow in the middle.
Pink Flamingo Championship games:
vs. Washington State at 4 p.m. Nov. 25
vs. Indiana at 8:30 p.m. Nov. 27