2021 Baha Mar Hoops Pink Flamingo Championship
2021-22 Top 10 Small Forwards In NCAA DI Women's Basketball
2021-22 Top 10 Small Forwards In NCAA DI Women's Basketball
Ashley Joens and Rhyne Howard lead the field of best small forwards in NCAA women's basketball.
Nov 12, 2021
by Briar Napier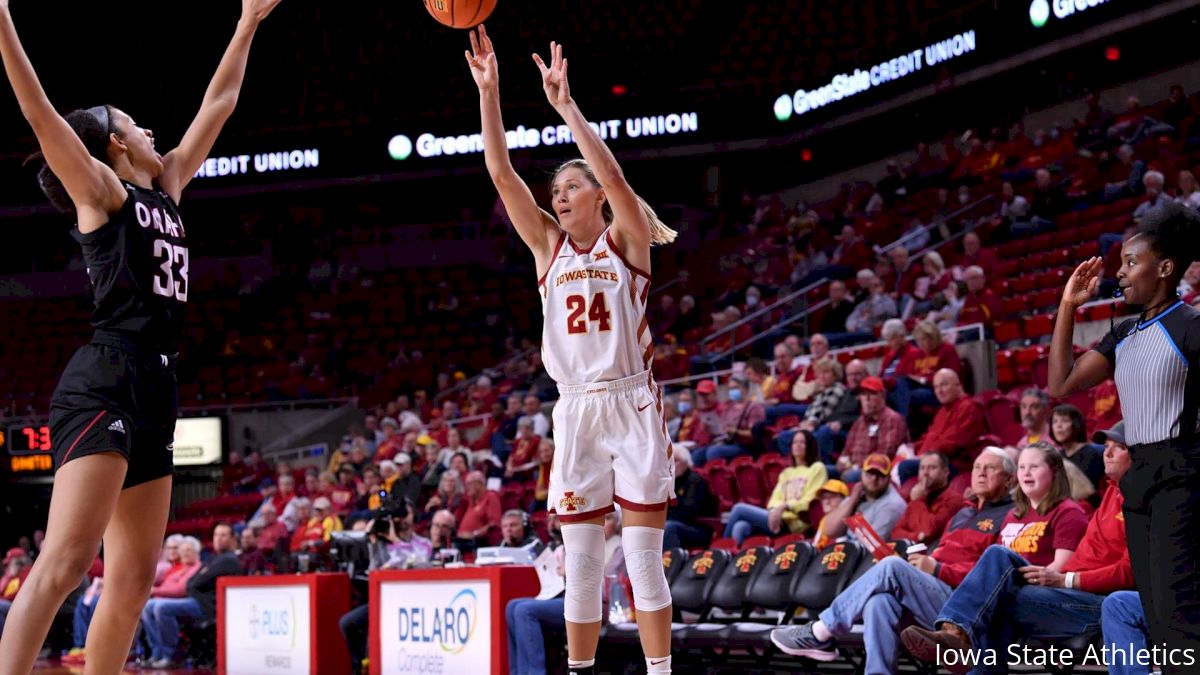 The lines of some of the best small forwards in women's college basketball are ridiculous.
Over 20-point scoring averages, close to double-digit rebounds and leading teams in assists, steals and blocks are just some part of the absurd elite lines you'll find at the position. But the fact that there's several players across the country having consistent games like that makes the small forward role one of the hardest to nail down.
There's some that come to mind at first, but the talent pool at small forward isn't limited to former All-Americans or national champions. There are studs across the board at all levels, from powerhouse to rising mid-major.
Here's a list of 10 of the best small forwards to look out for nationally in women's college basketball this upcoming year, with breakdowns detailing what they bring to the table.
Ashley Joens, Sr., Iowa State
It's asking a lot to get a sophomore that averaged over 20 points per game to elevate their game even higher, yet Joens did just that in a blockbuster junior year. Joens' 24.2 points per game were the fifth-best in the country and led the Big 12 for the second straight season, posting a career high in field goal percentage (46.3 percent) along the way, as well. An elite inside scorer who almost averaged a double-double (9.5 rebounds per game) despite standing just 6-foot, she was the spearhead behind a rapid offense that put up 77 points a night on foes as the Cyclones made it to the second round of the NCAA Tournament. That fondness to be in the paint helps Joens be one of the nation's best players at drawing contact as she finished No. 5 nationally in free throw attempts and No. 1 in free throw makes last year. The defending Cheryl Miller Award winner as the country's top small forward, Joens is the favorite to repeat as No. 12-ranked ISU aims to get past the Round of 32 for the first time since 2010.
Rhyne Howard, Sr., Kentucky
Joens' junior season blasted her to stardom, but she wasn't the player in her position selected to be a Preseason All-American this year. That honor went to Howard, a two-time All-American already, who could very well be the No. 1 overall pick in next year's WNBA Draft. Howard didn't quite have as eye-popping scoring as she did when she was second in the nation in points per game in 2019-20, but her numbers were more than loaded enough (20.7 points, 7.3 rebounds, 3.8 assists, 2.5 steals) to keep her on her perch as likely the biggest stat sheet-stacker in all of college basketball.
Her passing made a massive jump, improving by over an assist per game, and she'll be one of the favorites for essentially every award she qualifies for. But there's been one notable omission to Howard's gaudy resume: postseason success. Howard can only work with what's around her, but the Wildcats didn't go past the first round of the NCAA Tournament either in 2019 or 2021. It's obvious Howard is going to get her fill in nearly every game she plays, but she can only take Kentucky so far without other reinforcements surrounding her.
Haley Jones, Jr., Stanford
It's difficult to nail one position down as Jones' best, but that's part of what makes her so effective. Cardinal coach Tara VanDerveer has a Swiss Army knife at her disposal on the court, and Jones' versatility was a gigantic part in why Stanford was able to get VanDerveer her third title overall and first since 1992 last season. The Final Four's Most Outstanding Player, Jones averaged 13.2 points and 7.4 rebounds overall but developed a knack for turning up her game when the pressure got high, going for 20.5 and 6.0, respectively, in the two Final Four games. A critical 3-point play late in the title game against Arizona instantly put her in the annals of Stanford folklore, too. Stanford has a long way to go to repeat, but if the development of Jones reaches new heights, it'll be right in the thick of things.
Rae Burrell, Sr., Tennessee
Burrell's development has skyrocketed throughout her career, turning from a rarely-played piece few outside of the Lady Vols' circle knew of to an award-winning force. It's a truly remarkable ascent for the 6-1 do-it-all standout from Las Vegas, going from 3.6 points in 12.6 minutes a night as a freshman to 16.8 points in 32.0 minutes a night two years later. A strong shooter (40.2 percent from 3 in 2020-21) that also grew into a capable rebounder (4.6) and passer (1.8 assists) last year. Burrell is a ball of energy who isn't scared of getting physical, getting to the foul line at a decent clip and hitting the vast majority of the attempts (82.5 percent) when she got there. Troy transfer and double-double machine Alexus Dye will take some of the punishment off of Burrell, but make no mistake, Burrell is the cornerstone of the nation's No. 15 team in preseason and the one UT will turn to when the going gets tough. Not bad for a former benchwarmer.
Jasmine Dickey, Sr., Delaware
Dickey's eruption into one of the nation's best scorers last season at 22.3 points per game may have some Blue Hens fans getting flashbacks to the Elena Delle Donne days. Perhaps it's a bit unfair to compare the two, but it's hard not to draw your mind back to the Delaware legend when Dickey erupts for 30-point nights, like she did four times last year. The reigning Colonial Athletic Association Player of the Year, Dickey commanded the ball more than any other player in the country by ranking No. 1 in field goal attempts (577). Only 38.6 percent of them went down, a mark that certainly needs to improve, but the havoc she created both corralling those misses (4.6 offensive rebounds a game) and preventing other's shots from getting off (2.4 steals) made her an elite two-way option at her position. Delaware and Drexel tied for first in the CAA's Preseason Poll, and if the Blue Hens can slay the Dragons down the line and get back to the NCAA Tournament for the first time in eight years, it's going to get even harder to not compare Dickey and Delaware's most famous women's hoops alumna.
Mia Davis, Gr., Temple
Temple's had one winning season since Davis arrived, which is a shame because Davis' game is worthy of winning ways. She beat out the likes of Villanova standout Maddy Siegrist and others to win the Philadelphia Big 5 Player of the Year award last season, then beat the likes of several other league standouts to be named the American Athletic Conference's Preseason Player of the Year this season. Part of why she's earned those accolades is because she's averaged at least 11.2 points and 7.5 rebounds in all four seasons with the Owls, never playing a game without starting throughout her career. Davis came back for an extra year this season in touching distance of many of the school's career marks (including points, rebounds and made field goals), barriers she's likely more than able to crack barring significant injury or a sudden departure. Getting Davis to some sort of postseason tournament—she's never been to one—would be a monumental achievement as the Owls may not know what they've had until she's gone for good.
Kayla Wells, Gr., Texas A&M
Wells just needed to be given a chance to thrive to get herself on the map nationally. She burst onto the scene as the SEC's most-improved scorer from her freshman to sophomore years, growing from a paltry 2.8 points to a superb 15.1 points a night between the two seasons. Since then, it's been a matter of Wells trying to get everything to go right at once. The all-time leader in career 3-point percentage at Texas A&M (36.9 percent), her form from outside the arc dipped last season as she struggled some nights to finish with 27.6 percent for the year. That resulted in a slight decrease in offensive production—Wells finished with 11.5 points a night for the year, her lowest since her freshman year—but when she's on a roll, she's on a roll. A nine-game streak of double-figure points late in the year was the highlight of her senior season, but she'll probably need a lot more cases of that if Texas A&M is to challenge No. 1-ranked South Carolina for SEC supremacy. If that outburst of a sophomore season proves anything, it's that she's more than capable.
Myah Selland, Gr., South Dakota State
Brutal luck has possibly held Selland back from being more of a household name in college hoops. Season-ending injuries have prematurely shut the doors on three of her four college seasons, ridding the Jackrabbits of their engine right as they begin to fire up. All are hoping for Selland to finally have a pain-free season as she came back for an extra year, because when she's playing, she's good. Selland was named the Summit League's Player of the Year last season despite only playing 20 games as her stat line of 19.2 points, 6.8 rebounds and 3.8 assists was just too great to ignore. She hasn't quite been able to swing a consistent 3-point shot yet, but her effectiveness inside (57.7 percent on 2-point shots) does more than enough to do the job. If good karma can finally come Selland's way, she could easily be a frontrunner for the Becky Hammon Award as the country's best mid-major player. Plus, SDSU could potentially get a proper run again at the NCAA Tournament with a healthy Selland, like when she led them to the Sweet 16 in 2019.
Vivian Gray, Sr., Texas Tech
At every single place she's been, Vivian Gray has thrived. A force at Division II Fort Lewis College her freshman year, she immediately caught the attention of the coaching staff at Oklahoma State, where she terrorized the Big 12 for two seasons averaging nearly 20 points a game in Stillwater. So it came as a slight surprise that she swapped the Cowgirl hat to be a Lady Raider at Texas Tech for her junior year—a program that hasn't made the NCAA Tournament since 2013—but Gray immediately made her presence known in Lubbock. Gray led Tech in points, rebounds, steals and blocks as she obtained her third All-Big 12 First Team nod, the only active player in the league to do so three times. Her rebounding massively improved under the tutelage of new coach Krista Gerlich in jumping from 4.9 to 8.3 boards a game from sophomore to junior, signaling that there could be a newfound ferociousness to Gray's game. That's not good news for the rest of the players that have to guard her (again) in the Big 12 this year.
Rickea Jackson, Jr., Mississippi State
Mississippi State may have dropped off and had a down year from 2019-20 to 2020-21, but Jackson sure didn't. In fact, those two seasons were nearly identical for the Second Team All-SEC selection as she led the Bulldogs in scoring both times, hovering around 15 points per game. It's the team around her that's in need of consistent production if Jackson is to propel herself into the national spotlight, since she's likely to be the focal point of interim head coach Doug Novak's offense. She attempted over three times as many 3-pointers her sophomore year as she did as a freshman (hitting an underwhelming 29.5 percent of them), but at 6-foot-2 can also run as a power forward or even a center if needed for the Bulldogs. She scored 22 points in MSU's exhibition win over Mississippi College last week, and while it was against a feeble opponent, it's encouraging for the Bulldogs to know that it doesn't appear early on that Jackson has missed a beat.