CAA Men's Basketball
Non-Conference Dates Prep CAA For Holiday Tournaments
Non-Conference Dates Prep CAA For Holiday Tournaments
The docket on FloHoops is loaded, including a showdown of former CAA rivals and the Colonial's preseason favorite making its home debut.
Nov 15, 2021
by Kyle Kensing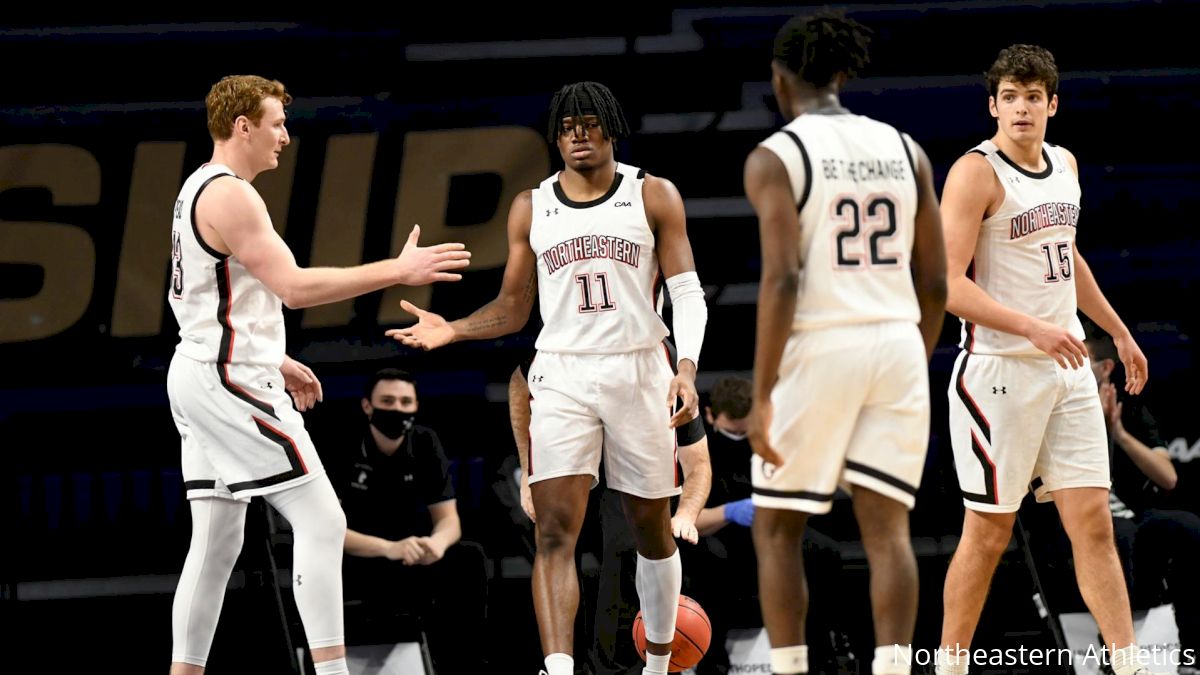 A thrilling opening week of the 2021-22 college basketball season leads into the final round of non-conference games before the loaded preseason tournament slate.
Teams from the Colonial Athletic Association will spend the Thanksgiving week and weekend preceding spread across the continent at tournaments in Las Vegas, Florida and more. Until then, another week of standout non-conference games highlight the week.
The docket on FloHoops is loaded, including a showdown of former CAA rivals and the Colonial's preseason favorite making its home debut.
Boston University At Northeastern
This season marks the 100-year anniversary of this crosstown rivalry. Since their first meeting in January 1921, Boston U. and Northeastern are nearly deadlocked: 75 wins for the Terriers, 73 for the Huskies.
Northeastern opened the season with a tough pair of games, losing at Colgate on opening night and at Georgia State on Friday. Despite the losses, NU has plenty to build on with the strong performances Chris Doherty delivered in both games.
All-Patriot Leaguer Javante McCoy sets the table for the Terriers offense.
Hampton At Towson
Transfers Terry Nolan Jr. and Cam Holden debuted in spectacular fashion during Towson's season-opening rout of UAlbany. Nolan went for 17 points and five assists, nicely complementing Holden's 15-point, 11-rebound double-double.
The Tigers open a three-game stretch of non-conference dates before heading to Sin City for the Las Vegas Invitational with Hampton. The Pirates are playing their first Division I opponent of the season when they visit SECU Arena, using the first two games against competition from the NCCAA and USCAA for tune-ups.
La Salle At Delaware
Delaware's home opener marks the Blue Hens' final warm-up before heading to Florida and the loaded Gulf Coast Showcase. La Salle comes into the Bob Carpenter Center as the second Atlantic 10 Conference opponent for UD on this young season.
Delaware got off to a slow start in the season opener at Davidson, the Blue Hens' first A-10 opponent. A few promising developments from the loss, however: Dylan Painter scored 17 points, living up to preseason expectations, and transfer Jameer Nelson Jr. had 11 points, six rebounds and three assists before fouling out.
The Blue Hens can expect a heavy dose of 3-point shooting from a La Salle team that ranked in the top 100 of long-range attempts per field goals taken in 2020-21. The Explorers opened 2021-22 attempting 40 3-pointers in an overtime loss to Sacred Heart.
Coastal Carolina At UNC-Wilmington
Longtime coach Cliff Ellis has made a consistent winner of Coastal Carolina, a team coming off a run to the finals of last season's CBI. The Chanticleers come to Trask Coliseum on the second leg of a big week for UNC-Wilmington.
The Seahawks return home for Thursday's matchup two nights removed from a trip to Pitt. UNCW gave Missouri Valley opponent Illinois State all it could handle on opening night behind 14 points from Shykeim Phillips.
George Mason At James Madison
James Madison destroyed an overmatched Carlow bunch on Nov. 10, nearly reaching the rare 100-point victory milestone in a 135-40 blowout.
The Dukes finish a stretch of three games at the new Atlantic Union Bank Center before heading to Florida for the Naples Invitational with a matchup against former CAA rival George Mason.
In 50 years of competition, the Patriots and Dukes are remarkably competitive. A James Madison win this season ties the all-time series at 48 victories each.