BIG EAST Women's Basketball
Marquette Must Overcome Roster & Staff Turnover To Thrive
Marquette Must Overcome Roster & Staff Turnover To Thrive
The Golden Eagles finished second in the Big East last season and earned a berth in the NCAA Tournament.
Nov 15, 2021
by Antonio Williams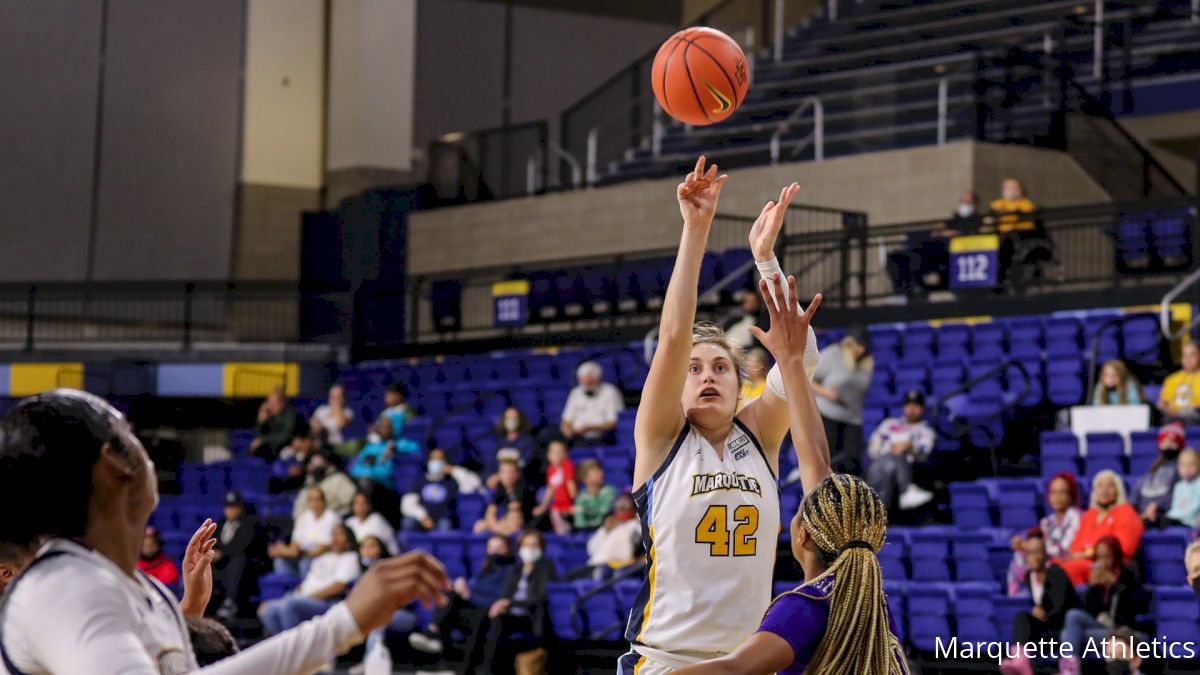 Megan Duffy's squad will certainly have to "attack transition" as well as attack "in transition" to enjoy success this season. After finishing second in the Big East last season and earning a berth in the NCAA Tournament, the Golden Eagles will have to work to attack the chemistry and cohesion issues that result from roster turnover.
Marquette lost several key contributors from last season's team that finished 4th in scoring and 2nd in field goal percentage in Big East play, including the brilliant and versatile Selena Lott. Lott did a lot for Marquette last season, starting with providing a defensive identity for the team. Lott led Marquette in steals and blocks, on her way to sharing Big East Defensive Player of the Year honors with UConn's Olivia Nelson-Ododa. Oh, and one more thing, Lott also led Marquette in scoring and assists!
Marquette lost its leading rebounder and 3rd leading scorer as well, when Camryn Taylor opted to transfer to Virginia. The Golden Eagles also lost key reserve G Taylor Valladay, when she decided to take her talents to Charlottesville, joining Taylor in playing for WNBA legend Tina Thompson at Virginia in the ACC.
Do not fret Golden Eagles' fans, the team took a trip to the Big Ten to find reinforcements. Sharpshooter G Karissa McLaughlin, the all-time leader in three-point field goals in Purdue history, will provide consistent outside shooting and solid decision-making for the backcourt for Marquette. F Kennedi Myles brings her energy and versatility to Marquette, as she led Illinois in rebounding, finished 2nd in steals, and 3rd in scoring for the Fighting Illini last season.
You know what helps calm the chopper waters associated with incorporating new players in prominent roles? Having Preseason All-Big East selection F Lauren Van Kleunen on your roster. Van Kleunen's ability to operate in the paint as well as step out to hit a jumper when needed will help to provide some smooth sailing as Marquette will look to build on their five consecutive appearances in the Big East title game. Van Kleunen and McLaughlin will provide the Golden Eagles with a potentially lethal inside-outside combination.
Both players will cause opposes defenses nightmares in screen/roll sets, as defenders will have to honor Van Kleunen and McLaughlin's shooting prowess, while also having to account for Van Kleunen's ability to roll to the basket to finish as well as McLaughlin's ability to deliver the ball on time and on target. Van Kleunen and Myles will also complement each very well on the frontline, as both players will shore up rebounding on both ends of the floor for Marquette, in addition to converting buckets in the paint and anchoring the defense.
Coach Duffy must also combat transition on her coaching staff, as Marquette lost two assistant coaches from last season's Big East runner-up team. In yet another departure for the ACC, Coach Itoro Coleman left Milwaukee for Chapel Hill, when she accepted a position at North Carolina, while Coach Tony Greene returned to his home state of Texas for a spot on Nicki Collen's staff at Baylor.
Fortunately for Marquette, Coaches Tasha Taylor and Kelly Komara have both just officially entered the chat. Taylor enjoyed a successful run as an assistant at Elon that lasted almost a decade. Komara brings her wealth of experience and accomplishments to Marquette, having most recently served as an assistant at Vanderbilt.
Marquette has made a habit of outperforming expectations, through a combination of strong on-court player production and coaching. Look for this current iteration of the Golden Eagles to have an impressive showing as Coach Duffy continues to build this program in Milwaukee, which serves as the backdrop for one of the more underappreciated basketball landscapes in the country from a talent and passion for the game perspective.