2021 Battle 4 Atlantis Women's Tournament
2021-22 Top 10 Power Forwards In NCAA DI Women's Basketball
2021-22 Top 10 Power Forwards In NCAA DI Women's Basketball
Can NaLyssa Smith lead Baylor back to the Final Four under a new coach? Will we see any significant changes to Michigan's offense around Naz Hillmon?
Nov 18, 2021
by Briar Napier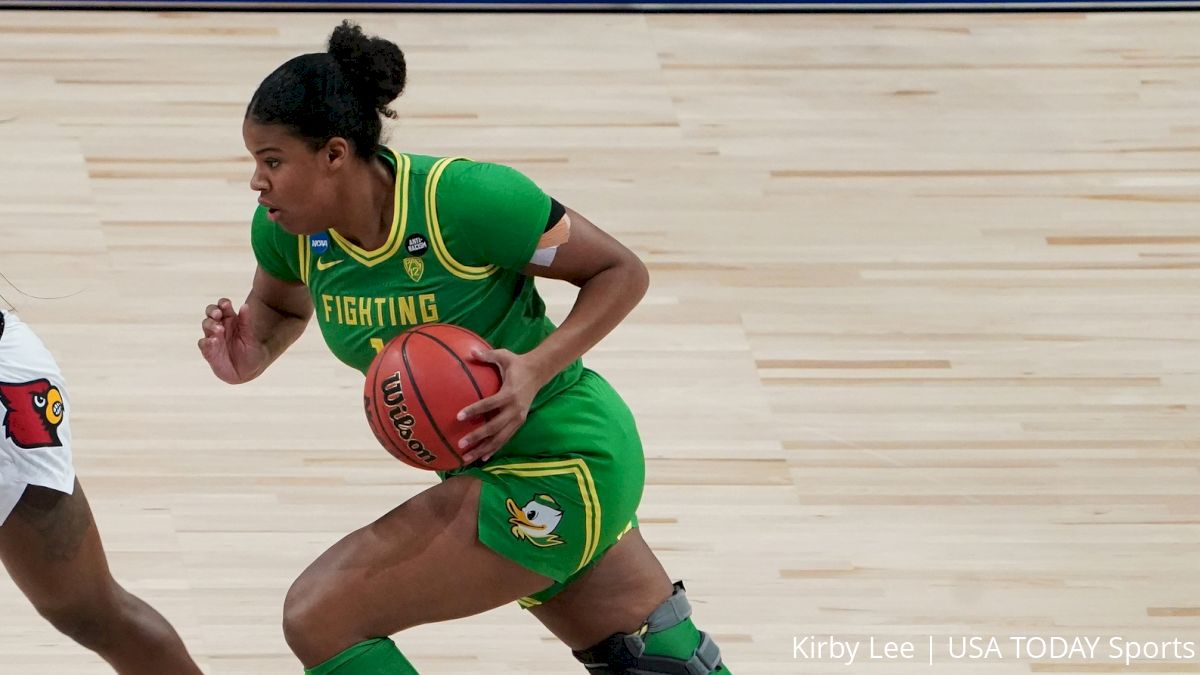 There's plenty that goes into what makes a good power forward, but the names who can check off those boxes in women's college basketball are limited.
Being a quality inside scorer that can rough up the center contending for rebounds is essential. And the game of basketball is evolving to where a shooting stroke is demanded from everyone, not just guards. An elite power forward can do that, too, plus beat you off the dribble if you're not careful.
Understand what the four can bring now? Good. Actually finding players who can do all that, let alone do it on the floor in a legitimate game, is a much harder task.
However, there are 10 players in particular across the country who are especially stellar in trying to accomplish all those responsibilities and more. They're located below as part of FloSports' series of listing the 10 best players at each position in the country.
NaLyssa Smith, Sr., Baylor
Smith wasn't born yet the last time someone not named Kim Mulkey, a three-time national champion at Baylor who moved to LSU in the offseason, was coaching the Lady Bears. But there arguably isn't a better player in the country for new coach Nicki Collen to have in her arsenal than Smith. The defending Wade Trophy winner as the upperclassman player of the year, the 6-4 Smith looks primed and ready for a potentially even bigger final year in Waco — one that the Lady Bears will hope results in their fourth-ever national title and Smith's second. A smooth, versatile player that ranked in the top 25 of the NCAA in all of the top six offensive statistical categories, Smith scored in double figures in all but two games as she led Baylor to the Elite Eight, amidst a tourney run that featured a legendary 11 for 11, 24-point performance against Naz Hillmon and Michigan in the Sweet 16. As big and strong as most forwards and as quick and athletic as most guards, Smith might be the nation's most complete player regardless of position. Her meteoric rise from freshman role player to senior superstar and WNBA prospect is nearing completion.
Lorela Cubaj, Gr., Georgia Tech
The Yellow Jackets made just their second Sweet 16 appearance in school history this past season and that achievement can be largely boiled down to the continued growth of Cubaj. The 6-4 Italian has WNBA scouts salivating over a solid offensive game (12.5 points per game, 43.9% from the field last year) but an even better defensive one, with her 1.3 steals and 1.3 blocks a night giving her the edge to be named last season's ACC Co-Defensive Player of the Year. A sturdy rebounder (11.5 boards per game, 11th nationally), Cubaj developed a bit of an edge to her game in the NCAA Tournament: her double-double was instrumental in helping Georgia Tech come back from a 17-point halftime deficit against Stephen F. Austin in the first round, while another double-double against West Virginia got the Yellow Jackets out of the opening weekend of the tourney for the first time since 2012. That skill set will undoubtedly only help her draft credentials, but as Cubaj took advantage of a free year of eligibility, those pro teams will have to wait a bit longer.
Naz Hillmon, Sr., Michigan
It was going to take a herculean effort to beat out Iowa's Caitlin Clark and others for Big Ten Player of the Year award honors last season, but the woman who stood atop them all at the end was Hillmon. It was for good reason, too. A loaded stat line of 23.9 points and 11.4 rebounds on 62.3% shooting are video game numbers, and her 50-point, 16-rebound night against Ohio State last January was one of the greatest single-game performances in college basketball history. That was without taking a single 3-pointer the entire season, either: Hillmon's game is all about old-school, in-the-paint dominance. The Wolverines are going to run their offense around Hillmon — that part is obvious and unquestionable — but the wonder is if Michigan can make a deep tournament run on that alone as its Sweet 16 run last season was the first in school history. Then again, why wouldn't you want to give a player like Hillmon as many opportunities as possible?
Nyara Sabally, Jr., Oregon
Sabally has had big shoes to fill ever since she finally was able to put on a Ducks uniform in 2020-21, making her playing debut after missing her first two seasons due to injury and watching sister Satou ball out as the yin to superstar Sabrina Ionescu's yang on a nightly basis. Her redshirt sophomore season last year was certainly a good start. Nyara led Oregon in points (12.9) and rebounds (7.3) per game as she was a worthy All-Pac-12 nominee for the Ducks' fourth straight Sweet 16 team. Being somewhat cautious to shoot the 3 for now — unlike Satou, a more-than-capable stretch-four — Nyara can counter by probably having the better post touch of the two sisters with a very-good mark of 54.7% from the field in her first playing season. Nyara seemed to get better as the season went along, as well, scoring in double figures for 17 of her final 18 games, possibly setting the stage for a breakout second year on the court in her fourth season in Eugene.
Cameron Brink, Soph., Stanford
When you're starting to get compared to Brittney Griner for your defensive capabilities, you're doing something right. Brink may already be the best all-around shot-blocker in college hoops in just her second season down low for the Cardinal, finishing with 2.8 swats a night and becoming the first freshman since Griner to block three or more shots in their first six career starts. That run entrusted coach Tara VanDerveer to give Brink the starting job for the rest of the season, a decision that Brink helped reward her for by being a critical piece in Stanford's first national championship since 1992. Her six blocks against South Carolina and All-American center Aliyah Boston in the national semifinal were especially impressive as her 6-foot-4 body and even lengthier wingspan disrupt shots in the lane and force offenses to try and work around her presence if they dare drive inside. The offense needs some work (9.9 points per game), but there is plenty of time and potential left in the tank, evidenced by a 24-point game against Oregon State in the Pac-12 Tournament. Brink is already Stanford's all-time single-season leader in blocks, and at this rate, it probably won't be the only rejection-related record she'll break.
Alexus Dye, Gr., Tennessee
Remember when No. 15 seed Troy almost sent the college basketball world into hysterics by being two possessions away from upsetting No. 2 Texas A&M in the first round of the NCAA Tournament? Well, Dye was the engine behind the Trojans pulling off a near-shock, tallying a 26-point and 11-rebound double-double despite playing just 27 minutes due to foul trouble. That double-double, fun fact, was Dye's 23rd and final of the year, which was No. 1 in the NCAA by a whole four double-doubles. The reigning Sun Belt Player of the Year now gets to test her might at one of women's college hoops' blue-blood programs, and despite being undersized at 6-foot ensures that missed shots rarely don't touch her hands. Oh, and she can fill it up as a scorer, too. All you've got to do is check out the film from her 37-point onslaught against Texas State in the Sun Belt Tournament (when she went 16 for 25 from the field) for evidence of that. Dye is as high-volume as it gets, and that's good news for a Lady Vols program that's looking to get out of the first weekend of NCAA Tournament play for the first time since 2016.
Aaliyah Edwards, Soph., UConn
Only at UConn can you be one of the best players in the country at your position yet seemingly invisible within your own roster on some occasions. Edwards might just be the player that embodies that the most because she was mightily efficient as a player who came off the bench 23 times in a season where she won the Big East's Sixth Woman of the Year. Edwards averaged 10.7 points and 5.7 rebounds over just 21.8 minutes a night in a really, really good freshman season, a year that probably went under the radar for casual fans because a certain someone on her team (ahem, Paige Bueckers) also had a really, really good freshman season. But take a quick guess: who in college basketball (out of qualifying players) had the highest field goal percentage in the country last season? It was none other than Edwards, who finished with an astounding mark of 68.9%. Frontcourt depth has been one of the few Achilles' heels in the Huskies powerful roster over the past few seasons, but after another offseason, for the 6-3 Edwards to develop — plus some other returners and add-ons by coach Geno Auriemma — whoever the Huskies are facing down low is going to have a heck of a lot to try and contain.
Maddy Siegrist, Jr., Villanova
Just the third player ever to lead the Big East for a season in both points (22.8) and rebounding (9.8) per game, what made Siegrist's historic feat that much more impressive is that as a 6-1 power forward, getting the job done inside and outside the paint is made much harder for her due to the size disadvantage between her and other towers of the conference. Yet that hasn't stopped Siegrist, a three-level scorer that is now a two-time All-Big East First Team nod, from leading the league in double-doubles (13) and becoming the fastest player in Villanova history to reach the 1,000-point mark, doing so in just 50 career games. A true do-it-all player — she has averages of 2.0 assists, 1.5 steals and 1.1 blocks a night, too — Siegrist's national prominence has perhaps been limited by the fact COVID-19 stopped her freshman postseason from happening and the Wildcats only made it to the WNIT this past year. But if 'Nova forces its way into the NCAA Tournament picture this time around, it's almost for certain that Siegrist's growing stardom will have something to do with it.
Mya Hollingshed, Gr., Colorado
UCLA and Colorado are the last teams that can claim that they have a win over the defending national champions, Stanford. The Bruins' victory at least came when they were ranked No. 6 in the country, but the Buffs' triumph in overtime on Jan. 17 at CU Events Center was downright stunning. That was largely made possible because of Hollingshed who went off for 32 points against the stacked Cardinal and putting her name at the forefront of the women's college basketball world's attention. Hollingshed will attempt to do it again in her final season on what's been a middling Colorado team throughout her career that's never made the NCAA Tournament with her on the roster. But Hollingshed's point, rebound and assist numbers have improved every year to what's been to no avail in March. Will things finally come to fruition this time in Boulder?
Esmery Martinez, Jr., West Virginia
The Mountaineers made it back to the NCAA Tournament after a four-year absence last year and Martinez's blossoming from a role player on an okay team to an All-Big 12 First Teamer on a really good WVU team that earned a No. 4 seed in the tourney was a major reason why. A double-double-a-night boss (13.6 points, 11.6 rebounds per game) that had three separate occasions of 20-point and 20-rebound games each, the Dominican Republic native rarely let teams get second chances (8.2 defensive rebounds per game) at putback looks. However, she did tend to get carried away a bit on the aggressiveness, having one of the highest fouls per game rates in the country and being limited to just third on the team in minutes because of it, despite playing in all 29 games. But when Martinez is playing, it's tough to prevent her from getting what she wants, finishing the year with 15 double-doubles despite only recording her first one in her career last November. It's a testament to Martinez's toughness that she more than doubled up every teammate despite being a few inches shorter than WVU's tallest players, and that tenacity can take the program far — as long as she's not fouling out before it gets there.