2021 Battle 4 Atlantis Women's Tournament
2021-22 Top 10 Centers In NCAA DI Women's Basketball
2021-22 Top 10 Centers In NCAA DI Women's Basketball
Here is a list of the top 10 centers in NCAA women's basketball to watch for.
Nov 18, 2021
by Briar Napier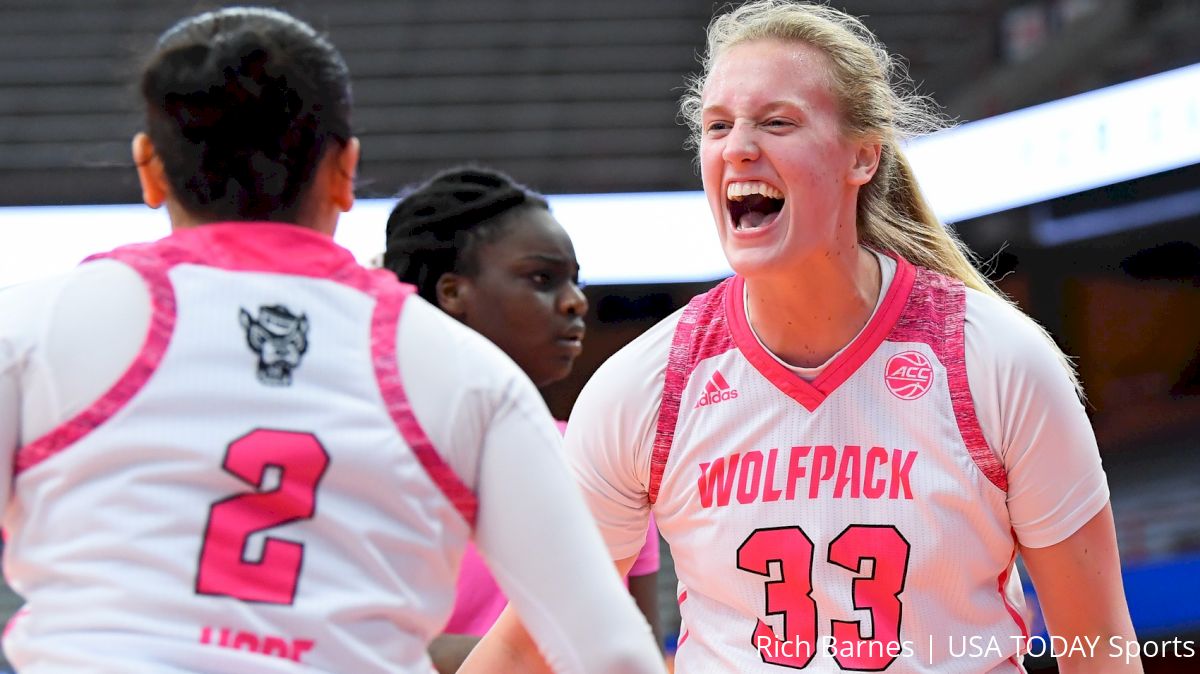 It's pretty hard to be a respectable basketball team without a respectable center.
Height is a thing you can't teach, coaches say, but it sure is a nice thing to have. Those who know how to use their length and size well can find a place in the game for a long time, even well past the professional level, simply because there are limited amounts of people living with their physical attributes.
The force in the middle is alive and well in women's college basketball, with some of the elite towers of the sport having the offense flow through them, not by guards deciding to feed them. Between burly punishers and old-school, finesse-filled movers, it's a position where there are many ways to do it right.
It doesn't mean any of them are easy, which helps add to its mystique as an art form.
There are more than 10 good ones in the college game today, but here are 10 of the best, along with what to expect out of them this upcoming season.
Aliyah Boston, Jr., South Carolina
For most of the positions in women's college basketball, there's certainly a reasonable claim that multiple players could be considered the best at their roles. That's not the case at center. Aliyah Boston is the unquestioned best at it you'll find. Boston's dominance led her to two Lisa Leslie Awards, a consensus All-American nod last year, and a combined record for South Carolina of 58-6 since she joined. An elite scorer (13.7 points per game last year), rebounder (11.5 rebounds), and defender (2.6 blocks), Boston's production is even more impressive when considering she does it night-in and night-out against the nation's best. What's scary is that she's probably getting even better: Boston showed signs of a 3-point stroke last year (26.5%), and if triples start going down frequently then the Gamecocks' opponents are in for a world of (even more) hurt.
Elissa Cunane, Sr., NC State
The Wolfpack's anchor down low for three seasons, Cunane stands tall in an ACC chock-full of talented post players. A two-time First Team All-ACC nominee, Cunane is NC State's focal point on both ends of the floor. She commands attention both from teammates that run the offense through her and opponents that often try to double-team her much to no avail. Whatever defensive sets have been thrown at Cunane haven't worked well yet as she averaged 16.3 points and 8.3 rebounds per game in 2020-21 in addition to being a productive foul shooter (84.3%), making her the only center nationally to be ranked among the top 50 in free throw percentage. Cunane's been to the Sweet 16 twice with the Wolfpack, but never further. With NC State ranked No. 5 in the Preseason Associated Press Top 25 this time around, it'll be Cunane behind the charge if it is to make its first Elite Eight since 1998.
Ayoka Lee, Jr., Kansas State
Lee has been saddled the past two years with being on a Kansas State team that hasn't been great. In Lee's two years in Manhattan, the Wildcats have won a combined 25 games and haven't made a postseason appearance, limiting her national exposure. But don't be mistaken, Lee can hang with the best of them. She outscored Baylor standout NaLyssa Smith in their meeting at K-State last year and put 27 points on former Oklahoma State star and reigning Big 12 Defensive Player of the Year Natasha Mack. A nightly double-double threat with fantastic shot-swatting abilities (2.6 career blocks per game), Lee led the Big 12 in field-goal percentage (62.1%) a year ago but will need a lot of help behind her if the Wildcats are to get out of the league cellar.
Olivia Nelson-Ododa, Sr., UConn
It sounds weird to label the defending Big East Co-Defensive Player of the Year and a two-year starter at UConn as "underrated," but such is the might of the Huskies where a player like the 6-foot-5 Nelson-Ododa can sometimes get lost in the shuffle. Guard-heavy UConn has often had to rely on Nelson-Ododa over the past couple of years for tenacity inside, and she's delivered in a big way with a team-leading 7.8 rebounds and 1.8 blocks a night last year. Games, where Nelson-Odoba's presence was minimized, were very noticeable; she scored a combined three points in UConn's two losses last year. But with a duo of new 6-5 forwards in Ohio State transfer Dorka Juhász and McDonald's All-American recruit Amari DeBerry, there's not as much weight on Nelson-Ododa's shoulders. It may also be the key to a career season.
Elizabeth Kitley, Jr., Virginia Tech
Kitley was awesome as a sophomore as she set Virginia Tech's program record for field-goal percentage in an ACC season (57.3%) to go with averaging a double-double a night (18.2 points, 10.4 rebounds). A notable 17-point, 11-rebound performance proved instrumental toward a Hokies upset over then-No. 2 NC State (which didn't have Elissa Cunane) on Jan. 28. When Kitley and Cunane finally tussled in the ACC Tournament later in the year, the Wolfpack triumphed but Kitley proved her worth with 20 points and nine rebounds on one of the country's best centers. The 6-6 Kitley was the engine behind the Hokies making their first NCAA Tournament trip since 2006 as she earned her way onto First-Team All-ACC, and with another stellar season could be butting her way into the conversation for league player of the year.
Nancy Mulkey, Gr., Washington
One of the nation's tallest players at 6-9, Mulkey instantly adds a towering presence to a Washington team that was well-below average in rebound margin and blocks per game last year. Mulkey's three years at Rice (following a freshman season at Oklahoma) were a block party as she averaged 3.5 swats a game in her time there, winning the national blocks title at 3.9 a night her sophomore season. Her defensive prowess deserves its plaudits, but Mulkey also improved her scoring average to a career-high 15.7 points a game last year en route to being named First Team All-Conference USA. The Huskies are likely to lean on Mulkey heavily with only her and fellow center Darcy Rees listed over 6-2 on the roster, but the good news is that there's already established chemistry between Mulkey and new coach Tina Langley, who left her post as Rice coach for UW in the offseason.
Shakira Austin, Sr., Ole Miss
Even with 47 starts over two years at national power Maryland, Austin wasn't satisfied and left to be the star of the show at Ole Miss. The Rebels have a lot to thank Austin for in regards to that decision. A downtrodden program at 7-23 before Austin arrived, all she ended up doing was post a loaded scoreline of 18.6 points, 9.1 rebounds, and 1.8 blocks per game as she got herself onto First Team All-SEC and Ole Miss to the WNIT title game. With East Carolina transfer Lashonda Monk and Wright State transfer Angel Baker coming in for reinforcements, Ole Miss could be a dark-horse player in the SEC. But if it is, it'll likely be on the backs of a special season from Austin.
Jessika Carter, Sr., Mississippi State
It was perhaps a disappointing season for Mississippi State last season in going 10-9 — the program's lowest winning percentage since 2012-13 — just three years after completing back-to-back national title game runs. Interim coach Doug Novak is in charge of attempting to right the ship, and perhaps the most dependable player he can turn to in doing so is Carter. She posted a double-double with three blocks on mighty South Carolina in SEC play last year and has improved her scoring and rebounding averages every season in Starkville. Considering there are nine new players on the Bulldogs' roster and Novak is the program's third coach in three years (former coach Nikki McCray-Penson stepped down due to health concerns in the offseason), Carter's experience should go a long way.
Mackenzie Holmes, Jr., Indiana
Holmes underwent a transformation last year from effective role player to starting-caliber powerhouse for the Hoosiers. It was her freshman year with 30 of 32 appearances off the bench that got her a Big Team All-Freshman team nod, but her 27 starts in 27 games in 2020-21 put her on the league's first team at year's end. Yet it was in the postseason where Holmes became part of Indiana basketball lore. She led the Hoosiers to their first-ever Elite Eight appearance punctuated by a thrilling upset of No. 1 NC State in the Sweet 16, a game where she went for 16 points on Elissa Cunane. Even while slightly undersized at 6-3, Holmes' 3.0 blocks a game were tops in the Big Ten and seventh nationally, while she led IU in both points (17.8) and rebounds (7.6) as well.
Ila Lane, Jr., UC Santa Barbara
Lane, unquestioned talent aside, is a bit of a wild card. Her incredible first season with the Gauchos resulted in her scoring 15.2 points and 13.0 rebounds per game, the latter of which was the third-highest rebounding average in the country. Why she's a wild card is because those were her 2019-20 numbers; Lane opted out of the 2020-21 season due to concerns over the pandemic. She's back on the team this year for a UCSB team that struggled mightily without her, going 7-14 with a 57-point loss to UCLA on its resume. Her return has likely heavily influenced the Big West coaches to pick the Gauchos to be third in their preseason poll, but it's still highly unlikely UCSB storms its way into national relevancy. The same cannot be said for Lane, however, as eye-popping improvement could shoot her into award conversations.