2021 Baha Mar Hoops Pink Flamingo Championship
Titleholder Stanford Runs On Jones, Stingy Defense To Another Crown
Titleholder Stanford Runs On Jones, Stingy Defense To Another Crown
If Coach VanDerveer gets a historic fourth title, it will involve an electric offense hitting on all cylinders and a smothering defense.
Nov 18, 2021
by Briar Napier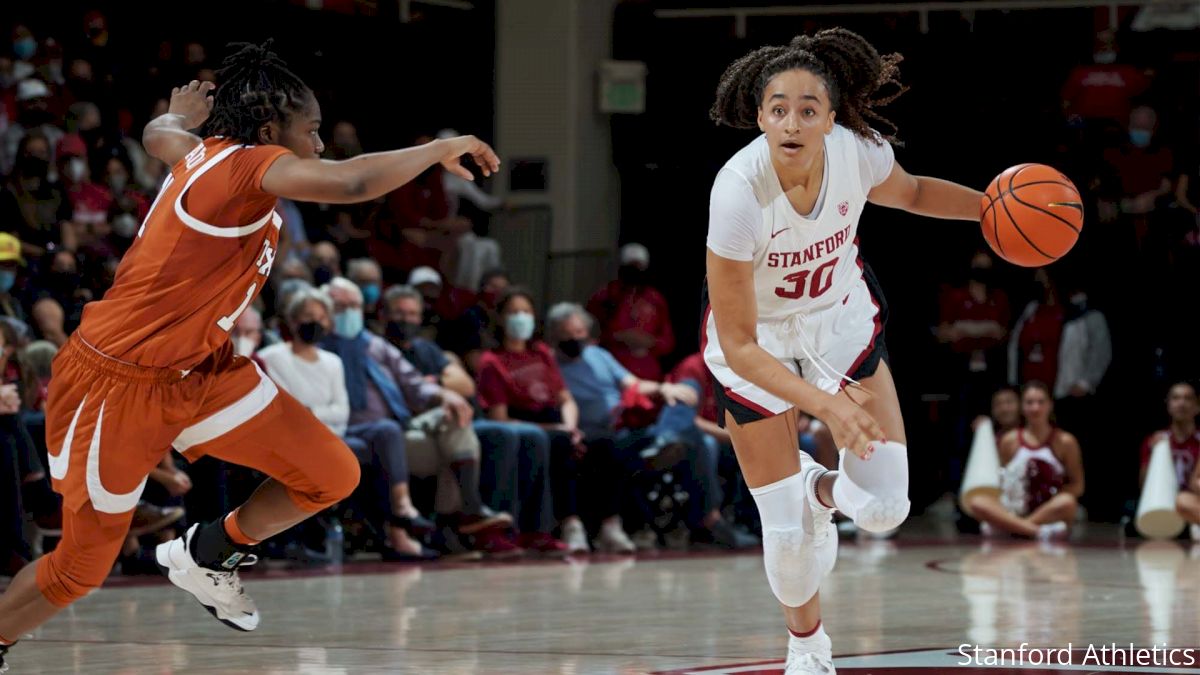 If some time had passed since you last thought of Stanford as a women's college basketball powerhouse, the 2020-21 season made the Cardinal impossible to ignore again.
Stanford coach Tara VanDerveer passed her late longtime rival and friend, legendary Tennessee coach Pat Summitt, for the women's game's all-time wins record last year, then capped it off with her third national title in her illustrious career—the Cardinal's first since 1992.
Almost always in the hunt but never quite getting it done in the 29-year stretch, stellar play and late performances down the stretch were key to Stanford finally clearing the hump. And it has goals to repeat.
What does Stanford do best, as VanDerveer shoots for a historic fourth title? It involves electric offense, a smothering defense and some stellar players to do them.
Offense: What's been a common denominator on offense in the rare Stanford loss over the past two seasons (just three in its last 36 games, to be exact)? The Cardinal didn't hit their 3-pointers. In defeats to Colorado, UCLA and Texas over the past two years, Stanford shot 22.7, 20 and 14.8 percent from 3 in each game, respectively. That was just about the only way to stop last year's eventual national champions as they were in the top-10 nationally in both triples taken (755) and the percentage of them made (38.4 percent).
But you don't win a national title being a one-trick pony. Stanford was elite or close to it in just about every offensive category in 2020-21 including assist-to-turnover ratio (1.28, 13th nationally), field goal percentage (46.5 percent, 14th) and offensive rebound rate (37.8 percent, 27th). Valuing the ball and finding open looks resulted in the Cardinal not going to the free throw line very often last season, getting only 11.8 percent of their points from the charity stripe. That rate wasn't a bad thing; Stanford still scored plenty of points (77.7 per game) and players became conditioned not to make risky decisions. Sixth-year guard Anna Wilson, for example, had the lowest scoring average of any Cardinal starter last season, but her minuscule mark of 0.7 turnovers a game was invaluable comfort for a ball-handler playing on the biggest stages in college basketball.
Defense: After Stanford gave up at least 70 points in consecutive losses to Colorado and UCLA in February, coach Tara VanDerveer decided to give 6-foot-4 freshman forward Cameron Brink her first start in the next game against USC. Brink never left the starting lineup again as the Cardinal went 20-0 and only gave up over 60 points five times the rest of the way.
It wasn't entirely Brink's surge that made Stanford a championship-caliber defense—the Cardinal allowed just 53.7 points a night for the year, eighth-best nationally—but she was undoubtedly a massive part in the Cardinal's run to the title. Her 2.8 blocks per game made her a force in the middle as she contributed to a suffocating guarding style that only allowed Stanford opponents to shoot 32.9 percent from the field. And thus far in 2021-22, that intensity has continued: Cardinal foes have been held to a .22 assist-to-turnover ratio through three games—the country's lowest number—and Brink is one of seven different players averaging at least a steal a night.
On top of all of that, the offensive-rebound putback is a feat to accomplish against Stanford. The Cardinal have averaged 36.2 total boards a game so far compared to allowing 26.3 boards, a 10-possession swing that undoubtedly pays dividends down the stretch.
X-factor: Junior guard Haley Jones made herself a household name this past March as she was named the Final Four's Most Outstanding Player, scoring 20.5 points on almost 68 percent shooting in the Cardinal's final two games of the year. Now an All-America candidate on the reigning champs, early-season signs of her game evolving even more are promising—and scary if you're on Stanford's schedule.
Jones had a triple-double of 17 points, 12 rebounds and 10 assists in a win over Portland this week, making her the first Stanford player to achieve the feat since 2002. An incredible accomplishment in its own right, it was also the first time Jones had broken double-digit assists in a single game in Palo Alto, smashing her previous record of seven, set as a sophomore. She's also getting to the free-throw line much more often than in previous seasons at 6.3 attempts per game, almost triple what she had a season ago (2.2).
If Jones' stat trends hold and are sustained, they add new dimensions to an already-polished game. That's bad news for the rest of the country.