2021 Battle 4 Atlantis Women's Tournament
South Carolina's Defense Name Of Game As Staley Eyes Second National Title
South Carolina's Defense Name Of Game As Staley Eyes Second National Title
The Gamecocks are sure to overmatch many throughout the regular season, but titanic matchups loom against Maryland, Stanford and UConn.
Nov 18, 2021
by Briar Napier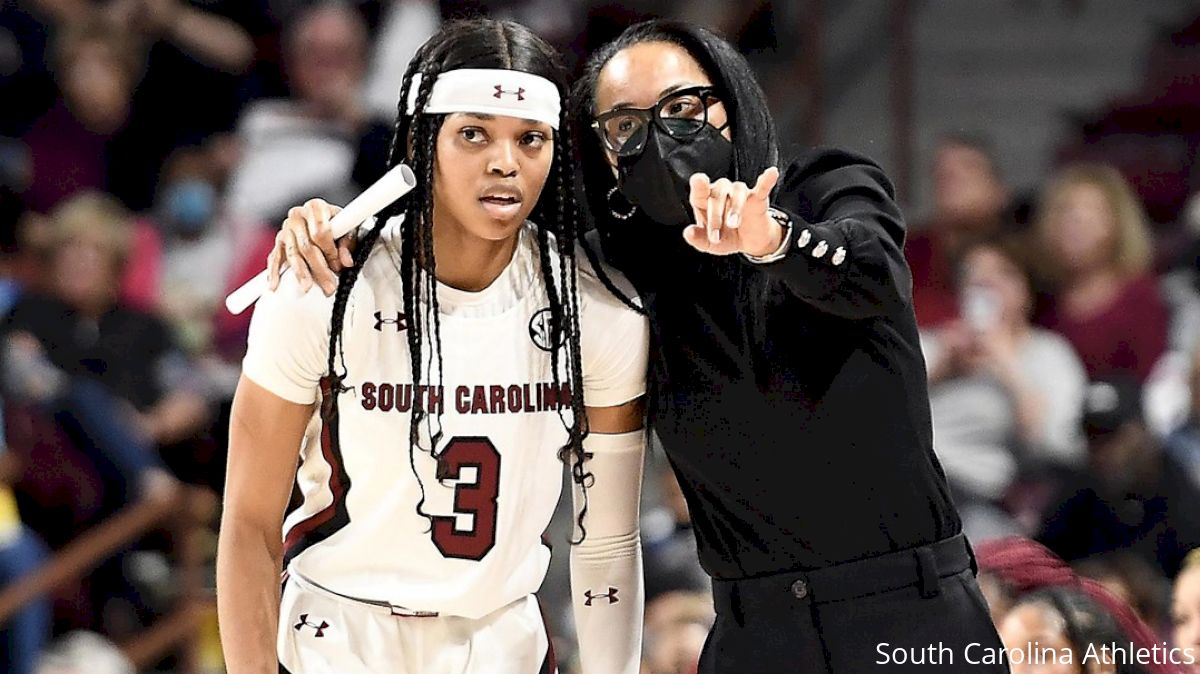 There's a reason why South Carolina was picked to be the preseason No. 1 in the AP Top 25 despite a loss in the Final Four last year and a strong crowd of other options to choose from.
You don't return five really, really good starters from a national semifinal team that won 26 games very often. Sure, the NCAA's ruling to give players an extra year of eligibility played a role in that, but it's the same rule for everyone and coach Dawn Staley kept what she had—and more importantly, strengthened her squad.
The Gamecocks play the game as well as anyone in America. Part of how they do it involves meticulous, efficient basketball that even the cream of the crop finds hard to stop, all with an edge of toughness to round it off.
But just what specifically is it that South Carolina does so well on both ends of the floor? Below are some of the many features that make Staley's squad click and will have them in the race for what it hopes will be some end-of-season silverware.
Offense: When analyzing South Carolina's offense, the first thing you notice is efficiency. Rarely does a Gamecocks possession go without the team getting something out of it, backed up by the fact that both last year and this season (so far) South Carolina has averaged over 100 points per 100 possessions. That's been made even more impressive through two games in 2021-22, Staley's team is playing a much slower pace than usual at only 66.8 possessions a game, a drop of almost six times with the ball from this past season.
The speed could be skewed due to South Carolina's 66-57 slugfest of a win over NC State, but the Gamecocks are a team that values the ball and aren't known for taking many low-percentage looks. South Carolina was second nationally in 2-pointers attempted last year while around the middle of Division I (170th) in 3-pointers chucked up, which is an obvious strategy to focus on when you have two-time defending Lisa Leslie Player of the Year Aliyah Boston patrolling the middle. It helps in terms of crashing the boards following misses, too, which the Gamecocks do better than just about anybody. Boston and Co. averaged 16.3 offensive rebounds per night last season, one of the nation's best marks and a stunning number considering the competition the Gamecocks play.
Defense: You're in for a long night if you think you're getting frequent easy looks on South Carolina. Staley is one of the game's brightest defensive minds, consistently making the Gamecocks one of the nation's most stingy guarding units since she arrived in Columbia in 2008. Interior defense is the backbone of the plan, told by the fact South Carolina was No. 1 in the country last year in team blocks per game (7.0) and allowed just 64.2% of its points from 2-point range, which was second nationally.
But it doesn't stop there. The Gamecocks are very aggressive in trying to deny passing lanes and get the ball back, ranking in the top 25 in the country last season in both assists per game allowed (9.8) and steal rate (6.9 percent). If you do manage to get a shot up over the likes of Boston or Victoria Saxton inside or Destanni Henderson or Zia Cooke on the perimeter, good luck getting a second chance at it. Just like on the offensive glass, South Carolina dominates on defensive rebounding as its rate of 57.4 percent was fourth-best nationally this past season. That all culminated in 58.1 points allowed per night in 2020-21 and seven times the Gamecocks held foes to 50 points or less—including twice in the NCAA Tournament against Oregon State (42) and Texas (34).
X-factors: South Carolina's first unit of Boston, Henderson, Cooke, Saxton and Brea Beal is beyond frightening, having started all but two games together last year and both games so far this season. But the Gamecocks' top five off of the bench is probably better than a lot of other teams' starting lineup.
The trick is getting them competitive game experience.
Cooke and Beal played over 36 and 34 minutes, respectively, in the competitive win over NC State, but South Carolina's next game against South Dakota wasn't as much of a contest with the Gamecocks holding a 15-point lead at half. With a comfortable (yet not insurmountable) advantage, Staley got minutes for 14 different players —compared to just 10 against NC State—in the eventual 72-41 win, 10 of which went at least 10 minutes. Some made good on that chance: Kamilla Cardoso, a 6-7 Syracuse transfer, scored nine points with eight rebounds in about 15 minutes off the bench mainly for Boston, and freshman guard Bree Hall notched the first six points of her college career after being held scoreless against the Wolfpack.
The Gamecocks are sure to overmatch many throughout the regular season, but titanic matchups against the elites of Maryland, Stanford, UConn and others still loom. As programs with just as deep, if not deeper rosters await, any sort of comfort the South Carolina reserves can get will be crucial to its drive for a second national title in school history.