2021 Daytona Beach Invitational
Daytona Beach Invitational: Michigan Headline Stacked Tourney
Daytona Beach Invitational: Michigan Headline Stacked Tourney
Naz Hillmon and Michigan head to Daytona Beach to take on the likes of Oregon State in the three-day tournament.
Nov 18, 2021
by Briar Napier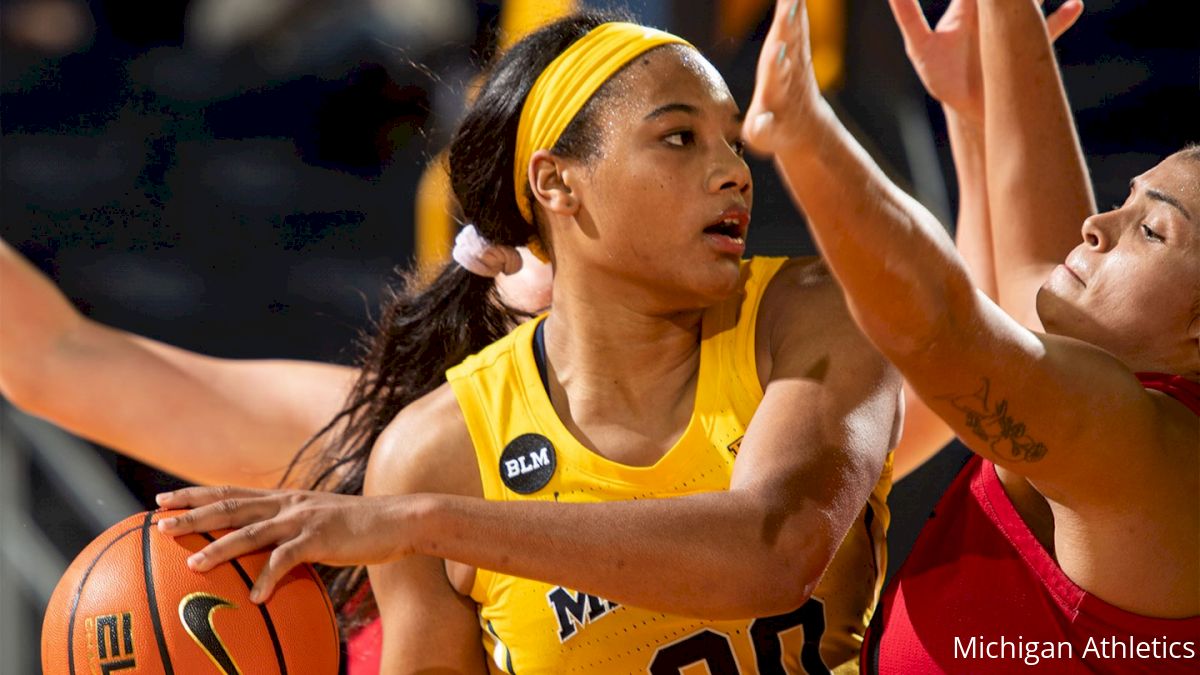 Between nine games featuring five reigning NCAA Tournament teams over three days, the women's Daytona Beach Invitational—held in the city's Ocean Center within walking distance of the shore—is sure to provide an early-season test for schools and players vying for resume building and statement making.
And if you can't make it to Daytona Beach from Nov. 25-27, when the event will be held, you can catch all of the games live on FloSports.
In a field featuring national player of the year candidates, ranked hopefuls and past powers searching to return to former glory, here's a breakdown of the players and personnel to expect when they duke it out in the Sunshine State.
Michigan
Last season: 16-6 overall, lost in NCAA Tournament Sweet 16 to Baylor
The returners: You can't go long on talking about the Wolverines without talking about Naz Hillmon. The senior forward's numbers from last season were ridiculous at 23.9 points and 11.4 rebounds per game, snatching her the Big Ten Player of the Year award among a loaded list of candidates. Hillmon is showing no signs of slowing down two games into her senior year (24.5 points, 10.0 rebounds) and has a real shot at winning numerous honors at year's end, up to and including All-American and national player of the year. Obviously, she's the focal point of everything Michigan does, but there's more than one tool in their arsenal.
Fifth-year senior guard Leigha Brown's (18.2 points, 3.1 assists) return was crucial, and beyond her and Hillmon, there wasn't much else that came back to Ann Arbor this season. Reigning team assists leader Amy Dilk (3.9 per game), although she returned, is currently day-to-day with an injury that ruled her out of the Wolverines' win over St. Francis Brooklyn this past weekend.
The freshmen: It's been clear in the early goings of this season that guard Laila Phelia is the jewel of the Wolverines' four-player freshman class. The 6-footer from Cincinnati was the No. 28 overall recruit in last year's ESPN HoopGurlz rankings and through Michigan's first two games of this season has the most minutes of any freshman, going 5 for 9 from the field to finish with 11 points off the bench in the win against St. Francis Brooklyn. Guard Ari Wiggins is also highly-touted, having been ranked No. 68 in the same ESPN rankings and having scored in both of the Wolverines' games so far. Guard Jordan Hobbs was a sharpshooting (42.3 percent from 3 her senior year) all-stater at Springboro High School in Ohio, while forward Taylor Gibson was a McDonald's All-American for one of the best high school girls teams in the country at Bishop McNamara near Washington D.C.
The transfers: Coach Kim Barnes Arico opted not to pluck any players from the transfer portal in the offseason.
Daytona Beach Invitational games:
vs. Oregon State at 7 p.m. Nov. 26
vs. Mississippi State at 4:30 p.m. Nov. 27
Mississippi State
Last season: 10-9, no postseason
The returners: Last season was a fall back down to Earth for the Bulldogs, which missed the NCAA Tournament for the first time since 2014 and just three seasons following a historic run of back-to-back national runner-up finishes in 2017 and 2018. The goal now with interim coach Doug Novak—an assistant that was promoted when outgoing coach Nikki McCray-Penson left for health reasons—is to reach those heights again.
Junior forward Rickea Jackson was tabbed by many to be a candidate for a breakout season after leading MSU in scoring her first two seasons and has delivered, scoring 23 and 26 points in the Bulldogs' first two games. Many of those buckets were set up by guard Myah Taylor, one of the SEC's best passers at 4.1 assists per game last year. But the post presence of 6-5 center Jessika Carter is sorely missed. Carter stepped away from the team in October following an arrest earlier in the year for a simple assault charge and has no timetable for a return. If she's back in the fold to ease the pressure off of Jackson down low, MSU would gain some much-needed balance on the floor.
The freshmen: Point guard KN'isha Godfrey is still listed as a freshman but was a midyear enrollee at Mississippi State this past season, seeing action in one game against South Carolina. A highly-regarded recruit that was listed as the No. 8 point guard in the class of 2021 by ESPN, Godfrey is still attempting to find her way into the lineup with an experienced and talented backcourt. Joining her as fellow freshmen are another guard and a forward; the former, Mia Moore—a daughter of former NBA player Vernon Moore—took her high school to two state titles during her career and even had a quadruple-double in a game once. The latter is 6-footer Denae Carter, who posted 21.0 points per game her senior year at a high school in Philadelphia and has been the most-played freshman thus far on the Bulldogs' roster, nearly notching a double-double (nine points, 11 rebounds) in a win over Alabama State last week.
The transfers: You're not seeing triple: there are really three new transfers—all sisters—with the last Hayes last name on MSU's team this season. The trio also makes up half of the six total transfers Novak brought in this offseason. But let's start with the family matters first, particularly with the most high-profile name of all in Anastasia Hayes. The Conference USA Player of the Year last year at Middle Tennessee State, she was No. 2 nationally at 26.5 points per game and probably the most coveted name in the portal, making her a massive get for the Bulldogs. One sister (Aislynn) followed in her footsteps from the Blue Raiders as she was an All-C-USA Second Team nod, while the other one (Alasia) joined in from Notre Dame. Guard JerKaila Jordan averaged 16.7 points a game last year at Tulane and guard Ashley Jones finally gets to develop on the 16.0 points she averaged at Temple two years ago after sitting out a year due to NCAA transfer rules. Former St. John's and LSU forward Raven Farley (6.5 points, 5.4 rebounds in 2020-21) rounds out the bunch. Whew, that was a lot.
Daytona Beach Invitational games:
vs. Dayton at noon Nov. 25
vs. Michigan at 4:30 p.m. Nov. 27
Oregon State
Last season: 12-8, lost in NCAA Tournament second round to South Carolina
The returners: Guard Talia von Oelhoffen was a shot in the arm for the Beavers when the 5-11 sharpshooter (43.4 percent from 3) joined the team in midseason, with the former five-star recruit playing in 13 games while sneaking in as a Pac-12 All-Freshman Honorable Mention selection. She now might be the AP Top 25-ranked Beavers' best player. Double-figure scorers Aleah Goodman and Sasha Goforth didn't return to Corvallis, leaving von Oelhoffen and forward Taylor Jones (11.6 points, 8.8 rebounds per game) as the new duo to turn to. The two combined for 34 points, 11 rebounds and five steals and three blocks in OSU's season-opening win over Loyola Marymount, staking their claims as the anchors of what the Beavers are building on both ends of the floor. Redshirt junior Taya Corosdale and redshirt junior Ellie Mack also return with key experience as both started all 19 games last season.
The freshmen: von Oelhoffen is technically considered a freshman but has been well-experienced enough with Oregon State that it almost doesn't feel it. The two freshmen recruits that hadn't had prior experience with the program, however, also seem quite good. Four-star Texan guard A.J. Marrotte had a phenomenal collegiate debut, scoring 15 points and knocking down three 3-pointers off the bench in the Loyola Marymount win and picking up right where she left off after a total of 1,860 points in her high school career. And reigning McDonald's All-American Greta Kampschroeder has game, too, averaging 17.8 points and 10 rebounds per game during her senior campaign at Naperville North High School near Chicago. Nonetheless, she emphasized her defense in her 22-minute Beavers debut, notching two steals and two blocks off the bench.
The transfers: Saint Mary's transfer guard Emily Codding was likely on pace to snatch All-West Coast Conference honors as a junior in 2019-20 with averages of 14.7 points and 8.4 rebounds per game. But a knee injury sidelined those hopes—and for most of the next season, too. After playing in just five games last year due to her injury recovery, the Californian went for a change of scenery with a top program and in her debut scored seven points. Then there's redshirt senior guard Tea Adams, who started all but one game during her final three seasons with San Diego State and gave out a reliable 9.9 points a night along those years, getting a career high mark of 3.4 assists per game last year along with it, too.
Daytona Beach Invitational games:
vs. Michigan at 7 p.m. Nov. 26
vs. Notre Dame at 7 p.m. Nov. 27
Notre Dame
Last season: 10-10, no postseason
The returners: The 24 straight NCAA Tournament appearances (with two national titles among them) that legendary coach Muffet McGraw managed for the Fighting Irish from 1996 to 2019 have never seemed so far away. The streak officially broke last season (with COVID-19 having taken away the 2020 tourney) as former McGraw assistant Niele Ivey went .500 in Year 1, leaving it up to her to start anew. Having sophomore forward Maddy Westbeld in the fold is a good place to start, as she was the coaches' ACC Rookie of the Year after a freshman season of 15.2 points, 7.9 rebounds and 2.5 assists per game on 55.3 percent shooting. Senior guard Dana Mabrey and her 11.3 points and team-leading 3.2 assists a night is back, too, as is junior guard Anaya Peoples, one of the team's best rebounders (6.0 per game) even at 5-10—and a decent scorer (9.1 points per game) at that.
The freshmen: Guard Olivia Miles will keep her freshman eligibility despite being Notre Dame's first-ever early enrollee last season, only playing in six games but making an immediate impact by scoring in double figures in five of them. Ivey clearly liked what she saw in spurts from Miles, granting her the start in all of Notre Dame's three games thus far this season to where she's put up numbers of 10.3 points and 8.3 assists—yes, that's correct—as the Irish have started 3-0. That leaves 6-1 guard Sonia Citron as the lone true freshman on the roster, and as a McDonald's All-American in her final high school season seems to be the type of impact player that Notre Dame thrived on for decades. She's adjusted well to the college level so far, averaging 8.7 points, 6.0 rebounds and 2.7 assists as one of Ivey's first options off the bench.
The transfers: Notre Dame's guard-heavy roster left the Irish with not much frontcourt depth outside of Westbeld and role player Sam Brunelle, so Ivey made her lone portal addition count by nabbing 6-3 Stanford transfer Maya Dodson. Dodson opted out of the 2020-21 season, meaning she didn't play at any point during the Cardinal's national title year, but clearly brought some cred to South Bend with a total of 24 career starts to her name. Her game never skyrocketed in Palo Alto—her 7.0 points per night in 2018-19 were her prior best mark—but the transfer has sparked a new beginning for Dodson, having propelled herself to a fantastic start of 15.3 points and 7.0 rebounds (along with 2.7 blocks) to life with the Irish. Her 25 points, nine rebounds and four blocks in her Notre Dame debut against Ohio were especially impressive. Maybe a little time off is what we all need.
Daytona Beach Invitational games:
vs. Georgia at 4:30 p.m. Nov. 26
vs. Oregon State at 7 p.m. Nov. 27
Georgia
Last season: 21-7, lost in NCAA Tournament second round to Oregon
The returners: Center Jenna Staiti booked her name in Lady Dawgs' legend by opting to take advantage of the NCAA's extra year of eligibility to become a sixth-year senior. The Georgia native transferred back home after a freshman season at Maryland and has upped her points and rebounds averages every year in Athens. If she keeps up the pace she set in this season's season-opening win over Gardner-Webb (16 points, 11 rebounds), she'd earn career highs this season, too. But in terms of returning production around her, there's not a lot beyond guard Que Morrison, who started every game last season running the show at point guard as both a scorer (11.6 points) and distributor (3.5 assists). Guard Mikayla Coombs showed signs of improvement after scoring 13 points against Gardner-Webb following a 6.1 point-per-game average last year, with the former UConn recruit finally looking to break out with her home state's program.
The freshmen: A pair of McDonald's All-Americans take the headlines in guard Reigan Richardson and forward Jillian Hollingshead. Both were top-50 recruits in ESPN rankings and were big gets for coach Joni Taylor, with Richardson a 27.0-point, 10.4-rebound per game talent in North Carolina her senior year and Hollingshead an in-state recruit who also averaged a double-double at 19 points and 12 rebounds per game. At 6-5, she'll help relieve some of the pressure off of the 6-4 Staiti down low in a pinch. Guards Kimora Jenkins and Alina Sendar finish out the bunch, with the former a talented prospect hailing from Long Island and the latter a veteran of the Netherlands national team at youth levels.
The transfers: There are no incoming transfers on Georgia's roster.
Daytona Beach Invitational games:
vs. Notre Dame at 4:30 p.m. Nov. 26
vs. Marquette at 2:15 p.m. Nov. 27
Marquette
Last season: 19-7, lost in NCAA Tournament first round to Virginia Tech
The returners: With a fourth straight NCAA Tournament appearance last season, the Golden Eagles are officially on their best run of form since also making four consecutive tourneys from 1997-2000 under former coach Terri Mitchell. As Selena Lott nor Camryn Taylor returned, forward Lauren Van Kleunen—an All-Big East Second Team selection last year—becomes the major contributor most in-tune with coach Megan Duffy's style. Duffy rolled with an identical starting lineup in all 26 games last year, and joining Van Kleunen as returners to do so are guard Jordan King (9.0 points, 4.0 assists per game in 2020-21) and forward Chloe Marotta (6.8 points, 6.2 rebounds). Duffy's trust in her old guard has bled over into this season, as well, as all three have started both of Marquette's games thus far.
The freshman: There's just one in 6-foot forward Makiyah Williams, an all-stater in Illinois with Trinity High School near Chicago after posting a stat line of 22 points, eight rebounds and three blocks per game in 2020-21. She's appeared off the bench in both of the Golden Eagles' games, averaging a solid seven points to start her college career.
The transfers: If you want to talk about instant impact from the transfer portal, look no further than the case of Purdue grad transfer Karissa McLaughlin. A veteran of the college game that started all but six games she appeared in over four years with the Boilermakers, an ankle injury marked the end of her senior season after just seven games. Nonetheless, she's enshrined in the Purdue record books forever as the program's all-time leader in 3-pointers (244) and a First Team All-Big Ten nominee earned in 2018-19. She's started both of Marquette's games since she's arrived and passed all tests with flying colors, scoring 21 and 22 points while knocking down a total of seven 3-pointers. Illinois transfer forward Kennedi Myles will be seeing her former teammates in Daytona Beach; she started all 52 games she appeared in while with the Fighting Illini over the past two seasons, averaging 8.8 points and 8.4 rebounds along the way.
Daytona Beach Invitational games:
vs. Middle Tennessee State at noon Nov. 26
vs. Georgia at 2:15 p.m. Nov. 27
Middle Tennessee State
Last season: 17-8, lost in NCAA Tournament first round to Tennessee
The returners: One program's gain is another's loss in the transfer portal. So while Mississippi State is reveling in the spoils of getting the Hayes sisters—Anastasia and Aislynn—Middle Tennessee State is left trying to figure out how in the world to replace two players that combined to score over 40 points a night. That planning starts with utilizing the main pieces the Blue Raiders did return, like junior forward Courtney Whitson (10.6 points, 7.7 rebounds per game last year) and senior guard Alexis Whittington (8.0 points, 5.8 rebounds), each of which were only one of three players to start all 25 games along with Anastasia Hayes. Beyond those two, though, there isn't that much left that returned, as coach Rick Insell opted to go the way of other avenues to fill the holes in his roster in the offseason.
The freshmen: One such avenue was by old-school recruiting, to which MTSU picked up five first-year players. Two have even filled into starting roles right away through the Blue Raiders' first two games. Guard Jalynn Gregory is a local product from nearby Lafayette, Tenn. that scored over 2,000 points in her high school career, making her mark early in her collegiate days with an 11-point outing in MTSU's win at VCU last week in which she played over 38 minutes. Center Anastasiia Boldyreva is not a local product—rather a 6-6 tower hailing from Moscow, Russia—but has adjusted to life in Murfreesboro well with 6.0 points and 4.5 rebounds averaged in her two starts. Guard Courtney Blakely has been a nice bench piece so far, posting a line of 7.0 points and 2.5 assists a night, while fellow backcourt mates Skye Payne and Gracie Dodgen have thus far had limited production in limited minutes.
The transfers: Maine grad transfer guard Dor Saar brings plenty of pedigree to MTSU, climbing the ladder each year for the Black Bears from All-America East Rookie Team in 2018 all the way to First Team in 2021, with stops on the second and third teams on her way up there. The Israel native is the only player in Maine's history to post career marks of 1,000 points and 500 assists and is also its all-time 3-point leader with 235 career treys. Saar's two 18-point nights and seven total three pointers to start her stint with the Blue Raiders weren't a bad way to kick things off. Sophomore guard Kseniya Malashka, who sat out last year due to transfer rules after leaving VCU, didn't get to play against her former school last week, where the Belarus-born 6-footer made 65 appearances with one start over three years.
Daytona Beach Invitational games:
vs. Marquette at noon Nov. 26
vs. Georgia at 2:15 p.m. Nov. 27
Dayton
Last season: 14-5, lost in consolation bracket of WNIT to Bowling Green
The returners: Be on breakout watch when you take a peek at the Flyers, because guard Makira Cook could be morphing into a star before our very eyes. The sophomore from Cincinnati was a good role player for UD last season, showing flashes of her scoring capabilities with four games of 18 played getting into double figures. She's now done that twice in two games to tip off this season, scoring 23 and 18 against Alabama State and Duke, respectively, on 51.4 percent shooting. But graduate guard Jenna Giacone has already been around this rodeo before: it's her fifth year at Dayton this season and she made well of her newfound starting job in 2020-21, averaging 12.4 points per game last year and 15.5 points per game so far this year. And don't forget about guard/forward Erin Whalen, either, a Second Team All-Atlantic 10 pick from last season that led the Flyers in scoring (13.6 points) and shot 41.1 percent from 3-point land.
The freshmen: Dayton has freshmen on the team, yes, but getting them quality minutes this season seems not to be the priority right now. The two true freshmen are forwards Shannon Wheeler and Brynn Shoup-Hill, both of whom were all-state nominees and decorated prep athletes but haven't broken into coach Shauna Green's plans for the moment, playing just over nine combined minutes over two games. Redshirt freshman guard Anna LeMaster sat out due to a medical redshirt last year but hasn't made it back to the floor yet so far this year.
The transfers: There are no new transfers on the Flyers' roster.
Daytona Beach Invitational games:
vs. Mississippi State at noon Nov. 25
vs. Illinois at 2:15 p.m. Nov. 26
Illinois
Last season: 5-18, no postseason
The returners: This is undoubtedly a make-it or break-it year for coach Nancy Fahey, whose 39-75 overall record over the previous four seasons hasn't added much life to a program that hasn't made the NCAA Tournament since 2003. She'll at least get her top returner from last season back in junior guard Jada Peebles, who jumped up from 5.4 to 11.6 points per game from her freshman to sophomore years. The Fighting Illini could use another boost like that in the roster because no other returner got into double figures in points this past season. Guard Aaliyah Nye could be a good candidate to do so: she had a monster night in the Illini's 2021-22 debut against North Carolina Central (23 points, seven rebounds, seven steals). However, consistency will be the key as Nye followed it up with a bit of a dud against Miami (Ohio) (five points, three rebounds, three steals).
The freshmen: If guard Jayla Oden keeps her early-season pace up, don't be surprised if she's playing her way into the starting lineup soon. A three-star recruit (via ESPN rankings) from Baltimore, Oden has dropped 11.5 points and 4.0 assist averages coming off the bench over Illinois' first two games. She can get hot from beyond the 3-point arc, too, hitting all three of her triple tries in the win over Miami (Ohio). Meanwhile, there's also Adalia McKenzie, a four-star guard that was named Minnesota's Ms. Basketball and who's a decorated prospect in her own right. Her achievement list is long, including being her school's all-time leading scorer, but thus far has played limited minutes through two games. Forward Keanna Rembert hasn't played yet this season and looks like a probability for a redshirt.
The transfers: Forward Kendall Bostic already has the look of a great coup from the transfer market early in her Illini career. A 6-2 sophomore with prior Big Ten experience playing for Michigan State, Bostic's 14-point, 17-rebound debut against North Carolina Central was an impressive showing and the first double-double of her career. JUCO transfer De'Myla Brown has started both games right along with her, following up her All-American year at Chipola College (Fla.) with 9.5 points over her two games in Champaign thus far. Graduate guard Sara Anastasieska will also have the unique claim to fame once the new year comes that she will have played college basketball for seven years, dating all the way back to her freshman year at Texas-San Antonio in 2015. Illinois is her fourth stop along with stints at Cal and Duke, where in Durham last year the Aussie averaged 10.0 points over four games before the Blue Devils shuttered their season due to COVID-19.
Daytona Beach Invitational games:
vs. Dayton at 2:15 p.m. Nov. 26
vs. Middle Tennessee State at noon Nov. 27