2021 Battle 4 Atlantis Women's Tournament
UConn Preview: Bueckers Ready For Second Act As Huskies Restock
UConn Preview: Bueckers Ready For Second Act As Huskies Restock
It's a lot of the same from the 28-2 team that lost in the Final Four last season, which is good news if you're a Huskies fan.
Nov 19, 2021
by Briar Napier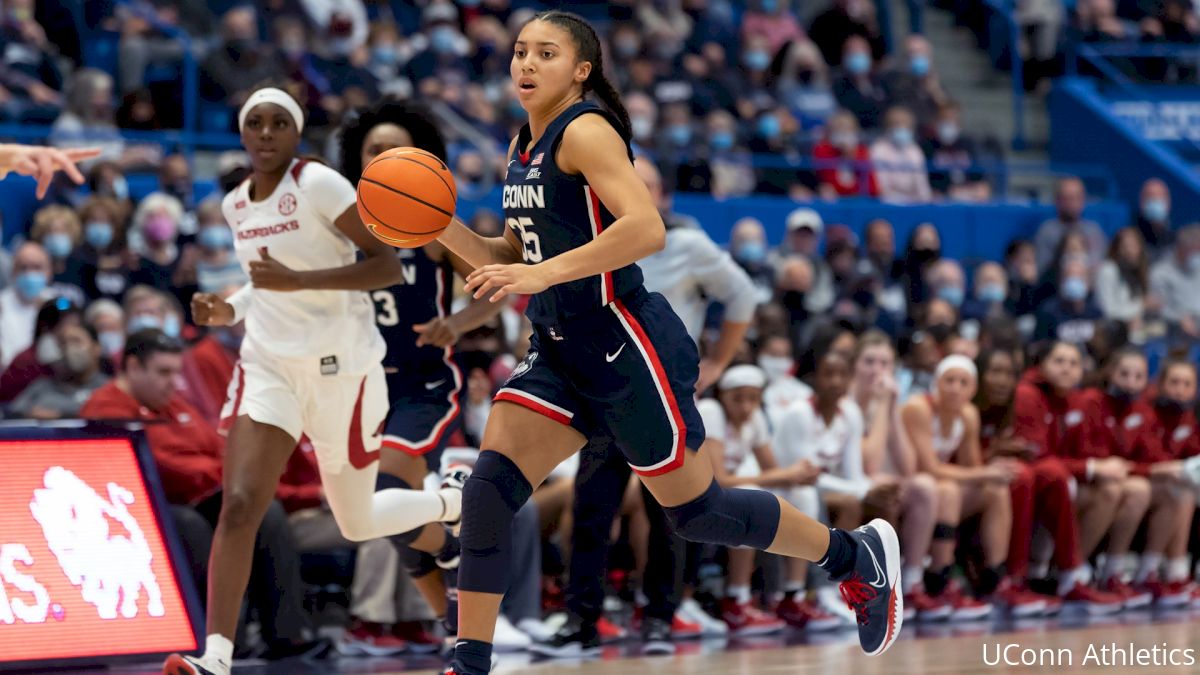 Death, taxes, UConn women's basketball being elite. The three certainties in life.
But in the gaudy program history of the Huskies, 2020-21 was a lot different for a variety of reasons. Yes, COVID-19 played a major role in making it that way, but so did the players themselves. The result? A national title-level team this year that's simultaneously unlike any coach Geno Auriemma has had in 36 seasons in Storrs.
The new year will mark Year 6 since UConn could last lay claim to a national championship, the longest streak in Auriemma's career since he won the first of his record 11 titles in 1995. The Huskies are hungrier than they've been in awhile for a trophy—and have likely the nation's best player in their arsenal to help them get there.
How will UConn vie for women's college basketball's top prize? It's a lot of the same from the 28-2 team that lost in the Final Four last season, which is good news if you're a Huskies fan.
Offense: Stop us if you've heard this before, but the Huskies' offense is absolutely loaded. You don't lose a combined 11 games in eight years if you don't have players that are bucket getters on the floor. But the main difference with UConn's offense from last year to seasons prior is that no player in program history had ever previously commanded control of an offense so quickly like Paige Bueckers.
Bueckers at season's end finished second in UConn history for points as a freshman, only trailing legendary guard Maya Moore. And had Bueckers not played in eight less games than Moore—three of which were canceled non-conference games due to COVID-19 issues—she probably would've passed her. The reigning Naismith Player of the Year was elite from the moment she stepped on campus, averaging 20.0 points a game with a 46.4 percent clip from 3-point range and 5.8 assists per game against the gauntlet of a schedule the Huskies play.
And even though Bueckers is a major part of what UConn does, she isn't everything. It's a team effort to be second nationally in field goal percentage (51.1 percent) like the Huskies were last year, and somebody is almost certainly going to find a way to get points each possession. A 20.4 assist-per-game average in 2020-21 was a major reason behind that.
Defense: Surprise, UConn keeps a smothering defense from last season intact, a unit of which returns all five starters and held opponents to a national-low of 0.82 points per scoring attempt. Pair it with the offense's average from last year in that category (1.17) and the image becomes clear to how the Huskies beat teams by an average of 29.3 points per game.
But perhaps the most striking statistic from last year was UConn's blocks per game of 5.7, a top-10 mark nationally. Beyond 6-5 forward Olivia Nelson-Ododa—a very good player in her own right that started all 30 games—the Huskies' frontcourt depth was thin, with 6-3 forward Aaliyah Edwards the only other forward Auriemma played an average of 20 minutes or more a night. Yet despite often playing small and being guard-heavy, UConn terrorized shot attempts by just being more athletic and having more bounce than most teams could handle.
All of that culminated into UConn holding teams to 33.7 percent shooting and having a national-best defensive rating of 70.5 (per Her Hoop Stats) last season, holding teams to under 40 points five times and over 70 just once. That'll play.
X-factors: Thanks to a rare senior-less UConn team, Bueckers' emergence as a superstar and the NCAA's ruling to give players an extra year of eligibility due to the pandemic, Auriemma was in a unique spot this offseason having returned every majority starter with some other scholarships to spare.
The result was the Huskies bringing in players that would've been program-changing for most but routine business for them. Class of 2021's No. 1 overall recruit, guard Azzi Fudd, is in the fray, as is Ohio State graduate transfer Dorka Juhász, a two-time All-Big Ten First Team selection. What's different this year is that additions like those two aren't part of a reloading process, but they're just added reinforcements to what UConn already has.
Sure enough, UConn's season-opening 95-80 win over Arkansas this week involved plenty of lineup swapping. Beyond Bueckers, Evina Westbrook and Christyn Williams (all of which played the entire or almost-entire game), no player was on the floor for at least 20 minutes, with Fudd leading the bench mob. Depth certainly can't hurt the Huskies, but how it's applied will be an evolving situation as the year goes along.