2021 Women's Cancun Challenge
Baylor Preview: Coaching Change Brings Shooting Changes
Baylor Preview: Coaching Change Brings Shooting Changes
When comparing the styles of Kim Mulkey and Nicki Collen, the first thing that can be analyzed is what types of shots are taken.
Nov 19, 2021
by Briar Napier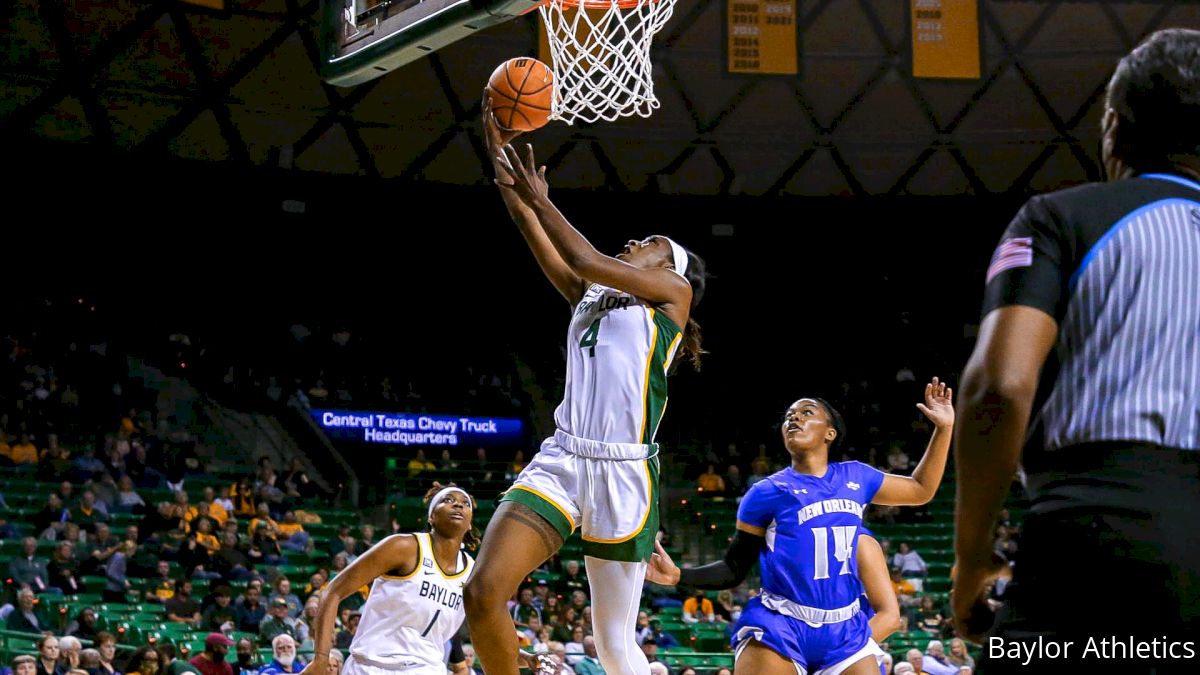 Former Bears coach Kim Mulkey wasn't just a part of the Baylor women's basketball program. She was the program.
In her 21-year tenure in Waco, Mulkey took a team that had never qualified for the NCAA Tournament before she arrived to 19 tournaments, 10 Elite Eights and three national championships in one of the most stellar turnarounds of a program in the sport's history.
And now she's gone. Mulkey took the third-richest contract in the sport (behind UConn's Geno Auriemma and South Carolina's Dawn Staley) to be the new coach at LSU in her home state, hoping to resurrect a former power that made five straight Final Fours in the mid-2000s.
Former Atlanta Dream coach Nicki Collen now has the mammoth task of trying to follow up on a Hall of Fame career. So what's the same and what's different with the Bears as a new face is in town?
Offense: When comparing the styles of Mulkey and Collen, the first thing that can be analyzed is what types of shots are taken. And there's a vast difference in what's prioritized between the two coaches.
Mulkey's final team in 2020-21 was 343th nationally—dead last—in 3-point rate at 14.1 percent. That meant of all total scoring attempts (2-pointer, 3-pointer and free throws), Baylor's rate of 3-pointers taken was lower than any other team in the country. But through three games under Collen, that number has skyrocketed to 34 percent (82nd nationally). Part of that is influenced by some of Collen's transfer additions like Jordan Lewis (Alabama) and Ja'Mee Asberry (Oklahoma State) being experienced deep threats, but some returners, like guard Sarah Andrews (2.2 to 5.0 3-point attempts from last season to this year) are clearly being encouraged to shoot more triples.
Oh, and All-American NaLyssa Smith is still around, too. A wickedly-versatile player with quickness to beat guards and strength and athleticism to overpower forwards, she commands the attention of defenses, averaging 18.0 points and 8.9 rebounds per night this past season. If there are now shooters on Baylor's roster to worry about, that unlocks a completely new dimension to its game.
Defense: It's early, but what was a stellar defense under Mulkey hasn't been so thus far under Collen.
Baylor held foes to 32.6 percent from the field last year, the No. 1 rank nationally and a major reason why the Bears only had seven games that were either losses or wins by less than 10 points. That focus on ruthless guarding is a hallmark of Mulkey's coaching style, which makes it a bit unusual not to see the Bears near the top steps of most defensive statistical charts in the infancy of Collen's tenure. Baylor by no means has a bad defense all of a sudden; its 34.5 percent field goal percentage allowed thus far is well above-average in the country and it created 25 turnovers in a blowout win over New Orleans this week. But it's also clear that Collen has made a dynamic offense a priority rather than a suffocating defense.
The first real test of Collen's defensive mind is undoubtedly when the Bears take a trip to Maryland on Sunday, the nation's reigning scoring queens (90.8 points per game in 2020-21) which are averaging 91.0 points a night through four wins so far this season.
X-factors: The elite programs of the country are reaping the benefits of the NCAA awarding a pandemic-caused extra year of eligibility to players, with many returning high percentages of minutes while simultaneously gaining elite portal transfers and blue-chip recruiting prospects.
Baylor's approach had to be a little different. Moon Ursin (transfer), DiDi Richards (WNBA) and Trinity Oliver (transfer)—who started the majority of the Bears' games along with Smith and Queen Egbo—all left the program in the offseason. In total, it left the Bears with five names with no prior minutes in Waco on a 10-player roster, a large amount of turnover in this new "post-COVID" era for the nation's No. 6-ranked team (via the AP Top 25 poll).
The personnel makes for a hybrid of Mulkey and Collen recruits, playing a style at Baylor that's been foreign to the program for over two decades. Will the Bears get through the growing pains and stay among the nation's top teams?