2021 Baha Mar Hoops Pink Flamingo Championship
NC State Preview: Cunane Key To Wolfpack's Aspirations
NC State Preview: Cunane Key To Wolfpack's Aspirations
Since Wes Moore took over as coach prior to the 2013-14 season, NC State has won 20 games seven times and made the last three NCAA Tournament Sweet 16s.
Nov 19, 2021
by Briar Napier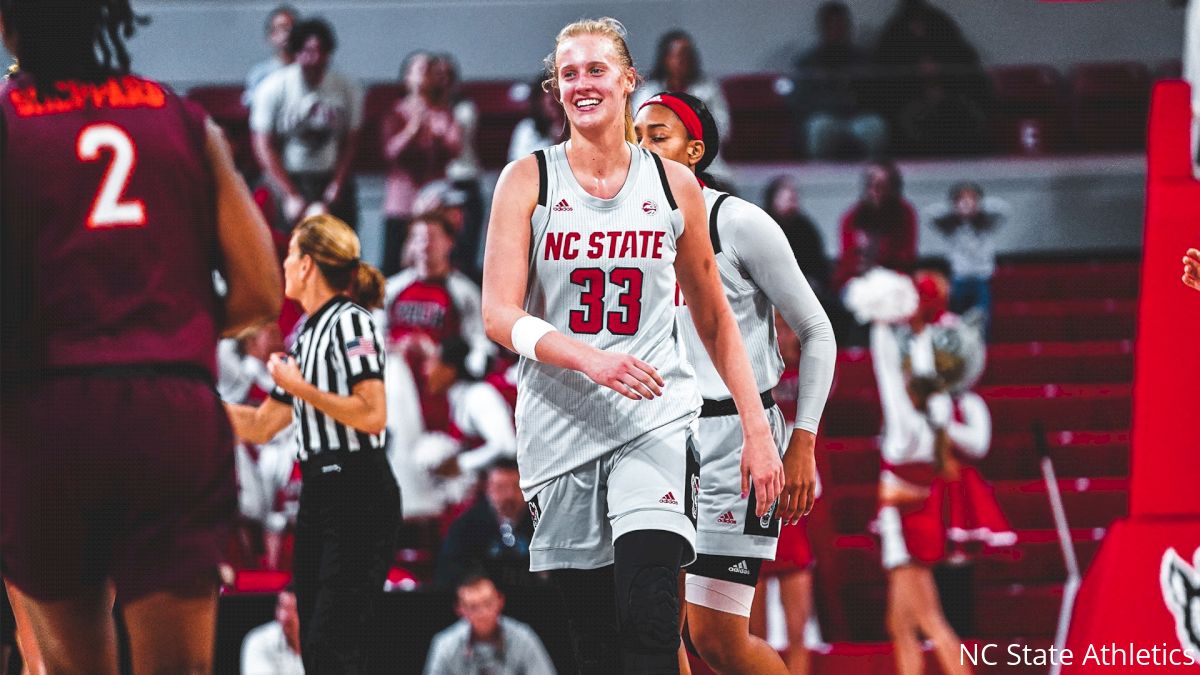 It took a little bit of time for NC State women's basketball to get closer to the heights it reached under the historic tenure of Kay Yow, who took the Wolfpack to 11 NCAA Tournament Sweet 16s during her 34 seasons in Raleigh.
But after a bit of time off, it's clear the Wolfpack are back.
Since Wes Moore took over as coach prior to the 2013-14 season, NC State has won 20 games seven times and made the last three NCAA Tournament Sweet 16s, harkening fans of the program back to Yow's glory days in the 1980s and 90s.
What would make the Wolfpack faithful especially giddy, however? A trip back to the Final Four for the first time since 1998. With NC State ranked No. 5 in the current iteration of the AP Top 25 poll, it may be its best chance to do so since then.
As Moore enters early-season play for what's likely the most talented roster of his tenure, look below at what the Wolfpack bring to the table against the powers that be in women's hoops.
Offense: The Wolfpack's attack is about as well-balanced as you get, which is an impressive accomplishment when you have an All-America candidate few can guard at your starting center slot in 6-5 Elissa Cunane. NC State's 51.8 percent mark from 2-point range and 36.7 percent mark from 3 were both ranked in the top 20 nationally for 2020-21, and it doesn't turn the ball over often with a 1.22 assist-to-turnover ratio from last year.
But through four games in 2021-22, there's signs that the Wolfpack really kicked their deep shooting threats up a notch or two. They're currently at 44.4 percent from deep, a stat that has helped push NC State to point tallies of 85, 90 and 100 points early on—not counting the season-opening loss to No. 1 South Carolina, which is a totally different beast—and an encouraging number of 120.7 points per 100 possessions, a key stat behind offensive efficiency. That's all while Cunane is getting her touches, averaging a team-high 13.5 points per game on 10.5 shots.
Peculiarly, despite Cunane's size and elite numbers on the defensive boards, NC State's offensive rebound numbers were not elite last year, with 10.4 second chances per game good enough for 249th nationally. But that number has shot up to 14.0 through four games this season, even after the Wolfpack hosted the Gamecocks and rebounding machine Aliyah Boston.
Defense: If NC State wants to get the monkey off its back this season and get back to the tournament's latter stages for the first time in over two decades, it needs to turn itself from a good defense to a great defense.
By no means were the Wolfpack swiss cheese on defense last season, allowing just 37.1 percent shooting from the field for the year while doing it without fouling for the most part, finishing only with a foul rate of 16.7 percent. For example, Cunane fouled out just once all season in 2020-21, with her staying disciplined down low making for a major reason why NC State had its best win percentage of the Moore era. However, the Wolfpack's steals per game average of 6.4 was below average nationally as they opted to not go for turnovers often, letting their elite numbers of defensive rebounds per game (31.0) from last year be responsible for the bulk of their possessions.
A common trait of the national title-winning teams of the past decade or so, such as UConn, Baylor and South Carolina, has been a staunch ability to guard to go along with an efficient, effective plan to score. While NC State probably has an offense that can hang with the best of them, the defense is currently good enough for the ACC—but not Final Four level yet.
X-factors: The Wolfpack's 66-57 loss to South Carolina to open the season revealed a lot about how much the team has left to go before getting to the upper echelon of teams in the country.
First, it's that NC State has guard depth for days behind starters Raina Perez, Jakia Brown-Turner and Rutgers transfer Diamond Johnson, an All-Big Ten Second Team selection her freshman year who Moore has shifted between the bench and starting lineup thus far. However, beyond Cunane and reserve center Camille Hobby, the Wolfpack didn't have much to compete with the likes of Boston and Syracuse transfer Kamilla Cardoso, a 6-7 tower that was last season's ACC Co-Defensive Player of the Year.
Therein lies the main question Moore must solve: frontcourt depth. If Cunane gets injured or in foul trouble, options are thin down low. The Wolfpack may be able to get away with it against many of their opponents as their guards can just simply overwhelm teams, but the few options beyond Cunane may cost them down the line deep into a tournament run.