2021 Baha Mar Hoops Pink Flamingo Championship
Maryland Preview: Pace Of Play Remains Key For Terps
Maryland Preview: Pace Of Play Remains Key For Terps
The Terps are a well-oiled machine that has specific roles and guidelines to reach their goal: run you down and overwhelm you until you can keep up no more.
Nov 19, 2021
by Briar Napier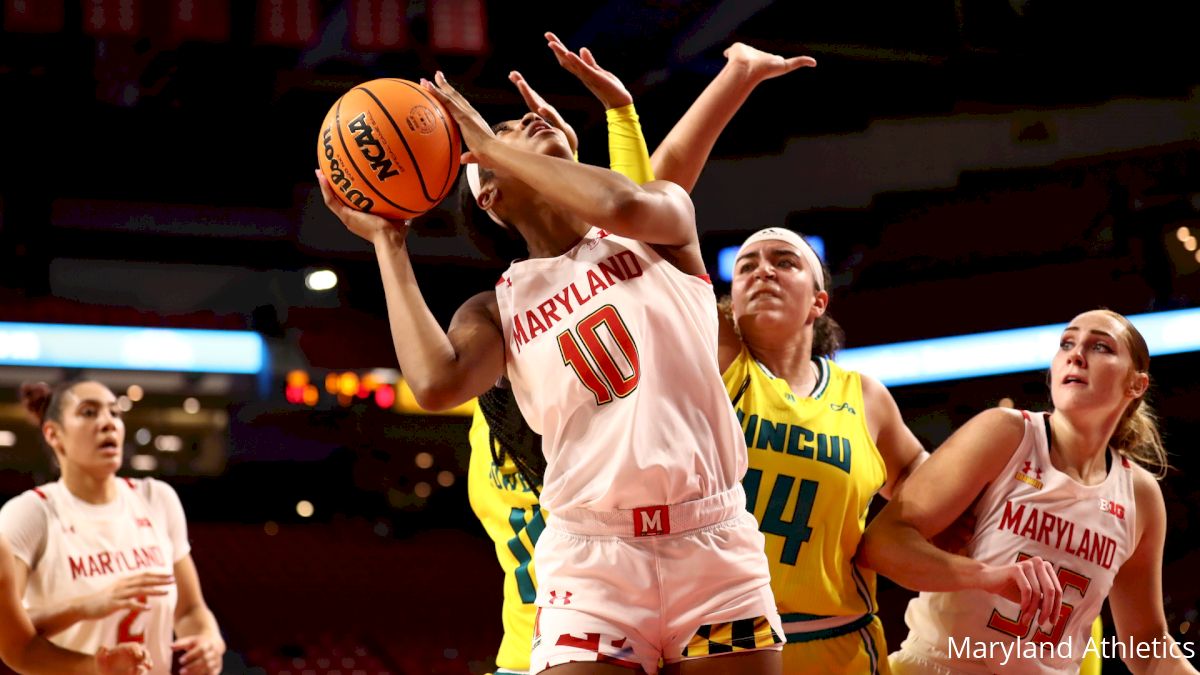 You'd be forgiven if you confused many Maryland games last season for track meets.
The high-octane offense of longtime coach Brenda Frese is electric to watch and brutal to play against. With breakneck momentum and an abundance of point scorers, it's been Frese's bread-and-butter for years and has led her to three Final Fours and the 2006 national championship.
It's been awhile since the Terps got back to that stage, however, last making the national semifinals in 2015. And as almost everyone returns from the 26-3 team that narrowly lost to Texas for a trip to the Elite Eight, you can bet that the AP Top 25's No. 3-ranked team is thinking they deserve a little more.
Who is behind the engine that keeps the Terps going, and how do they do it? Look no further for a breakdown of what makes the Terps tick.
Offense: Where to start? The Terps had the most high-flying attack in all of college basketball last season, averaging 90.8 points per game to lead the country and become the first school since Oregon in 2013-14 to hold a 90-point or more average for an entire season. Maryland's mark of 122.1 points per 100 possessions was an absurd number and resulted in it crossing the century mark in points on seven different occasions last year.
What's maybe most impressive is that Maryland does all of this and rarely turns the ball over, with its 1.69 assist-to-turnover ratio ranking No. 1 nationally last year. Part of that came down to the fact that players on the Terps' roster rarely tried to become something they weren't. Guard Ashley Owusu (17.9 points, 5.9 assists last year) is/was a slashing floor general, not a 3-point shooter, which is why just 6.4% of her shot attempts last year were beyond the 3-point line. On the flip side, guard Katie Benzan might be the best woman-for-woman shooter in the country (50 percent on 3-pointers last year), so she stuck right to the 3-point arc as 70.7 percent of her shot attempts were worth three.
The Terps are a well-oiled machine that has specific roles and guidelines to reach their goal: run you down and overwhelm you until you can keep up no more.
Defense: When you play at the pace Maryland does, it's hard to not get over-aggressive on the defensive side of the ball and commit silly mistakes like unnecessary fouls and missed defensive rotations. But Her Hoop Stats had the Terps' defensive rating last year at 80.1 (14th nationally), with the site's stats and analytics giving credit to Frese's guarding strategies despite a below-average points allowed per game number at 69.0.
How could that be? Team defensive rating, in its simplest form, doesn't take into account pace of play, just the amount of defensive lapses that the team has. And Maryland doesn't have many. The steals the Terps had per game (9.0) were good and the rebounding numbers better, as their total rebounding rate of 55.1 percent ranked in the top 25 nationally. And as mentioned previously, Maryland's foul rate of 18.2% last year is especially low considering the speed at which it plays.
There of course is room to improve, and there were good signs for the Terps in this season's 81-45 win over James Madison in which they forced 22 Dukes turnovers.
X-factors: It remains to be seen how Frese plans to eventually fit guard Diamond Miller, a reigning All-Big Ten First Teamer, back into the lineup as she recovers from a knee injury. Normally, getting a talent like Miller starter's minutes again as soon as possible is a top priority, except that a new star may be emerging in her absence.
Guard/forward Angel Reese, who showed promise in an injury-riddled freshman season that saw her average 10.0 points per night over 15 games, has been spectacular as Maryland has started the 2021-22 season 4-0. With a team-leading 18.5 points per game with three double-doubles in four games, her sudden impact on the floor has been impossible to ignore.
Seven players on the Terps' roster are averaging between 23 and 30 minutes per night, meaning that either one or two individuals are going to have their floor time much-reduced or that the entire unit will have a minutes decrease to fit Miller back into the fray. Depth is needed in a loaded Big Ten, however, leaving the possibility up for grabs that the backcourt will sort itself out when the time comes.