2021 Temple vs Villanova - Women's
Big East Games Of The Week: Villanova Takes On Temple
Big East Games Of The Week: Villanova Takes On Temple
Some early-year records may look poor on paper, but once the midseason flow gets going, the true talent of the nation's best teams often shine through.
Nov 22, 2021
by Briar Napier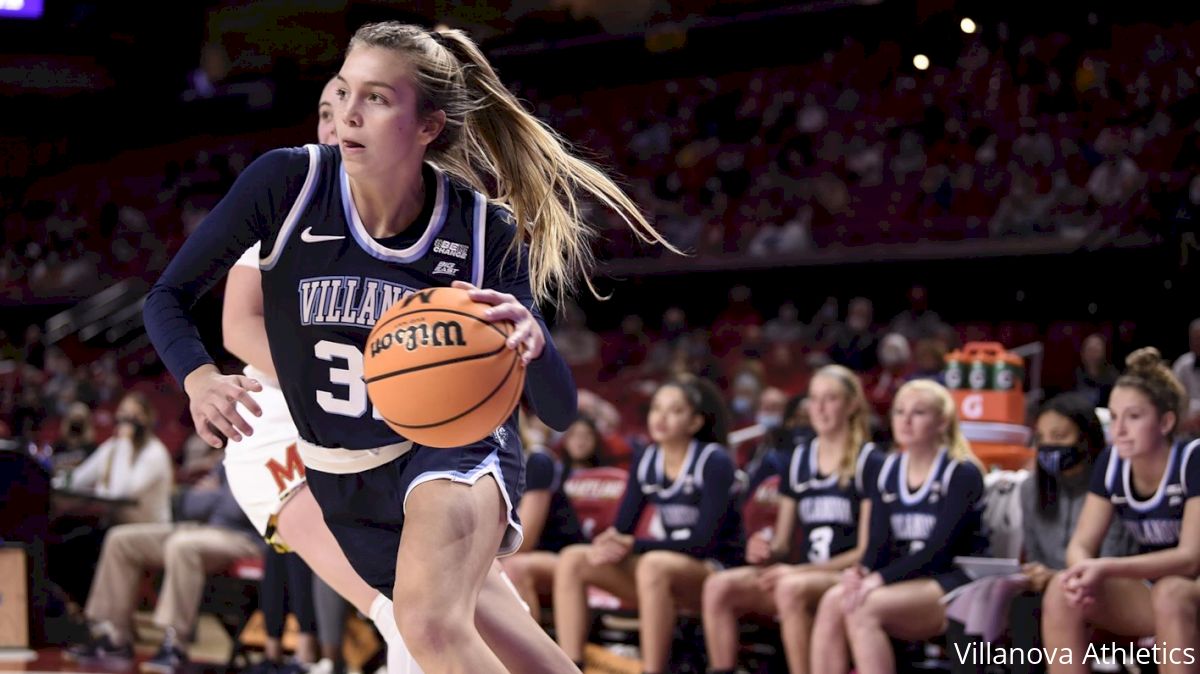 It's always great to have college basketball on the screen again, but November basketball certainly isn't the most polished version of it.
As teams adjust to new faces—either player additions, first-year coaches or both—and build chemistry, there's often growing pains many schools go through in the season's opening weeks. Some early-year records may look poor on paper, but once the midseason flow gets going, the true talent and form of the nation's best teams often shine through.
Such is the case with some of the best games you'll find around the Big East Conference this week, all three listed below of which will be streamed live on FloSports. As many schools are working the start-of-year kinks out of their games, there's plenty of talented players leading the charge behind those efforts.
Loyola Maryland Vs Georgetown
Hoyas coach James Howard is in his fourth year at Georgetown in much need of some good performances after going a combined 7-40 over the prior two seasons. A season-opening win over Navy gave the Hoyas a boost of confidence, but to keep the trend going they'll need to continue getting the job done against non-conference opposition.
A big opportunity to do that against the Greyhounds awaits, who under new coach Danielle O'Bannon have started the season 2-2 after a dreadful 0-13 season a year ago. Georgetown returners Kelsey Ransom, Milan Bolden-Morris and Graceann Bennett are all in double-figure scoring averages through two games thus far, while senior forward Jillian Archer (9.0 points, 7.5 rebounds) is inching closer to being a viable double-double threat for the Hoyas. That unit will need to keep up with a Loyola starting five which has been unchanged through four games while all are being selected by O'Bannon to play an average of over 30 minutes a night.
All five Loyola players average between 9.8 and 11.8 points per game, but junior guard Bri Rozzi (10.8 points, 5.5 rebounds) is a deep shooting threat (43.8 percent from 3-point range this year) that the Hoyas will need to keep an eye on. One X-factor to watch for that could influence the game is if the Hoyas, who block an average of 4.5 shots a game, can bother the Greyhounds' shot attempts as no opponent has been able to effectively do it so far this season. Teams this year have averaged 1.0 blocks a night on Loyola, the 10th-lowest mark in the country as of Friday.
Temple Vs Villanova
There's little that stays cordial when two Big 5 teams from Philadelphia meet in basketball, one of the nation's most storied college hoops cities. The stakes are higher this time around for Temple and Villanova, as both programs are in need of a win to try and rebound from shaky starts to the season. The Wildcats, behind dark horse All-America candidate Maddy Siegrist (10.5 points, 7.5 rebounds), haven't been quite able to get going yet in a brutal beginning to the year, losing to a Princeton team that's 29-1 in its last 30 games and a Maryland squad that's expected to be squarely in the hunt for a Final Four.
Temple, meanwhile, won its first game against St. Francis but has since dropped two matchups against Florida Gulf Coast and St. John's, even though AAC Preseason Player of the Year Mia Davis (19.7 points, 9.0 rebounds) is doing just about everything she can to keep the Owls competitive. Villanova got the best of Temple in their meeting 90-72 last season and leads the series all time 32-15. Will the Wildcats be able to shake off the early-season rust and make a statement that they are a force to be reckoned with in the Big East, or will Davis be too much to handle as the Owls soar to victory against a city rival?
Northern Iowa Vs Creighton
Creighton is showing sign after sign that it is not to be taken lightly on the schedule this season. After a middling 10-12 record in 2020-21—just one of four ever in coach Jim Flanery's 20-year tenure—the Bluejays' 1-2 start to this season may not show it on paper, but following a narrow loss to Drake and a five-point defeat on the road to a heavily-favored Nebraska, there's plenty of positive attributes to take away. Sophomore guard/forward Morgan Maly looks to be amid a breakout season, with her current scoring average (13.0) almost doubling what she had a year ago (7.7) as she's both taking and making more 3-pointers than ever in her college career, holding a career-high mark at the moment of 38.5 percent from deep.
But it won't be as if Creighton can waltz past Northern Iowa easily, either. The Panthers are 2-1 with the only defeat coming at the hands of All-American Caitlin Clark and Iowa, and senior guard Karli Rucker has been a walking bucket in Cedar Falls for a long time, currently well on-pace to notch her fourth season scoring in double figures in five years. Northern Iowa is likely a slight favorite, but it'll need to ensure it shuts down Creighton's offensive sets before they start humming: the Bluejays have the tendency to shoot shots coming from an assist 74 percent of the time this season, currently seventh in the country as of Friday. If Creighton gets comfortable with the ball, there could easily be a mountain for Northern Iowa to climb.