2021 Women's Gulf Coast Showcase
Gulf Coast Showcase: Crowded Schedule Features ISU's Joens
Gulf Coast Showcase: Crowded Schedule Features ISU's Joens
Eight teams will battle it out in a bracketed tournament, where the victor will need to win three games in three days to be crowned champ.
Nov 23, 2021
by Briar Napier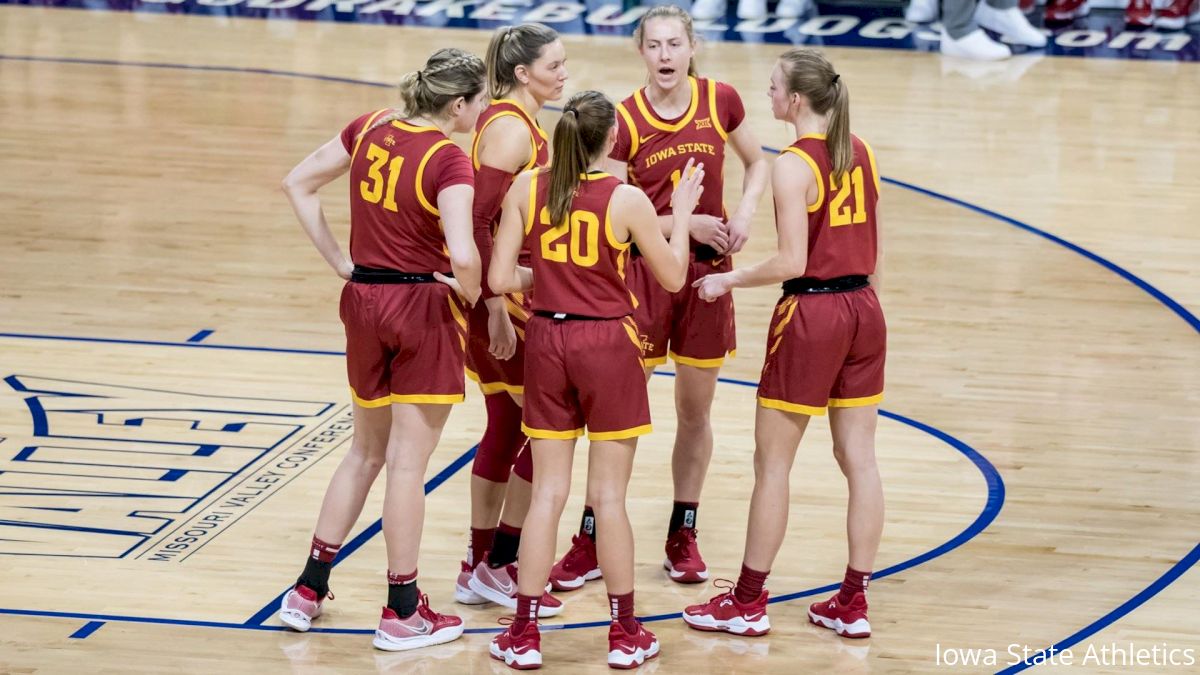 Take one look at the women's side of the field at the Gulf Coast Showcase and you'll break a sweat. The schedule is fierce.
From Friday through Sunday at the Hertz Arena in Estero, Fla., eight teams will battle it out in a bracketed tournament, where the victor will need to win three games in three days to be crowned champ. Talk about a way to run off your Thanksgiving dinner.
But there's plenty of talent to go around the table in Florida, from major award winners to breakout candidates and under-the-radar mid-major stars, all games of which can be caught live entirely on FloSports.
Without further ado, check below at the breakdowns of the teams involved and the personnel they'll take with them to the Sunshine State.
Iowa State
The returners: Three players that started a majority of games last season are back for the Cyclones, but none were more important to ISU's success last season than Ashley Joens. The native Iowan announced herself as a star with a 20.5 scoring average in 2019-20, then kicked it up a notch by averaging a school-record 24.2 points last season to be the winner of the Cheryl Miller Award for the nation's best small forward.
Used in over a third of the Cyclones' possessions (33.5 percent usage rate) last season, few command the ball like the 6-foot-1 senior and fewer can stop her once she gets cooking. Case in point: Drake felt her wrath in a game this season when Joens popped off for a 31-point, 10-rebound double-double. But she's not the only one on ISU that can fill up the scoreboard. Sophomore guard Lexi Donarski (13.0 points, 41.1 percent from 3-point range last year) is the Cyclones' new top sharpshooter after Kristin Scott graduated, while fellow backcourt mate Emily Ryan has experienced an early-season jump in her scoring (8.1 to 11.3 points from last year to this) after being primarily used as a distributor last season (5.9 assists per game).
The freshmen: Cyclones coach Bill Fennelly has clearly expressed through his minute distribution that he's not afraid to play youth, with Donarski and Ryan last season starting a possible 26 of 28 games together as freshmen. Freshman guard Denae Fritz looks to be the next in line for that philosophy. Tennessee's reigning Miss Basketball has earned two starts of three possible games this season, though it was ironically her bench performance against Drake that was her strongest outing yet in an Iowa State uniform, going for 12 points with two 3-pointers in a career-high 31 minutes. Freshman forward Maggie Vick has also started a game, doing so in a win against South Dakota State, but has overall played more sparingly at 7.7 minutes per game. Guard Mary Kate King is the other freshman face, a walk-on that's appeared in one game thus far.
The transfers: So far, 6-2 sophomore forward Nyamer Diew has been the only one of Iowa State's two portal additions to have playing time on the floor. The Butler transfer started 10 of 16 games for the Bulldogs last season as a freshman, averaging 5.3 points while being an athletic force on the defensive end, blocking 1.4 shots on an average of 22.9 minutes per game. That latter tally has gone down a bit in Ames—she's averaging 15.6 minutes a night over three bench appearances—but she's still managed 3.7 points and 1.0 block a game in a Cyclones uniform thus far. South Florida transfer center Beatriz Jordao has been out for the start of the season with an injury, but has potential stemming from a productive freshman season when she averaged 11.3 points, 5.7 rebounds and 1.9 blocks per game in 2018-19, simultaneously posting the nation's seventh-best field goal percentage at 64.8 percent. However, injuries and falling out of the starting lineup in Tampa led to sharp stat declines and an eventual move, where the 6-3 Portugal native will look to bounce back to prior heights with a fresh start.
Gulf Coast Showcase opener: vs. Charlotte at 5 p.m. Friday
UCLA
The returners: Any talk of the Bruins has to start with guard Charisma Osborne, which made it even more concerning when the All-Pac-12 point guard hurt her ankle late in the Bruins' win this past week over Cal State Northridge. The severity of the injury, which caused Osborne to sit out the closing minutes, is currently unknown. But considering Osborne is the only returning UCLA player to average double-digit scoring numbers last season (17.0 points per game) after forward Michaela Onyenwere left for the WNBA, any time missed from the junior will mean there's a massive gap in production to fill. From last season's returners, there's not much of a selection to choose from other than guard Natalie Chou, who started 21 of 23 games in 2020-21 and is the Bruins' top returning 3-point shooter at 38.6 percent. Redshirt senior guard Kayla Owens got her first career start against the Matadors but was held scoreless, likely shaking off the rust from opting out all of last season.
The freshmen: There are no true freshmen on UCLA's roster but three that earned a redshirt last season for various reasons. Of the two that actually played for the Bruins, forward Emily Bessoir was the most impressive, starting two games and averaging 7.5 points and 5.2 rebounds per game as one of the main fill-ins behind Onyenwere. Except there's bad news: Bessoir won't suit up for UCLA this year due to an ACL injury. Guard Dominique Onu, who saw time in 16 games as a true freshman a year ago, played over 19 minutes against Cal State Northridge and scored seven points. Australian forward Izzy Anstey wasn't able to join the team in Los Angeles due to travel restrictions last year, but posted four points in her Bruins debut against the Matadors.
The transfers: With Onyenwere gone and Bessoir injured, experienced forward depth looked to be a concern on coach Cori Close's roster as the offseason progressed. Enter Cincinnati grad transfer Ilmar'I Thomas. Although undersized for a post at 5-10, her game stood tall for the Bearcats last season as she averaged an incredible 23.7 points, 7.5 rebounds and 3.3 assists a game, as she won the AAC Player of the Year award. Thomas' move out west couldn't have gone better to start as she posted a game-high 21 points on 71.4 percent shooting against Cal State Northridge; if Osborne stays healthy, the duo should be a one-two punch few in the Pac-12 can mess with. Prior high-level game time was a priority in this portal class: Indiana grad transfer Jaelynn Penn started all but one of her 114 career games in four years with the Hoosiers, with her best season coming during an All-Big Ten Second Team year in 2018-19 when the guard averaged 13.9 points per game. Then there's Wake Forest grad transfer guard Gina Conti, an All-ACC Second Teamer last season as she was second on the Demon Deacons in scoring (13.8) and first in assists (4.6) and steals (1.8). However, both she and Oregon transfer/redshirt freshman Angela Dugalic are nursing injuries that will keep them off the floor for the time being, making for even more cases of the Bruins being bitten by the injury bug this year.
Gulf Coast Showcase opener: vs. Kent State at 1:30 p.m. Friday
Penn State
The returners: A bottom-tier Big Ten team at 9-15 a year ago, the Nittany Lions are off to an impressive 3-0 start this season where under coach Carolyn Kieger they're averaging 96.0 points per game. Sure, those wins might have come against LIU, Rider, and Delaware State, but it's hard not to keep an eye on the performances of guard Makenna Marisa regardless. Her 30 points against Delaware State were a career high as she's currently making exactly half of her 3-pointers, all while distributing (6.3 assists per game) and taking away the ball (3.7 steals) at elite early-season rates. Graduate guard Kelly Jekot, Penn State's leading scorer through nine games last year before an injury cut her season short, hasn't quite gotten back up to starter's minutes yet (12.0 per game) as she eases her way back to the floor. But in her place, as a key returner in the lineup so far, has been guard Niya Beverley (13.7 points, 3.3 assists), who shot over 40 percent from 3 last year and led the Big Ten in assist-to-turnover ratio (3.88).
The freshmen: The 2021-22 season has been a long time coming for guard Leilani Kapinus. The 5-10 guard had to take a medical redshirt due to injury last season, making this year the first she's actually been able to suit up for the Nittany Lions. She's delivered in full force thus far, starting all three games and currently averaging 4.3 points and 3.7 rebounds per game. The other two freshmen on the roster, meanwhile, haven't quite burst their way onto the scene yet. Forward Kayla Thomas, a top-100 recruit from Maryland, has only played 15 minutes in her collegiate career so far. Forward Ymke Brouwer, a 6-footer with experience for the Switzerland national team, hasn't played yet.
The transfers: Sophomore forward Ali Brigham has had about as good of a start to life as a transfer in a new program as you can get. The Massachusetts native has followed up a solid freshman year at George Washington (11.9 points, 50.4 percent field goal percentage) with three very effective starts in State College, averaging 17.0 points on 71.9 percent shooting so far. Brigham especially showcased her skillset in the Rider win, scoring 23 points on 11-for-13 shooting to go with six rebounds and six assists. Former Miss Pennsylvania Basketball Alli Campbell also returned home after what she called a "bizarre" year at Notre Dame where she played 57 minutes in her first two college games and a combined 16 in the other four appearances, but will have to wait for her Nittany Lions debut as she nurses an offseason injury.
Gulf Coast Showcase opener: vs. St. John's at 7:30 p.m. Friday
St. John's
The returners: Little went right for the normally-competitive Red Storm last season, which at 8-15 had their fewest wins since the 2006-07 season (albeit with fewer games to play). The good news is that it didn't deter guard and All-Big East First Teamer Leilani Correa from coming back, pushing close to last season's scoring average with 16.7 points averaged through three games thus far in 2021-22. Even more encouraging for coach Joe Tartamella's team is that the underperforming season has seemed to light a fire under several returners. Guard Kadaja Bailey's scoring average has leapt from last season from 9.8 to 15.7 thus far, as has forward Rayven Peeples' from 6.8 to 15.0. Peeples in particular has parlayed it with nearly doubling her rebounding average, as well, from 5.5 last year to 9.0 so far this year.
The freshmen: Indiana product Katie Burton had a standout career with Fishers High School, a suburb of Indianapolis, as she inked her commitment to the Red Storm back in the fall of 2020. So far, that's resulted in minimal minutes for the 5-9 guard as she had just over nine combined in the games against Fairleigh Dickinson and Stony Brook. The other freshman on the roster is 5-7 guard Idan Shlush, an Israel youth international that hasn't played for St. John's yet.
The transfers: Two former Notre Dame players make up the duo of Red Storm portal add-ons for this season. It's been a couple of years since guard/forward Danielle Patterson was there, however, as the grad student played 27 games for the 35-4 Fighting Irish in 2018-19, then sat out a year before playing a season at Indiana where she averaged 8.0 minutes in 14 appearances. She'll hope St. John's will make it a third time's the charm, playing a career best in minutes (22.2 per game) so far with averages of 8.0 points and 5.3 rebounds a night. Forward Danielle Cosgrove was on that 2018-19 team with Patterson as a freshman, then stuck around South Bend for two more seasons before reuniting with her same-named teammate in New York. Cosgrove has earned starts in all three of the Red Storm's games, too, averaging 6.7 points and 4.3 rebounds per night.
Gulf Coast Showcase opener: vs. Penn State at 7:30 p.m. Friday
South Dakota State
The returners: The lengths the Jackrabbits can leap this season can be truly historic, but a major part of how historic any run will be likely rests on how quickly star forward Myah Selland returns to play. Ravaged by injuries much of her college career, Selland is one of the country's premier mid-major players when healthy, proven by her statline last year of 19.2 points, 6.8 rebounds and 3.8 assists on 51.5 percent shooting before a season-ending injury sidelined her 20 games in. The redshirt junior is nearing her return for 2021-22, but for now, SDSU is making do without her. Sitting at 2-2 to start the year, it's been forwards Tylee Irwin (11.3 points, 3.8 rebounds) and Paiton Burckhard (9.0 points, 5.8 rebounds) that have been leading the charge as returners in Selland's absence. Forward Kallie Theisen has been pushed to the starting lineup as a sophomore after playing just 12 games as a freshman due to injury, starting all four games thus far in 2021-22 and leading the Jackrabbits in field goal percentage (71.4 percent).
The freshmen: Missing your best player hurts, but having others step up through adversity helps soften the blow. So it's got to be a relief for coach Aaron Johnston that the Jackrabbits have seemed to find a freshman stud in guard Paige Meyer. SDSU's leading scorer through four games (11.8 points per game), her 25-point, five 3-pointer outburst in a narrow loss to Mississippi State proved that the Minnesotan belongs at the Division I level in just her second game there. Her passing vision is beyond her years, having dropped an average of 4.3 assists per game to start her college career. And though Meyer has stolen the show for the freshmen, she's not the only freshman Jackrabbit that's gotten off on the right foot. Guard Haleigh Timmer (9.5 points per game) has carved out a role as SDSU's sixth woman while forward Madysen Vlastuin has added some needed frontcourt depth (6.7 points, 1.7 rebounds). Forward Mesa Byom (2.5 points, 2.0 rebounds) has been more sparingly used, but has still appeared in all four games.
The transfers: The Jackrabbits did not bring in any transfers from the portal this offseason.
Gulf Coast Showcase opener: vs. UMass at 11 a.m. Friday
UMass
The returners: The Minutewomen haven't been to the NCAA Tournament since 1998 and were projected in the Atlantic 10 coaches' Preseason Poll to be a middle-of-the-road program. That makes UMass' 4-0 start to this year even more intriguing. All-A-10 First Team forward Sam Breen returned for a sixth season in Amherst and looks to be as dominant down low as ever, averaging 17.5 points and 11.8 rebounds to start the year, the latter of which ranks in the top 20 nationally as of Sunday. Junior guard Sydney Taylor returned with her as the Minutewomen's top 3-point shooter at 39.3 percent this year and another dangerous scoring threat teams have to monitor at 17.8 points a night. Part of their scoring prowess is helped by the fact that guard Destiney Philoxy is one of the nation's best passers—her 6.3 assists per game last year ranked seventh in the country—and backcourt mate Ber'Nyah Mayo (4.5 assists per game last year) is often right up there with her. On quality returners alone, UMass could surprise some teams at Hertz Arena. Look out if you're one of them.
The freshmen: There's a New England-heavy contingent in UMass' freshman class this season, with three of coach Tory Verdi's four new recruits hailing from the region. However, none have played particularly meaningful minutes thus far in their careers, with 6-4 center Natousha Harden and 5-9 guard Alexzeya Brooks being the only ones to step on the floor at any point this year, combining for just about eight minutes in total. Guard Damoni Tucker and forward Aisha Dabo are the other two Class of 2021 members on the Minutewomen's roster, neither of which have made their collegiate debuts yet, though Dabo is recovering from a season-ending knee injury from her senior year of high school.
The transfers: Towson transfer guard Shavonne Smith (12.0 points, 5.0 rebounds in 2020-21) had a breakout campaign in her final season with the Tigers, going from a role piece in her first two seasons to a player that started all of Towson's 21 games. Perhaps her most interesting attribute is her ability to rebound her team's misses; Smith averaged 2.6 offensive boards a night last season despite standing just 5-11. The minutes have decreased through four games with the Minutewomen, but she's still being efficient with the ball on the floor with a 72.7 percent field goal percentage early this season. UTEP transfer Michelle Pruitt started nine games in two years in El Paso, averaging 9.3 points and 6.7 rebounds a night to go along with a 57.1 percent shooting clip from the floor. Like her portal counterpart, she hasn't quite found a consistent place in UMass' lineup yet, averaging just 7.6 minutes a night over three games to start life in her new place.
Gulf Coast Showcase opener: vs. South Dakota State at 11 a.m. Friday
Kent State
The returners: With a high-scoring offense that currently features four different players averaging double-figure scoring numbers, there's a lot you need to contain if you are to beat the Golden Flashes. Sure enough, all of those offensive threats are returners with another offseason to build chemistry under their belts. There's forward Nila Blackford, a nightly double-double threat from last season (15.5 points, 10.6 rebounds per game) that was a tenacious offensive rebounder (4.0 per game, 10th nationally last year) and scored at least 10 points in all but three games. Frontcourt partner Lindsey Thall has improved numbers early this season in both points (12.5) and rebounds (7.5) per game from last year, albeit in a small sample size. And guard combo Katie Shumate and Casey Santoro—the latter of which is averaging 13.0 points off the bench so far this year—can hang with the best of the best in the MAC.
The freshmen: Forward Bridget Dunn has influenced coach Todd Starkey to pick her early on as one of Kent State's first options off the bench, with the 6-3 Indiana native often being the first fill-in for starting forward Thall. It's good for the Golden Flashes that she retains many of the stretch-forward capabilities Thall does as she's shot 42.9 percent from beyond the 3-point arc in her first two collegiate games. Meanwhile, guard Lexy Linton and forward Jenna Batsch haven't seen many minutes. Guard Elena Maier rounds out the quartet of freshmen recruits, a feel-good story that had her preferred walk-on offer promoted to scholarship despite tearing her ACL in the summer prior to her senior year of high school.
The transfers: Guard Abby Ogle is a well-traveled player on her third stop of her college career after transferring from West Virginia and the JUCO level before that. The senior played just nine minutes last season with the Mountaineers but is seeing the floor on a more consistent basis with the Golden Flashes thus far, scoring 12 points with five steals and three assists in 26 minutes through two games. Center Bexley Wallace transferred from Penn State in the 2019-20 offseason, but sat out this past year due to injury and hasn't seen game time yet this season.
Gulf Coast Showcase opener: vs. UCLA at 1:30 p.m. Friday
Charlotte
The returners: Scoring issues have gotten the 49ers off to an underwhelming start, posting an average of just 50.5. Charlotte currently sits at 1-3. It particularly needs guard Octavia Jett-Wilson to get going at a rate of production she had last year as an All-Conference USA First Teamer that averaged 21.0 points per game. Right now through four games, she's being held well-below last year's average at 15.0 points a night. However, she's not the only 49er returner in a slump; guard Jada McMillian's scoring average—despite playing an average of over 30 minutes per night in both seasons—has plummeted thus far from 16.0 to 5.5 points, as has her field goal percentage from 51.8 to 27.3%. Bench scoring has been almost nonexistent, either, with sophomore guard Jacee Busick going from a 22-game starter a year ago to averaging 2.0 points in 17.6 minutes off of the bench, the highest scoring average of any Charlotte player that hasn't started.
The freshmen: As mentioned above, the Charlotte bench hasn't been much of a factor so far this season. Most of the time, that's where coach Cara Consuegra's most recent crop of freshman recruits are in games. There are three in particular in forward Mya McGraw and guards Aylesha Wade and Nia Young, with McGraw playing the largest role thus far at 1.8 points and 1.8 rebounds per game in an average of 9.3 minutes. Wade and Young, recruits both native to the Carolinas, haven't played much, either: Wade has appeared in two of four games while Young hasn't set foot on the floor at all.
The transfers: The high-level programs that Consuegra managed to snag transfer additions from are impressive. That included a double of portal gets from Kentucky in guard Kameron Roach and forward KeKe McKinney. Though Roach hasn't played, McKinney—who started alongside All-American guard Rhyne Howard while with the Wildcats—has made herself right at home in Charlotte, starting all four games thus far with the 49ers while averaging a career high in points at 9.5 with 5.5 rebounds a night to boot. Guard Mikayla Boykin has also found herself thrust into the starting lineup in each of Charlotte's games this year, an achievement that's been a long time coming for the in-state native after four years at Duke. Boykin played 37 games in Durham, her senior year of which was cut short when the Blue Devils suspended the season after four games due to COVID-19 concerns. Now, Boykin is one of the more experienced figures on the 49ers' roster, putting up a statline of 7.0 points and 5.8 rebounds in early-season play.
Gulf Coast Showcase opener: vs. Iowa State at 5 p.m. Friday