2021 Battle 4 Atlantis Women's Tournament
Battle 4 Atlantis Recap: South Carolina Dominates Field
Battle 4 Atlantis Recap: South Carolina Dominates Field
South Carolina romps to Battle 4 Atlantis title as Gamecocks establish themselves as team to beat.
Nov 23, 2021
by Briar Napier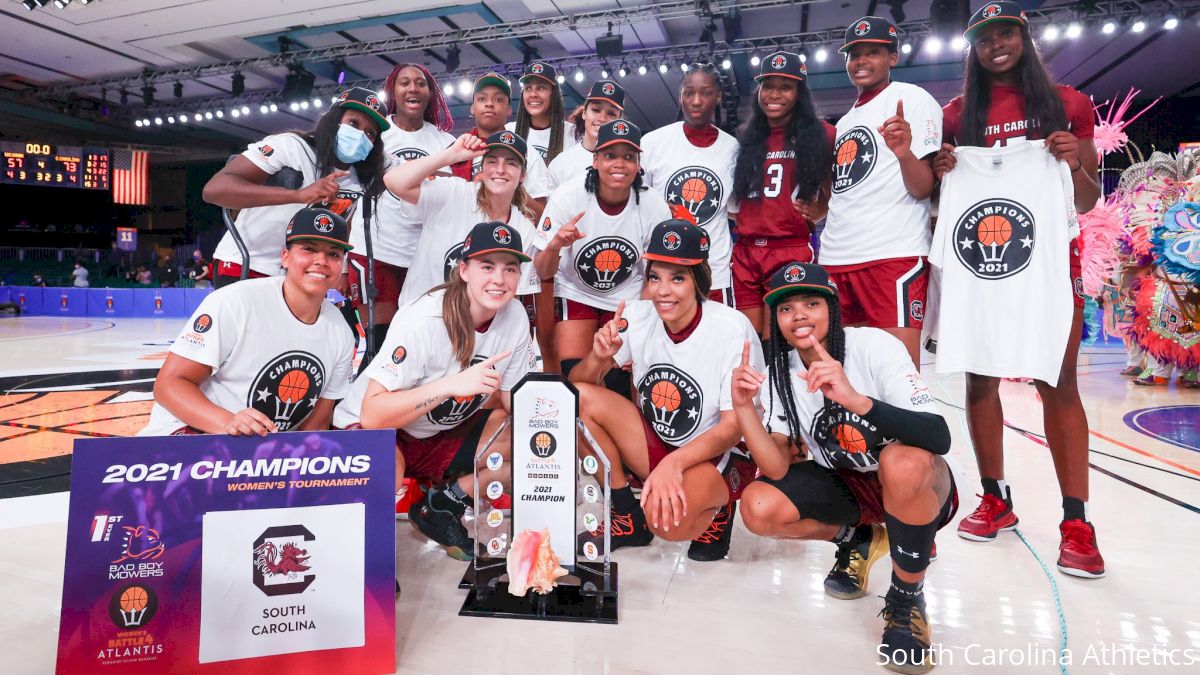 A new runaway national title favorite has been identified, and it plays its games in garnet and black.
South Carolina's win over UConn on Monday morning in the Battle 4 Atlantis championship game in Paradise Island, Bahamas proved that even in a mighty matchup between the nation's two best teams, the rest of the field has a lot of ground to cover to catch the Gamecocks. The nation's No. 1 team since preseason looked up to the hype, winning three games on the islands by an average of 20.3 points as it routed its way to a 6-0 start.
But amid a loaded eight-team field, other teams and players made noise, as well. It's early pickings, but some teams had plenty to like about their play in the Bahamas and have a right to be excited about what's to come—even schools not named South Carolina.
What did we learn from these past few days in Atlantis?
South Carolina's Dominance
Just how big was the Battle 4 Atlantis title game against South Carolina and UConn on Monday, the No. 1 and No. 2 teams in the Associated Press Top 25? So big, in fact, that only for the second time in the 46-year history of the AP Poll, the week's rankings (usually released on Mondays) were delayed by a day because of a No. 1 vs. No. 2 matchup. Between everything from a battle of blue-bloods to a national title game preview, South Carolina vs. UConn was slapped with (and worthy of) just about every label you could throw at it.
South Carolina lived up to its billing in commanding fashion.
The Gamecocks made themselves known as the top dog in the sport until further notice with a 73-57 win over the Huskies, with South Carolina coach Dawn Staley getting her second-ever win against UConn on the back of a stunning second half by her team. Down 36-33 at half, the Gamecocks outscored the Huskies 40-21 in the final 20 minutes—including 16-3 in the fourth quarter—as Staley conducted a coaching masterclass. The Gamecocks' 19 offensive rebounds to go along with the same number of turnovers forced made life miserable for the Huskies as the game progressed.
All-American center Aliyah Boston was spectacular all tournament, averaging 20.3 points and 10 rebounds over three games including a 22-point, 15-rebound title game performance. But the team defense the Gamecocks played was even better; the 57 points allowed against the Huskies was the lowest of the Paige Bueckers era and the fewest UConn has scored in a game since against—who else?—South Carolina on Feb. 10, 2020.
If there's any team in the country out there with the firepower to stop the Gamecocks, it'd better arrive soon, or else Staley's path to a second national title in Columbia looks a lot less bumpy.
Azzi Fudd Shows Promise
There's got to be enough pressure already on UConn freshman guard Azzi Fudd. The nation's No. 1 recruit from last year's class stepping into an already-loaded UConn roster, it's been wondered how coach Geno Auriemma would fit the star freshman into his lineup. The Battle 4 Atlantis showed exactly what Fudd could do for the Huskies—and where there's room for her game to grow.
After scoring five points in the Huskies' tournament opener against Minnesota, Fudd broke out for 18 points on 6-for-10 shooting in a tight 60-53 semifinal game against South Florida, a matchup that was tied after the third quarter and required a late UConn run to win. She was the Huskies' leading scorer off of the bench and second overall behind the All-American Bueckers (21 points), enacting Auriemma to say post-game about Fudd that, "If God ever gave anybody a better shooting stroke in the world, I don't know who it is." High praise for someone who just turned 19 this month from a man that's coached some of the best players ever.
But the magic wasn't replicated in the championship game against South Carolina, with Fudd limited to zero points on one shot in 10 minutes as the Gamecocks swarmed her and prevented anything from getting going. It was a trial by fire in a way against likely the nation's best overall defensive team, meaning that Fudd is unlikely to face that type of guard pressure again. That is, until UConn and South Carolina meet in the regular season on Jan. 27 in Columbia or another potential time in the NCAA Tournament.
Bueckers broke the standard for freshman achievement last season in an award-filled first year in Storrs. With that in mind, it's important for UConn to let Fudd's acclimation to the college game come naturally rather than forcing it, because the skill is unquestionably there.
Is South Florida A Bracket Buster?
Beyond the expected top figures of the tournament in South Carolina and UConn, it was coach Jose Fernandez's group that was the best of the rest in the Bahamas, knocking off Oregon in the third-place game 71-62 to cap off a very good Battle 4 Atlantis for the Bulls.
The defending American Athletic Conference regular-season and tournament champions have looked excellent early on while playing a brutal schedule, sitting at 4-2 with games against the likes of Stanford, Ole Miss and West Virginia still to come. On the islands this past weekend, USF easily dispatched Syracuse 77-53 in the opener, then took the semifinal right to UConn in being tied with 10 minutes left before the Huskies went on a late run to advance.
But it was the Bulls' win to close out the event against the Ducks, who were ranked No. 9 coming into Battle 4 Atlantis, that was the most impressive. Guard Elisa Pinzan, after being held scoreless two days earlier against Syracuse, was red-hot, going for a career-high 26 points on 7-of-10 shooting to go along with 10 assists, a performance made more impressive by the fact All-AAC guard Elena Tsineke was held to just four points. Combine that with the continued production of guard Sydni Harvey (15.0 points, 42.9 percent 3-point shooting in Battle 4 Atlantis) and two bruising posts in Bethy Mununga and Dulcy Mendjiadeu Fankam and the Bulls have all the pieces to make some noise down the stretch.
The grind of USF's nonconference schedule—they lost by three points at Tennessee before the Battle 4 Atlantis—should prepare it well for the AAC slate, where the Bulls are heavy favorites to repeat. They should be well-prepared come NCAA Tournament time; will it result in the program's first trip to the Sweet 16 or beyond?