2021 San Juan Shootout - Women's
San Juan Shootout: Kitley Looks To Continue Tear Puerto Rico
San Juan Shootout: Kitley Looks To Continue Tear Puerto Rico
Virginia Tech, Missouri State and LSU highlight tourney in Puerto Rico. Each team involved will play two games, one each Friday and Saturday.
Nov 24, 2021
by Briar Napier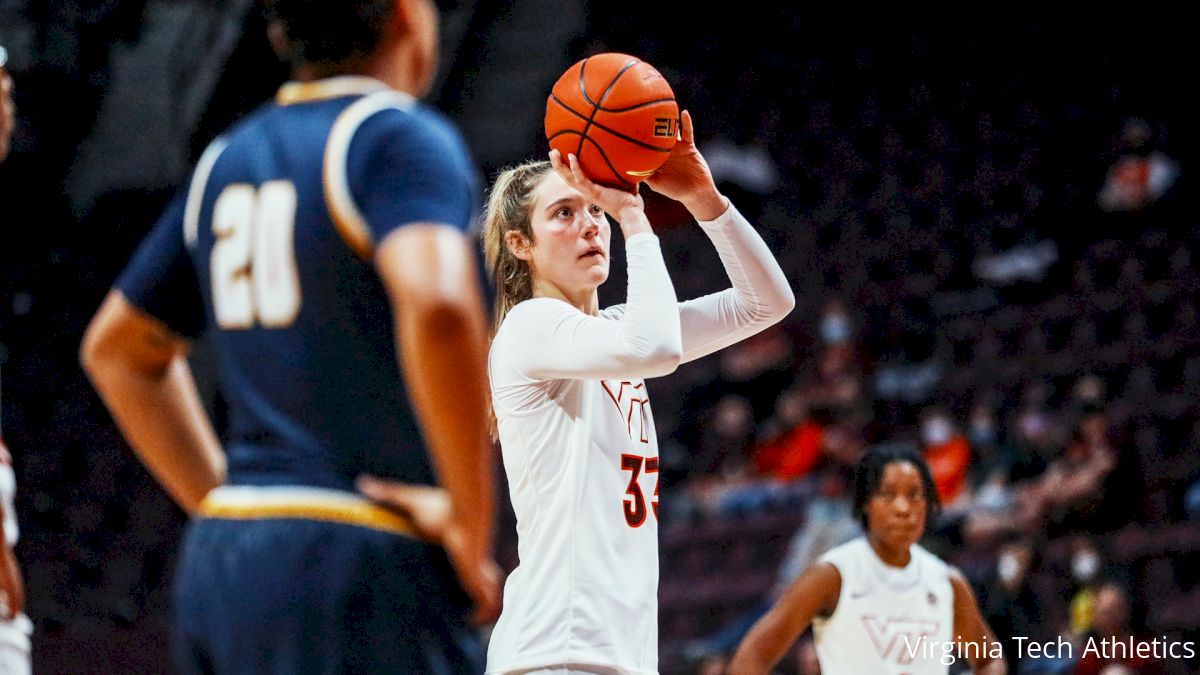 Near the pristine beach of Isle Verde within San Juan, Puerto Rico lies a warm-weather fix to the chill of Thanksgiving weekend back stateside.
Women's college basketball.
In the two days following Thanksgiving, 10 teams will duke it out in the San Juan Shootout at the Coliseo Roberto Clemente, a 10-game event featuring some of the brightest talents and dark horses of the college game.
Each team involved will play two games, one each on Friday and Saturday of this week, all of which will be broadcast live on FloSports. Take a look below at the personnel that make all the teams in San Juan this weekend click.
*All times listed are in Eastern Time and are subject to change.
Virginia Tech
The returners: Turns out if you've got Elizabeth Kitley on your roster, you'll be in good hands. The 6-foot-6 junior center from North Carolina is off to a flying start this season for the Hokies, with an already-gaudy average of 20.8 points and 9.8 rebounds per game being added on with 3.6 blocks a night, by far a career best. Her 34 points against George Washington were her best in Blacksburg and the 17 field goals made a program record, and if production like this continues it's hard not to put Kitley smack-dab in All-America conversation. Tech has cleaned house of its schedule thus far, winning its five games by an average of 36.6 points, but it probably wouldn't be putting up numbers like that without graduate guard Aisha Sheppard. A longtime bucket-getter for the Hokies, she's currently averaging career highs of 57.1 percent from 3-point range and 3.6 assists per game. And both of those players' offensive numbers are helped out tremendously by the elite passing skills of sophomore guard Georgia Amoore, who's tallying an incredible 6.6 assists a night through the first five games.
The freshmen: The experience-heavy Hokies have no true freshmen on the roster and just one redshirt freshman in guard Shamarla King, who sat out last season due to injury. She's appeared in four of Tech's games this year and averaged 2.8 minutes.
The transfers: Coach Kenny Brooks brought in three portal add-ons in the offseason, but arguably the biggest one of them all doesn't even start. The person in question is Purdue transfer guard Kayana Traylor, who traded 70 starts in three years with the Boilermakers to be the Hokies' current sixth woman with flying results. Despite averaging a career-low in minutes at 23.4 thus far, the senior's production hasn't waned, posting 11.2 points with 2.8 assists to just 0.6 turnovers and a career-best 48.6 percent field goal percentage. Meanwhile, Liberty transfer Emily Lytle has gotten the start in three of Tech's games to begin her career in Blacksburg, with 7.8 points and 4.2 rebounds averaged to go along with 23.0 minutes. West Virginia transfer Rochelle Norris was expected to be an addition to frontcourt depth behind Kitley at 6-5, but she tore her ACL in the offseason and won't play this season.
San Juan Shootout games:
vs. Missouri State, 10 a.m. Friday
vs. UT Martin, 10 a.m. Saturday
Missouri State
The returners: Long a dangerous mid-major with two Final Fours and nine consecutive seasons with a win over a Power 5 program, the Bears will by no means be intimidated under the tutelage of second-year coach Amaka Agugua-Hamilton. Forward Jasmine Franklin and guard Brice Calip have been terrorizing opposing schools in the Missouri Valley Conference for years at this point, with Franklin entering her fourth year in Springfield and Calip her sixth. But right now, it's Franklin that's putting up more eye-popping numbers: 15.5 points, 14.5 rebounds, 2.5 blocks and 2.3 steals through the Bears' first four games (that rebounding average, by the way, is No. 1 nationally as of Tuesday morning). Considering Franklin is doing all of this at an undersized 6-1 makes it even more impressive. But Calip has been Missouri State's tried and true answer in the backcourt as she's currently averaging double figures in scoring for the fourth straight year (11.8) to go along with 3.3 assists a night. Guard Mya Bhinhar, another four-year veteran of the program, has also been highly effective in four starts with a team-leading 4.5 assists per game to go with 2.3 steals per night on defense.
The freshmen: All three of Agugua-Hamilton's Class of 2021 recruits made mincemeat of the prep level, but fitting into an experience-laden Bears squad as first-year players is going to be the tough part. A trio of guards in Taylor Woodhouse, Lindsey Byers and Isabelle Delarue make up the freshmen on the Bears roster, all of which in their four regular season games this year have played limited minutes off of the bench. But don't be mistaken, the three bring plenty of cred to the Ozarks. Woodhouse shot 58 percent from the field her senior year playing high school ball in Mississippi, while in-state gets, Byers and Delarue, bring all-state honors and all-time leading scorer achievements at each of their prior schools, respectively.
The transfers: Her Hoop Stats listed Missouri State as having the 15th best defensive rating per its data in the country last season. So naturally, the Bears added a two-time Horizon League Defensive Player of the Year from the portal. Cleveland State transfer Mariah White was one of the best two-way players at the mid-major level the last two seasons, averaging 19.6 points to go along with 2.5 steals per game in her final season with the Vikings, being one of the highest-used players in the country on top of it (36.1 percent, third nationally). In a loaded Bears backcourt, however, playing time has dropped dramatically as she's started one game and averaged less than half of the minutes of her final year at Cleveland State. Still, White's quality makes her a key piece of the rotation at 9.0 points and 1.0 steals. JUCO transfer forward Ifunanya Nwachukwu has suited up in all four games (averaging 5.0 minutes) while Duke transfer forward Jennifer Ezeh is still seeking her college debut as a redshirt sophomore as injuries have prevented her from doing so.
San Juan Shootout games:
vs. Virginia Tech, 10 a.m. Friday
vs. LSU, 12:15 p.m. Saturday
Florida
The returners: The Gators are in a tumultuous transition period after former coach Cameron Newbauer's resignation was revealed to be in part due to abuse allegations against him by members of the program. Past Newbauer assistant Kelly Rae Finley has the interim title for this season as the first-time head coach attempts to pick up the pieces. Considering all that offseason turmoil, it was a positive sign that both guards Lavender Briggs and Kiana Smith opted to stick around, by far the Gators' top producers from last year as they went 12-14 en route to a second-round exit in the WNIT. They're both back averaging double figures, as is forward Jordyn Merritt, but she hasn't played Florida's last three games as she nurses an injury. Merritt's ability to stretch the floor can't get back soon enough as she averaged 55.6 percent from 3-point range before the injury, the best on the team albeit with a small sample size.
The freshmen: Guard Alberte Rimdal, a veteran of the Denmark national team, has been the Gators' top-producing freshman thus far this season. Appearing in all six games with an average of 4.3 points on 18.2 minutes per night, showing flashes of the talent that's allowed her to appear for her country's senior team on an international level. Guard Jeriah Warren and twin forwards Tatyana and Taliyah Wyche haven't appeared as frequently—all are averaging under 10 minutes a game—but have winning in their prep backgrounds as all won state titles at the high school level.
The transfers: There's just one this year in Rutgers transfer guard Zippy Broughton, who has started two of the Gators' six games with averages of 5.7 points and 4.2 rebounds per game. An off-and-on starter with the Scarlet Knights, the 5-7 guard has added some increased backcourt depth along with Briggs, Smith, Nina Rickards and Kristina Moore, all of which started the majority of Florida's games last season.
San Juan Shootout games:
vs. Saint Louis, 7 p.m. Friday
vs. George Washington, 7 p.m. Saturday
LSU
The returners: A middling 9-13 team last season, the Tigers suddenly seemed to hit the jackpot when Baylor coach Kim Mulkey, who won three national championships with the Bears in a Hall of Fame career, left Waco in the offseason for Baton Rouge and to coach in her home state. How does the move look in its very early days? Well, LSU is 2-1 to start, and guard Khayla Pointer (16.0 points, 9.0 rebounds, 7.0 assists) is playing like an All-SEC First Teamer. Backcourt mate Ryann Payne also looks well-adapted to the coaching change after playing in just five games last season, playing a career high in minutes while having a career high in points per game thus far (9.0) to go along with it. And graduate center Faustine Aifuwa (11.0 points, 8.9 rebounds in 2020-21) hasn't quite gotten going at the same pace thus far this year, but once the 6-5 post gets rolling, she's a tough player to stop.
The freshmen: As what happens when you suddenly acquire a name as synonymous with success as Mulkey's, talent begins to file in. Two ESPN HoopGurlz top-100 recruits committed to Baton Rouge as part of the Class of 2021 in forwards Amani Bartlett and Grace Hall, both of which fit Mulkey's preference in her past Baylor teams for major frontcourt depth. However, neither have played very much thus far in 2021-22, as hasn't guard Timia Ware. Forward Logyn McNeil will miss the season due to undergoing ACL surgery earlier this month.
The transfers: As Mulkey left Baylor, two former Bears decided to follow her from Waco to the Bayou. Center Hannah Gusters has been made one of the centerpieces of the early-season Tiger offense, with the sophomore sitting tied for the second-leading scorer through three games at 11.0 points per night following less than half that on a loaded Bears squad that made the Elite Eight last year. Additionally, guard Alexis Morris—also at 11.0 points averaged in two games played—reunited with Mulkey on the fourth stop of her college career after prior stints at Baylor, Rutgers and Texas A&M; she started eight games at Baylor during its 33-2 season in 2017-18. Then there's Vanderbilt transfer forward Autumn Newby, who's never played in a college game she hasn't started and is the Tigers' top rebounder right now at 10.7 boards per game, even though she didn't play in the Commodores' COVID-19-shortened season last year. Such is the pull you have when a three-time national champion arrives to coach your school.
San Juan Shootout games:
vs. New Mexico State, 2:30 p.m. Friday
vs. Missouri State, 12:15 p.m. Saturday
Florida Gulf Coast
The returners: You can't talk about Florida Gulf Coast without immediately mentioning Kierstan Bell, because if you've never seen her play for the Eagles, she's a treat to watch. She broke the 1,000-point barrier earlier this season after just 58 career games (Bell spent a year at Ohio State near her home of Alliance, Ohio) and has been on an absolute tear to start the 2021-22 season, scoring an eye-popping 27.8 points and 9.8 rebounds per game as the player with possibly the greenest shooting light in the country in coach Karl Smesko's high-octane offense. A dark-horse All-American, Bell has gone for 30 points six times in her career with a career high of 42, making her one of the country's most electric players even while playing in the weak Atlantic Sun Conference. That type of production pads the assist stats for guards Emma List and Tishara Morehouse (both average 4.3 assists per game) by simply just giving Bell the ball, while the amount of defensive attention she gets also opens opportunities up for other teammates.
The freshmen: There are no freshmen on the Eagles' roster.
The transfers: Florida Gulf Coast only lost one game that Bell played in last season, its first-round defeat in the NCAA Tournament to Naz Hillmon and Michigan. The Wolverines pummeled the Eagles by 21 as, beyond Bell and Morehouse, no player scored over eight points and only four others scored at all. That makes the addition of graduate guard Kendall Spray—a known deadly 3-point shooter from stints at Tennessee-Martin and Clemson—that much more valuable. A career 38.1 percent shooter from beyond the arc, her 5.3 triples per game so far in 2021-22 is No. 1 in the country, and though her current rate of 65.6 percent from deep is likely unsustainable, it's certainly not going to crater to unforeseen levels. But Spray is by no means the only transfer contributor on the roster: guards Kerstie Phills (Wagner) and Karli Seay (LSU) have each started games for the Eagles this season, as well.
San Juan Shootout games:
vs. Tennessee Tech, 4:45 p.m. Friday
vs. Saint Louis, 4:45 p.m. Saturday
Saint Louis
The returners: Guard Ciaja Harbison remains the heartbeat of this unit, returning as a senior from Atlantic 10 All-Conference and All-Defensive team selections. She'll likely be the Billikens' leading scorer at year's end for the fourth year in a row and be past or near many school career marks once her eligibility is finally used up, assuming her current 15.8 points per game average holds up around that number. But beyond her, SLU has a scoring problem. It's been held to under 55 points in three games this season—coincidentally, all losses—as 6-5 forward/center and St. Louis native Brooke Flowers (10.3 points) is the only other Billiken averaging double-figure scoring, though she's also putting up gaudy rebounding (13.0 boards a night) and block tallies (3.5 swats per game) with it thus far. But the rest of the lineup is really struggling to put points up, especially after second-leading scorer Rachel Kent transferred out.
The freshmen: Forward Sarah Lazar is the lone freshman on this team, putting up an all-state campaign in Wisconsin where she averaged 11.7 points and 1.5 blocks as a junior. But she hasn't seen the floor much early in her college career, playing just under three minutes over two games.
The transfers: There's a lot worse programs to poach talent from than Arizona, who was a missed shot away from completing one of the most improbable national championship runs last NCAA Tournament. Redshirt sophomore forward Sevval Gul was a season late to that title game push—she had already transferred out of the program, by then awaiting eligibility with the Billikens—but SLU coach Lisa Stone has clearly tried to get the 6-4 Turkey native involved, and she's shown talent flashes that probably got her to Arizona in the first place. Gul has started all four games for the Billikens and averaged 8.0 points and 4.8 rebounds to go with a block a night, pairing nicely with the force that is Flowers in the middle.
San Juan Shootout games:
vs. Florida, 7 p.m. Friday
vs. Florida Gulf Coast, 4:45 p.m. Saturday
George Washington
The returners: If George Washington is going to beat you, it's more likely because it guarded you into submission rather than outran you with buckets on buckets. That's reflected in the Colonials' scores through five games, scoring a high of 58 points and in the 30s twice (by comparison, Florida Gulf Coast's Kierstan Bell has also scored in the 30s twice this year). It's also reflected in the fact GW has just one double-figure averager thus far in forward Mayowa Taiwo (10.0 points per game), though she's had to sit out the Colonials' last three games. Part of the low scoring is due to the fact GW coach Caroline McCombs doesn't play most players for very long, with seven different players averaging at least 19 minutes and nine averaging at least 13. Junior guard Essence Brown, however, has over doubled her minutes from a year ago and started all five games to a tune of 5.6 points and 4.0 rebounds per game.
The freshmen: As is the case for many of the programs going to San Juan, there's plenty of freshmen on the team (four in George Washington's case) but their early-season minutes—and in turn, their production—remain limited. Forward Michelle Ojo made her season debut in the Colonials' fourth game of the year against Old Dominion, playing almost seven minutes and getting her first career points in the process. But beyond that, it's slim pickings. Forward Sophie Haydon has played 37 minutes over four games while guards Maxime Engel and Leila Patel haven't played at all yet.
The transfers: There's a lot of them to run through, but one in particular will have a homecoming on Thanksgiving weekend. JUCO transfer guard Sheslanie Laureano is a Puerto Rico native from Bayamon, located just 20 minutes south of San Juan, and she's been balling early for GW, too: Laureano's 1.8 steals are tops on the roster at the moment as she's started one game. But Troy transfer Ty Moore, one of the main pieces behind the Trojans' near-upset of No. 2 seed Texas A&M in last year's NCAA Tournament, has probably been the biggest addition, averaging 8.0 points and a team-leading 8.8 rebounds in 23.4 minutes averaged for the Colonials. Albany transfer Kyara Frames (3.8 points, 4.0 rebounds) has started all five games as a 5-2 guard, and Purdue-Fort Wayne transfer Sierra Bell brings in double-figure scoring from her time with the Mastodons last season. And on top of all that, former North Carolina-Wilmington guard Taylor Webster has started four of five games and averaged 5.8 points in 24.7 minutes.
San Juan Shootout games:
vs. UT Martin, 12:15 p.m. Friday
vs. Florida, 7 p.m. Saturday
New Mexico State
The returners: It's early, but sophomore guard Taylor Donaldson looks to be in the midst of a full-blown breakout. Despite coming off the bench in both of the Aggies' two games, the Californian has broken double figures in scoring in each and currently leads New Mexico State in points per game at 13.5. Her performances could just be a flash in the pan, but either way, it's still a massive sign of growth from a freshman season where she averaged just 10 minutes per game in 10 appearances. Proper attention should be given to senior guard Tayelin Grays, as well, who after an OK three years with the Aggies has done well to start this season off, starting both games and averaging current career bests of 11.5 points, 3.0 steals and 2.0 assists a night. All-WAC Honorable Mention guard Soufia Inoussa also returned, bringing back her 10.9 points per game and 36.6 percent 3-point shooting from a year ago.
The freshmen: Guard Sylena Peterson is the only Aggies freshman, playing 16 minutes and scoring six points in an exhibition win over Western New Mexico to tip off the start of NMSU's season. She hasn't appeared in the Aggies two matchups against Division I opponents, a win vs. Incarnate Word at home and a loss at UTEP.
The transfers: Oklahoma State grad transfer Bigue Sarr has the experience of spending two seasons playing alongside WNBA Draft pick Natasha Mack in the post. It's possible she learned a bit from the current Minnesota Lynx forward because Sarr is doing well to start her career in Las Cruces, averaging 10.5 points and 7.5 rebounds in the two games against Division I competition. Sarr is one of six transfers on the roster and one of two to start both games along with former UNLV guard Mel Isbell (3.5 points, 2.0 steals this season). Besides 6-2 forward Kayla Watkins (Weber State), the other three portal gets all come from the JUCO level in guards Moe Shida and Janessa Johnson and forward Fama Thiam.
San Juan Shootout games:
vs. LSU, 2:30 p.m. Friday
vs. Tennessee Tech, 2:30 p.m. Saturday
Tennessee-Martin
The returners: The Skyhawks are in the impossible position of attempting to replace maybe the greatest player in school history, Chelsey Perry, UT Martin's all-time leading scorer that was picked in the third round of the WNBA Draft this past summer. The top scorers behind her, Dasia Young and Maddie Waldrop, are gone from the program, too. So it'll be up to junior guard Paige Pipkin, who started all but one game a year ago for the Ohio Valley Conference regular-season champions, to pick up the weight left behind as one of the Skyhawks' leading returners. She's answered the call well thus far, jumping her scoring average to 11.6 in five games from 7.3 a year ago. Guard Seygan Robins (6.4 points, 3.4 rebounds this year), a major piece for UT Martin last season after transferring from Louisville, should be a lineup fixture once again for coach Kevin McMillan.
The freshmen: You may need to make a double take while looking at the Skyhawks' roster. There are indeed eight freshmen in the fray, all but two of which are under true status. Yet despite that number, the one who's appeared to make the biggest impact thus far—Canadian guard Shanice Simpson-Whiteley—has been limited to just 10.3 minutes per game off the bench. McMillan has played all five of his starters at an average of over 30 minutes per game, limiting the opportunities on the floor for the substitutes, and has left guards Mia Hurst and Gabi Melby as the only other freshmen to see the floor in 2021-22. Guard/forward Hayley Harrison (8.0 points, 41.7 percent 3-point shooting this season) is technically classified as a freshman on the UT Martin roster, but is actually in her third season after sitting out 2019-20 due to a medical redshirt and being granted an extra year of eligibility due to COVID-19 last season.
The transfers: Grad transfer Holly Forbes is on her third team of her college career at UT Martin after parlaying a JUCO All-American campaign with two years at Robert Morris. In her fifth year of college ball this season, she's finally appearing to shine on the Division I level. The 5-10 forward currently leads the Skyhawks in scoring at 11.8 points per game to go along with fellow career highs at the D-I level in rebounds (7.4) and steals (1.6). She's been especially productive in UT Martin's wins, averaging 15.7 points per game in the Skyhawks' victories over North Carolina A&T, Western Kentucky and Illinois State, but along with her teammates will need to step up the production against the mightier teams in San Juan; against Kansas State and Louisville, the Skyhawks were held both games to a dismal 30 points.
San Juan Shootout games:
vs. George Washington, 12:15 p.m. Friday
vs. Virginia Tech, 10 a.m. Saturday
Tennessee Tech
The returners: The Golden Eagles can dump points on unsuspecting opponents if they aren't careful, especially if they don't take heed to the talent of guard/forward Anna Jones. The 6-1 Tennessee native is a talented do-it-all stat sheet-stuffer for TTU who currently leads in points (15.7) and rebounds (8.3) per game while shooting a decent clip from 3-point range (28.6 percent) for a primary forward. The team performs best when all the scorers get a chance to shine, however, evidenced by the Golden Eagles' 85-58 season-opening rout of Chattanooga when five different players scored in double figures. That quintet included Jones and guards Kesha Brady and Jada Guinn, who started all 25 games last season along with forward Mackenzie Coleman. Senior guard Megan Clark (5.0 points in 2021-22) has also been elevated to a starting role after coming off the bench in every game last year.
The freshmen: There's a trio of Golden Eagles freshmen recruited in this class by coach Kim Rosamond. Guard Reagan Hurst and center Olivia Koontz are in-state recruits while guard Harley Paynter is from north of the state line in Kentucky. Hurst in particular is an impressive talent, having won Tennessee's Class AA Miss Basketball honor while playing high school hoops in Bloomington Springs, located just 15 minutes away from TTU's campus in Cookeville. But Koontz and Paynter have been the two to step on the floor for the Golden Eagles thus far, with each seeing just over two minutes in a game this season.
The transfers: Forward Anna Walker made the move across the state from Chattanooga to Tennessee Tech, with the sophomore seeing her minutes jump up from last season from 11.2 to 15.2 per night. She went for 18 minutes against her former Mocs teammates in the season opener, scoring seven points with two rebounds, two steals, a block and an assist to fill the stat sheet. A state champion standout from Cleveland, Tenn., Walker is following in the footsteps of her uncle, Brad Walker, who played basketball for TTU from 1999-2002.
San Juan Shootout games:
vs. Florida Gulf Coast, 4:45 p.m. Friday
vs. New Mexico State, 2:30 p.m. Saturday