BIG EAST Women's Basketball
Guard Play Key To DePaul's Success This Season
Guard Play Key To DePaul's Success This Season
The Blue Demons recently enjoyed an amazing run of eighteen consecutive NCAA Tournament appearances, dating back to 2002.
Nov 23, 2021
by Antonio Williams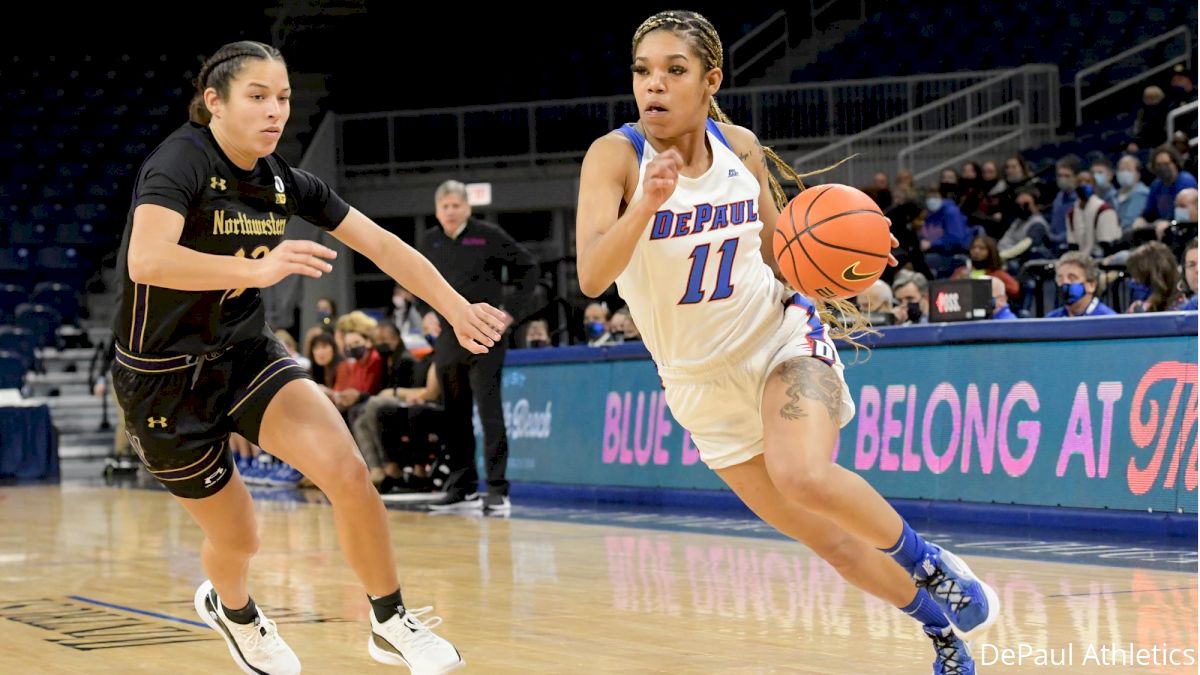 DePaul Head Coach Doug Bruno has built one of the best programs in college basketball, amassing over 1,000 wins during his tenure pacing the sidelines in Chicago. The Blue Demons have become synonymous with high-level success as well as consistency throughout the Bruno-era. Under Coach Bruno, DePaul has managed to capture the attention of the Chicago sports fans, despite competing in a gridlocked sports landscape that overwhelmingly leans into professional sports.
The accolades are plentiful. The Blue Demons recently enjoyed an amazing run of eighteen consecutive NCAA Tournament appearances, dating back to 2002, as well as a slew of BIG EAST regular season and tournament championships. DePaul played one of the tougher schedules in the nation last year and they will face more ranked opponents this year, including at least two conference tilts with UConn, one of the national title contenders.
Along with that is a tough non-conference slate that features games against Texas A&M, Kentucky, and last year's national title runner-up, Arizona. DePaul will rely on some key returnees, as they look to return to The Big Dance this season, after playing in the WNIT last year.
Fortunately for DePaul, unanimous Preseason All BIG EAST guard Sonya Morris returns to Lincoln Park. An electric three-level scorer, Morris has the ability to connect on shots at the rim as well as in the mid-range. She also excels at shooting the ball from deep, leading the team in three-point shooting makes and percentage, on her way to averaging 19.3 points per game, placing her third in the BIG EAST last season.
Morris' ability to fabricate offense produces a high number of free throw attempts (and extra scoring opportunities) which she's made at an 88.3 percent clip, leading the BIG EAST and placing her in the Top 15 in the country in free throw shooting percentage last season.
Morris' backcourt mate, Lexi Held, notched Preseason All BIG EAST honors in her own right. Held scores the ball effectively, averaging 17.3 points per game in conference play last season, which ranked in the Top 10. The Big East Scholar Athlete of the Year for Women's Basketball also serves as the pacesetter on the defense end of the floor for DePaul. Held plays with great energy and anticipation skills, as she collected over three steals per game, which led the Big East, and placed her fifth in the country.
Fresh off garnering BIG EAST All-Freshman team honors, guard Darrione Rogers will combine with Morris and Held to form one of the best backcourt trios in the BIG EAST. Rogers will alleviate pressure on Morris and Held by assuming more of the scoring load, as Rogers looks to improve upon her impressive debut last season. Rogers also does an effective job of rebounding the ball from the backcourt.
Guard play ranks very highly in college basketball and for the Blue Demons, it will likely come in waves this year as guard Deja Church should also see an increase in opportunities. Church functions as a very reliable scorer and playmaker for Coach Bruno. She also plays passing lanes for steals very well, thus providing value on the defensive end of the floor in addition to her offensive impact.
With a tough schedule ahead, DePaul's success lies in Bruno's ability to effectively use his plethora of talented guards in creative ways.