2021 Daytona Beach Invitational
For Oregon State, Great Offense Starts With Great Defense
For Oregon State, Great Offense Starts With Great Defense
Scott Rueck, who took over at his alma mater in 2010, has led the Beavers to three Pac-12 championships and spots in the last seven NCAA Tournaments.
Nov 25, 2021
by Stephen Kerr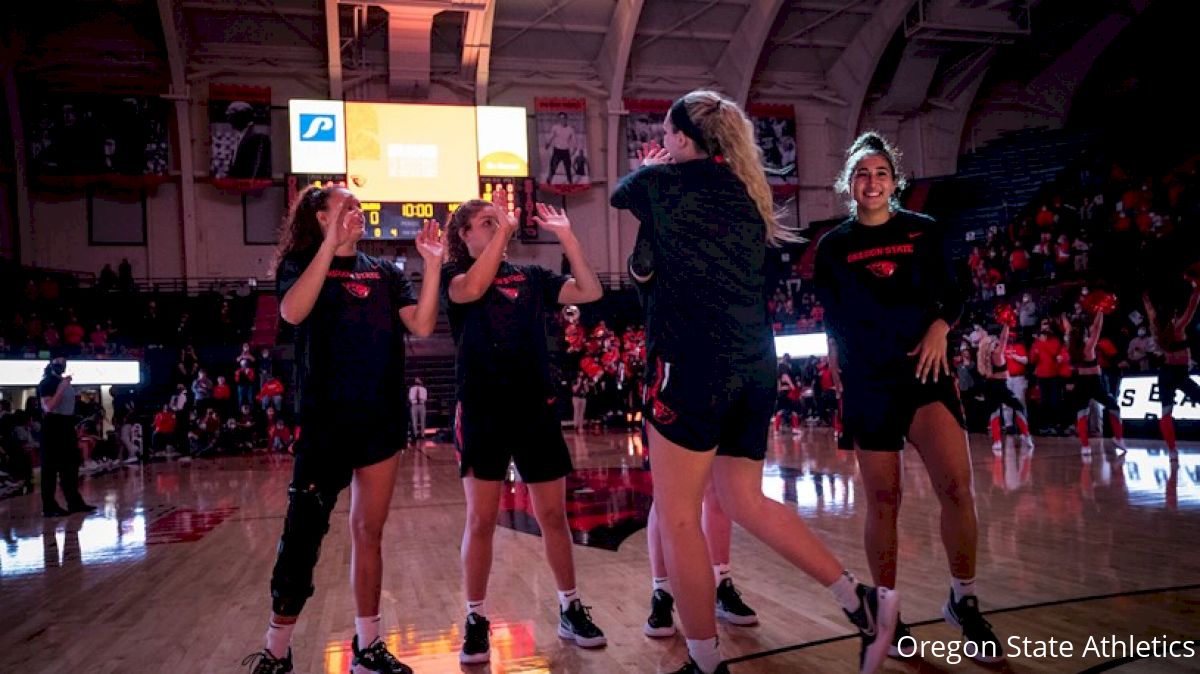 When most basketball fans tune in to watch ESPN SportsCenter, they typically look for heart-pounding dunks or eye-popping 3-pointers.
Oregon State women's head basketball coach Scott Rueck watches for a different reason. Instead of focusing on the player flying through the air for a dunk, he concentrates on the defender who just got taken to school.
Rueck, who took over at his alma mater in 2010, has led the Beavers to three Pac-12 championships and spots in the last seven NCAA Tournaments. (It would have been eight had the 2020 Tournament not been canceled due to the coronavirus pandemic). His teams have made four Sweet-16's, two Elite Eight's and a Final Four appearance in 2016.
That success is grounded in the one aspect of the game most fans don't pay attention to when watching highlights: defense. The Beavers have led the Pac-12 in field goal percentage defense in six of the last eight seasons. They finished 10th nationally in defensive rebounds per game, and 19th in the country in blocks per contest.
"If you were to look at the teams that advance each year to the Final Four, you'll see that you rarely find a team that's not a great defensive team that makes it that far," explained Rueck, who won a Division III national championship in 2009 as head coach of George Fox, finishing a perfect 32-0. "The year we made it to our Final Four (in 2016), we were second in the nation in defense right behind UConn. That was Breanna Stewart's group's fourth year. That's what it's taken to win this conference year in and year out."
Scoring points is important too, of course. The Beavers finished 2020-21 third in the nation in 3-point percentage, and had four players score in double figures in their first two games this season. To Rueck, a great offense is built around smart shot selection and strong play in the post.
"It works for what we term 'great shots' every possession," he said. "If that's a 3, that's a 3, and you better shoot it if you're open. We always have had a dominant post, though. In 25 years as a head coach, I've had 26 First Team All-Conference 4's or 5's."
The Beavers entered this season ranked No. 14 in the AP Preseason Poll, marking the fourth time they've started the year in the top-15. The team finished 12-8 overall in 2020-21, winning nine of their last 12 games before falling 59-42 in the second round of the NCAA Tournament to South Carolina. Two Beavers were All-Pac-12 selections: 5-9 senior guard Aleah Goodman and 6-4 sophomore forward Taylor Jones. Goodman was taken in the third round of the WNBA draft, becoming the sixth OSU player selected in the last six drafts.
Jones is one of three returning starters that also include 6-3 redshirt junior forward Taya Corosdale and 6-3 redshirt senior forward Ellie Mack, who came to the Beavers as a graduate transfer from Bucknell last season. Jones averaged 12.3 points and a Pac-12-leading 8.8 rebounds per game in 2020-21, and earned All-Pac-12 honors and Defensive Honorable Mention.
"(Rueck) is such a good teacher," said Jones, who is on both the Wooden and Naismith Watch Lists in 2021-22. "He doesn't just tell us something to do and not give a reason for why we should do it. He breaks it down and teaches it to us. I think that's the best way for all of us to learn."
After missing all of the 2019-20 season with injury, Corosdale finished seventh in the conference in 3-point percentage last season. Mack was granted an extra year of eligibility this season, thanks to the NCAA's COVID-19 policies. She leads all Oregon State players with 1,206 career points.
Rueck is also counting on continued growth from Talia von Oelhoffen, who joined the team midway through last season. The 5-11 guard was a Pac-12 All-Freshman Honorable Mention in 2020-21 despite playing in just 13 games. She set the Pac-12 Tournament record for points off the bench with 44, and shot 44.3 percent from the floor.
With the departure of Goodman, von Oelhoffen will be heavily counted on to take more of a leadership role on and off the floor.
"I played my first game after only practicing for two days," recalled von Oelhoffen, a Pac-12 Preseason Team selection for 2021-22. "I had a lot of support from everyone. I've been watching Scott's system for years now. The way he runs his system was one thing that drew me here."
Kennedy Brown, a 6-6 sophomore forward, is back after missing all of last year and the second half of 2019-20 due to injury. Redshirt freshman Jelena Mitrovic, a 6-9 forward/center from Novi Sad, Serbia, appeared in all of OSU's games last season after also missing the previous year with an injury.
Emily Codding, a 6-foot redshirt senior graduate transfer guard from St. Mary's, joined the team and earned starts in the Beavers' first two games this season. Te'a Adams, a 5-9 redshirt senior guard, comes over from San Diego State where she started in every game but one during three seasons.
Greta Kampschroeder, a 6-foot freshman guard from Naperville (Illinois) North High, was a McDonald's All-American who finished with 1,735 career points. Freshman AJ Marotte, a 6-1 guard from Vista Ridge (Texas) High scored 15 points in her collegiate debut, including all three of her 3-point attempts.
The Beavers inked the third-rated class in the nation on National Signing Day, the highest ranked group in program history. Timea Gardiner (Ogden, Utah) and Raegan Beers (Littleton, Colorado) are post players who can score inside and outside, and possess great rebounding skills. Adlee Blacklock (Lubbock, Texas) and Lily Hansford (DePere, Wisconsin), are combo guards with great play-making ability off the dribble and can shoot the 3.
"The most amazing parts of all their games, they are unbelievable passing the ball," Rueck said. "The two bigs (Gardiner and Beers) are the two best passers in the post we saw all summer. I couldn't be more excited."
The Beavers are an especially fan-friendly program. Before COVID, the team held an eight-minute mingle after home games, allowing spectators to come on the floor and take pictures with the players and coaches. While that ritual has yet to be implemented so far this season, everyone is just glad to have fans back in Gill Coliseum.
"Our fans up here are something very different and unique," Jones said. "We have a great support system. That's a reason I chose to come here. You don't really see the amount of fans we get in college basketball. Coming out (before the first game), hearing our fans and seeing them… it almost brought me to tears. We missed them so much."
As the team continues to build chemistry throughout the season, von Oelhoffen is impressed with its depth and potential.
"It's going to be a nightmare for other teams to scout us," she said. "Every day, we're learning (the system) better, getting better and pushing each other. Now that we have a few games under our belt, we've already improved so much. I think we're going to surprise a lot of people this year."