Big 12
Baylor's Nicki Collen Embraces The Past While Building For The Future
Baylor's Nicki Collen Embraces The Past While Building For The Future
Collen spent the last three seasons as head coach of the Atlanta Dream, and also guided four different Div-I squads to the NCAA Tournament as an assistant.
Nov 25, 2021
by Stephen Kerr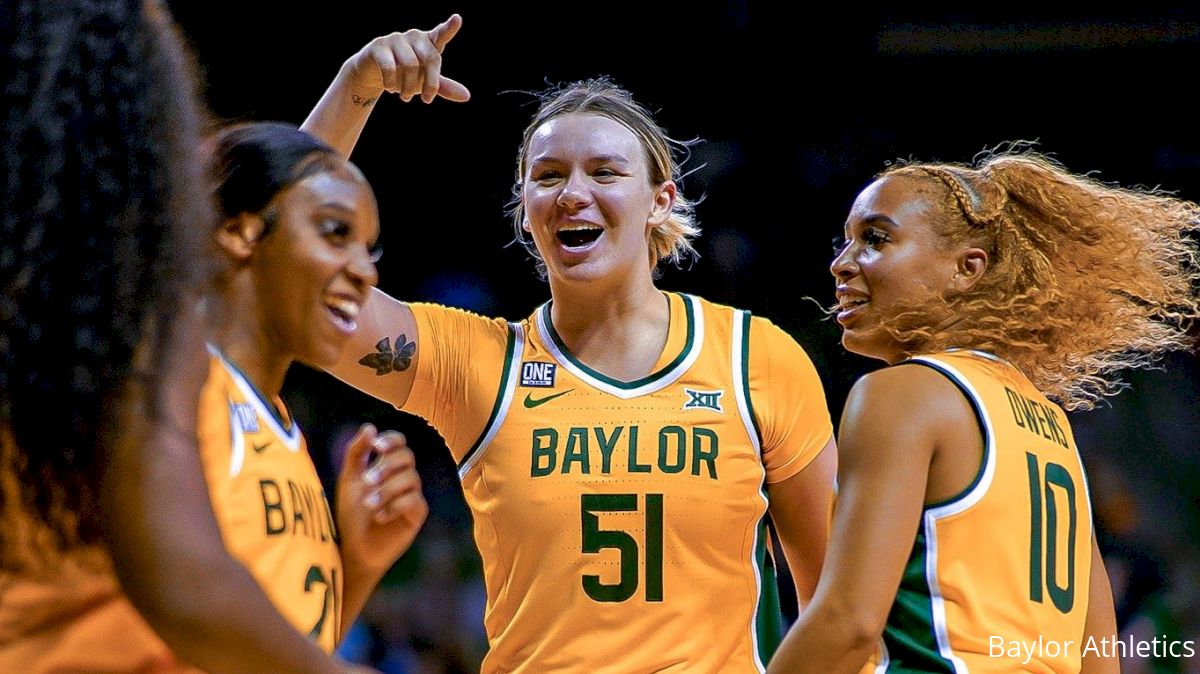 When Nicki Collen accepted the head women's basketball coaching job at Baylor last May, she wasn't interested in becoming another Kim Mulkey, Pat Summitt or Geno Auriemma. She felt secure enough in her success to begin putting her own stamp on a program with as high a standard as any in the country.
Collen, who spent the last three seasons as head coach for the WNBA's Atlanta Dream, also guided four different Division I squads to the NCAA Tournament in nine seasons as a college assistant. Before throwing her hat in the ring for the Baylor job, she saw herself coaching in the NBA several years from now.
So the last thing she was concerned about was replacing a Hall of Fame coach who had led the program to three national championships and four Final Four appearances in 21 years. Rather than shy away from the challenge, she relished the idea of continuing Mulkey's winning tradition.
"I'm comfortable with who I am," said Collen, who played on the 1993-94 Purdue Boilermaker team that went to the Final Four before finishing her collegiate career at Marquette. "We're going to respect and honor the past and invite all those former players to truly be a part of this program going forward. But we have to build it our way."
In her first season at the helm of the Dream, Collen earned WNBA Coach of the Year recognition after guiding the team to a 23-11 record and a playoff semifinal berth. Prior to Atlanta, she spent two seasons as an assistant with the Connecticut Sun. Her tenure as a college assistant began at Colorado State, followed by stints at Ball State, Louisville, Arkansas and Florida Gulf Coast.
One thing Collen and Mulkey do have in common is their intensity. ESPN analyst and former NCAA champion Rebecca Lobo described Collen as "a fiery competitor with a big personality." It's an assessment 5-6 sophomore guard Sarah Andrews agrees with wholeheartedly.
"You never know what Coach is going to do," Andrews said with a smile. "She wants the best for us, and I just enjoy being around her."
Collen inherited a team that returns just two starters from last season, when the Bears finished 28-3 overall and 17-1 in the Big 12. They made it to the NCAA Elite Eight before falling to UConn 69-67 in what would turn out to be Mulkey's last game.
But Collen isn't short on star power or potential. The return of 6-4 senior forward NaLyssa Smith and 6-3 senior center Queen Egbo give the Bears a formidable 1-2 punch up front.
Smith is the reigning Wade Trophy winner, Big 12 Player of the Year and first-team All-American. She averaged 18.0 points and 8.9 rebounds per game in 2020-21, and was named to this year's Katrina McClain Award Preseason watchlist after winning that award a year ago.
Egbo, a Preseason All-Big 12 Team selection, averaged 11.1 ppg, 8.6 rpg and 1.9 blocks per game last season. She was named to the Lisa Leslie Award Preseason Watch List after being one of the five finalists last year.
Collen calls Smith "the best player in the country." She and Egbo complement each other well with their different styles of play.
"(NaLyssa) works better off the bounce," Collen explained. "She has the ability to knock down the midrange shot. Queen has more of a traditional low-post game. What we're trying to get her to do a little bit more is to reverse pivot and face a little bit. She's really good to 15 feet when she's got time."
Andrews leads the backcourt along with transfers Jordan Lewis (Alabama) and Ja'Mee Asberry (Oklahoma State). Andrews averaged 4.2 points, 1.2 rebounds and 1.2 assists per game in her freshman season. Lewis and Asberry each averaged a career high 17.0 points per game and earned all-conference honors in the SEC and Big 12, respectively.
The bench includes 6-foot senior forward Caitlin Bickle, an All-Academic Big 12 selection last season; Jaden Owens, a 5-8 junior guard transfer from UCLA; 6-2 freshman forward Kendra Gillispie, former All-Big Ten guard Kamaria McDaniel, and walk-on guard Andrea Katramados, who joined the team just days before the first exhibition game. McDaniel, who transferred from Penn State before last season, sat out the year with a knee injury.
Collen wasted no time in employing an up-tempo offense that gives her players the freedom to shoot from 3-point range, a category the Bears have struggled with in recent years. But she emphasizes the importance of touching the paint, either with a post pass, cut, dribble-drive, drive-and-kick or a 3.
"That's the thing I have to keep hammering home," Collen said. "We're going to take and make 3-s, but we need to touch the paint first and get great ball movement."
In their first exhibition game against Texas A&M-Commerce, the team made 10 of 23 (43.4%) from beyond the arc in an 88-51 rout, the most makes and attempts than any game last season. Andrews was a perfect 5-for-5 from 3-point range.
"When I'm getting triple-teamed, that means there's two people open on the floor," Smith explained. "It makes passing the ball a lot easier, just working our outlet passes, getting it to the guards, knowing they can shoot the ball."
The Bears have already seen everything from a 2-2-1 press to a 3-2 zone from opposing defenses in the early part of the season. Collen is looking for more consistency to keep defenses off-balance.
"We're putting different reads in," she explained. "It's still about adjusting and learning that there are certain things you can do regardless of man and zone. If you play fast, and get in an early action, the defense won't be set no matter what they're in."
Following the departure of DiDi Richards, Collen is counting on Owens to be one of several players to step up defensively, along with Bickle and Lewis. Richards was named National Defensive Player of the Year in 2020, and was drafted in the second round of the WNBA draft by the New York Liberty after last season. The Associated Press named her to the WNBA All-Rookie Team.
"Jaden creates the head of the snake on defense," Collen said. "Caitlin is someone who may not be the biggest, fastest or strongest, but she's a quarterback on the back side of the defense. I think (she) and Jordan Lewis are both players who have a high IQ for the game."
There have been the usual fits and starts associated with a new system. In a 77-70 victory over Texas State to officially open the season, the Bears jumped out to an early 15-point advantage before having to hold off a second-half surge by the Bobcats. The team shot just 4-of-25 from 3-point range, missing all eight attempts in the second half.
But Smith believes the team is coming together and will peak at the right time.
"We're finally starting to realize our potential," she said. "Any given night is anybody's high point. That's what I really like about this team, knowing how much potential we do have coming off the bench and (the starting five). I feel like we're gelling well and we're finally starting to get into that Baylor basketball that (fans) love to see."