2021 Tulane vs Charleston - Men's
CAA Games Of The Week: Wins & Momentum Up For Grabs
CAA Games Of The Week: Wins & Momentum Up For Grabs
The holiday tournament season saw some noteworthy performances out of the CAA, including Northeastern and Delaware making tourney runs.
Nov 30, 2021
by Kyle Kensing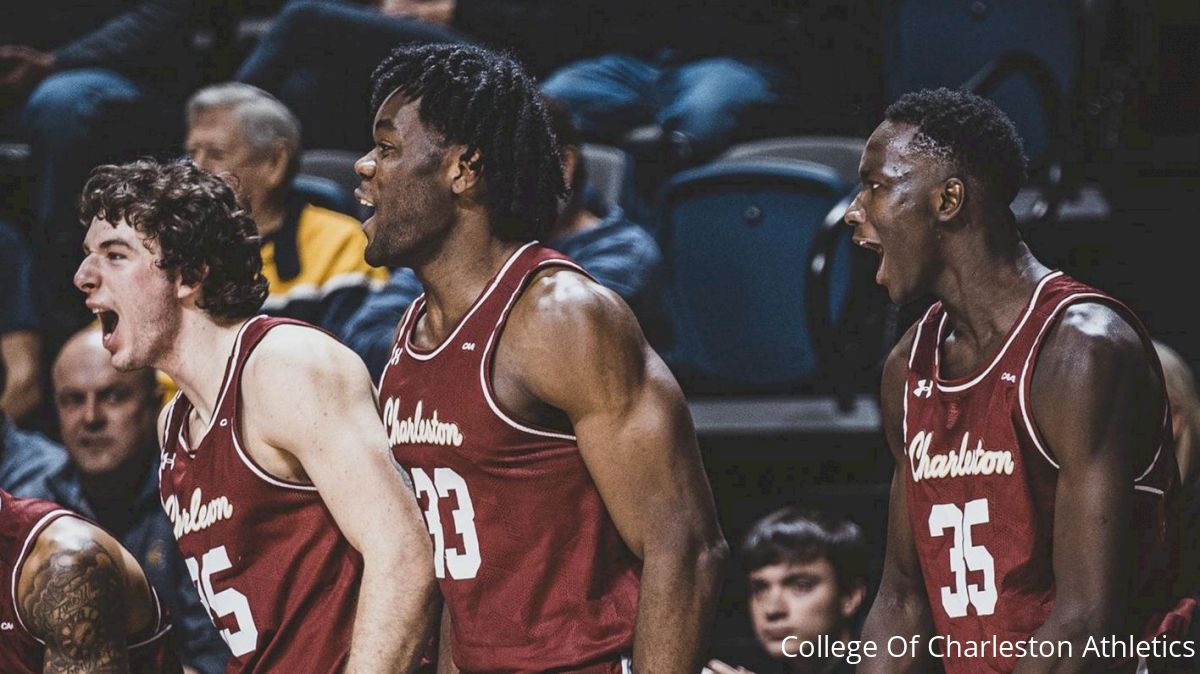 The holiday tournament season saw some noteworthy performances out of the Colonial Athletic Association, including Northeastern and Delaware making runs to the championship games of the Paradise Jam and Gulf Coast Showcase.
Tournament week also featured impressive individual performances, like Towson guard Nicolas Timberlake's 25-point outpouring in a Tigers win over New Mexico in Las Vegas and CAA Player of the Week Cam Holden's all-around standout play.
CAA teams return from all corners of (and beyond) the nation to campus and traditional non-conference play. Schedules start slowing down by the second week of December as Finals Week looms, so the games from Nov. 30 through Dec. 5 mark some of the last preparations for the rigors of conference play.
Tulane At Charleston
College of Charleston emerged through the first few weeks of the 2021-22 season, and just a few games into the Pat Kelsey era, as one of the most exciting teams in the country. The Cougars play with the fastest adjusted tempo per KenPom.com metrics, which has resulted in them scoring at least 79 points in four games thus far.
Charleston's up-and-down, high-scoring style stands in stark contrast against Tulane, which ranks No. 226 in adjusted tempo and No. 207 in adjusted offensive efficiency. The Green Wave have scored fewer than 70 points in half their games—though they hit their season-high in an overtime win over Charleston's CAA counterpart, Drexel.
Jaylen Forbes scored 30 against the Dragons, and is one of three Green Wave scorers averaging at least 14 points per game. Jalen Cook sets the pace for Tulane at 21.2.
With John Meeks, Reyne Smith and Brenden Tucker leading the way all in double-figures for Charleston, the Cougars' have balanced firepower. It should make for a high-scoring, exciting non-conference matchup.
Norfolk State At UNC-Wilmington
2021 MEAC champion Norfolk State has built off the momentum of its first NCAA Tournament since stunning Missouri in 2012. The Spartans—winners of a thrilling First Four matchup with Appalachian State last March—are off to a 7-1 start with much of last year's Tournament roster intact. Joe Bryant Jr. is a savvy playmaker and skilled shot-maker for the Spartans.
Among Norfolk State's first seven wins including a 17-point defeat of the Colonial's William & Mary Tribe.
UNC-Wilmington had its trip to last week's Zootown Classic in Missoula, Montana, cut short due to a flu outbreak. The Seahawks opened with a loss to Southern Miss, which snapped their winning streak after defeating Coastal Carolina and Delaware State.
Princeton Vs. Hofstra
At 5-2 with wins over Power Five conference opponents South Carolina and 2021 Elite Eight participant Oregon State, Princeton looks like a potential Ivy League championship contender.
Hofstra's impressive start against a tough schedule that included 2021 Final Four team Houston, the Big Ten's Maryland Terrapins and Rick Pitino's Iona Gaels has the Pride looking like challengers for the CAA title in Speedy Claxton's first year at the helm.
With both Hofstra and Princeton having the look of potential NCAA Tournament teams, this non-conference showdown could have important implications for Selection Sunday four months from now. With or without March stakes, both teams rank in the top 100 nationally for adjusted offensive efficiency per KenPom.com metrics, so expect a well-played game on both ends of the court.
Long Island At Towson
After an impressive showing in Las Vegas with a win over New Mexico and a competitive matchup against undefeated San Francisco, Towson is home for the first time since Nov. 23.
The Tigers' new-look roster heading into the season has meshed quickly and effectively, with newcomers Holden and Terry Nolan Jr. complementing the returner Timberlake as Towson's big three.
Northeast Conference foe Long Island will give Towson a test before the Tigers head to Ohio for a pair of marquee road games at Kent State and Ohio State.
Colgate At Northeastern
High-scoring Colgate has emerged as one of the most intriguing mid-major teams early into the 2021-22 season. Among the Raiders' eye-catching performances is a 100-85 win over Syracuse.
Northeastern counters Colgate's top 100 offensive efficiency with a defense ranked in the KenPom top 100.
The matchup with Colgate tips off an absolute gauntlet for Bill Coen's Huskies ahead of the holiday break. Northeastern plays the Raiders, UMass, Davidson, Vermont and St. Bonaventure, all of which are either in or just beyond the KenPom.com top 100.
High Point At Elon
A regional pairing brings High Point and legendary head coach Tubby Smith to the Schar Center in Elon.
The Panthers visit is part of a stretch of high-profile, in-state contests over the next two weeks. Elon starts it off seeing UNC-Greensboro on Nov. 30, then on Dec. 11 takes on North Carolina.
UMBC At Delaware
The most famous underdog in NCAA Tournament history UMBC comes to Delaware boasting a Power Five victory this season, an 87-77 defeat of Pitt, and one of the nation's most aggressive 3-point shooting offenses.
The Retrievers attempt nearly half of their field goals from beyond the arc, and each of Keondre Kennedy, Darnell Rogers, Jacob Boonyasith and former William & Mary guard LJ Owens hit with consistency.
UMBC marks the conclusion of a loaded week for Delaware. The Blue Hens also face LIU and Delaware State, coming off an impressive showing at the Gulf Coast Showcase.
Dylan Painter, Kevin Anderson, Ryan Allen and Andrew Carr are all shooting better than 55 percent from inside the 3-point arc, and Delaware boasts the nation's 15th-best 2-point field-goal percentage. The clash of offensive styles will shape this intriguing, regional matchup.