2021 Battle 4 Atlantis Women's Tournament
UConn's Nelson-Ododa Wants One More Shot At Championship
UConn's Nelson-Ododa Wants One More Shot At Championship
Nelson-Ododa, a Second-Team All-Big East selection, averaged 12.0 points and led UConn with 7.8 rebounds per game last season.
Nov 30, 2021
by Stephen Kerr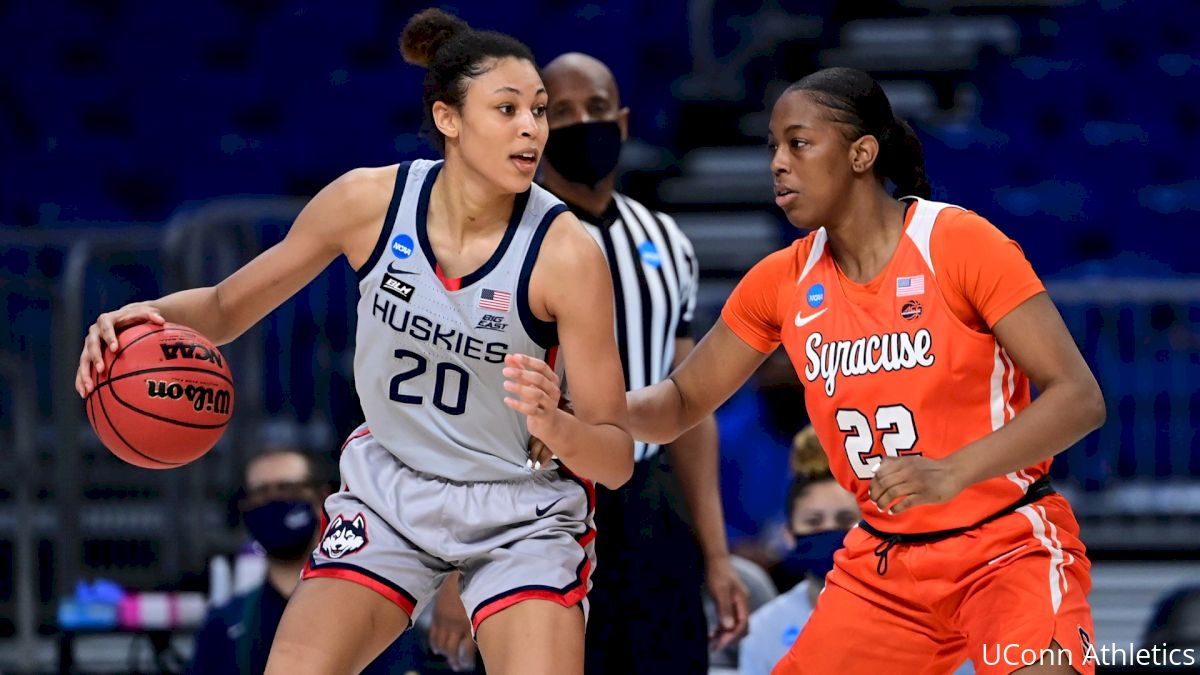 It was one of the most surreal moments following a game Olivia Nelson-Ododa had ever experienced as a UConn Huskie. The team had just seen their 2020-21 season come to a screeching halt with a 69-59 loss to Arizona in the NCAA Final Four.
It marked the fourth straight loss for the Huskies in the national semifinals. The game was especially frustrating for Nelson-Ododa, who was 0-of-7 from the field and 1-of-4 at the free throw line in 21 minutes of action.
Performances like that have been the exception rather than the rule for both Nelson-Ododa and the Huskies, who finished 28-2 overall and went unbeaten in the Big East, winning the regular season and conference tournament championships.
Nelson-Ododa, a Second-Team All-Big East selection, averaged 12.0 points and led UConn with 7.8 rebounds per game. In a 69-67 win over Baylor that sent the Huskies to their 13th consecutive Final Four, she had five blocks, eight rebounds and four assists.
But that one loss…
"It still stings," said the 6-5 Nelson-Ododa, one of five Huskies named to the John R. Wooden Award Watch List this season. "It's still painful for us. But at the end of the day, we've been trying to use that as a motivating factor through our summer workouts and preseason. Now, we're here in the actual season. I think it's good for us to have that reminder so we can do everything in our power to not let that happen again."
Last season was strange in many respects, from COVID-19 protocols to no fans in the stands. Head coach Geno Auriemma was as impressed with Nelson-Ododa's leadership off the court as her play on it.
"She's pretty quiet, I think she likes to lead by example more than vocally," Auriemma said. "Olivia had to step up a lot last season. We didn't have any seniors on the team, we had a lot of new guys and it was a really weird year. So her and her classmates had to kind of come together and lead the team."
That leadership was demonstrated by Nelson-Ododa's desire to improve her game over the summer. She focused on becoming physically stronger, expanding her shooting range, and being mobile on defense. Coming from a basketball family, hard work and discipline were core values she learned at an early age. Her father, Sebastian Ododa, played at Huntington University and for the Kenyan National Team. Her brother Alonso played for Richmond and Pitt, and is currently in the NBA G League. Her mom Heather was a high school player. Olivia competed in soccer, gymnastics and tennis. But it didn't take her long to develop a passion for basketball.
"My parents always instilled that into me," she recalled. "We were always watching it, whether it was college games, NBA games, WNBA, just about everything. My older brother was playing at the time, too. Being able to go to his games and watch him play, [basketball] was in the family all the time."
Ranked as a No. 5 recruit in the 2018 class by ESPN and Blue Star Report, Nelson-Ododa was a McDonald's All-American and four-year starter at Winder Barrow (Georgia) High School. As a sophomore, she led the team to the state championship game, averaging 17.0 points. In her freshman year, she averaged 13.0 points and 9.0 rebounds per game.
At the 2019 FIBA AmeriCup, Nelson-Ododa helped Team USA win gold, and captured 3x3 gold at the Pan Am Games that same year. She also represented the U18 National Team in 2018 and won gold at the FIBA Americas U18 Championship in Mexico City.
"That was incredible, being able to go with the National Team and play with them, practice with them and get good insight on how the pros go about their day-to-day business and how they operate," Nelson-Ododa said.
The first time Auriemma saw Nelson-Ododa in action, he remembers a long, raw high school kid who could develop into a special player.
"It was clear she had a lot of potential," he recalled. "She was a decent shooter and defender and she was a good kid from a great family."
Nelson-Ododa considered Georgia, South Carolina, Duke and Florida State. She was certainly impressed by the winning tradition at UConn, but she was in no hurry to make a decision.
"I definitely wanted to take my time during the recruiting process just because it was so new for me," she said. "I remember vividly when Breanna Stewart was here. That's when I would see [the team] more in the media. I remember when Maya Moore was there too, because she's from Georgia, kind of close to where I live. I was able to hear about her story and Breanna Stewart's story and thinking, 'wow, I could really see myself playing for a program like that."
Nelson-Ododa appeared in all 38 of UConn's games as a freshman, including four starts. She averaged 4.4 points and 3.8 rebounds per game and was second on the team with 54 blocks. She more than doubled her scoring as a sophomore with 10.9 ppg, and ranked fourth nationally with 100 total blocks.
With all the basketball she watched growing up, Nelson-Ododa has emulated parts of her game after players like UConn's Tina Charles and LSU's Sylvia Fowles, who was drafted by the WNBA's Chicago Sky in 2008. Since high school, she has improved steadily on her timing, shot-blocking, moving her feet on defense, and being mobile in the post.
"Liv is a great shot blocker," Auriemma said. "She's really long, she's gotten stronger each year. She can make jump shots, she's been working on her perimeter scoring."
Nelson-Ododa feels she has also grown as a person during her time at UConn, and has learned to take care of the small details. As painful as the Arizona loss still is, she believes it has also deepened the resolve of the entire team.
"It's not just talking about (the loss) and moping over it, but really taking it into our own hands as something we need to change," Nelson-Ododa explained. "That's what really builds our chemistry is realizing people are putting in the effort in their own way so we can be a better team."
UConn has won 11 national championships, the last coming in 2016. That was before Nelson-Ododa's arrival. She knows this may be her final shot at getting one before she leaves the program. But if she learned anything from last season's disappointment, titles don't come easily.
"I feel good about the way our team is progressing, but we try and take it day by day and not think too much in the future about if we can win a championship or what's going to happen in March," she said. "We're just trying to focus on what we need to do to get better today."