2021 Naismith Basketball Hall of Fame Classic
Naismith Hall of Fame Classic: Players To Watch From Each Team
Naismith Hall of Fame Classic: Players To Watch From Each Team
Gavin Kensmil and Iverson Molinar are among the players to watch at the tourney.
Dec 1, 2021
by Briar Napier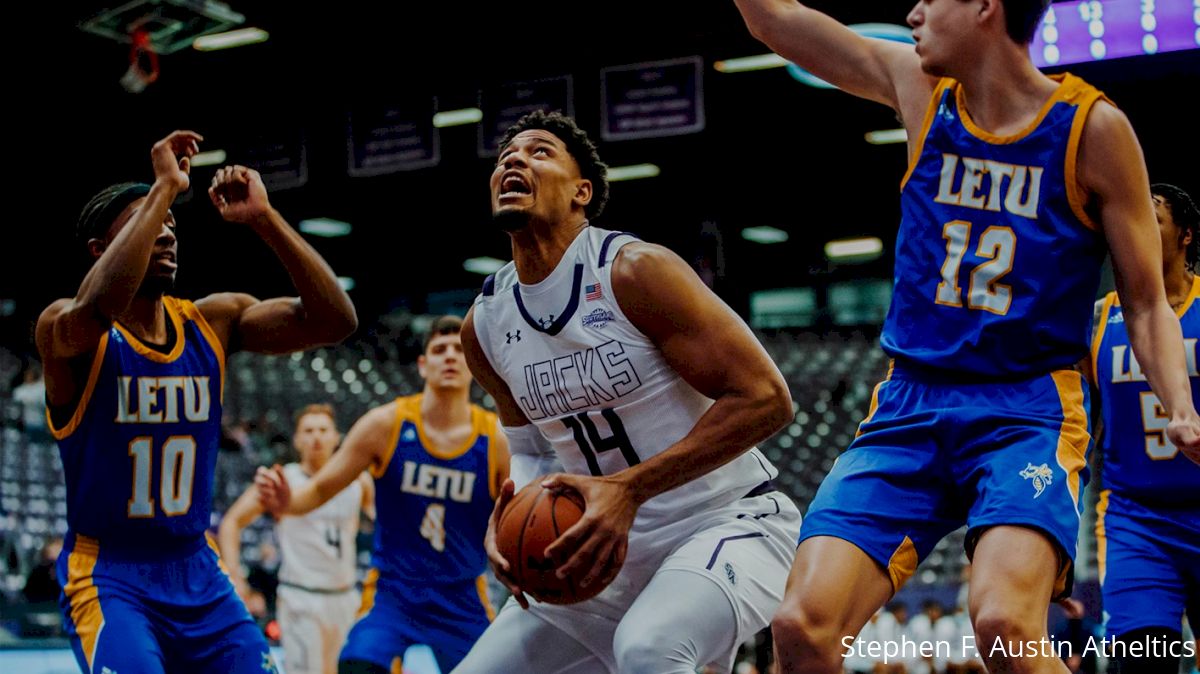 As winter grows colder, the quality of college basketball gets better.
It helps that this year's field at the Naismith Hall of Fame Classic is talented enough already.
Remember many of the names in the six-team field come March as potential bracket-busters and title hope-spoilers as mid-majors and Power 5 schools alike will do battle in a one-day event Dec. 11 inside Dickies Arena in Fort Worth, Texas.
There's plenty of names that can and will make an impact in the Lone Star State that weekend, but six players in particular—one from each team—are much more likely to stand out. Check out the players to watch from each team in the Hall of Fame Classic.
NOTE: All times listed are in Central Time and are subject to change.
Dec 11, 2021, 9:30 PM UTC
Iverson Molinar, 6-3, Jr. (Mississippi State)
To be a Preseason All-SEC First Team selection as a guard in a conference loaded with them, you've got to be somewhat of a baller. Sure enough, Molinar is worthy of being in the conversation with the SEC's elite backcourt menaces like Vanderbilt's Scotty Pippen Jr. and Kentucky's Sahvir Wheeler. A bit of an under-the-radar player that doesn't post ridiculous numbers—his career scoring high with the Bulldogs is just 25 points—the Panama native makes up for it by being remarkably consistent, averaging over 16 points a game both this past year and this one while being the league's current leader in free throw percentage (94.4 percent). Molinar's early-season leap as a passer, as he's currently averaging double the amount of assists per game as he did last year (2.3 to 4.6), deserves plaudits, too. He was named to the NIT's All-Tournament team this past year after Mississippi State made a run to the championship game and could very well be a favorite for getting a similar award at the Hall of Fame Classic.
When to watch: vs. Colorado State, 1 p.m.
David Roddy, 6-6, Jr. (Colorado State)
Whether the current tear Roddy is on is sustainable is anyone's guess, but the Rams probably don't mind. Ignoring a seven-point night in CSU's season-opening win over Oral Roberts, the Minnesotan has scored at least 27 points in four of his last five games, including a masterful 36-point performance against Creighton on Nov. 21, a career high, spurred on by seven of the Rams' 20 3-pointers in total. His green light to shoot from coach Niko Medved has clearly shone brighter this season as he's attempting more shots than ever before in college, but Roddy is making more of them, too, averaging a career-best 61.2 percent from the field thus far. A dogged rebounder (9.4 boards per game last year) and returning All-Mountain West nod, he and teammate Isaiah Stevens form one of the nation's most formidable backcourt duos regardless of conference as the Rams—whose NCAA Tournament bubble burst last season as they were sent to the NIT—are one of the favorites to win the league. But before that can be decided, Roddy has some courts to take over as he continues a historic scoring spree.
When to watch: vs. Mississippi State, 1 p.m.
Tylor Perry, 5-11, Jr. (North Texas)
There's a small sample size with the diminutive Perry, a transfer from JUCO powerhouse Coffeyville (Kan.) who has played a grand total of five games with the Mean Green. But, in watching him, it doesn't take long to know that he's the real deal. The Oklahoma native hasn't started a single game at the Division I level but is still North Texas' current leading scorer at 17.8 points a night, with his game-high 23 points against mighty Kansas looking especially impressive against the likes of Ochai Agbaji and Remy Martin, two of the Jayhawks' All-America candidates. Perry does a great job of not being bullied around due to his size, averaging less than a turnover over roughly 30 minutes of play a night while being a pure scorer in the process; just take one look at his current field goal (54.9 percent), 3-point (51.9 percent) and free throw (86.4 percent) percentages as of Saturday. The Mean Green are currently just 2-3 with two losses by single digits—and a 12-point loss to Kansas—and will hope that they're due for some luck playing a tournament in their home state. With Perry running the show, those aspirations become much easier to attain.
When to watch: vs. UMass, 3:30 p.m.
Darius McGhee, 5-9, Sr. (Liberty)
The idea that McGhee's role is made easier by the fact Liberty coach Ritchie McKay runs one of the country's slowest offenses couldn't be further from the truth. In fact, you don't win your conference's Player of the Year award without catching a few eyeballs, especially at 5-9. McGhee has improved upon his scoring every year in Lynchburg, an accomplishment that's resulted in 18.2 points per night through five games this season. He was the Atlantic Sun's 3-point king (40.8 percent) last season but is a three-level scorer that led the league in total field goal attempts, as well. Throw in elite defending (his 93.1 defensive rating was tops in the A-Sun last season) and athleticism—he averaged half of a block per game last year, an incredible feat for a man his size—and McGhee is as complete of a player as you can get, a rock in the starting lineup that'll be a force behind the Flames' push for a fourth straight conference title. Considering McGhee was heavily involved in the previous three already, McKay's trust in his point guard is unmistakable.
When to watch: vs. Stephen F. Austin, 6 p.m.
Gavin Kensmil, 6-7, Sr. (Stephen F. Austin)
The Lumberjacks have specialized in pulling rabbits out of hats in the recruiting cycle over the past decade, nabbing overlooked players and developing them into mid-major stars. Prior coach Brad Underwood did it, and current coach Kyle Keller is following the same trend with Kensmil. The big man from Suriname played less than five minutes per game in his freshman season at Iona, then sat a year out due to transfer rules before he could suit up for SFA. Turns out there was a heck of a talent sitting on Iona's bench. Kensmil has averaged double-figure scoring numbers in each of his three seasons with the Lumberjacks, twice being named All-Southland as his field goal percentage last year (63.2%) led the league. SFA is up for a new challenge this season as it plays its first season in the WAC, but the field it'll face in the Lone Star State will be a proper test for a league it's expected to be in the running to win. And if Kensmil keeps up his efficient pace, it'll be hard to see most teams being able to contain the Lumberjacks well.
When to watch: vs. Liberty, 6 p.m.
Trent Buttrick, 6-8, Sr. (UMass)
College basketball diehards might remember Buttrick as a sparingly-used bench piece over four years with Penn State, only starting two games in his career for his home state school as he was never able to make a major impact with a Nittany Lions squad playing in a loaded Big Ten. So it must've felt extra special for Buttrick, now a bonafide centerpiece of the roster at UMass, to beat Penn State on Nov. 15 after posting probably the best performance of his career: 19 points, nine rebounds, six assists, three steals and two blocks. However, that night was by no means a one-off as Buttrick is near the top of the Minutemen's current scoring leaders per game (15.1), along with guard Noah Fernandes, with Buttrick scoring in double figures in all seven games of his UMass career so far. A lanky forward with underrated floor-stretching capabilities (36.1 percent from 3-point range this season), Buttrick is fitting the mold of a player that's not elite in one area but rather really, really good in a lot of others. The grind of Atlantic-10 Conference play will likely reveal if Buttrick's renaissance is here to stay, but so far, the early signs are encouraging.
When to watch: vs. North Texas, 3:30 p.m.