2021 West Palm Beach Invitational - Keiser
South Florida Preview: Bulls Finally Ready To Play Spoiler
South Florida Preview: Bulls Finally Ready To Play Spoiler
With a swarming defense, glass-cleaners on the boards down low and elite distribution, the Bulls should romp through much of its remaining schedule.
Dec 3, 2021
by Briar Napier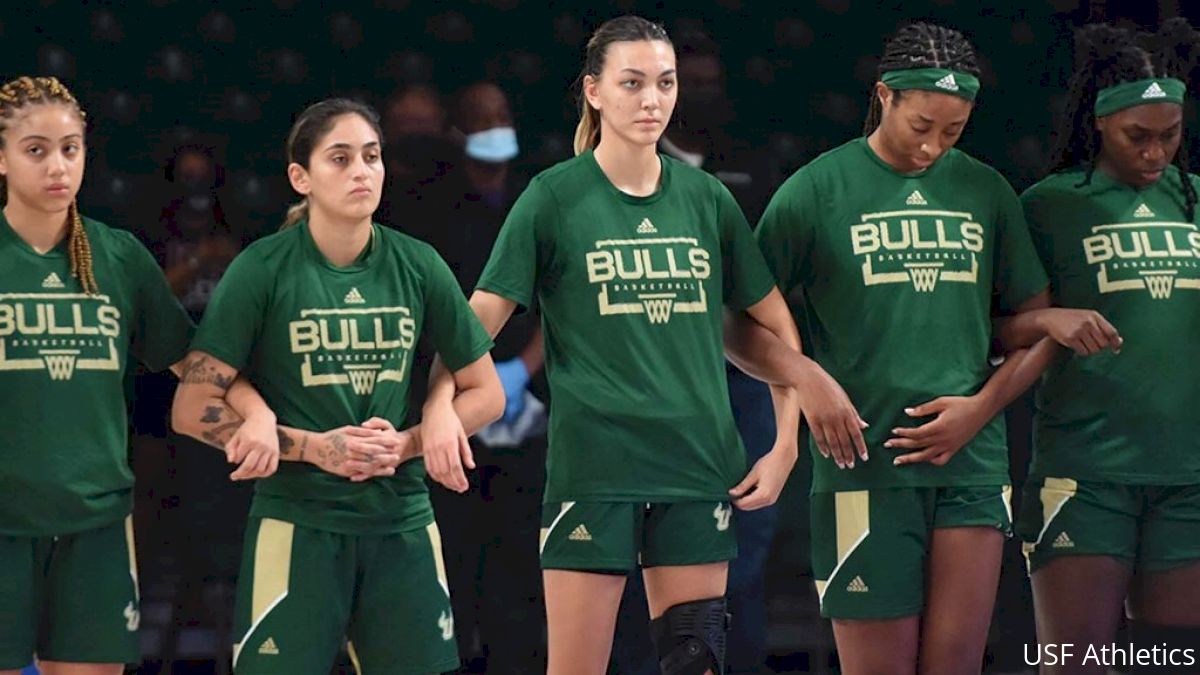 On the surface, Stanford's 57-54 loss to South Florida—just months after the Cardinal won a national championship—seems shocking.
If you've been watching South Florida closely, the result shouldn't shock you that much.
Sure, Stanford was favored coming into the game (Her Hoop Stats listed the Cardinal as a shade under 14-point favorites), but the Bulls are battle-tested already this year. With a win over Oregon, a narrow loss at Tennessee and leading UConn after the third quarter in the Battle 4 Atlantis semifinal, USF is not a program to be taken lightly at all.
With a swarming defense, glass-cleaners on the boards down low and elite distribution, the Bulls should romp through much of its remaining schedule and stay around its current No. 13 ranking in the AP Top 25 poll, one spot off its program-high set last season. And with the likes of Ole Miss and West Virginia remaining on the non-conference schedule, there are chances for more noise to be made, as well.
What's made the Bulls click this season and play with the best of the best in college hoops?
Offense
Take one peek at the Bulls' average points per night (63.1) through seven games and the untrained eye would probably write them off as a middle-of-the-road scoring team. But USF is a well-engineered offense for how little it actually scores; plus, wins over the defending national champs don't lie.
Even while facing a gauntlet of opposition in non-conference play against Tennessee, UConn, Oregon and Stanford, the Bulls are still a top-20 unit nationally in fewest turnovers per game (12.7) and snag an average of 16.1 offensive rebounds per outing to rank 17th in the country. The Bulls aren't efficient shooters, shooting just 36.1 percent from the field as of Friday, but that isn't a new issue for coach Jose Fernandez as they've ranked in the bottom-half in the country in the stat every season since 2018-19.
Pace and tempo are a much more important facet of the game for USF, as it has an assisted shot rate (66.3%) accounting for nearly two-thirds of its total shot attempts—revealing a clear emphasis on passing and quality takes. It's a type of offense where guards who value possession thrive: Elisa Pinzan was near the top of the national assist charts last season and is well on track to do so again, averaging 6.0 dishes a night so far this year even against the Bulls' loaded schedule. And many of those dimes are going to fellow backcourt mates Sydni Harvey and Elena Tsineke, who lead USF at the moment with 14.9 and 13.8 points per game, respectively.
Defense
Here's a quick trivia question: What three schools have held UConn to 60 points or fewer since the beginning of the 2020-21 season? Arizona did it in the Final Four this past season, as did South Carolina in this year's Battle 4 Atlantis title game. The other answer is South Florida, which did it in the same event's semifinal (the Huskies won the game 60-53, however).
It's more than fair to call the Bulls an elite defense. Even while facing up against some of the country's most polished offenses, most players are no match for a guarding unit that currently forces steals on 11.9 percent of possessions (a top-50 rate) and is limited to just 36.7 percent shooting from the field this year—again, a very impressive number considering the opposition that USF has played.
It helps that forward Bethy Mununga vacuums in defensive rebounds on a nightly basis. Take the Stanford win, for instance, where Mununga's absurd tally of 23 rebounds (15 defensive) more than doubled the number All-America candidate Cameron Brink had (11) for the Cardinal. The 54 points Stanford put up against USF, by the way, tied for its lowest scoring output in a game since Feb. 10, 2019, when it only managed 48 points against Sabrina Ionescu's Oregon. The Bulls' defense was a unit this past season that ended up finishing with an average points per game allowed of 55.4, while holding opponents to just 25.4 percent from 3-point range and an average of just 0.7 points per play. Once conference play begins and USF's schedule eases up, expect it to climb up the rankings on the back of suffocating shot denial.
X-factor
Fernandez's 21-year tenure in Tampa has been truly historic, with the coach having taken the Bulls to six NCAA Tournaments over the past decade. However, none of those tickets to the Big Dance have extended past the first weekend and into the Sweet 16. What gives? Tough draws may be one reason—the Bulls have never been higher than a No. 6 seed in the tourney—but it comes more down to USF not really being able to play the defensive-minded game it wants—like when it allowed 102 points in an upset to No. 11 Buffalo in 2018—or when it does, the Bulls don't score enough, like in a 60-52 loss to Louisville in 2015.
It's been a matter of pulling off a complete game when it counts for Fernandez's crew over the past few seasons. But this time around beating the reigning national title winners that return numerous starters from that team requires about as perfect of a performance as you can get. Whether those types of nights can last will remain to be seen; USF is widely expected to run through the American Athletic Conference and be its top representative in the NCAA Tournament. And with perhaps its best team in school history, time is of the essence to get somewhere with that roster.