2021 Jerry Colangelo Classic
Jerry Colangelo Classic Preview: Aztecs, Gaels Square Off
Jerry Colangelo Classic Preview: Aztecs, Gaels Square Off
Some of the elite mid-majors of the country that could very well be bracket-busters come springtime will do battle in the desert.
Dec 3, 2021
by Briar Napier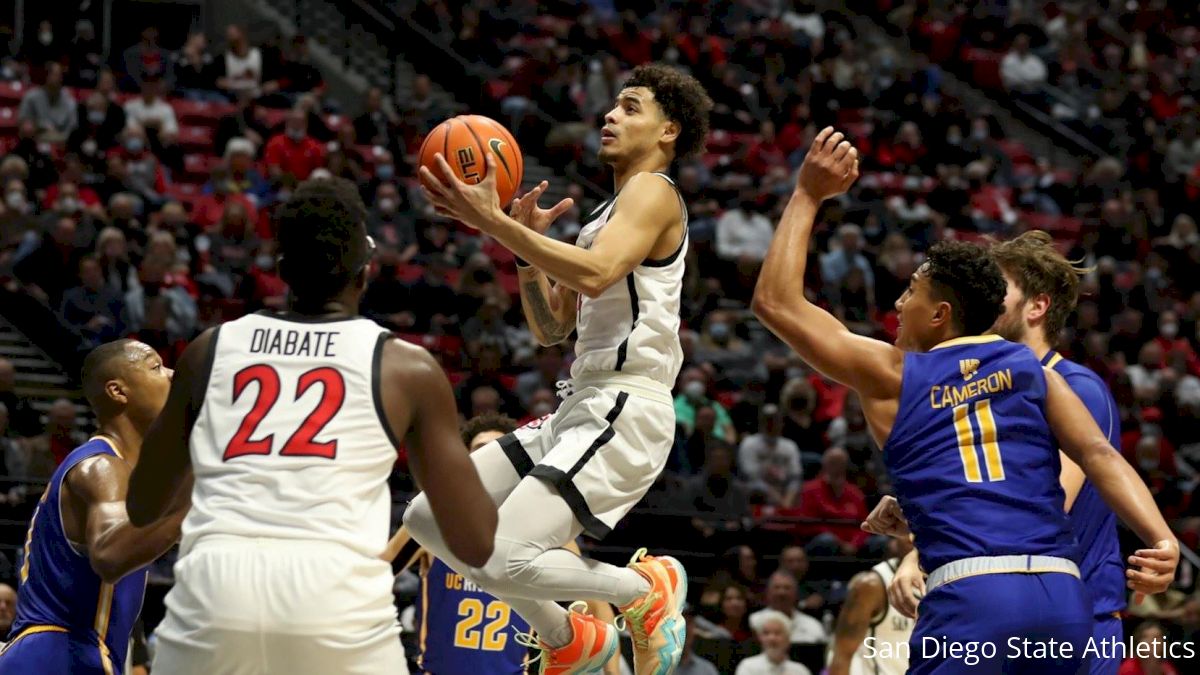 There's a lot to like about the Jerry Colangelo Classic.
A vaunted setting at the Footprint Center in downtown Phoenix, home of the NBA's Phoenix Suns. Tantalizing matchups. And a select few are being streamed live on FloSports.
Some of the elite mid-majors of the country that could very well be bracket-busters come springtime will do battle in the desert. Who might those be and what should viewers be looking out for? Look no further in this preview for the FloSports-streamed games of the Jerry Colangelo Classic.
San Diego State Vs. Saint Mary's
Saint Mary's coach Randy Bennett has almost always made sure his roster has had a distinct international flair. This season is no different as Gaels hail from Turkey, New Zealand, Lithuania, Estonia and Australia along with stateside recruits, but make no mistake, Bennett doesn't do this for show. Many of these guys can ball: Kiwi Dan Fotu is a senior stud, averaging 14.5 points per game this season, and is one of the anchors of Bennett's defensive style that aggressively denies passing lanes and attempts to run the show at a slow, methodical pace. Fotu is one of four players on the team averaging double figures in scoring along with Tommy Kuhse, Matthias Tass and Logan Johnson, all of which are seniors that are hungry for their first return to the NCAA Tournament since their freshman seasons.
But there are few coaches, regardless of level, that have been able to run a program like Aztecs coach Brian Dutcher, who since the beginning of the 2019-20 season is a combined 58-9. Cal transfer and guard Matt Bradley has been one of the more shrewd pickups of the portal, with the former top-100 recruit on pace to average over double figures in scoring (13.0 this season) and 40 percent shooting from the field for the fourth straight year. Backcourt mate Trey Pulliam, who started every game for SDSU's tourney team a year ago, is still around, too, with the duo making up two of the team's seven seniors.
Two very high-quality mid-majors that should be forces come March, don't expect many youth-induced growing pains in this one: both teams are highly-experienced with rosters full of tournament- and high-level careers and it would be a surprise if either aren't in the running for their separate conference championships at regular season's end.
Grand Canyon Vs. San Francisco
Following a move to Division I in 2014 under former NBA All-Star Dan Majerle, the Lopes' administration took a risk by canning him following an under .500 season in 2020 to bring in former Vanderbilt coach Bryce Drew. Drew made good on the school's trust in him as he took Grand Canyon to its first-ever NCAA Tournament this past season as a No. 15 seed. It wouldn't be a surprise if the Lopes are in the mix at the Big Dance again.
All-WAC 7-footer Asbjorn Midtgaard was a big loss (literally and figuratively) from last season, but Grand Canyon is still 6-1 behind the might of the much smaller Jovan Blacksher (15.6 points, 4.3 assists per game), the Lopes' current leading scorer that stands at 5-11. The fact that GCU remains dogged on the offensive glass (42.9 percent offensive rebound rate, third nationally) is also a sign that Midtgaard's move to the pro level hasn't affected them as heavily as expected.
The Lopes will take on San Francisco, in which coach Todd Golden has become known in coaching circles for an unusual reliance on math and probability to influence his in-game strategies. His calculations are winning ones this season as the Dons are 8-0 (as of Thursday afternoon) and expected to be real forces in the West Coast Conference, even with mighty Gonzaga's long-tenured perch atop the throne. Do yourself a favor and check out guard Jamaree Bouyea, a knockdown shooter (40 percent from 3) averaging 17.9 points a night, and forward Yauhen Massalski, a San Diego transfer that's posting a career high 12.4 points a night to go along with a team-leading mark of 6.5 rebounds per game.
San Diego Vs. Northern Arizona
Unlike its noisy neighbors across town at San Diego State, San Diego has struggled to find consistency under the tutelage of coach Sam Scholl, who since a 21-15 season in 2018-19 has gone 16-39. Playing just 14 games during the pandemic-ravaged season last year didn't help growth and development, painting a clearer picture as to why the Toreros' two best players at the moment are transfers.
Denver transfer Jase Townsend was a 19.2 points-per-game scorer last year on a very, very bad Pioneers team that won one game against a Division I opponent. This season on a much-better San Diego, Townsend hasn't had to shoulder as much of the scoring load, posting a more modest number of 12.2 points per night through nine games as of Thursday afternoon. Forward Marcellus Earlington traded in the Big East for the West Coast Conference in moving in the offseason from St. John's, with the switch paying off thus far as he's notching career bests in points, rebounds and minutes.
Northern Arizona, meanwhile, has got some problems it needs to sort out before Big Sky Conference play comes along. A leaky defense that lets a lot of opposing shots go up, the Lumberjacks can give up points as much as they can score them, such as in an 89-87 win over UT Rio Grande Valley last month. In one of the weirder transfers of the offseason, former Virginia Tech guard and top-100 recruit Jalen Cone traded Blacksburg for Flagstaff after starting seven games in two years for the Hokies. Cone is putting up career numbers in almost every category as the focal point of NAU's offense. Forward Nik Mains looks to be having a breakout season as well in Year 4 with the Lumberjacks, posting numbers of 12.1 points and 5.3 rebounds through seven games.