2021 Oregon State vs Villanova - Women's
BIG EAST Games Of The Week: Villanova Hosts Oregon State
BIG EAST Games Of The Week: Villanova Hosts Oregon State
Butler looks for first win as Siegrist-less Villanova hosts Top-25 foe, and La Salle takes on St. John's.
Dec 6, 2021
by Briar Napier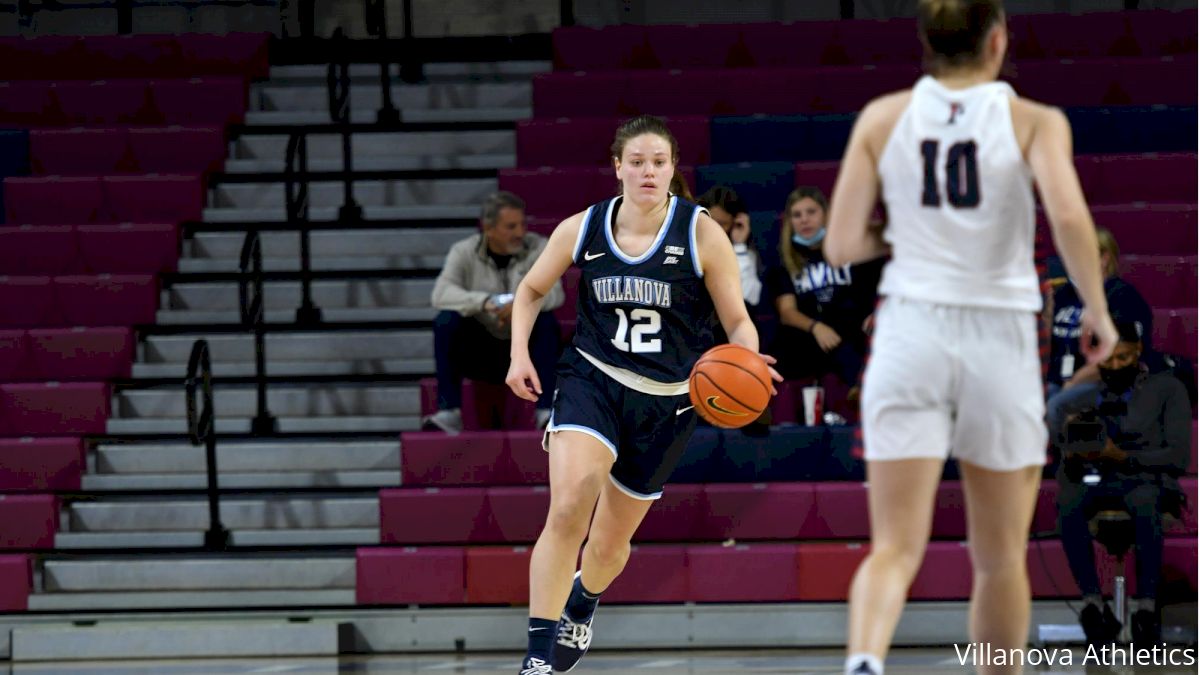 BIG EAST Women's Basketball Games of the Week, Dec. 6 - 12: Butler looks for first win as Villanova hosts top-25 foe
As the core of the women's college basketball slate gets under way, there are still some teams—particularly in the BIG EAST —who are attempting to iron out miscues and misfortunes.
Some, like Butler, don't have a win yet as of Thursday. Others, like Villanova, are trying to cope with the injury of an elite player. All aren't at the points where they want to be quite yet.
In another week of BIG EAST women's basketball action on FloHoops, check out the three best matchups to catch this week on your devices.
Denver Vs. Butler
Why in the world should a game featuring Butler—who has started the 2021-22 season 0-6 with an average loss of 18.8 points—be tabbed as a must-watch this week? Because the Bulldogs are a fairly potent offense and have a solid chance to pick up what could be their first non-conference win of the year (Butler's two BIG EAST games before playing Denver, against DePaul and Marquette, remain to be seen).
The Bulldogs have an incredible team 2-point percentage at 54.4 percent—a rate that's 12th in the country as of Thursday and currently above several elite programs—but that's been made for naught as Butler turns the ball over a lot, doesn't rebound well and has a pretty abysmal defense. Getting Furman transfer and second-leading scorer Celina Taborn back, who missed three games, has helped matters. But if there's a team left on the non-conference slate that Butler can possibly get away with good scoring and shoddy defense, it's probably Denver.
The Pioneers' steal rate (6.1 percent) is one of the lowest in the country, meaning that the Bulldogs will likely have an easier time holding onto the ball, while Denver's total rebound rate (43.8 percent) is actually lower than Butler's, albeit as both hang outside the top-300 nationally. Where the Pioneers can be dangerous is beyond the 3-point line as they shoot a lot of them (45.8 percent 3-point rate, fifth nationally) and make them at a decent clip (32.6 percent), with guard Anna Jackson in particular hovering around a 40 percent deep shooter over the past two seasons. Things could get entertaining between the two in Indianapolis, and it's worth a watch to see if the Bulldogs can get over the hump for what could be their first win of the year.
La Salle Vs. St. John's
Being away from home has clearly done a number on St. John's thus far this season as the Red Storm are 1-4 outside of Carnesecca Arena in New York City, going a disappointing 0-3 and dead last in the Gulf Coast Showcase on Thanksgiving week after defeats to Penn State, Charlotte and UCLA. Fortunately for coach Joe Tartamella's team, it'll get a three-game home stand that's capped off with a voyage from the Explorers later this week.
St. John's guard Leilani Correa has been awesome to watch so far this year, averaging 18.0 points per game as she's looking to pick up where she left off from her All-BIG EAST First Team selection in 2020-21. But she's had to carry more of the scoring weight as forward Rayven Peeples (15.0 points per game this season) nurses a knee injury and has been out indefinitely since Nov. 17.
La Salle is an interesting school to play, however, as it attempts many 3-pointers (221, third nationally) and gets many of the misses back on offensive rebounds (15.3 per game as a team) making for a one-dimensional offense on the surface but a method that can be killer if the Explorers get going. And the shooters come from everywhere, too: six La Salle players average at least 2.9 triples a game, with leading scorer Kayla Spruill being the best at knocking them down (40 percent). The senior guard/forward is a tricky player to guard, averaging 15.0 points and 10.6 rebounds per game while simultaneously being a great shooter and almost perfect from the free throw line (95.8 percent). Stopping Spruill means the Explorers' options become much more limited, however, leaving it up to Tartamella to devise a unique game plan that covers all bases.
Oregon State Vs. Villanova
This is the clear BIG EAST blockbuster of the week on FloSports. The Beavers—ranked in the AP Poll but in danger of fading out after two straight losses and a close win over lowly Pacific—play a Villanova team that's been managing to get results despite having its star out due to injury.
Forward Maddy Siegrist, arguably the BIG EAST's best player outside of UConn when healthy, has been nursing a hand/wrist injury that's kept her out of the Wildcats' past four games, a stretch in which Villanova has surprisingly gone 3-1. Forwards Lior Garzon and Brianna Herlihy have picked up the slack in her place, with Garzon especially looking at a breakout year as she has currently almost doubled her scoring average from last season (8.8 to 16.8 per game). Herlihy, meanwhile, had been a double-figure scorer from last year already, but an evolving 3-point shot—at 46.2 percent this season compared to 26.8 percent a year ago—could add another facet to her game that makes Villanova even more dangerous, especially once Siegrist returns.
But Oregon State's Talia von Oelhoffen and Taylor Jones make up just about as potent of a one-two at the guard and forward slots as you can get, combining to average 28.3 points and 8.5 rebounds per game. However, those two top Beavers can be stopped, with Michigan holding von Oelhoffen and Jones to just six points apiece as the Wolverines secured a nine-point win over the Beavers on the day after Thanksgiving. Considering the Wildcats have two other games this week before Oregon State visits Philadelphia, Siegrist's recovery timetable could potentially bring her back into the fold as the season goes along. But even without her, the Wildcats are more than capable of pulling off a home win over the Beavers.