2021 Naismith Basketball Hall of Fame Classic
Stephen F. Austin Preview: Blistering Pace Is Team's Superpower
Stephen F. Austin Preview: Blistering Pace Is Team's Superpower
The Lumberjacks are looking to take the WAC by storm in its first year in the league.
Dec 7, 2021
by Briar Napier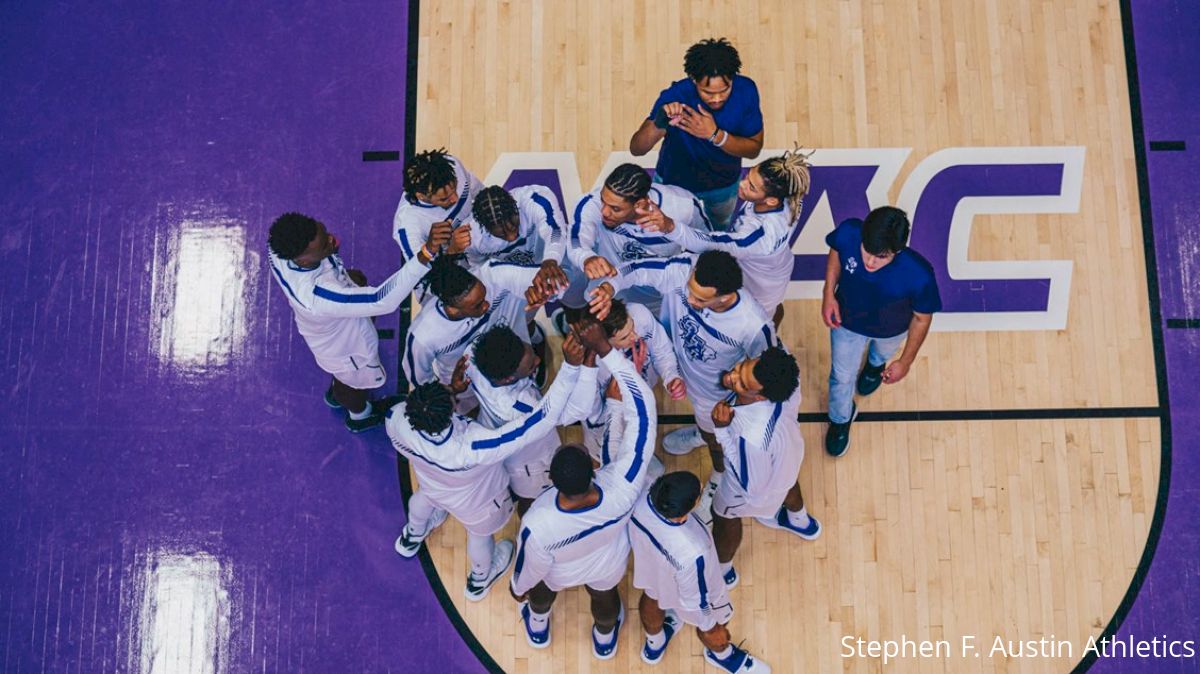 Stephen F. Austin Preview: Lumberjacks look to take WAC by storm in its first year in the league
Stephen F. Austin hasn't been an opponent you want to see on your schedule for awhile now.
Just ask VCU in the 2014 NCAA Tournament, West Virginia two years later or Duke in the 2019-20 regular season—all opponents that SFA beat.
Often a buzzsaw of a mid-major that made mincemeat of the Southland Conference and loves playing spoiler in March Madness, the Lumberjacks are off to a new challenge after five regular-season Southland titles in eight years, moving to the Western Athletic Conference in the offseason as part of a quartet of mid-major Texas schools to make the switch.
After making three straight NCAA Tournaments under now-Illinois coach Brad Underwood from 2014-16, the Jacks are now in Season 6 with longtime assistant Kyle Keller at the helm as head coach. With a 6-2 start to the year and a schedule of fresh faces ahead in the coming months, it's a unique year for the program as it plays in a new league for the first time since 1987-88.
Just what will SFA bring to the table against unfamiliar foes? There's plenty to break down, but all of what's worth noting is below in a breakdown of how the Jacks roll.
Offense
There have been two defining offensive statistics in the Keller era at Stephen F. Austin where the Lumberjacks are a cut above almost everyone else. The first is offensive rebounding—SFA allowed a national-low 19.9 defensive rebounds per game last season—and the second is getting to the free throw line, expressed by the Jacks' national-best average of 24.4 shots from the foul line a game in 2020-21. Both of those features don't come by pure chance, especially not at the top of the ladder.
SFA plays hyper-aggressively and makes its living in the paint, rarely shooting outside the 3-point arc (23.6 percent of total shots are triples this season) and revolving its attack around an imposing inside presence. For the past three seasons, that's been 6-foot-7 senior forward Gavin Kensmil, a two-time All-Southland selection who turned from a sparingly-used benchwarmer at Iona his freshman year, to one of the WAC's favorites for Player of the Year in 2021-22. If the Suriname-born Kensmil keeps up his current career-best marks of 16.6 points and 7.6 rebounds a night through eight games, it'll get harder and harder to ignore his case as the league's best player.
Senior point guard David Kachelries—another player plucked from mid-major obscurity as a freshman at NJIT—runs the show as the Jacks' floor general and current assist leader (3.8 per game), but also led the Southland and finished seventh nationally in 2-point field goal percentage last season (70.3 percent), a rare position for a non-big man. There's a lot more personnel that's gone into SFA starting off 6-2, like All-Southland guard Roti Ware and promising freshman Sadaidriene Hall, but the Jacks have a refined style that needs committed bodies to make it work. Without Kensmil and Kachelries, it would fall apart quickly.
Defense
Considering it's Stephen F. Austin's offensive identity to bully opponents around, it's not a surprise that aggression spreads to the defensive side of the ball, as well. In its most bare bones form, the Jacks are trying to get the ball back in their hands as quickly as possible after a loss of possession, going well-below the Division I average in defensive possession length as they clock in at just 15.1 seconds. How and why SFA does that is a more complicated puzzle.
Turnover creation (17.6 per game, 11th nationally) is high, but so are fouls called against them (19.6, 42nd nationally) as the Jacks are college basketball's literal example of "all gas, no brakes" with relentless ball pressure. The Jacks are either letting in an easy bucket or rapidly taking it from you, there's little in between.
Seven different players on the roster currently average at least one steal a game, with the leader of them all, guard Jaylin Jackson-Posey at 2.3, already proving himself to be a worthy contributor to Keller's system with six starts in eight games so far as a freshman. But again, foul trouble is a tradeoff when you're going for broke all the time on defense. For example, in SFA's 79-68 loss to Saint Louis last month, four different starters (Kensmil, Kacherlies, Jackson-Posey and Calvin Solomon) finished the game with four fouls, limiting all to under 29 minutes of play as the Billikens went on two separate double-digit runs to scoot away with a victory. It also leaves open the risk of opponents who shoot free throws well to make a killing at the charity stripe: 43.5 percent of total attempts on average from SFA's opponents this year are foul shots, leaving the door open for many foes to snag—quite literally—free points.
X-factor
It's already been well-established that Keller does not live and die by the 3-ball. But just how advantageous is it for SFA if it proves it is at least capable of shooting a trey? If recent history is any indicator, it's a massive advantage. The Jacks in 2019-20 shot 37.4 percent (19th nationally) as a team from beyond the arc despite those shots accounting for just 27.7 percent (344th nationally) of their total attempts. And how'd that season go? Well, SFA was 28-3 with a win over Duke at Cameron Indoor Stadium on its resume and riding a 15-game winning streak prior to the pandemic-induced cancellation of the NCAA Tournament—so pretty well. Ware, one of the wily veterans of this year's team, was a 46.2 percent 3-point shooter on that 2019-20 squad, so there's certainly potential sharpshooting prowess on the current roster.
The million-dollar question for this year, however, is if Keller will even allow for that potential to be released—or if it even should be. The Jacks' rate from deep is a much more middling 32.4 percent so far this season, all while they continue to rank near the bottom of triples taken related to total shots anyway. However, the number could go up as SFA plays more respectable competition with three of its six wins coming against non-Division I opponents and just one coming against a top-100 team according to KenPom (a 79-78 win over Buffalo on Nov. 24), with easier games meaning Strategy A (drive inside and wear down your opponent) doesn't need to be abandoned for chucking up long shots. Nonetheless, a visit to Kansas on Dec. 18 might provide ample opportunity to try out something a bit more radical if the Jacks get down big early at Allen Fieldhouse.