2021 West Palm Beach Invitational - Keiser
West Palm Beach Invitational: South Florida Eyes Rebound
West Palm Beach Invitational: South Florida Eyes Rebound
Numerous high-level women's college basketball programs will take part in the two-day West Palm Beach Invitational, held just a few days before Christmas.
Dec 7, 2021
by Briar Napier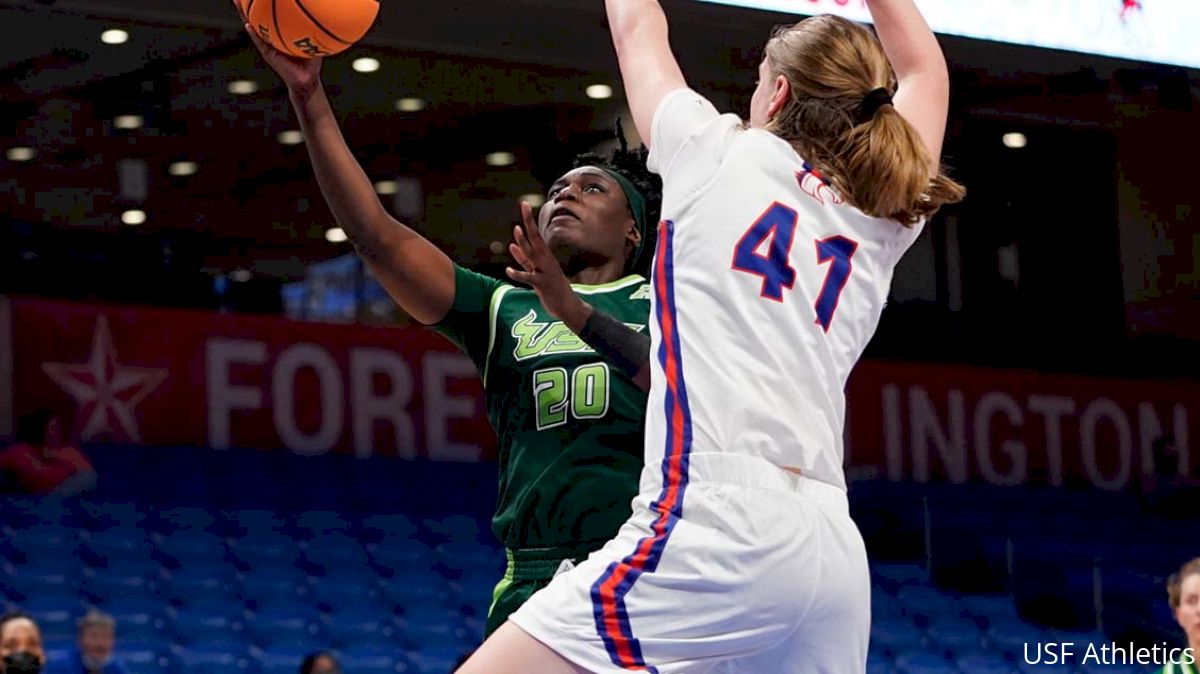 As the chill of winter envelopes much of the country, it only makes sense for basketball to heat up in the Sunshine State.
Numerous high-level women's college basketball programs will take part in the two-day West Palm Beach Invitational this month, held in its entirety just a few days before Christmas. The seven-game, 10-team event will be played on the campus of Keiser University located just a few miles from the beach and can be streamed live on FloSports from the comfort of your device.
What's the lowdown on the teams and matchups playing on the coast? Check out below a breakdown of every game that'll tip off over the course of the two days.
*All times listed are in Eastern Time and are subject to change.
Monday, Dec. 20
Florida Gulf Coast vs. Michigan State (11 a.m.)
You like offense? You'll get offense in this banger of a matchup to open play at West Palm Beach. And there will be no player on the floor better at making plays happen with the ball in her hands than Florida Gulf Coast guard Kierstan Bell, one of the best pure scorers in America at 26.1 points a night through seven games. The junior can't really be stopped, but merely contained: FGCU's lone loss this season came in a 58-55 defeat to Princeton, which runs one of the slowest offenses in the country. Yet against the Tigers, Bell still had a game-high 19 points on 8-for-12 shooting inside the 2-point arc—and 0-for-9 shooting outside of it.
Meanwhile, the Spartans as a unit average more points per game currently (80.7) than all but 11 teams in America as of Sunday morning, with a trio of players in Nia Clouden, Alyza Winston and Matilda Ekh all averaging double figures. Clouden in particular looks to be making the jump to one of the elite point guards in the country with a loaded stat line of 19.6 points and 5.6 assists per game this season. If you're a bettor, it might be a wise move to tab the over in this game.
West Virginia vs. South Florida (1:15 p.m.)
South Florida coach Jose Fernandez went high-risk on his team's schedule this season, a choice that for the most part has paid incredible rewards. The Bulls led UConn after three quarters last month, then won their next two games against Oregon and defending national champs Stanford to capture two of the greatest wins in program history. Then came the hangover: USF lost at UT Arlington—a good mid-major, but nowhere near the prestige of the other schools mentioned—in the game following the Stanford win, giving sobering indication that the Bulls maybe aren't quite ready to set the women's college basketball world alight. A strong performance against West Virginia, however, will help USF's hopes to try and get to that point. Guards Sydni Harvey (14.6 points), Elena Tsineke (13.0 points) and Elisa Pinzan (9.8 points, 6.6 assists) make up as elite of a backcourt as any in America, while Bethy Mununga (13.1 rebounds per game) is a tenacious glass-cleaner and nightly double-double threat.
The Mountaineers, looking for a spark themselves following back-to-back losses to BYU and Kentucky, bring 3-and-D guard Kirsten Deans (41.7 percent from 3, 2.3 steals per game) and a double-double threat of their own in forward Esmery Martinez (13.3 points, 7.8 rebounds) to the fray.
Dayton vs. High Point (3:30 p.m.)
The two-time defending Atlantic-10 regular-season champions, Dayton hasn't had many other end-of-season accolades to show for it over that stretch, which isn't entirely its fault. The Flyers won the A-10 Tournament in 2020 mere days before the NCAA Tournament was canned due to the pandemic, then lost last year's A-10 tourney title game to VCU to get sent to the WNIT. But this is a school that only six years ago made an Elite Eight with plenty of inner personnel still in place who were around for that historic triumph. One of those people, current coach Shauna Green, was an assistant under then-coach Jim Jabir and has established a squad that was picked by the league's coaches in the preseason to three-peat in the A-10. UD's Makira Cook, Erin Whalen and Jenna Giacone have all been great to start the year, with each hovering around the 15 points-per-game mark through seven games as the trio accounts for a very-heavy 68 percent of the Flyers' total shot attempts.
High Point, which went 21-7 a year ago, is 2-5 as of Sunday and is badly missing the production of reigning leading scorer and Big South Player of the Year Skyler Curran, who was ruled out for the season after one game due to a knee injury. Tennessee State transfer Jaden Wrightsell has been a nice add-on and new piece of the offense in Curran's absence (14.8 points per game), but the forward has been limited to just four games so far this year herself.
LSU vs. Clemson (5:45 p.m.)
How's Year 1 of the Kim Mulkey era in Baton Rouge going in its early days? So far, so good. A Hall of Fame coach that made her name with a trio of national titles at Baylor over 21 years, Mulkey moved to her home state of Louisiana in the offseason to take the reigns of the Tigers, and has them sitting at 6-1 as of Sunday morning with great wins over the likes of Missouri State and Iowa State. Fifth-year guard Khayla Pointer, who's been a quality piece of LSU's backcourt for a few seasons now, is becoming a bonafide star under the tutelage of Mulkey with loaded averages of 18.1 points, 6.9 rebounds and 5.3 assists per game as a true do-it-all guard despite standing just 5-foot-7. Mulkey's hallmark style of suffocating defense at Baylor is still working through some kinks at LSU, but there is promise, like when the Tigers held Iowa State to a season-low 60 points.
For Clemson, it's a big fourth year for coach Amanda Butler, who after making the NCAA Tournament in 2019 has struggled to two losing seasons since. There's been some promise in Clemson's 4-3 start, including the continued great play of preseason All-ACC nod Delicia Washington (15.9 points, 7.1 rebounds this year) and the immediate impact Syracuse grad transfer guard Kiara Lewis has made (12.6 points, 4.9 rebounds, 2.3 steals) on both ends of the floor.
Tuesday, Dec. 21
Michigan State vs. West Virginia (11 a.m.)
Less than 24 hours after both the Spartans and the Mountaineers complete their respective first games in West Palm Beach, they'll have to do battle against each other in the early game of Day 2. What's likely to be the most major factor of the matchup is if WVU's defense can bend without breaking against a potent MSU attack that is top-5 nationally in field goal percentage (48.9 percent) and assists per game (20.1). The Mountaineers have allowed less than 60 points in five of their six games, but Kentucky burst the floodgates Dec. 1 with an 83-point outburst in which All-American Rhyne Howard went for 27 points with a 5 for 7 clip from beyond the 3-point line. WVU's matchup the day prior against South Florida's backcourt will be good preparation for what MSU will bring (particularly with Nia Clouden), but the Bulls' guards are not as efficient as the Spartans'.
Michigan State, meanwhile, can be beaten pretty heavily on the rebounding margin—such as losing the board battle 45-34 in a loss to Notre Dame—which could mean a big game from WVU forward Esmery Martinez, who has three 20-rebound games in her college career.
South Florida vs. Ole Miss (1:15 p.m.)
Ole Miss is waiting for the cue to party like it's 2007. That's the last time the Rebels made the NCAA Tournament, a magical run in which they made the Elite Eight for the fifth time in program history. And following a very, very rough stretch after that in which Ole Miss sustained nine losing campaigns in 14 seasons, it makes it very, very exciting for the Rebels to be on the start they are this year at 7-1. Forward Shakira Austin is a big reason for that. A significant contributor for two seasons on two very good Maryland teams, the 6-5 senior moved to Oxford prior to her junior year and has been the focal point of what the Rebels do ever since. Her points per game have dipped slightly from last year's mark of 18.6, but the Virginia native still makes double-doubles routine at 13.8 points and 10.1 rebounds to go with 1.9 blocks per game.
Austin and USF forward Bethy Mununga—No. 3 in the nation in rebounds per game as of Sunday morning—will claw tooth and nail for every board in a battle of elite post talents. But the Rebels aren't a one-trick pony, they have an elite defense (49.1 points, seventh nationally) that has forced at least 16 turnovers in every game with a high of 27. Considering the Bulls turn the ball over an average of just 12.5 times a game (13th in America), whichever unit cracks first is likely to be the one losing.
Texas Tech vs. LSU (3:30 p.m.)
Kim Mulkey has good memories against Texas Tech, winning her 600th game as a head coach against the Red Raiders in February 2020 to become the fastest coach in NCAA history (male or female) to reach that plateau. She'll face them in West Palm Beach for the first time following her departure from Baylor, but TTU will likely be a tougher nut to crack than it was two years ago.
The recent return after four games out from an ankle injury of senior guard Vivian Gray—a three-time reigning All-Big 12 First Team nod at Tech and Oklahoma State—went according to plan, playing 38 minutes and scoring 12 points in a loss to No. 20 Georgia on Dec. 2. With 10 days off in the schedule before the Red Raiders play UNLV on Dec. 12, that gives more time for Gray to heal up and prevent a flare up. But Gray is also one of four different TTU players currently averaging double-figure points along with Rhyle McKinney, Lexy Hightower and Taylah Thomas, averages that may bottom out somewhat over time as Gray returns to the fold. Efficient from the field at 46.2 percent as a team, this matchup will likely be LSU's toughest from a defensive standpoint since the Florida Gulf Coast game, a day in which the Tigers allowed the Eagles to blitz them for 34-of-64 shooting (53.1 percent). But if there's also few (if any) coaches in the country that can devise a defensive gameplan like Mulkey.