2021 Davidson vs Northeastern - Men's
CAA Games Of The Week: Davidson, Northeastern Clash
CAA Games Of The Week: Davidson, Northeastern Clash
The first full week of December might be the best collectively for the CAA, featuring matchups with power-conference opponents.
Dec 8, 2021
by Kyle Kensing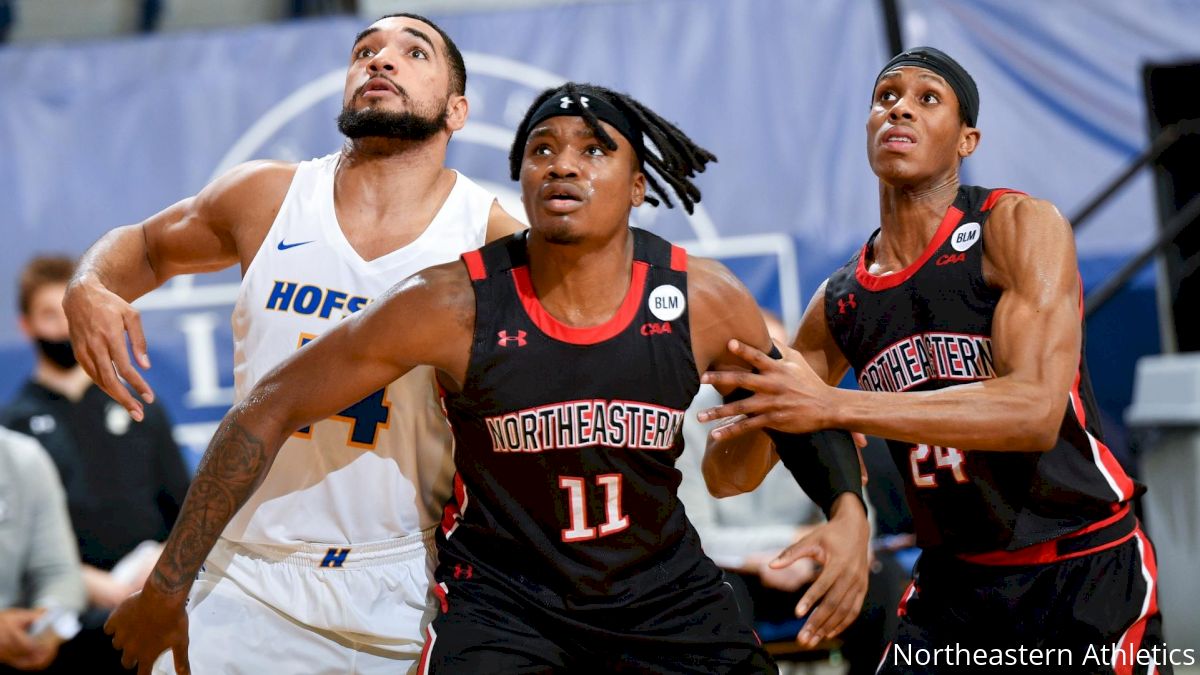 Non-conference schedules across the Colonial Athletic Association heat up in the coming weeks before league play tips off.
The first full week of December might be the best collectively for the CAA, featuring matchups with power-conference opponents and other assorted NCAA Tournament hopefuls.
Two road games deserving of shout-outs this week: Elon makes the short trip to Chapel Hill for a showdown with North Carolina, while Towson continues its Ohio road swing against an Ohio State team that knocked off previously unbeaten Duke.
As for CAA homes, there's no shortage of marquee matchups to come.
Lafayette Vs. Delaware
Delaware carries a three-game winning streak into a pair of home games this week, the Blue Hens' last dates before an 11-day layoff.
Kevin Anderson dropped 20 points in Delaware's win over UMBC, the last in the Blue Hens' current winning streak. Anderson is one of four UD scorers averaging more than 12 points per game, along with Ryan Allen, Dylan Painter and Jameer Nelson Jr.
Lafayette ranks in the 300s nationally in adjusted defensive efficiency after playing a tough schedule with Syracuse, Duke and Rutgers. The Leopards scored their marquee win of the season with their defeat of a Rutgers bunch that reached the 2021 NCAA Tournament.
Hampton Vs. William & Mary

A young William & Mary team is enduring its share of growing pains early in the season. The Tribe welcome Hampton to Kaplan Arena seeking their first win over an NCAA Div. I opponent.
The Pirates are the second opponents in a three-game homestand for William & Mary, which also hosts Old Dominion and Fairfield in a loaded week. While it's been a rocky start, William & Mary's youth has shown flashes of brilliance.
Freshman Tyler Rice and sophomore Ben Wight are coming off their best games of the season in a loss to Navy.
Radford Vs. James Madison
Following its visit to 2019 national champion Virginia, James Madison returns home for the final time in 2021 when it hosts Radford.
The Highlanders have wins over Eastern Kentucky and James Madison's CAA counterpart William & Mary, highlights of a tough non-conference schedule that sent Radford to Virginia, Virginia Tech and West Virginia.
Takal Molson, Vado Morse, Justin Amadi and Charles Falden are buoying a balanced Dukes offense that averages nearly 80 points. All four also have made 10-plus steals, fueling one of the best turnover-generating defenses in the nation.
Davidson Vs. Northeastern

Northeastern rebounded from a slow start to the season with a string of wins carrying them into a big three-game stretch. After hosting in-state rival UMass, the Huskies welcome Atlantic 10 contender Davidson to Matthews Arena.
Davidson is a top 70 KenPom.com-ranked team behind Hyunjung Lee's 18 points per game. Lee and Foster Loyer are two of the nation's most dangerous 3-point shooters at 43.1 and 52.6 percent on the season.
Northeastern counters with a top 100 defense against the outside shot, a key contributing factor to the Huskies' national rank of 84 in adjusted defensive efficiency.
Presbyterian Vs. Charleston
A clash of styles defines an in-state showdown between Presbyterian and College of Charleston. The Cougars have adopted one of the nation's most exciting brands of offensive basketball, playing at an adjusted tempo ranked No. 1 in the country.
Charleston's breakneck pace has the Cougars averaging more than 82 points per game. Presbyterian, meanwhile, visits with the No. 340-ranked adjusted tempo and scoring average of 64.7 points per game.
The Blue Hose's likely attempts to take the air out of the ball could provide a snapshot of how CAA opponents will counter Charleston come league play.