BIG EAST Women's Basketball
BIG EAST Games Of The Week: DePaul, St. John's Set For High-Scoring Affair
BIG EAST Games Of The Week: DePaul, St. John's Set For High-Scoring Affair
The BIG EAST truly has it all, whether it's in interconference showdowns or tussles with talented non-conference foes.
Dec 13, 2021
by Briar Napier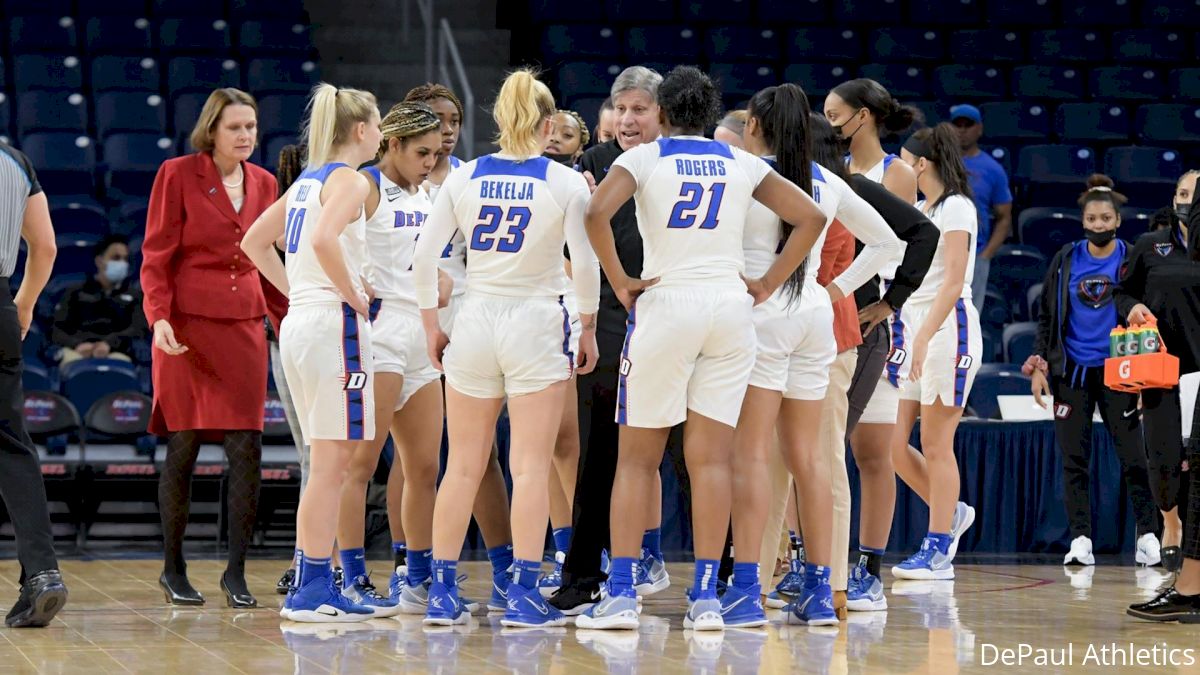 There's something for everyone within this week's slate of BIG EAST women's basketball games on FloHoops.
You like defense? Check out the current number one defense in America (as of Thursday) and the schemes that make them frightening to ball-handlers. Want lots of points? There's another school on the list that's broken the 100-point barrier three times already this season.
The BIG EAST truly has it all, whether it's in interconference showdowns or tussles with talented non-conference foes. Here's the matchups around the league to checkout for the upcoming week:
UCF Vs. Seton Hall
Seton Hall has four players averaging double-digit scoring numbers, one of the nation's top-10 players in assists per game (Lauren Park-Lane at 6.4 a night) and the team rarely turns the ball over. So why are the Pirates just 3-4? Defense, defense, defense.
As of Thursday afternoon, Seton Hall hasn't allowed less than 63 points in any game and lets up an average of 75.9 points, resulting in almost every game this year turning into a shootout that the Pirates more often than not haven't won. The way Seton Hall guards is also fairly inconsistent; the Pirates let up more points to a solid mid-major in Fordham (82) than perennial elites UConn (74), for example.
Coach Anthony Bozzella's team is likely going to have to hope for the better version of his team's defense against UCF, which sits at 6-1 and not because it puts points up on the board. While the Pirates are currently 326th nationally in points allowed per game, the Knights are No. 1 at a paltry 44.3 points allowed a night, an incredible number built off the fact that UCF forces an opposing turnover on 28.4 percent of possessions.
Three different Knights—Diamond Battles, Alisha Lewis and Tay Sanders—all average over two steals a game as they specialize in making opposing backcourts miserable, with Battles, a 5-foot-8 junior guard who averages a team-leading 15.3 points a game, often doing so on the other end of the floor, too. It took high-flying Arkansas, which averages over 80 points per game, to crack the 50-point barrier against UCF for the first time this year in what was a 52-51 loss last Thursday. Does Seton Hall have the mettle to repeat the feat and take down the Knights?
South Dakota Vs. Creighton
The Coyotes aren't quite the team they were two seasons ago in which they went 29-2, beat Creighton and were likely aiming to make plenty of noise in the NCAA Tournament before the pandemic canceled those hopes. But make no mistake, coach Dawn Plitzuweit's squad has won at least 70 percent of its games every year dating back to 2015, with South Dakota's current 4-4 record likely more reflective of a brutal non-conference schedule that's included South Carolina, Northwestern and Texas A&M.
Center Hannah Sjerven has put up great numbers (15.9 points, 7.5 rebounds) to start the year, but the fifth-year player may be upping her game to a new level after a monster statline against Wichita State this past Saturday: 35 points on 64.7 percent shooting with seven rebounds. Redshirt senior guard Chloe Lamb (16.0 points per game) gets buckets while fellow backcourt menace Liv Korngable (13.1 points, 3.6 assists per game) often pulls the strings on offense.
Creighton, meanwhile, is on a five-game win streak and has seemed to find a flow on defense in recent wins, where the Bluejays gave up just 38 to Georgetown and 58 to a Villanova team missing star forward Maddy Siegrist. Quality passes (78.1 percent assisted shot rate, No. 1 in the country) and defensive rebounding (77.6 percent defensive rebounding rate, No. 11 in the country) are Creighton's bread and butter, with boards in particular very much a team effort for the Bluejays as eight different players average at least three rebounds a night. Sophomore forward Emma Ronsiek is having a great second year in Omaha thus far, currently averaging 14.5 points, 5.5 rebounds and 1.5 blocks a game as Creighton's leader in all three categories.
DePaul Vs. St. John's
How did DePaul celebrate the tipoff of BIG EAST Conference play? By cracking the century mark in home wins over Butler and Xavier last week to get off to a flying start in the league. Yep, the Blue Demons can run up the scoreboard. Forward Aneesah Morrow is blossoming into one of the best players in the BIG EAST at 18.4 points, 11.3 rebounds, 3.1 steals and 2.8 blocks a game—numbers that are ridiculous by themselves, but are made even more stunning considering Morrow is a freshman.
There's still room on the floor for production from reigning All-BIG EAST First Team selections Sonya Morris and Lexi Held, though: Morris averages 16.2 points a night, second on the team behind Morrow, while Held manages 13.3 points per game to go along with a team-high 5.1 assists. Oh, and guard Deja Church averages 14.7 points per game on top of all that. Got it?
Well, St. John's has four double-figure scorers of its own to combat the armada that DePaul brings to the court and five if you count senior forward Rayven Peeples, who is out indefinitely with a knee injury. The showdown in the post between Peeples and Morrow is going to have to likely wait for another day, but guard Leilani Correa is doing just fine otherwise at 18.9 points per game to go along with 4.9 rebounds and 2.6 assists. The Blue Demons' average points per game at 88.2 is an absurd number, but the Red Storm can hold their own as well with a very good 75.4 points a night in response. Expect a track meet in Chicago this week with the winner likely to be the team that strings together a couple of stops; both teams rank in the 300s nationally in points allowed.