2021 Jerry Colangelo Classic
San Diego State Preview: Readying Another Deep Tournament Run?
San Diego State Preview: Readying Another Deep Tournament Run?
If you went to a SDSU men's basketball home game sometime over the last three seasons and saw the Aztecs lose, you showed up on a rare occasion.
Dec 15, 2021
by Briar Napier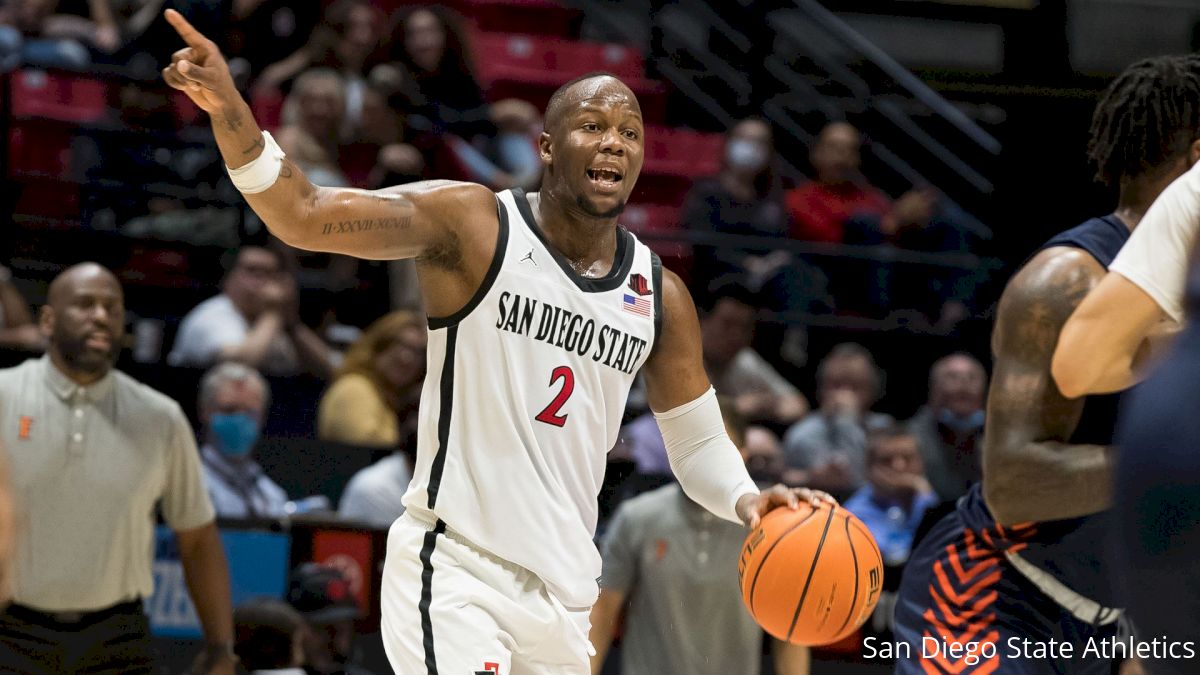 Not many programs across the country can claim they had lost just eight games in their prior two seasons entering tip-off for this year's campaign.
San Diego State men's basketball can.
There's clearly a method to the motions for the reigning Mountain West Conference champions and constant mid-major threat, and that starts with the philosophies instilled (or rather kept on) by coach Brian Dutcher, a prior 18-year assistant at SDSU before being named the head man following Steve Fisher's retirement in 2017.
And until further notice, the Aztecs are at the top of the mountain in the MWC. Whether that can finally translate into NCAA Tournament success again following Sweet 16 appearances in 2011 and 2014 is up to just how dangerous the Aztecs get.
How dangerous are they already? Look no further than below of a breakdown of Dutcher's squad this season and what they've shown so far.
Offense
Many Dutcher teams of the past have been able to put points on the board just fine, but this year's version isn't putting much of an emphasis on that thus far. Always having a preference for efficiency over gaudy scoreboard totals, the Aztecs really don't shoot the ball well (41.1 field goal percentage, ranked No. 301 nationally) for how tough of a squad they are to play against; more on why that is down below. By almost every account, SDSU has an average offense that's rarely going to blow teams out of the water, especially in Mountain West play.
That being said, senior guard Matt Bradley, who was a two-time All Pac-12 nod at Cal before moving to southern California, is often who the Aztecs turn to when they need instant offense. Bradley averages 15.0 points a night through nine games and has broken the 20-point barrier on three occasions, including his team-high 22 in a loss at Michigan in which he was only outscored in the game by Wolverines All-America candidate Hunter Dickinson. The Aztecs don't shoot a ton of 3-pointers—they account for just about a third of their total attempts from the floor, which is below average nationally—but sophomore guard Lamont Butler (8-for-17 from 3, 47.1 percent) has been promising beyond the arc and adds a new dimension to the SDSU backcourt. And teams also can't sleep on guard Trey Pulliam, who is averaging 10.9 points a night thus far this season and has other intangibles that make him dangerous.
Defense
That marks a perfect segue into the main reason for what makes Pulliam and the Aztecs so tough to play against: the defense. Pulliam notched steals on 3.2 percent of possessions last season (tops in the Mountain West) and is putting up a respectable number of 1.6 swipes a game so far this year, though he doesn't hold the claim to the team's steals king this year. That honor goes to Butler, who was averaging 2.0 steals a night and is the new MWC king (for now) in steal percentage at 4.9 percent.
Consistently high up the charts in basketball analytics site KenPom's ratings for defensive efficiency, SDSU is a very good half-court defensive team that, despite playing a tough non-conference schedule against the likes of Michigan, BYU and USC, has only allowed an average of 59.2 points per game (28th in the country), a number that wouldn't be surprising to see go down as some of the weaker MWC competition comes up on the Aztecs' schedule.
Sure enough, Dutcher's team has finished in the top 10 in America in fewest points allowed per game for each of the last two seasons, and a preference for experience over raw youth—SDSU has had at least seven upperclassmen on the roster the past three seasons—likely plays a role as players know the college game and how players operate. Oh, and on top of all of that, the Aztecs have a bonafide stud shot-blocker in 6-foot-10 senior forward Nathan Mensah, whose 2.3 blocks per game at the moment make him the MWC's current top man at shot-swatting.
X-Factor
The Viejas Arena, where San Diego State plays its home games. If you went to a SDSU men's basketball home game sometime over the last three seasons and saw the Aztecs lose, you showed up on a rare occasion. Since losing against Fresno State way back on March 6, 2019, SDSU is 32-3 inside its home venue, an achievement of consistency and dominance that has played a major role in the Aztecs' two consecutive MWC regular-season titles.
So, what exactly is the blueprint to beating Dutcher's team in San Diego? Only UNLV in 2019-20 and BYU and Colorado State in 2020-21 have known the answer to that question over the past three seasons, and some commonalities include holding the Aztecs to under 70 points, getting double-figure point totals from at least three players (Colorado State managed five in its win) and pivotal runs where SDSU is held either scoreless or near-scoreless. If you can't manage to tick off those boxes, good luck: of those 32 wins mentioned in Viejas Arena, just nine have been by under 10 points.
Even with a middle-of-the-road max capacity by Mountain West standards—and arguably more iconic venues than it in the league, like UNLV's Thomas & Mack Center and The Pit at New Mexico—the Aztecs have clearly turned Viejas into a fortress that few escape from unscathed. Having fellow MWC heavyweights like Boise State, Utah State and Colorado State having to pay future visits to San Diego later this year suits Dutcher's men well for a level of comfort in some massive league tilts.