2021 Northeastern vs Elon - Men's
After Missouri Struggles, Torrence Watson Flourishes At Elon
After Missouri Struggles, Torrence Watson Flourishes At Elon
After leaving Missouri, Watson ended up at Elon, a CAA school that was a single-digit loss in the conference title game from making the NCAA tourney.
Dec 15, 2021
by Briar Napier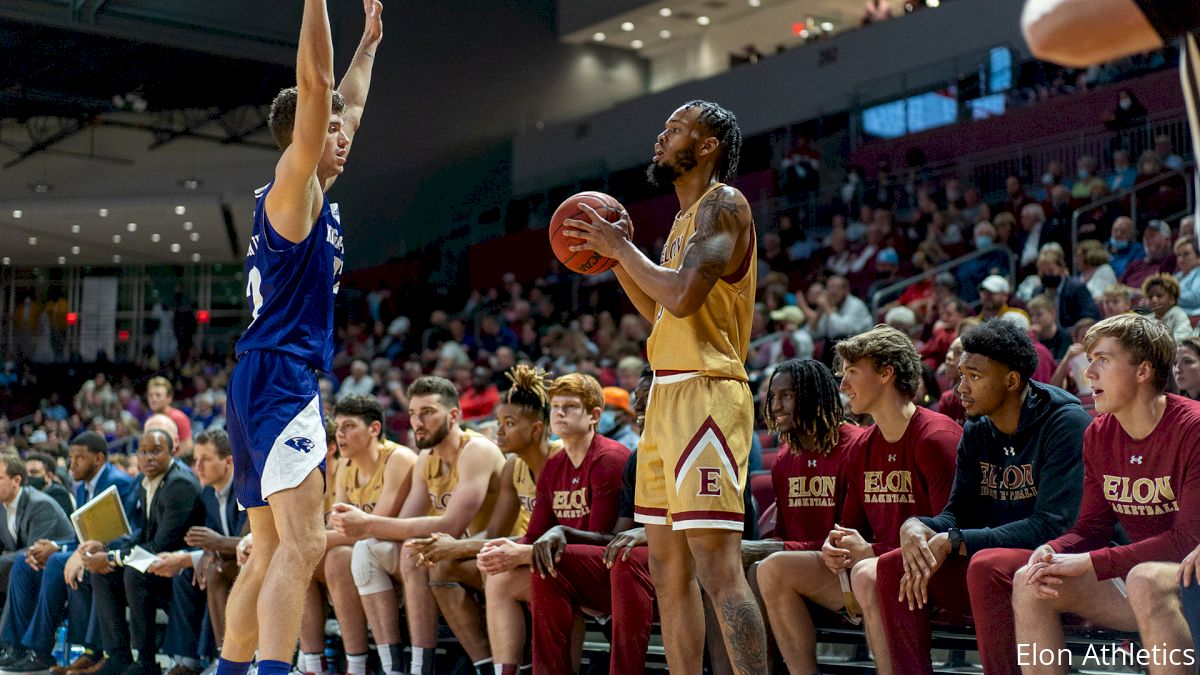 When Torrence Watson knocked down a still-standing Mizzou Arena record with eight 3-pointers in a dominant Missouri win against Chicago State on Dec. 30, 2019, it felt as if the former four-star recruit was finally turning a corner after a tumultuous time in Columbia.
And in raw honesty with a radio station after the game, it was clear the weight of expectation had been heavy on him.
"Not going to lie, I went home at night and I cried a lot of nights," Watson said to the radio crew post-game. "I was like, 'I'm putting in the work; I just want the shot to fall so bad.'"
From the heights at the prep level he reached starring for Whitfield School in St. Louis—multiple 50-point games, being named the Missouri Gatorade Player of the Year, and more—to being an afterthought on a NCAA Tournament team's bench, it became easy to see why time took a toll on Watson's confidence.
One of Missouri coach Cuonzo Martin's highest-rated recruits of his tenure, Watson had his pick of high-major programs as a massive in-state prospect. Once committed to Ohio State, Watson also held offers from the likes of Illinois and West Virginia (among others), but opted to make a name for himself at his home state's flagship college out of high school.
Things were promising at first: Watson started five games as a freshman in 2018-19, averaging 7.1 points on a decent 36.1 percent clip from 3-point range. But the good vibes faded fast. Watson started just one more game in two seasons as his minutes dipped to a career-low 7.2 per night last season.
As someone with an optimistic outlook—he had the nickname "Smiley" as a child—Watson was finding things harder and harder to be giddy about during his final games as a Tiger.
"I was definitely hard on myself because I felt like I should be doing better," Watson said. "Especially after my freshman year. … Going into junior year, I didn't really play as much, so for me, it was like I started to trend upwards then all of a sudden just started to trend down. It was really tough."
Taking advantage of another year of eligibility and no requirement to sit out a year after transferring, Watson entered the portal following his last year at Missouri. His destination was about as different from high-major basketball in the Midwest as possible.
Watson ended up at Elon, a Colonial Athletic Association school in North Carolina that was a single-digit loss in the CAA Tournament title game from making a shock appearance in the NCAA tourney despite finishing with a 7-8 regular-season record. On the surface, the college choice may seem strange for a lifelong Missourian like Watson, but he has a long-standing relationship with coach Mike Schrage, a former Ohio State assistant that had already talked him into a commitment at the prep level.
It turns out rekindling an old relationship was the right choice.
Watson is currently Elon's leading scorer through nine games (as of Saturday) with 13.1 points per game, playing a career-high 27 minutes per night as a valued part of the Phoenix's offense. The change in scenery and familiarity with Schrage has certainly helped, but Mike Potsou—Watson's coach at Whitfield—has noticed other changes on the floor, as well.
"I think he's moving without the ball," Potsou said of Watson. "If you watch his career at Mizzou, a lot of times he was giving up the ball, even after a defensive rebound, and was sprinting to the corners and kinda holding that position for a long time. … He's not necessarily a spot 3-point shooter, but definitely an offensive playmaker. And I think that was a hard transition for him, trying to play a certain way that went a little bit different than what he'd been doing his entire life."
Sure enough, Watson is indeed spreading his shots out around different areas of the floor this season. According to college basketball analytics site Hoop Math, 83.8 percent of Watson's shot attempts last year at Missouri were 3-pointers. This year at Elon, that number has dropped dramatically to 57.1 percent.
As Watson has been in a much looser role, the other parts of his game have risen along with it. He currently is on pace for career bests in field goal percentage and rebounds, assists, and steals per game. The personnel at Elon have warmly welcomed Watson, something that he's noted is well-appreciated and allows him to do his job on the floor more effectively.
"I'm not sure I'd say it's the main difference, but I know that my coaches trust me, my teammates trust me," Watson said. "I think there's no better feeling than that. Just being able to be on the floor again to help my teammates is really a joy."
It was clear in talking to Watson that he didn't want the conversation to be entirely about him; he noted that he thinks Elon is "finding our stride" and that he wants to do whatever he can to string a few wins together. But after the hits he had to his confidence at Missouri, Watson clearly has found his own stride again in a new environment.
It's a feel-good story that can make Smiley feel like Smiley again.
"I think it would've been just to be more focused on solely basketball, I think that would probably be a thing I wanted my younger self to know," Watson said. "Also to just know things will get better; I think for a long time, I didn't know things would get better. … Fuel from anger and upsetment, not living up to my potential, I think it really just helped me become who I am now."